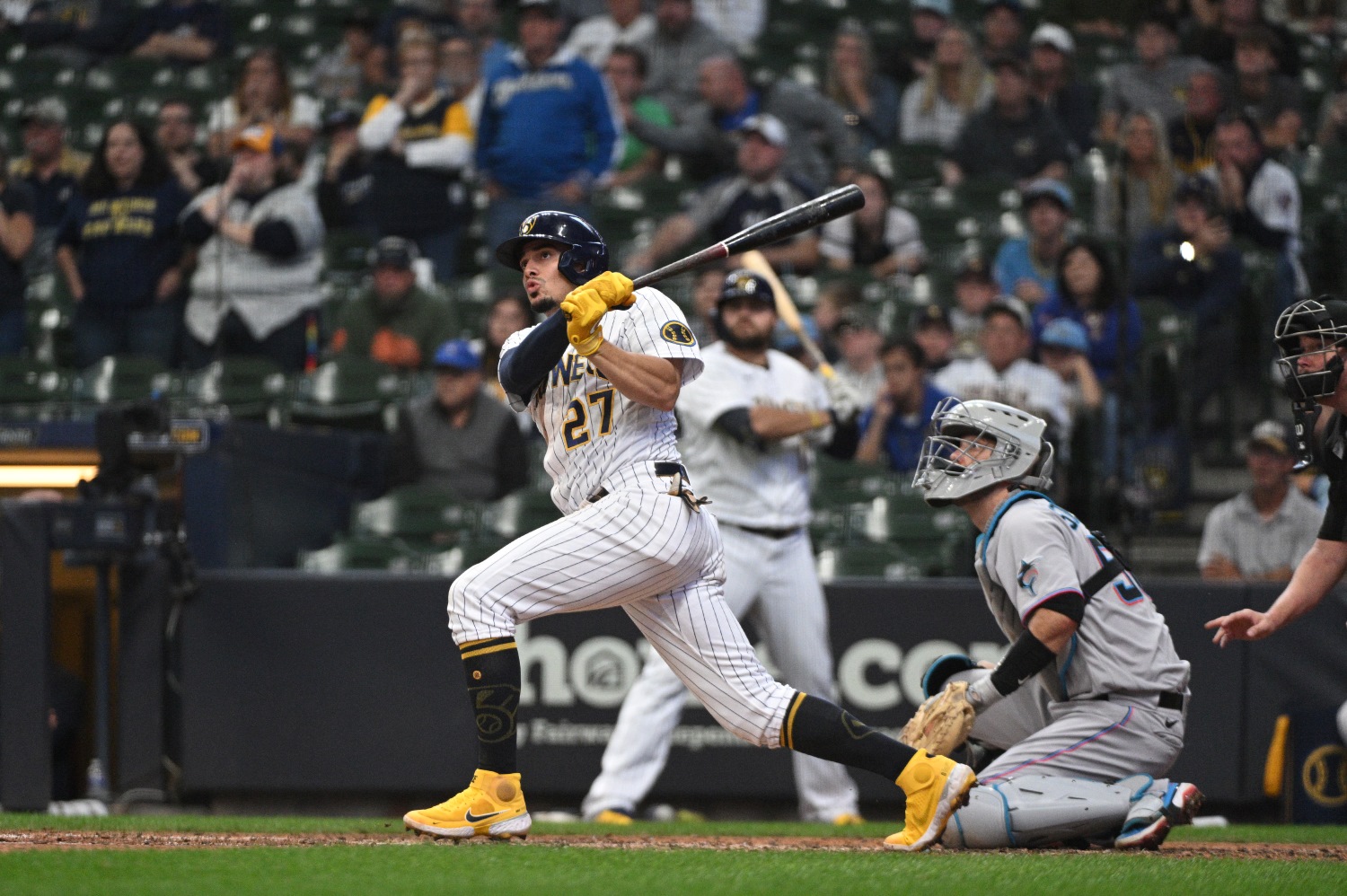 Image courtesy of © Michael McLoone-USA TODAY Sports
Almost since the moment the Brewers traded for him in 2021, Willy Adames has been an impact player. While his profile has the kinds of holes that tend to be obvious and oft-discussed, his strengths have come into focus over the last couple of years. That's made him a prime candidate for a contract extension, and it's also put to rest (at least in the short term) anyone's thoughts that Brice Turang would matriculate to the majors as a shortstop. This is one place where the Brewers have a clear and comfortable hierarchy of choices.
The Starter
Adames is a prototypical modern shortstop, with the power that has become so prized at what was once such a slap-hitter position. His approach and swing will always lead to strikeouts, and last year, he took a more aggressive tack, leading to a career-low 7.5-percent walk rate. That's nit ideal, of course, but he made that change for a reason. After struggling mightily against sliders in 2021, he was downright dangerous against them in 2022. The tradeoff of expanding the zone moderately more in order to hit the ball hard much more often on breaking stuff was, though fraught, a sound one.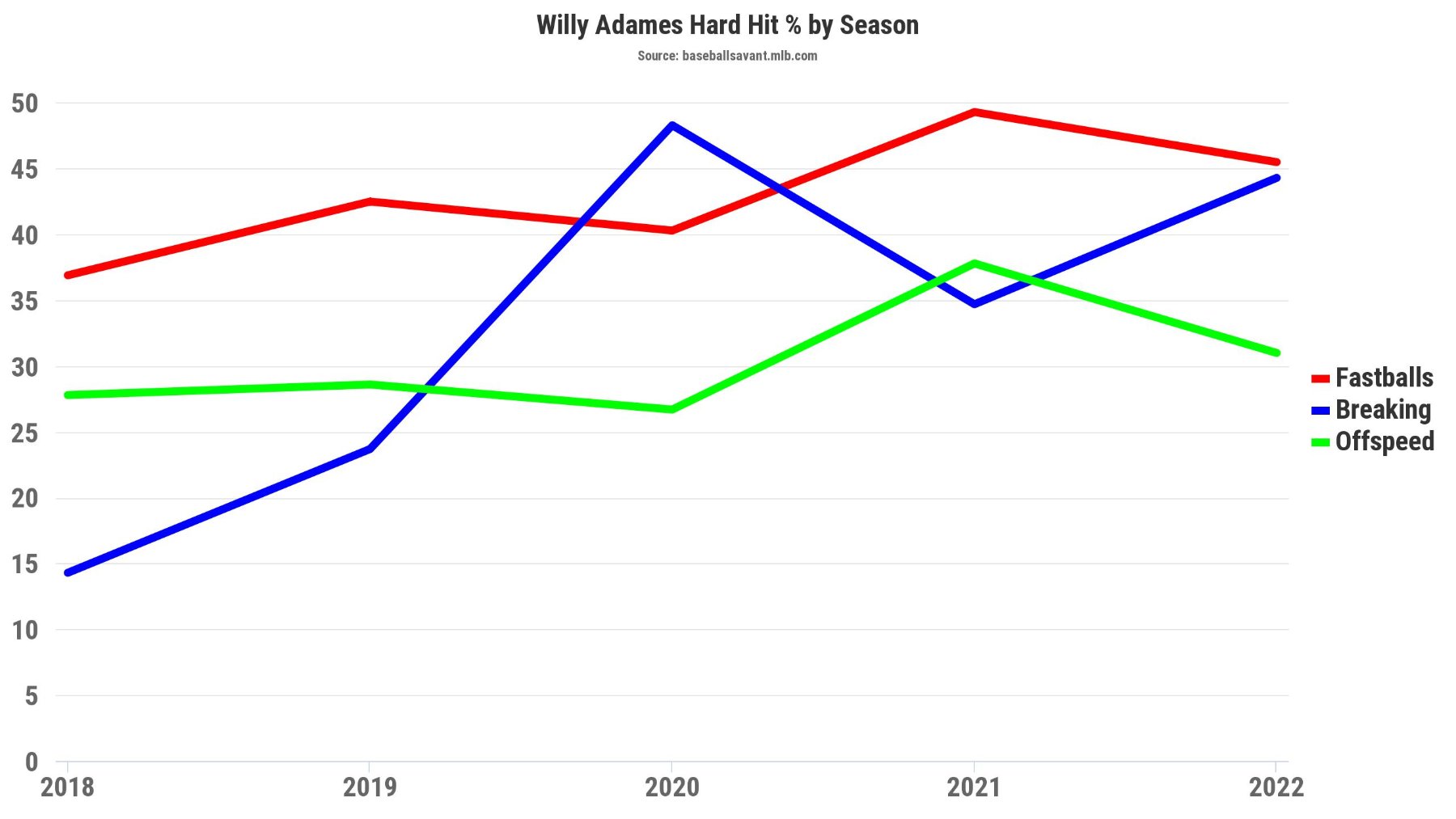 Source: Baseball Savant
He's nearing a bit of an extreme in terms of batted-ball profile, with a career high in average launch angle and a career low in ground-ball rate last season. It will be interesting to see whether he's able to adjust back in the direction of making hard contact at lower angles, if that's what the pitches he sees dictate that he do, because the shift ban does open things up for him a bit. Adames faced shifts in 151 plate appearances last year. 
Funnily enough, though, the new rules might also work in Adames's favor in the field. Since those new rules demand more of shortstops in terms of sheer range, Adames could gain on his peers as much as anyone. As elucidated by Baseball Prospectus's new suite of defensive stats, he was one of the best defenders in baseball at the spot last year, but that was driven especially by his range, rather than exceptionally smooth hands or a strong arm.
Highest Range Out Score, Shortstops, 2022 (min. 1,000 inn.)
| | | | | | | | |
| --- | --- | --- | --- | --- | --- | --- | --- |
| Name | Innings | DRP | RDA Runs | Range Out Score | Fielded Plays | Attempt Range | BRR Arm |
| Willy Adames | 1199.7 | 11.9 | 12.4 | 4.4 | 453 | 16 | -0.5 |
| Dansby Swanson | 1433 | 12.3 | 10.8 | 3.2 | 529 | 0 | 1.5 |
| Ha-Seong Kim | 1092 | 6.9 | 8 | 3.1 | 420 | 12 | -1.1 |
| Isiah Kiner-Falefa | 1185 | 6.1 | 8.1 | 3 | 445 | 15 | -2 |
| Geraldo Perdomo | 1160 | 6.2 | 6.4 | 2.3 | 438 | 8 | -0.2 |

Source: Baseball Prospectus
If things do pan out that way, Adames is only going to get harder to sign for the long term. That's why I recommended this weekend that the Brewers act now. Of course, while he's away from the club to play for the Dominican Republic in the World Baseball Classic, it's unlikely that an extension comes together, but hopefully there will be time for the sides to talk after the Classic winds down, and before Opening Day.
The Backups
Perhaps the strongest single argument for carrying Turang on the roster right from Opening Day this year is that if the team doesn't do so, they really won't have a credible backup shortstop. He was narrowly viable as a fill-in before shift restrictions, but Luis Urías is no shortstop under MLB's rules for 2023. Nor are Abraham Toro or Mike Brosseau, although Urías and Brosseau could stand there for a bit in a true emergency. 
Whether right away or later in the year, Turang will be the real insurance policy at short. He's gotten a bit thicker and stronger over the last year, but that hasn't interfered with his litheness or his quickness. Indeed, as the game is played today, he needed a little bit more strength, anyway. His long-term home is at second base, and he could even be the regular there immediately, but he's also perfectly well-qualified as an understudy to Adames. The real loss, if Adames should go down for any meaningful stretch, is the same one we saw last year: the lineup will hurt and hunger for power throughout any absence.
Summary
It would be great if the team had their star shortstop locked up for another 10 years, or if Turang were a more exciting, fully qualified replacement for him in the medium-term future. As it is, though, the Brewers are well-situated at shortstop, with the kind of dynamism most teams can only envy there. The stability Adames provides and his ability to fit comfortably into the heart of the order facilitates the team's emphasis on versatility and interchangeability almost everywhere else on the diamond.
Projected Value
According to FanGraphs, the Brewers rank eighth in projected WAR from shortstop, at 4.6. Adames, naturally, makes up the lion's share of that. At Baseball Prospectus, he's only projected to earn 3.1 WARP, but that has as much to do with the fact that Prospectus's value metrics (DRC for offense, DRP for defense, and WARP, overall) obey a stronger central tendency than do other similar projections as it has to do with any difference in real value. 
While there are superstars with more complete games and more subtle flaws, Adames is a star-caliber shortstop, and as long as he's healthy, the Brewers will be one of the best teams in the league at that position.
Think you could write a story like this? Brewer Fanatic wants you to develop your voice, find an audience, and we'll pay you to do it. Just fill out this form.
MORE FROM BREWER FANATIC
— Latest Brewers coverage from our writers
— Recent Brewers discussion in our forums
— Follow Brewer Fanatic via Twitter, Facebook or email