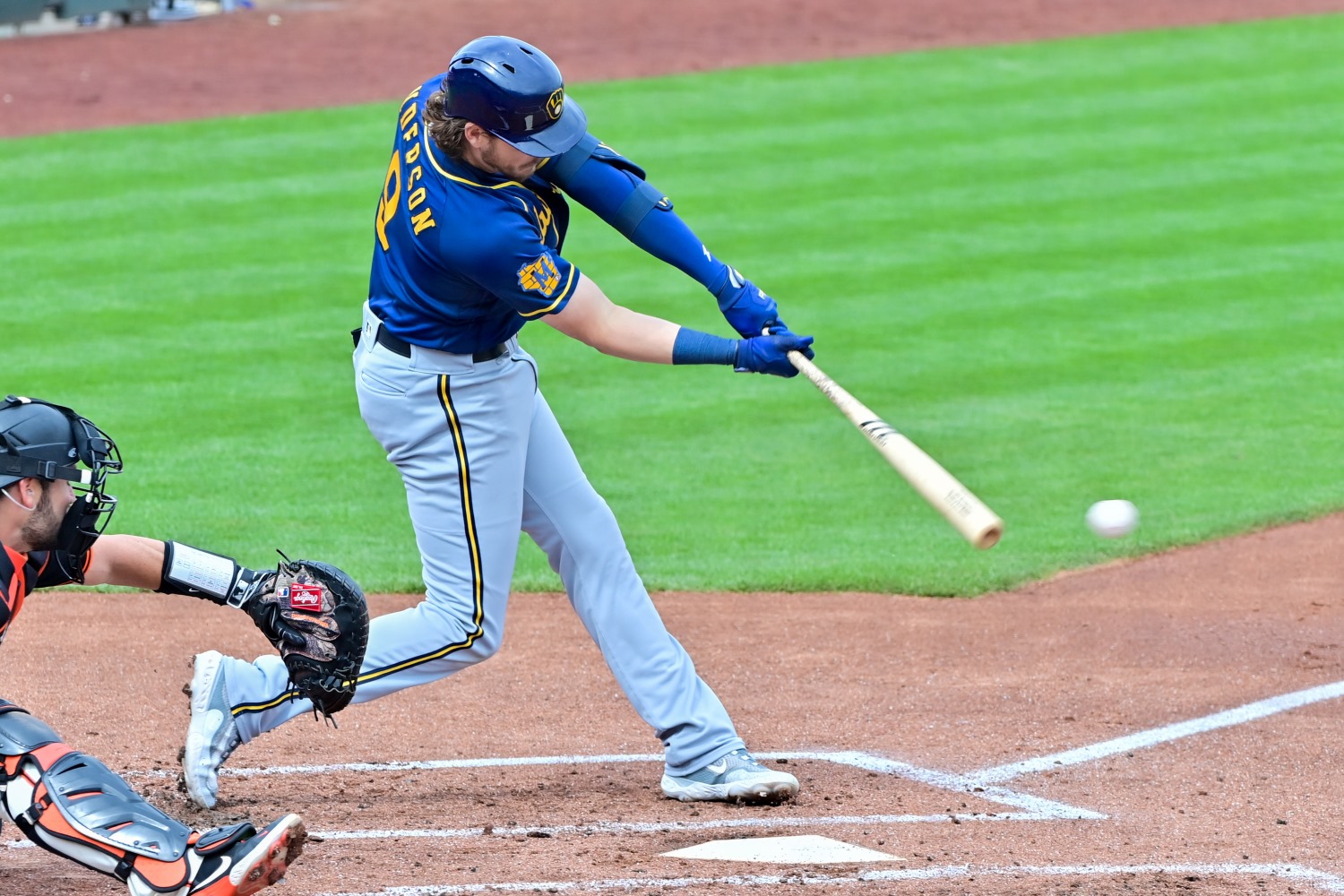 Image courtesy of © Matt Kartozian-USA TODAY Sports
Though they don't directly or solely model themselves on the Tampa Bay Rays, the Brewers do emulate their small-market brethren in their approach to building a position player corps--especially on the infield. That means a lot of playing matchups, prioritizing depth over star power, and understanding the value of overlapping skill sets. Nowhere is that more clear, for this year's version of the team, than at third base.
The Starter
If there were any questions about Brian Anderson's status as a full-time regular coming into camp, he's done everything within his power to banish them from the minds of the Brewers and their fans. The only remaining question, spurred by Tyrone Taylor's balky elbow, is whether Anderson will spend a substantial share of his time in right field during the early going, rather than at his original defensive home.
The reasons why one might have doubted his status as an everyday player a month ago are the same as the reasons why the Brewers were able to sign Anderson for just $3.5 million in free agency, after the Marlins non-tendered him early in the offseason: a woefully inconsistent and underwhelming pair of seasons at the plate.
Injury had much to do with those struggles, but Anderson also needed to make some adjustments in his setup, in order to tap into the value of his good bat speed and feel for the barrel. Here's a video of Anderson getting beaten inside on a pitch last May:
Note that although he begins with a slight waggle, his hands reach a point of almost perfect stillness before the pitch is thrown, with the barrel of his bat almost perpendicular to the ground. He has a timing trigger, a pulldown to get his hands moving, but there's still a slight hitch, and that's one reason why he's late on the inside fastball. 
By the end of last season, Anderson had partially fixed that particular problem. He'd lowered the bat toward parallel with the ground and back over his shoulder, and was in motion before the pitch. He's carried that over this spring, and it seems to really help. Some hitters can start from a full stop (or nearly so) and still get the head of the bat into the zone on time, with good rhythm, but most can't, and Anderson appears to fall into that latter camp. 
Getting more rhythmic and being on time has helped, but Anderson is also crushing the ball this spring simply because he's healthier. Take a look at his home run off of Cubs starter Drew Smyly on Feb. 28.
Brian Anderson puts one on a tee and deposits it over the wall for a solo homer!!! #ThisIsMyCrew 💣 💣 pic.twitter.com/tXWnQwF1uN

— Bally Sports Wisconsin (@BallySportWI) February 28, 2023
It certainly helps that Smyly doesn't throw overwhelmingly hard, and that he was trying to sneak a cutter past Anderson inside. What we see on that swing, though, is much better fundamental strength than Anderson was able to sustain last season. Bothered by a lingering left shoulder injury and a bulging disc in his back, Anderson was unable to stay as balanced, rotate as cleanly throughout his swing, or keep the bat moving at top speed through contact, the way he so often did early in his career. If he remains healthy and sticks with the altered setup that has unlocked his thump this spring, he'll be a fine hitter, be it at third base or in right field.
Last year, his defense at third base took a turn for the worse. He still has a strong arm and good athleticism, though, and has shown the hands and feet of a perfectly competent infielder in the past. The adjustments he needs to make to shore up that side of his game are mostly mental, though it will certainly help if he can avoid further back trouble, too.
The Backups
Again, Urias is a fine fallback, but if he's playing second most of the time heading into the season, then Abraham Toro and Mike Brosseau will be the main guys behind Anderson. Since most of the team's other options for right field bat left-handed, it's easy to envision Anderson playing right against lefties until Taylor returns, and Toro (a switch-hitter) or Brosseau (a righty who handles lefties very well) being the third baseman for the day.
Toro has played more second base recently, but came up as a well-regarded third baseman, including defensively. That he's getting an earlier, fuller taste of high-caliber pitching by playing for Team Canada in the World Baseball Classic can only help matters. The question with him, though, will be whether he can get back to hitting the ball hard at an acceptable rate. In the minors, he not only generated impressive traditional numbers, but caught teams' eyes with the subsurface data. That has not translated to the majors, despite his good contact rate and obvious athletic ability. It will be interesting to see whether the Brewers ask him to open the season in Nashville, in order to finish implementing any changes they have in mind to make him dangerous at the dish again.
Summary and Projected Value
As is true at second base, it feels very much like the Brewers will cobble together above-average production at third in 2023. They've put multiple useful players in place, and only outright disaster would make it a truly lousy position for them. Still, the certitude and star power provided by Willy Adames at shortstop is markedly absent here. In our entire circuit of the infield, one thing became clear: the team is overdue to produce a homegrown infielder of lasting quality. 
Hopefully, Brice Turang will end that drought this season, pushing Urías more prominently into this third-base picture and taking some pressure off of Matt Arnold to make nimble and aggressive choices in the free-agent and trade markets. In the meantime, though, that pressure remains. The team's success with developing outfielders recently has only made up for the dearth of infielders, and the many resources (Anderson's salary, the trade capital required to land Urías and Adames, and so on) that demanded.
Baseball Prospectus's PECOTA projections peg Anderson as narrowly above-average at the plate, and Toro as equally below-average. If each plays the steady but unspectacular defense they've played in the past, that should translate to solid value at third. They only need a couple of wins above replacement at the spot, in the context of this roster. FanGraphs, ever the more dour prognosticators for this year's Crew, views Anderson as a lesser hitter than Toro, but still gives him more playing time. They also rank the Brewers 17th in projected production at third, despite having Urías (generally a projections darling) getting the majority of the time.
Even if they are slightly below-average at third, the Brewers can win the NL Central in 2023. They just need two of their four options there to work out, in terms not only of playing to their established talent level, but of being available, rather than being pulled away to positions of more dire need or sidelined by injuries. 
Think you could write a story like this? Brewer Fanatic wants you to develop your voice, find an audience, and we'll pay you to do it. Just fill out this form.
MORE FROM BREWER FANATIC
— Latest Brewers coverage from our writers
— Recent Brewers discussion in our forums
— Follow Brewer Fanatic via Twitter, Facebook or email