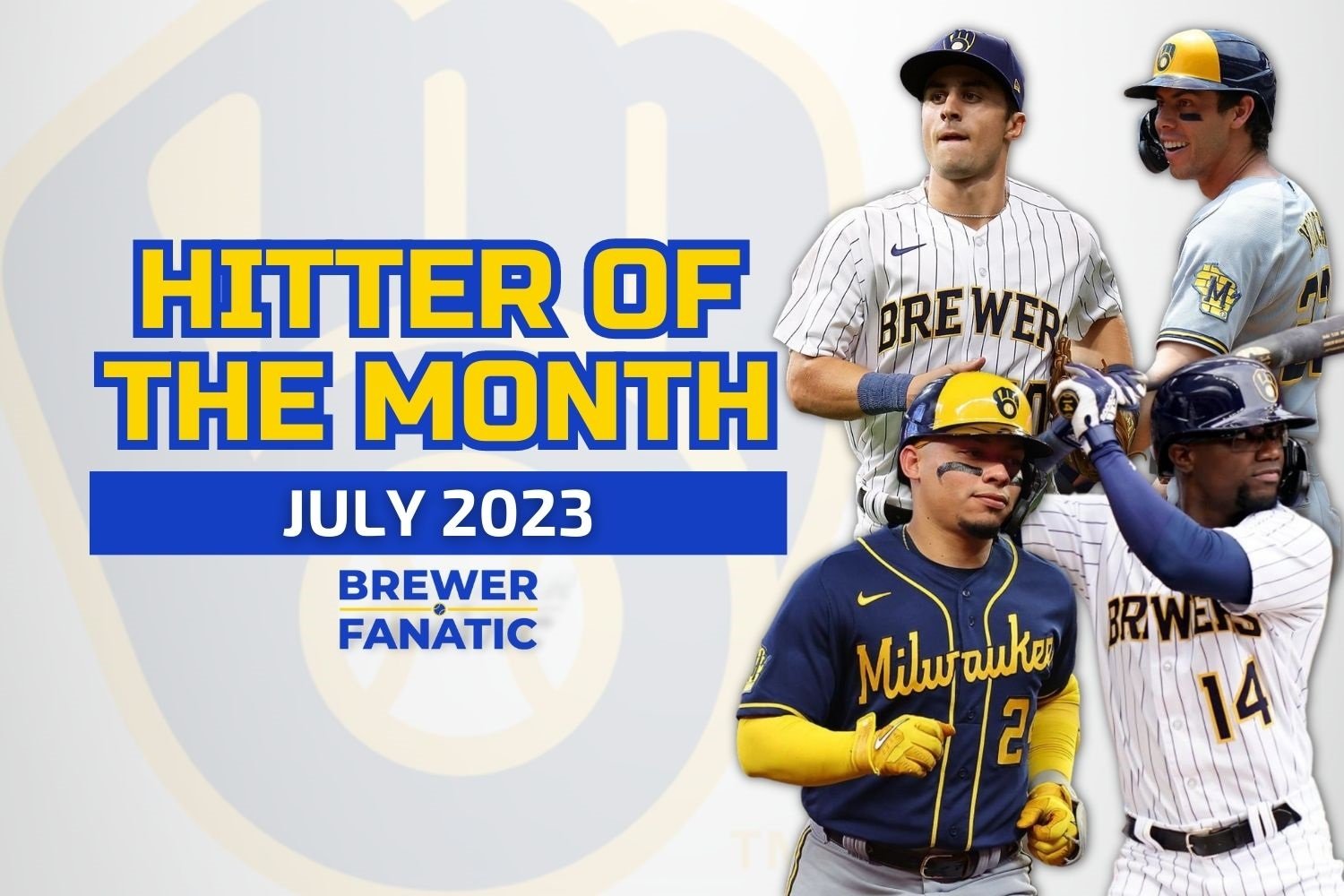 The Brewers pitching in July was good, as expected. But it was also fun to see that several hitters had really strong months as well. A rookie came up earlier in the month and earned more playing time. Then later in the month, another youngster debuted and provided a great spark late in the month. However, it was a veteran who has seemingly found a fountain of youth and is putting up numbers like he did five or more seasons ago. 
Before we discuss this month's Brewers Hitter of the Month, here are a few more Crew hitters who warrant recognition and discussion. Feel free to discuss the choices in the Comments section. 
Honorable Mentions

William Contreras

He's incredibly unlucky not to be winning this month, having hit .365 and sporting a .955 OPS in July. He slugged .563 with three home runs and 13 extra base hits. Contreras has straight up mashed the baseball. He's developed markedly from the streaky hitter the Braves traded, combining much improved defensive framing and pop times with a drastically reduced strikeout rate, leading to an .800 OPS bat from such a premium position, he's been everything the Brewers dreamed of and more.
While he is swinging and missing more against breaking pitches, he's hitting them hard 57.9% of the time in July, a big jump from the 28% mark in June, as well as doubling the hard hit percentage on off speed pitches too. He's not just a fastball hitter any more, and it's provided some big wins for the Brewers when they needed it most. He could do with elevating the ball more often still, particularly against changeups, which average -20 degrees in July, but he has shown a steady improvement against breaking balls and fastballs in this category over the course of the season.

Since getting more regular playing time at third base with the injury to Brian Anderson, he can see himself in the lineup even when Anderson returns, potentially taking reps at second base as well due to his outstanding performance with the bat in July, sporting a .329/.390/.414 slash line with a 19% strikeout rate, and raking in particular against southpaws, he's been a breath of fresh air, if over performing his expected numbers somewhat. The bat can play in this team however, and scoring 11 runs this month was the second highest on the team (along with Contreras), an aptitude to steal the occasional base, and good defense at the hot corner, he's been a really pleasant surprise for this Brewers team, just a well rounded, smart baseball player that's taken his opportunity with both hands

Never in contention to win this award due to a lack of big-league playing time with the late callup, but he deserves a nod for his elite bat to ball skills, with eight walks to five strikeouts (the majority of which were looking, he has barely any in zone swing and miss) and has a .269/.417/.423 slash line that has injected serious energy and excitement into the lineup, with both awe inspiring defense and stingy plate appearances, he's brought at least a couple of wins that it's unlikely Raimel Tapia would have influenced in the same way.
Hitter of the Month – Christian Yelich

For the second month in a row, Yelich was awe inspiring in July. He hit seven home runs across 23 games, with 22 RBI and a 1.015 OPS. He's hitting the ball in the air more with a launch angle of six degrees compared to three degrees in June, which is a massive deal for Yelich, recording nine walks to just 12 strikeouts and has actually underperformed his expected metrics (he was expected to have a .340 batting average for July).
His walk rate has dipped because he's crushing pitches earlier in the count, and that's a huge sign for him, given one trend that seems to follow his performance is how often he swings at the first pitch. In 2018 and 2019 these figures were at 28.9% and 30.3% respectively. In 2021 & 2022, they were at 22.8% and 21.7%. This season, it's risen to 25.3%, not quite MVP caliber numbers but it's rising as the year goes on. This is close to the kind of form Yelich produced to dominate in the second half of 2018, and it's been consistent for several months now, almost since the start of May. He truly is back, and if he stays healthy, he'll be key to the Brewers hopes both in the remainder of the season and in the playoffs.
One interesting area he can still improve is his swing happiness around the edges of the strike zone. It's resulting in less swing and miss than he had in 2019, but he's also doing less damage when his swing realistically has almost no weaknesses save the down and in slider from right handers. That being said, the current approach has been so effective, and you'd be loath to change it when he had an ISO of .293 in July and his stats weren't being propped up by extraordinary BABIP's.
His swing-% on fastballs when he gets ahead in the count has gone from 41.4% in April up to 60% in July, a huge increase and very important given how well he hits these pitches (xBA of .347, xSlg of .550 in July), while he's taking more breaking pitches at the same time, just subtly tweaking his approach depending on what pitchers are attacking him with. In tandem with this, he's reduced his ground ball rate against fastballs from 68% in June to 50% in July when he gets ahead in the count (still large, but for his exit velocities, again a massive difference maker). Overall he's decreased his ground ball rate against both breaking pitches and fastball noticeably this last month, and it's paying dividends.
Yelich appears to be on a continuing upwards trajectory, and we could, excitingly, see yet more unlocked from him in terms of production. Can he sustain this torrid pace?
Think you could write a story like this? Brewer Fanatic wants you to develop your voice, find an audience, and we'll pay you to do it. Just fill out this form.
MORE FROM BREWER FANATIC
— Latest Brewers coverage from our writers
— Recent Brewers discussion in our forums
— Follow Brewer Fanatic via Twitter, Facebook or email