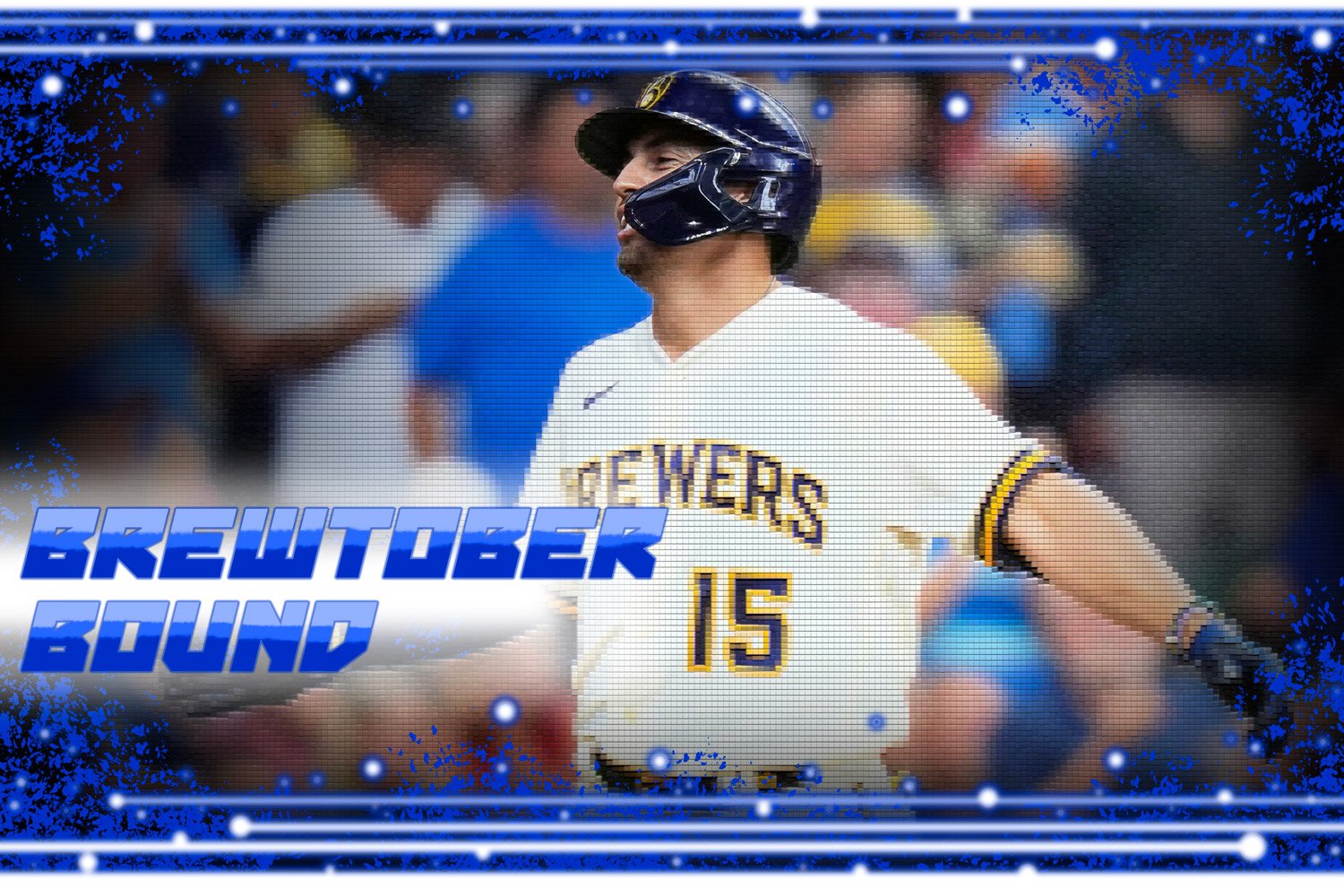 Image courtesy of Brock Beauchamp & Brewer Fanatic
Bench construction is not an exact science. Some players will be obvious locks for the bench. Others will be there because they start a fair bit of the time. Still others will be on the bubble. So, who will be filling which role? We are going to assume that the Brewers will take 12 pitchers into the first round of the playoffs, so there will be five bench spots.
The Obvious Bench Players
Victor Caratini
Caratini is the No. 2 catcher for the Brewers, and more importantly, he's the Corbin Burnes whisperer. His .253/.327/.382 line (as of September 22) is not horrible, and his defense is okay (no passed balls, only one error, and catching 14 percent of baserunners trying to steal). There are worse backup catchers in the majors.
The Part-Time Starters
These are players who are likely to see time starting games, but who aren't the everyday players like Christian Yelich, Willy Adams, or William Contreras. There may be more players mentioned here than the number of bench spots as a result.
Brice Turang
Turang's defense has helped the Brewers pitching staff prevent hits and runs at an historic rate. The glove is why he's generated 1.5 Wins Above Replacement, despite posting an OPS+ of 62 in his rookie year. At the very least, he is a valuable defensive replacement for Josh Donaldson (who's not doing a bad job at third base or at the plate), with Andruw Monasterio's versatility allowing the indirect substitution positionally.
Rowdy Tellez
Tellez's injury earlier this season led to the acquisitions of Carlos Santana and Mark Canha. As a result, in the postseason, he is likely to share DH at-bats with Canha and William Contreras (the latter on days when Burnes is pitching, assuming that the team doesn't end up letting Contreras catch Burnes in October).
Tyrone Taylor
Taylor has been red-hot as he filled in for an injured Christian Yelich, after dealing with injuries and a slump earlier this season. Taylor can play all three outfield positions and he adds right-handed power, which could be useful against lefties like Clayton Kershaw, Justin Steele, Jesus Luzardo, and Max Fried.
Andruw Monasterio
The surprising rookie hero of 2023, Monasterio has seen action at second, third, and shortstop this year, and has been capable at all three positions. While his OPS is down from the highs of .773 as of August 15, he's still posting a respectable .337 OBP and has delivered 1.4 Wins Above Replacement.
Mark Canha
Canha has been a big bat for the Crew, but is more limited defensively than the other Brewers outfielders. Should defense be at a premium, Canha may be on the bench against tough right-handed pitchers, allowing the Crew to use Taylor in the field.
Josh Donaldson
Donaldson has been a boon for the Brewers offense, posting a .793 OPS, and shifting Monasterio to second base. That said, he sometimes may need a day off, or the Brewers will want to focus on run prevention, so he could be saved on the bench or used as a DH.
Overview
The part-time starters really break down into three categories. Two of the Turang/Monasterio/Donaldson trio will start at third base and second base. Canha and Taylor will probably split time in a corner outfield spot, while Canha and Tellez also split duties at DH with Contreras and Donaldson in the mix.
The Bubble
These players could be on the roster or not, but if they are, they will be vital players on the bench.
Joey Wiemer
Wiemer came up to take over in right field (while Brian Anderson handled third base) in the aftermath of Luis Urias getting injured on Opening Day. After Garrett Mitchell was hurt, he took over center field and held it down defensively to the tune of 0.8 Wins Above Replacement. He also flashed some power (19 doubles and 13 homers) and speed (11-for-15 in stolen bases).
Brian Anderson
He cooled off after a hot start to 2023, helping carry the Brewers following injuries to Taylor, Luis Urias, and Garrett Mitchell while splitting time between third base and right field. With the emergence of Monasterio and the acquisition of Donaldson, he is on the bubble, and has been on the outside looking in for a month or more.
Blake Perkins
Perkins was signed to the 40-man roster after being granted minor-league free agency, and rode the Nashville-Milwaukee shuttle a couple of times. He provided decent offense and defense, and filled in when injuries hit the team. As a switch-hitter, he would deprive opposing teams of a platoon advantage.
Garrett Mitchell
When he's been in Milwaukee, he's hit well, but he had only 58 at-bats in 2023 and is currently rehabilitating in Nashville. Could he spend the last week of the season in Milwaukee getting tuned up? Possible, but the Brewers have players with much less rust to shake off.
Owen Miller
Another man who has piled up miles between Nashville and Milwaukee, Miller provided some offensive help earlier in the season before cooling down. He provides positional versatility, playing multiple infield and outfield positions.
Abraham Toro
The other player acquired in the Kolten Wong trade, Toro spent most of the season with the Nashville Sounds. His limited time in Milwaukee was very productive, though. A switch-hitter who played third base, second base, and first base in 2023, Toro will be available if the Crew needs depth.
Overview
One of these "fringe" players will likely end up on the playoff roster, at least through the first round. Going by their time in Milwaukee, it will likely be Perkins, but there are strong arguments to be made for the other players.
Summary
The Brewers have a lot of good players on the bench, which gives them options to match up against starters and relievers who might come at them during the course of a playoff series against any given opponent. Even some of the players on the bubble have had big moments for the Crew in 2023. So, the Brewers can feel very good about their bench.
Think you could write a story like this? Brewer Fanatic wants you to develop your voice, find an audience, and we'll pay you to do it. Just fill out this form.
MORE FROM BREWER FANATIC
— Latest Brewers coverage from our writers
— Recent Brewers discussion in our forums
— Follow Brewer Fanatic via Twitter, Facebook or email