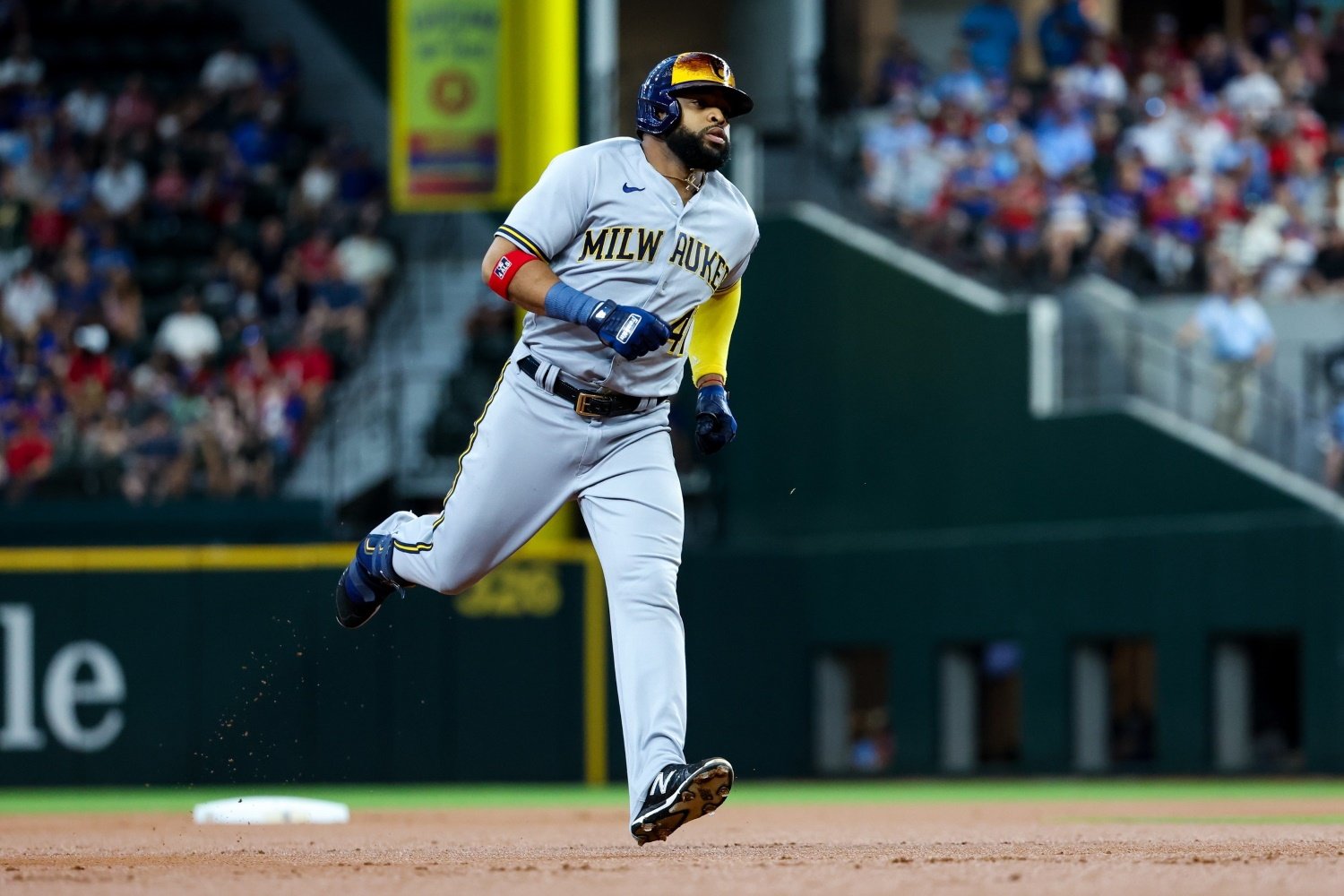 Image courtesy of © Kevin Jairaj-USA TODAY Sports
The much-maligned Milwaukee Brewers offense has recently been, to use a technical term, "absolute nails". They've scored five runs or more in each of their last eight games, in a style that allows for an offensive consistency the likes of which was nowhere to be found last year.
Let's start there. Last season, the Brewers ranked 10th in OPS, but there were a lot of questions over how that translated to performances against quality pitching, because they feasted on weaker hurlers with a barrage of home runs in a down year for power numbers across the league. They hit the third-most home runs in the league, behind the Yankees and Atlanta, but there was an underlying sense of struggles to come, something that manifested itself in failing to reach the playoffs. Make no mistake, the offense was not bad, but it wasn't geared toward consistency or tackling elite starting pitchers.
This season started off with a different approach, seemingly more about putting balls in play and significantly less focus on the long ball. They have hit only 136 home runs this year, good for 22nd in baseball, as well as just 193 doubles, which places them 27th across both leagues. They haven't hit for power, and have only really excelled thus far in taking walks (third in MLB). Since the All-Star break, however, their offensive formula has clicked, with the additions of Carlos Santana and Mark Canha fitting right into the Brewers philosophy and taking this lineup to the next level.
The whole offense is based around several things:
Take your walks, and take pitches 
Over the last eight games, the Crew have had a remarkable knack for getting the starter out of the game before the sixth inning, and have done so by excelling in the deeper counts. There is no better example than grinding down Max Scherzer, who had been lights-out since moving to Texas, and chasing him from the game having thrown 99 pitches in under four innings of work. The other big-name pitchers faced in the recent sequence are:
Yu Darvish – 76 pitches, four innings
Kenta Maeda – 92 pitches, five innings
Dane Dunning – 99 pitches, five innings
Andrew Heaney – 84 pitches, 3 2/3 innings
Four of the aforementioned pitchers have been on seriously impressive form as of late, and the Brewers stopped all of them shy of six innings. In doing so, they've shown that this approach can be successful against the best, lending some credibility to the potential of not just reaching the playoffs, but having success in them off the back of their Cerberus-like rotation.
This approach requires an ability (up and down the lineup) to put balls in play and provide quality at-bats, something the Brewers lacked earlier in the season. This quintessential issue was exposed earlier in the season, with Brice Turang, Joey Wiemer, Willy Adames, Rowdy Tellez and Brian Anderson's streakiness, so they couldn't build sustained pressure behind Christian Yelich and William Contreras. Jesse Winker was the type of hitter they wanted, but he just wasn't doing enough outside of taking walks.
The recent performances of Santana and Canha, who see a lot of pitches, combined with the hot streaks of Tyrone Taylor and Willy Adames; the addition of personified grit that is Sal Frelick; and the improved discipline and contact skills of Brice Turang have meant that up and down this lineup are players who will take quality at-bats and make opposing pitchers work, applying consistent pressure. You can't always bring runs in from scoring position, but the Brewers are doing a far better job of putting ducks on the pond with regularity in a game, making runs at some point almost inevitable. They average 4.01 pitches per plate appearance, second in MLB only behind the Chicago Cubs.
This approach can be negated by BABIP luck, as they found out in being swept by the Dodgers, but with the state of the rotation as it is, this is exactly the type of consistent plate appearance they need to give themselves a chance day in and day out, against any opposition.
Power
Power isn't a requirement for this offense, but they have the ability to crank some deep balls, depending on the form of certain hitters. Adames and Tellez are central to this, with both heating back up recently. Adames steamrolled through the Rangers and White Sox, while Tellez demonstrated his potency with a five-RBI night (including a home run) Saturday and a big two run double on Sunday against the San Diego Padres.
Due to the increased traffic on the bases, the power of these two hitters can enable the Brewers not just to be consistent, but to dominate and put up big crooked numbers, and both are going to be vital going down the stretch and into key series this week against the Phillies and the Cubs.
Statistical Improvements
| | | |
| --- | --- | --- |
|   | Pre-All Star Break | Since Trade Deadline |
|   |   |   |
| OPS | 0.689 | 0.716 |
| BABIP | 0.288 | 0.283 |
| Strikeout Rate | 25% | 18.6% |
Despite the luck on balls in play actually dropping, the Brewers have notably improved their overall offensive production to reach the middle of the pack, which is all they really need. They've made a massive stride in avoiding strikeouts, leading the league in that category since the trade deadline. There could be more to come if the BABIP rates rebound to a more normal number throughout the season, although they do have a propensity for pop-ups that can hurt them there. They're also leading the league in time hitting into double plays since the break, which can halt a few too many of their rallies.
In short, they've created an offense that can score some runs on their worst days, and pile them on in their best days. Each at-bat has a chance to find a way on base, and the concerted pressure is telling during the recent stretch of wins. 
This is not a top-tier hitting machine that instills fear in an opposing pitcher, but it is perfect for the shutdown rotation and bullpen the Brewers currently have. When four out of five of your starters have the chance to go six shutout innings, you don't need any more--though Pete Alonso would've been nice, too.
Think you could write a story like this? Brewer Fanatic wants you to develop your voice, find an audience, and we'll pay you to do it. Just fill out this form.
MORE FROM BREWER FANATIC
— Latest Brewers coverage from our writers
— Recent Brewers discussion in our forums
— Follow Brewer Fanatic via Twitter, Facebook or email