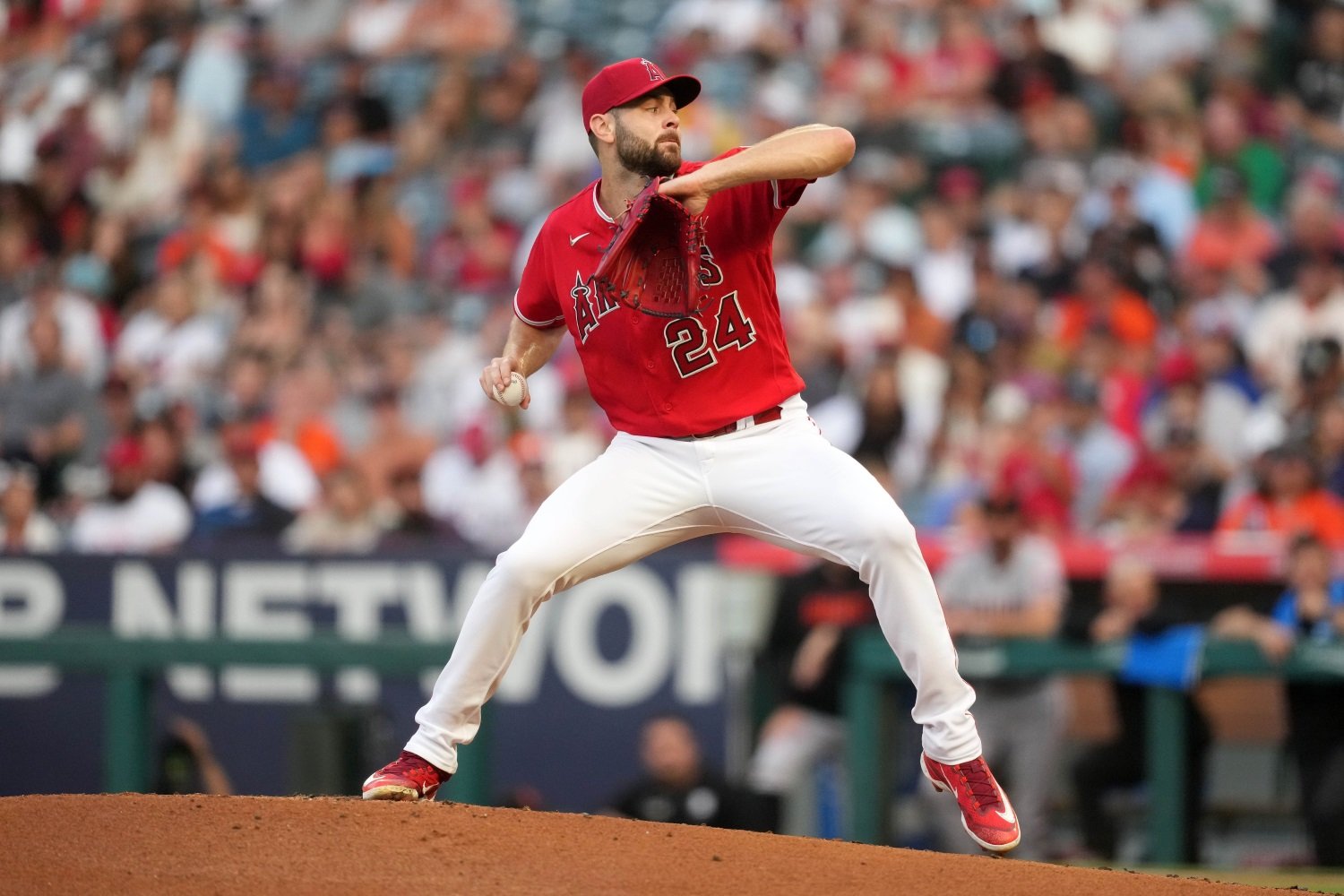 Image courtesy of © Kirby Lee-USA TODAY Sports
Their gambit for helping Shohei Ohtani reach the playoffs having blown up as quickly and thoroughly as was humanly possible, the Angels have put almost everyone they acquired at the trade deadline on waivers, which will be executed Thursday. Pitchers Lucas Giolito, Reynaldo Lopez, Matt Moore, and Dominic Leone are now available to whichever team claims them and takes on their remaining salary for 2023, after which each will become a free agent. Ditto for outfielders Randal Grichuk and (old friend!) Hunter Renfroe. The waiver order is from worst to best, so everyone below the Brewers in the standings will get higher priority than they will, but this is a big and surprising opportunity for someone to infuse their would-be playoff squad with extra talent.
First of all, let's get clear on a couple of things:
The Brewers are unlikely to get any of the players we're about to discuss. They're very late in the waiver order, and there are still several contenders with worse records and a little bit of money to spend.

Claiming a player doesn't displace a team from the waiver order, This is not like a fantasy baseball league. Every team is responsible for putting in only claims they're willing to actually execute, if they win, by taking on the player's salary and making room (if necessary) on their 40-man roster, but each club enjoys an unbounded right to claim players who pass through waivers before any of the teams with better records than them can do so.

As conceptually fun as getting Renfroe back for (virtually) nothing for the final month might sound, there's no way the Brewers will claim either of the outfielders. Each will still cost the claiming team $1.5 million or more for the balance of the campaign, and more importantly, Milwaukee's position-player corps is already creaking with its depth in the things those guys do well. Grichuk is just Old Joey Wiemer. Renfroe is a hair better than either Tyrone Taylor or Mark Canha, probably, but not enough so to justify popping the bubble of inertia, let alone the extra financial investment.
The unfun stuff out of the way, though, let's tackle the fun stuff. Which of these four pitchers (three relievers, one starter) would help the Brewers most? Is there any reason not to claim them all? Let's find out!
1. Matt Moore: A Second Chance at a Second Lefty
Yes, even more than Giolito, Moore is the guy who stands out as an obvious, perfect fit for the Brewers bullpen. The Andrew Chafin acquisition has, to put it more mildly than anyone involved deserves, gone poorly. Chafin hasn't effectively taken any burden away from Hoby Milner, and even at his best, he's the kind of lefty who makes a manager very nervous when he has to face right-handed batters.
Moore, though aging, is just two years into his career as a full-time reliever, and it's going gorgeously. With mid-90s heat, a fine slider, and a changeup that absolutely saps the power from right-handed hitters' bats, Moore is a more balanced, more dependable arm than Chafin. He could not only complement Milner, but partially supplant Elvis Peguero as the secondary setup man to Devin Williams. Moore is a high-leverage reliever who hasn't shrunk from late-game responsibilty, and his sheer stuff is good enough for that kind of role. He'll only cost his new team about $1.4 million the rest of the way. There's no good reason not to put in a claim, though someone will get to him before the Brewers do.
2. Lucas Giolito: An Adrian Houser Replacement So Good You'll Forget About Robert Gasser
The timing on this one is too perfect to ignore. Houser hit the injured list Monday after suffering from an elbow effusion after Sunday's short start. That punctured the Brewers' rotation, which remained intact for only a few turns after the returns of Brandon Woodruff and Wade Miley. Giolito would more than stop that gap. 
His numbers, even in a season somewhat resurgent from a tough 2022, reflect significant inconsistency. He's had more trouble with walks and with hard contact this year than in the past. It's always thorny to work in a new starter with so little time left in the season, too. Yet, Giolito fits a style and profile of pitchers with which the Brewers seem likely to work well and quickly. Even if he's just an innings-eating mercenary, though, he's very likely to be a better one than Colin Rea--or even the celebrated Nashville southpaw, Robert Gasser.
3. Dominic Leone: The Brewers Can Fix This Quickly
It's bound to catch some by surprise that I would rank Leone as more desirable than Lopez, but in the context of the Brewers' bullpen, it's a no-brainer. Leone will cost about $400,000 less than Lopez the rest of the way, but that's far from the point. Here's the point: Many aspects of Leone's ugly numbers can be chalked up to some lousy choices he's made with regard to pitch mix and usage. 
Those decisions are his own to make, and every pitcher varies from others in their openness about feedback, but the Brewers could make some immediate and productive suggestions as to how Leone could use his four-seamer, slider, and cutter better than he's been using them. They're fine pitches, when he can land them in the zone often enough and still minimize hard contact. The Brewers help relievers strike that balance as well as any team in baseball.
4. Reynaldo Lopez: Because Trevor Megill and Abner Uribe Might Still Go Up and Down
It's far from true that Lopez's only redeeming quality is the heat on his fastball. He's honed a slider that misses plenty of bats, as he's begun to embrace the life of a relief pitcher. Still, it's hard to ignore how hard he throws, and it's easy to dream on adding him to a stable of hurlers in the bullpen who could make the Brewers the least comfortable pitching staff to face of any that reaches the playoffs this year, in either league.
Last year, Lopez walks fewer than 5% of opposing hitters. That skill has disappeared on him this year, but the underlying problem is another fixable one. Lopez is essentially a two-pitch pitcher, but he's been trying to use his curveball and changeup to get outs against lefties this year. It's not working, especially because hitters just aren't expanding the zone on those pitches at all. The Brewers would be positioned to shield Lopez from the least unfriendly matchups and situations, but they would also have him stick to his fastball and slider. That, alone, would probably take care of his walks problem.
Ever since the league eliminated the August waiver trade period, player movement at this time of year has taken on a shadier, somewhat unfair tenor. If the Cubs or Reds can add to their roster this way, the Brewers should (arguably) have more options for doing the same, even if they'd be unlikely to pursue them. When certain avenues of player acquisition are closed off completely, it seems like a mistake to give lesser teams such an advantage in adding those players who can change clubs.
For now, though, that's the reality. The Brewers certainly have the deepest and healthiest pitching staff in the NL Central, right now, even with the Houser injury tossing a couple of things up in the air. Even if one of the teams lagging them is able to bolster their pitching staff with players the Brewers would also like to have, it's unlikely to make much difference. Still, if they get a chance, the Brewers should happily enfold any of these guys into their staff, with each slotting into a slightly different prospective role and offering slightly different new things.
Think you could write a story like this? Brewer Fanatic wants you to develop your voice, find an audience, and we'll pay you to do it. Just fill out this form.
MORE FROM BREWER FANATIC
— Latest Brewers coverage from our writers
— Recent Brewers discussion in our forums
— Follow Brewer Fanatic via Twitter, Facebook or email