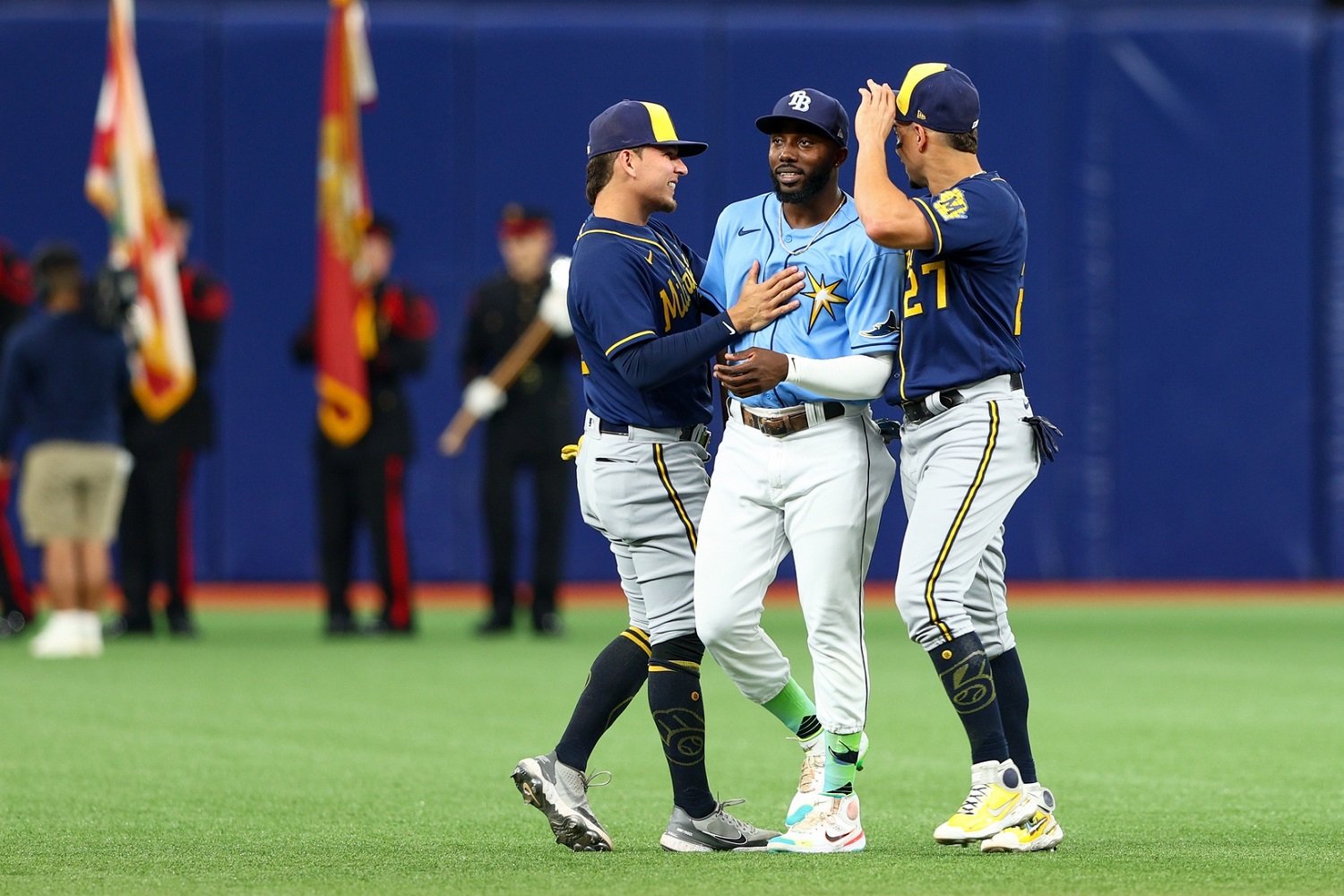 Image courtesy of © Nathan Ray Seebeck-USA TODAY Sports
Bent but not totally broken, the Brewers are in the middle of a rough stretch that harkens back to June. The Brewers are losing, and losing to bad teams, most recently a sweep against the Pirates and losing two of three to a piecemeal Cincinnati team. Now a legitimate threat comes to town in the Rays, who have a 57-50 record in the toughest division in baseball.
If there is a saving grace it's that Tampa Bay is mightily banged up, but considering recent performances against teams in even worse standing, the question has to be asked: does it matter? It's just a two-game series, but with recent struggles it feels pivotal. Can the Brewers batten down the hatches and right the ship, or are they going to sink further out of the standings and out of postseason viability for good? Let's check out the match-ups.
Tuesday August 9th
Brandon Woodruff (9-3 3.49 ERA)
Jeffrey Springs (4-3 2.50 ERA)
Despite having been a steady hand during trepidatious times, Brandon Woodruff fit the team-wide motif of mediocre last Thursday in Pittsburgh. Three earned runs, a no-decision, three strike outs and, concerningly, just as many walks. When a truly solid pitcher throws a snoozer it's important not to react, but given the sudden and stark trajectory of things, it will be important for Woodruff to wrench all of the talent he can to dominate a capable Rays lineup. 
Jeffrey Springs is a typical Rays' asset. This is to say that he has flown under the radar and was grabbed on the waiver wire after being DFA'd by another team (in this case the Red Sox) and developed into a high-caliber performer. Now in his fifth season, Springs is enjoying a career best 2.50 built on a 1.08 WHIP, which is further built on a stunning walk rate of 5%, putting him in the 90th percentile for the entire league.
Wednesday August 10th
Freddy Peralta (3-2 4.46 ERA)
Ryan Yarbrough (0-6 4.89 ERA)
As detailed below, the Freddy Peralta we're bound to get on Wednesday is anyone's guess. One year separated from an All-Star appearance Peralta is objectionably capable of deceptive, dominant pitching when healthy. Unfortunately the Brewers young righty followed the team into a stumbling, brief start against the lowly Pirates in his previous start, ultimately taking a no decision. With hopefully a longer leash, and not a particularly competitive pitcher countering him, last year's All-Star can summon some of that power. 
Rays lefty Ryan Yarbrough is having a bit of a season to forget. He comes equipped with four pitches, a cutter, slider, change and 4-seamer, none of which have been used to spectacular effect. The 4.89 ERA is almost identical to his FIP (4.93) and while the Rays can be grateful for his endurance, his efficacy is never a sure thing. That said, Yarbrough did manage to keep a spunky Orioles lineup to four hits and eight K's in what would ultimately be a loss in his penultimate start. A performance like that could sink the downtrodden Crew.
Players To Watch
Keston Hiura : I'm not sure what Hiura has done to Craig Counsell or the front office to keep faith in him so consistently down. The strikeout rate is a truly alarming 43.5%, but considering production struggles have been a season-long malady for the Brewers, it feels like Hiura is disproportionately singled out to be optioned or pulled from games. It will be interesting to see if the script is flipped if the Crew can get to the two lefty starters early enough that Keston and his righty crushing ways get put into a game instead of taken out for once.
Peralta: He was not the sharpest in his return from a lengthy IL stint against the Pirates, but that was the whole M.O. for the downtrodden Brewers. This start feels urgent and eminently more important for the trajectory than the previous one, and it will be interesting to see what form the Peralta arsenal takes under such fraught conditions.
Randy Arozarena : Last year's Rookie Of The Year is having a bit of a slide from last year's production but can still swing a bat. Over the last couple of weeks he's put up a .317/.379/.467 line, and aims to be a handful if he keeps it up in Milwaukee. 
Predictions
I'm going to reject my bleakest inclination and believe in an uninspiring split series, instead of a devastating two-game two-loss sweep.
Think you could write a story like this? Brewer Fanatic wants you to develop your voice, find an audience, and we'll pay you to do it. Just fill out this form.
MORE FROM BREWER FANATIC
— Latest Brewers coverage from our writers
— Recent Brewers discussion in our forums
— Follow Brewer Fanatic via Twitter, Facebook or email