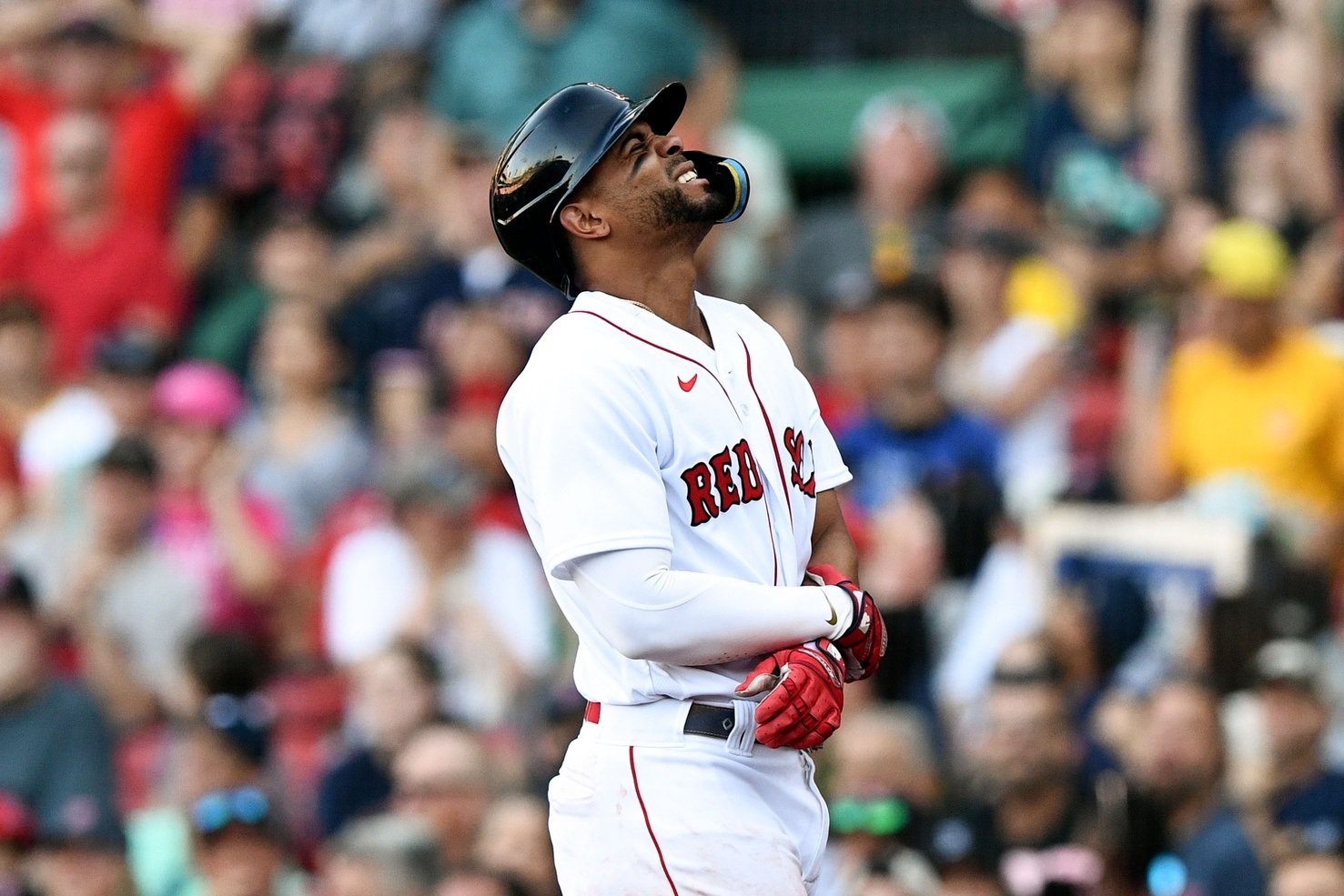 Image courtesy of © Brian Fluharty-USA TODAY Sports
Situations change quickly in the big leagues. A few weeks ago, Boston sat 10 games over .500, in second place in the AL East, and atop the wild card standings. As the new week starts, the Red Sox have lost nine of 10 contests and 13 of their last 16 to fall to 48-48, now fourth in the division, just one-half game better than the Baltimore Orioles, and three games out of the last wild card position.
If Boston management sees the road to a championship too steep with the New York Yankees and Houston Astros (among others) in the way, a turn toward next season makes sense. The Red Sox have at least eight players becoming free agents after the season or with an option to leave, so they could see this as an opportunity to quickly turn things around for 2023 and beyond.
This would be good news for the Brewers. More trade options could mean lesser cost and a better chance to find a quality fit for the roster. Also, targeting players with expiring contracts typically means a team will ask for less in return which could be another key for Milwaukee. With that in mind, here are a few Red Sox targets that the Brewers might ask about should Boston start a sale.
STAR POWER

Xander Bogaerts:  The 29-year-old standout shortstop has four years, $80 million left on his contract, but he can opt out after this season (which he will do). While Bogaerts' home runs are down, he remains a stud hitter that would do wonders for the Brewers' offense.
Bogaerts owns a 129 OPS+ thanks to a .386 OBP (12th in MLB) and .445 slugging. His .364 wOBA (weighted on-base average) also ranks 27th and would be the best on the Brewers.
Where would he play? He could easily slot into third base, where Luis Urias has scuffled to a .701 OPS. Bogaerts could also spell Willy Adames at shortstop and take some at-bats as the DH. With a chance at a quality hitter, position matters less.
The price in a trade is tough to gauge. Boston would have to expect a return based on Bogaerts leaving his new team after the season. It also matters which other teams offer deals. Would the Red Sox be interested in Keston Hiura as a project to go along with a top-10 prospect? Shortstop Brice Turang could make sense for Boston as a future infielder or utility man. Acquiring Bogaerts is probably unlikely, but with the right high-end piece or two, there is an outside chance it happens.
*Rafael Devers could have been a second star to discuss, albeit an extreme longshot for the Brewers. Unfortunately,  the left-handed hitting third baseman with a .981 OPS was recently put on the IL. He is signed through 2023, but if Boston has really wanted to get nuts, Devers would have been their best trade chip. 
PITCHING OPTIONS
Nathan Eovaldi:  Eovaldi looks and feels like a Brewers type of pitcher, and I can see Milwaukee's front office offering a bit more to acquire him. I'd argue a deal has an above-average chance of going down as he is a free agent after the season. The 32-year-old fireballer has had a few more struggles than in years past, mostly stemming from his 2.2 home runs per nine innings (HR/9) rate, the highest of his career. A big reason for that could be his 11.2% barrel rate allowed, which is more than four percent higher than his career average. 
Eovaldi is still throwing hard (95.6 MPH fastball velocity) and getting a high percentage of whiffs, up 0.8% from last season. He also ranks in the 96 percentile of walk percentage (BB%), something the Brewers should value. Though his ERA (4.30) is up more than half a run from the past two seasons, it is primarily skewed by his last start, when he allowed nine earned runs in 2.2 innings against the Toronto Blue Jays. Eovaldi is still a valuable arm that can fill multiple roles for Milwaukee now and in the playoffs.
Since Boston has not engaged in any contract talks with Eovaldi, there's little reason for them to keep him around. Two pitching prospects (one in the top 15-20 range) would seem enough unless the Red Sox preferred a single, higher-ceiling asset. 
Michael Wacha: The former St. Louis Cardinals' hurler has had a resurgent season of sorts. After posting a 6.62 ERA and 5.05 ERA the past two years, respectively, Wacha owns a 2.69 mark in 70.1 innings (13 starts) in 2022. His numbers are great on the surface, but it could be smoke and mirrors. While he dropped his hits-per-nine-inning rate (H/9) to 7.2 and HR/9 to just 0.9, his walks have increased while the strikeouts have decreased. Then when you look at his Statcast percentiles, you really start to wonder.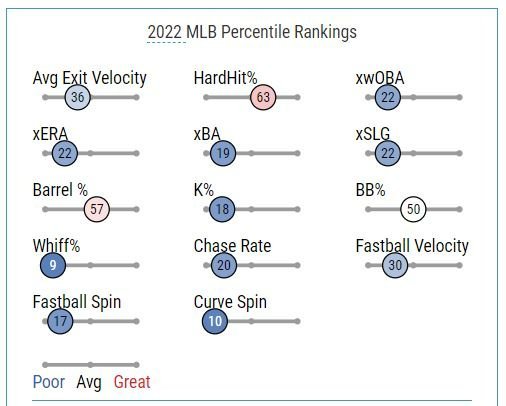 Based on this, would the Brewers even want to take that chance? It could mean it would cost very little to make the trade (prospect outside the top 30), which is a plus. It is possible that, at least for this season, Wacha has figured something out that works. Essentially Milwaukee would be playing the hot hand. I'd say there's a less likely chance this happens than trading for Eovaldi, only because the Brewers might not like what they see.
ROLE PLAYERS
J.D. Martinez:  The veteran "professional hitter" can't play the field or run, but he still knows how to swing the stick. The almost 35-year-old is in the last year of his deal but would have to be the full-time DH, which could be a challenge in Milwaukee.
Acquiring Martinez would mean Andrew McCutchen is playing in the field or sitting more often, which might help the club in the long run. 
Martinez ranks in the top 30 in MLB in wOBA (.368), OBP (.368), and slugging (.481). His 132 OPS+ is his best mark since 2019, and his metrics remain high in a few key areas.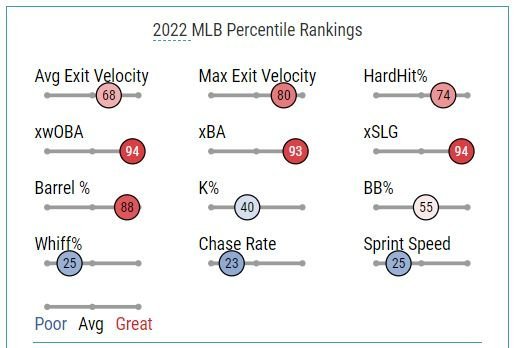 There would likely be some competition to acquire Martinez, which might drive the price up somewhat. One would think a mid-level prospect would do the trick. There probably isn't a high percentage chance Milwaukee will make this move, but plans can change in two weeks.
Enrique Hernandez:  Also a free agent following this season, Hernandez would provide value and depth in the outfield, including in center. Unfortunately, Hernandez has not been able to get back on the field in the last month due to a right hip injury. He is currently on the IL, which doesn't prevent a move from happening, but is often rare and a big risk. It worked in Boston's favor last season when they traded for Kyle Schwarber while he was on the IL as he posted a .957 OPS in 41 games once he returned.
As for Hernandez, should the Brewers take a shot, his defense remains strong, but his offense fell off this season (.613 OPS) after a strong 2021 (.786 OPS) and an incredible postseason run last year (.408 average, 1.260 OPS). Trading for Hernandez would be a bit of a risk offensively. However, his career numbers make him a weapon against left-handed pitchers, which Milwaukee still needs. Hernandez owns a lifetime .826 OPS versus southpaws, including .850 last season and .828 this year. He has also slugged .500 against lefties in 2022. 
His overall lack of offensive production and injury status should mean a deep discount for the Brewers, giving up next to nothing for a chance Hernandez recovers soon, gets hot, and continues to hammer lefties. He's at least a depth play for the current outfield, considering the group's age and proneness to injury.; of course, Hernandez would have to get back to the field (and stay there) himself.
Brewers fans should watch the Red Sox over the next few days. If they continue to flounder or break even, it opens up more possibilities for Milwaukee to add talent. Even if the Brewers don't make a deal with Boston, having an additional seller on the market makes it more likely Milwaukee finds a player at the right price from somewhere.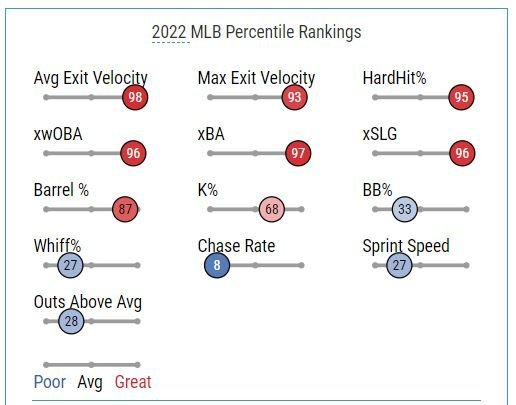 Think you could write a story like this? Brewer Fanatic wants you to develop your voice, find an audience, and we'll pay you to do it. Just fill out this form.
MORE FROM BREWER FANATIC
— Latest Brewers coverage from our writers
— Recent Brewers discussion in our forums
— Follow Brewer Fanatic via Twitter, Facebook or email
2