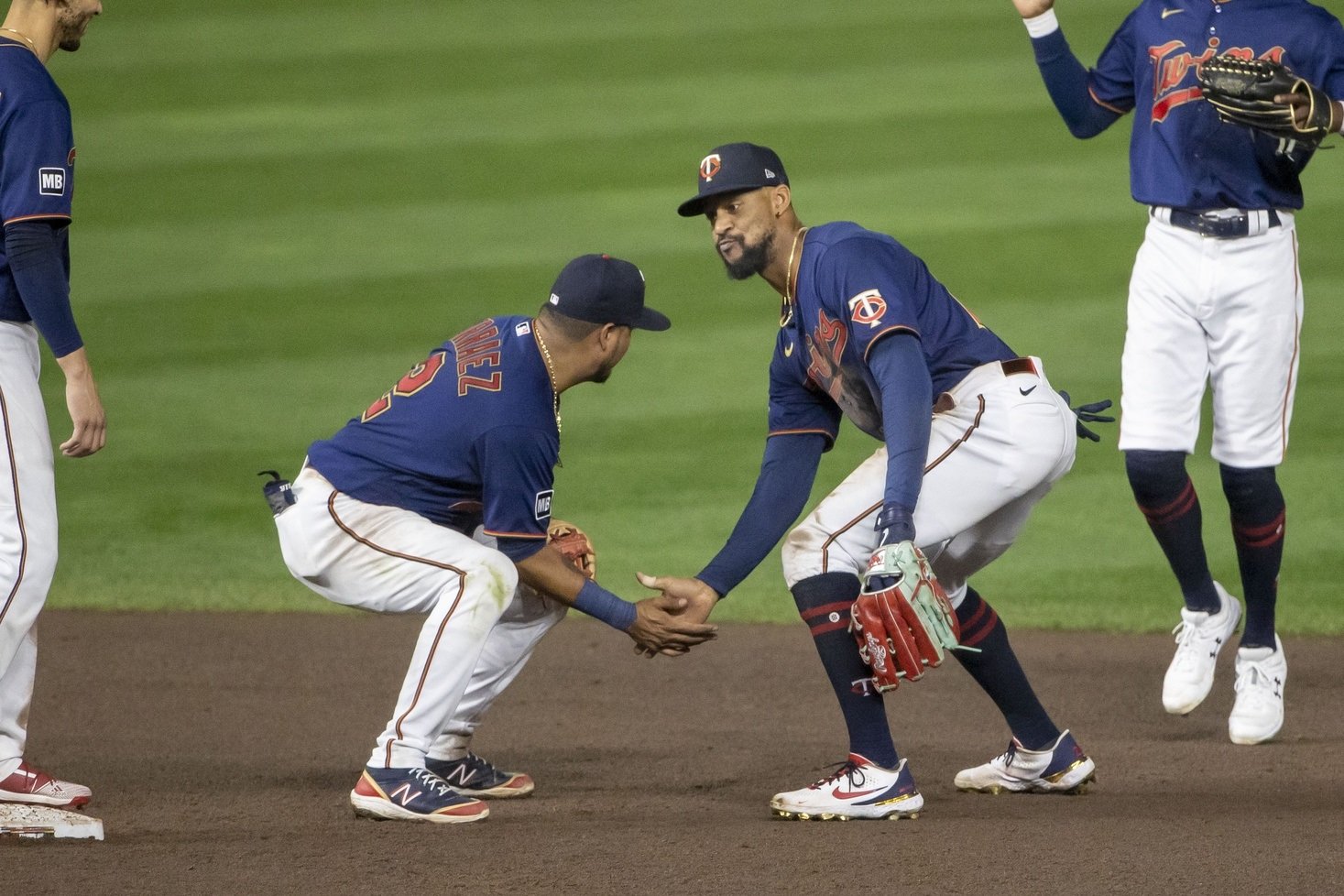 Image courtesy of © Jesse Johnson-USA TODAY Sports
First Base – Tuesday's starting pitcher, Josh Winder
Not every organization knows how to develop pitching like the Brewers. Since hired in 2016, one of General Manager Derek Falvey's focuses has been to oversee an overhaul of the Twins' pitching pipeline. After years of waiting, the organization is starting to see it trickle out some results. 
---
We asked John Bonnes, who co-founded Twins Daily, to give us a preview of the two-game Twins-Brewers series. Meanwhile, we had Tommy Ciaccio, who does series previews for Brewer Fanatic, do the same over on our sister site. If you would like to see that, click here. Despite their differences, these fan bases have at least one thing in common: they both really dislike their respective Chicago-based teams. 
---
Winder represents the second homegrown starter of what the Twin hope will become an annual harvest. (The first, Bailey Ober , is on the Injured List).  He's a slider-first pitcher (a recurring theme for the Twins) who sprinted through AA and AAA last year, and was a surprise addition to the Opening Day roster. 
Since then, he's been in the bullpen, in AAA, and on the injured list, but his work as a starter – a 1.71 ERA in five games - is what has the team most excited. His underlying numbers suggest that ERA is an aberration, but the 6'5" 25-year-old looks like a stable rotational fixture in an organization where that's been rare for well over a decade.
Second Base – Wednesday's starting pitcher, Joe Ryan
If you're wondering what the Brewers might need to give up to add a big bat to their lineup for the stretch run, look no further than the Twins' 26-year-old rookie starting pitcher on Wednesday. Just last year, they acquired him from the Rays (along with a lesser prospect) for 2+ months of Nelson Cruz . 
After a torrid start to the season (2.28 ERA in April and June with 42K in 43.1 IP), he was diagnosed with COVID and missed over three weeks recovering. Since then, he's appeared a lot more vulnerable, posting a 4.39 ERA in June and July over five starts. More appetizing to the Brew Crew lineup, he's also given up 5 home runs in those 26.2 IP. 
Is he still recovering from COVID? Is the league catching up with him? Is this just a midseason swoon? Is the Manfred mushball no longer as mushy? Wednesday's game, his last start before the All-Star break, may help provide some answers.
Third Base – A-B-C and 1-2-3 in the order – Arraez, Buxton and Correa
The Twins offense ranks third the American League in runs, and most of the lineup is better than competent, with only one regular starter (catcher Ryan Jeffers ) with an OPS+ under 100. But Jason Alexander (Tuesday's MIL starter) and Aaron Ashby (Wednesday's starter) will need to navigate the top three spots of the lineup with extra care, as Luis Arraez, Byron Buxton and Carlos Correa await there.  
Arraez' nickname is The Sprinkler, because - tschk, tschk, tschk – the left-handed hitting Arraez just keeps shooting hits all around the field, en route to a MLB leading .348 batting average and .420 on-base percentage.
Once upon a time, the Twins wanted Buxton to be a right-handed Arraez, but now he's just a pure hulking launch-em-to-the-moon slugger cleverly disguised in a speedy centerfielder's body. It's working for him. His 23 home runs bolster an 845 OPS, despite recently slumping to a .215 batting average.
Correa is the perfect mixer. He provides stellar defense at shortstop, a taste of Buxton's power (10 HR) but Arraez' patience (.351 OBP). Plus, he's been an ideal fit in the clubhouse, being a team leader without thumping his chest about being a team leader. He's essentially on a one-year deal, so enjoy(?) him while you can.
Home Plate – The Twins Shaky Bullpen
Don't give up on the Brew Crew too early this series. No lead is safe for the Minnesota Twins.
If the Twins bullpen was even a little more reliable, they would have a double-digit lead in the AL Central. Heck, if they were even a little more reliable just against the Cleveland Guardians, they would have a double-digit lead in the AL Central. 
But the Twins have only two relievers they truly trust, and they're both rookies. 100mph flame thrower Jhoan Duran converted from the rotation to the bullpen in spring training and has exceled. Griffin Jax did that too, and though he doesn't have the velocity of Duran, he has been nearly as reliable. Plus, both will throw multiple innings if the team really needs it. 
Beyond that is a mixture of veterans (Caleb Thielbar, Tyler Duffey, Emilio Pagan) and AAAA arms (Jharel Cotton, Trevor Megill, Jovani Moran) who are effective enough often enough to be assets, but disastrous enough that they all hover around a negative Win Probability Added value. They Twins may get back veteran sidearmer Joe Smith for this series, who was at least reliable early in the season. 
Bottom line: don't turn off the TV too early. I assure you, Twins fans won't. (Unless they can't bear to watch.) 
Think you could write a story like this? Brewer Fanatic wants you to develop your voice, find an audience, and we'll pay you to do it. Just fill out this form.
MORE FROM BREWER FANATIC
— Latest Brewers coverage from our writers
— Recent Brewers discussion in our forums
— Follow Brewer Fanatic via Twitter, Facebook or email
2