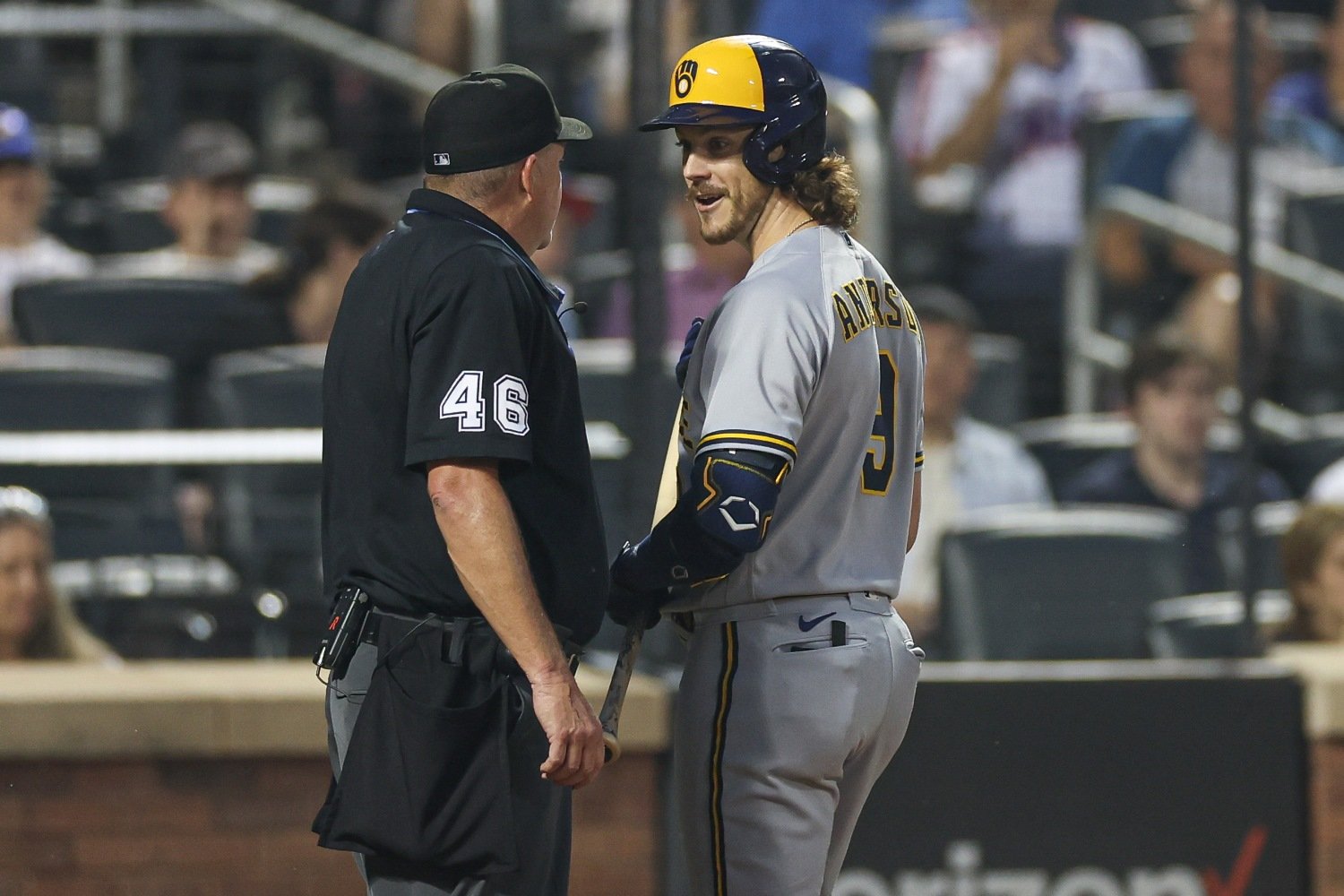 Image courtesy of © Vincent Carchietta-USA TODAY Sports
Christian Yelich - Run Value Against the Sweeper
2023 Sweeper RV: -2
2022 Sweeper RV: -1
The sweeper is not a new pitch, although it is a new classification. Until this season, the pitch shape of sliders could have high vertical or horizontal break. In an effort to clarify between the two since they are very different pitches, the "sweeper" title is used to refer to horizontally moving sliders.
Yelich has always been league-average or worse at hitting this pitch, but one particularly interesting statistic I found is that he has not recorded a single hit on a sweeper all season. He's seen 75 of them total and has a single walk, giving him an impressive wOBA of .064 against the pitch.
William Contreras - Run Value Against the Changeup
2023 Changeup RV: -3
2023 Changeup RV: 2
Contreras has greatly improved at hitting the four-seam fastball and the slider since last year, but performance against off-speed pitches has suffered. He's been able to record a few hits, posting a .176 BA and .176 SLG, but he whiffs 40.6 percent of the time.
Similarly, he has a -3 run value against the sinker but at least he's putting those pitches into play. He whiffs just 22.4% of the time against the sinker. 
Owen Miller - Max Exit Velocity
2023 Max EV: 107.5 (30th percentile)
2022 Max EV: 109.1 mph (50th percentile)
Owen Miller is great at many things--defense, avoiding strikeouts, and defense. However, hitting baseballs with extreme prejudice is not one of his skills. Because of his relatively low exit velocity, many of his other power stats, including xSLG (22nd percentile), Barrel % (10th percentile), and Hard Hit % (14th percentile), are dragged down.
While this season has brought into question whether one needs power to be an effective hitter (ahem, Luis Arraez), Miller isn't making enough contact to compensate for his lack of pop, posting a perfectly league-average 100 OPS+.
Willy Adames - Average Exit Velocity
2023 Average EV: 86.7 mph (12th percentile)
2023 Average EV: 88.9 mph (48th percentile)
Adames has a more interesting batted-ball profile, having a max exit velocity of 109.8 mph, good enough to place him in the 69th percentile. [Ed. note: Nice.] However, it seems that his profile is hurt by his inability to make good contact consistently. 
Statcast puts batted balls into six different categories, three good and three bad. Some 61.2 percent of Adames's batted balls are in the soft contact categories, helping to partially explain why his good max exit velocity figure is being offset in the average figure.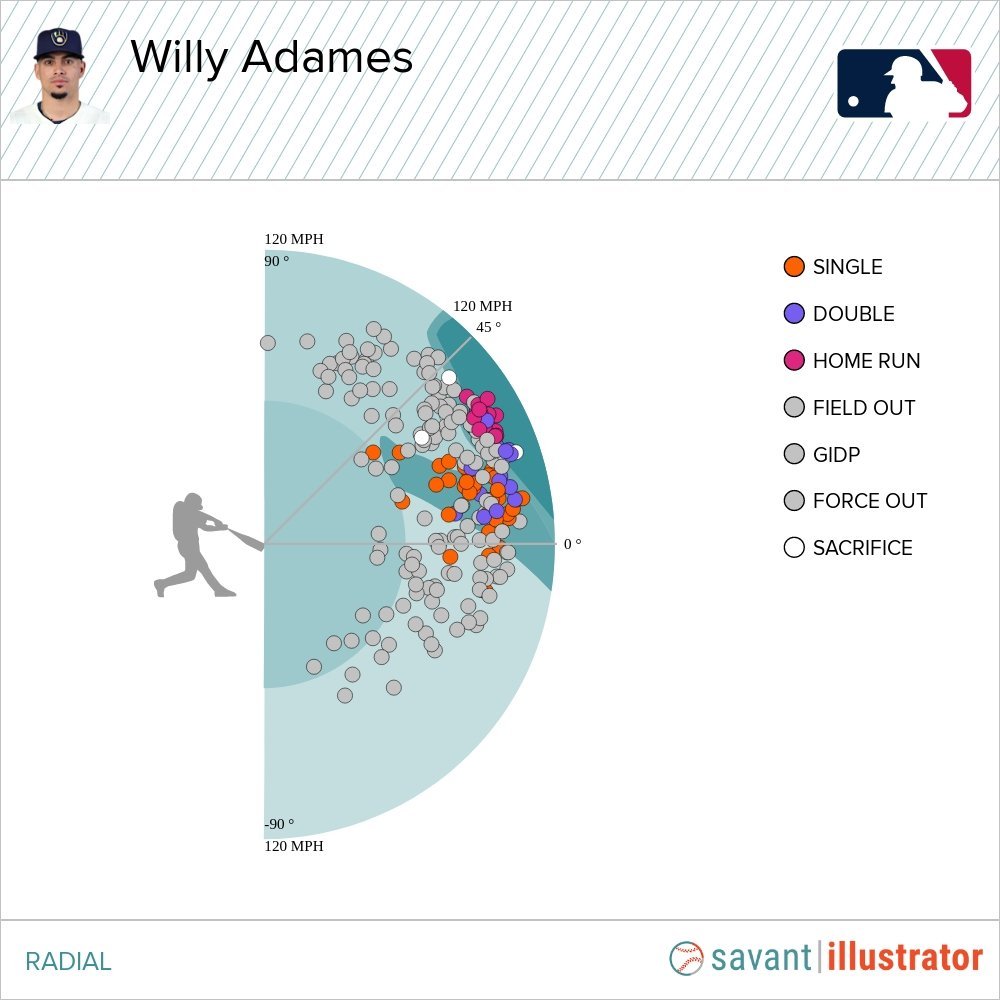 Brian Anderson - Run Value Against the Four-Seam Fastball
2023 4SFB RV: -6
2022 4SFB RV: 2
Brian Anderson has been striking out a lot this season, partially because he's been getting destroyed by the most popular pitch in baseball. He's seen the pitch 417 times and still hasn't found a way to catch up to it this season. He's striking out 33.0% of the time and whiffing 33.7% of the time, not the greatest recipe for success.
On the bright side, when he does hit it, he hits it hard, notching a 48.3% hard-hit rate on batted balls. 
Joey Wiemer - Whiff %
2023 Whiff %: 34.1% (8th percentile)
Joey Wiemer swings for the fences. Unfortunately, Joey Wiemer also swings and misses a lot. He's pretty much whiffing on every pitch, but is getting crushed by the curveball, where he has a 42.9 % strikeout rate and a 44.2 % whiff rate. 
Furthermore, and similarly to Yelich, he also has not recorded a hit on any of the 66 sweepers he's seen this season, and also does not have a walk, giving him a grand total wOBA of .000 against the pitch. He also whiffs 36.1% of the time.
Rowdy Tellez - Sprint Speed
2023 Sprint Speed: 23.3 ft/second (2nd percentile)
2022 Sprint Speed: 23.8 ft/second (1st percentile)
This seems almost unfair, but after an offhanded locker-room comment earlier this season where Tellez stated that he could beat Luke Voit in a race, I haven't stopped thinking about Rowdy's wheels. They're not great. Like Daniel Vogelbach, I imagine he wasn't too concerned about the bigger bases or pickoff attempt limits heading into this season.
Brice Turang - xwOBA
2023 xwOBA: .266 (2nd percentile)
xwOBA is a refinement of wOBA, which is itself a refinement of OBP and OPS. wOBA essentially suggests that weighting walks and hits by total bases is inaccurate, as a single is worth slightly more than a walk (can advance runners) and a double isn't really worth two singles, etc. xwOBA is just wOBA, but uses metrics like exit velocity and launch angle to determine whether a batted ball would've been a hit and is meant to be independent of individual defensive plays.
TL;DR, a 2nd percentile xwOBA essentially means that Brice Turang is not a great hitter. With a .580 OPS (59 OPS+), it's clear he isn't quite ready to compete at a big-league level with the bat. Fortunately for him and unfortunately for Brewers fans, Miller is pretty much stuck at first base given the current injured list, and Milwaukee doesn't have any players screaming to take his spot at second base.
Think you could write a story like this? Brewer Fanatic wants you to develop your voice, find an audience, and we'll pay you to do it. Just fill out this form.
MORE FROM BREWER FANATIC
— Latest Brewers coverage from our writers
— Recent Brewers discussion in our forums
— Follow Brewer Fanatic via Twitter, Facebook or email