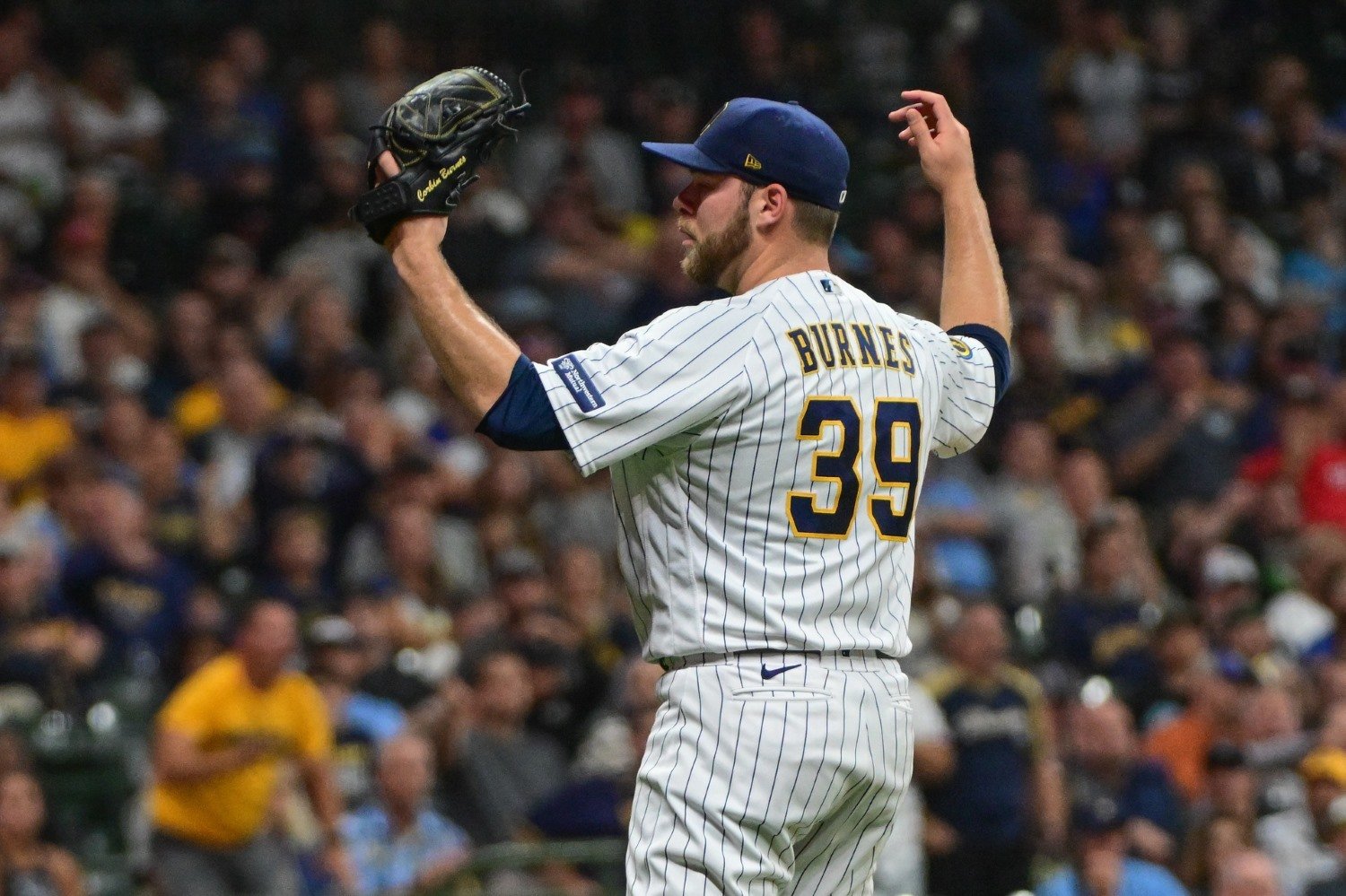 Image courtesy of © Benny Sieu-USA TODAY Sports
Corbin Burnes is a top-tier, true ace of the rotation, having accumulated more than 200 strikeouts in each of the last three seasons. He pairs durability with the raw stuff of dreams. Grip enhancement or none, he is an outstanding pitcher and should be recognized as such. It's not an open-and-shut case; there's certainly some ambiguity. However, it's beginning to appear that Burnes's success was not fueled by use of any illegal substance; the timelines don't really match up.
The Important Dates
June 2021 - The initial crackdown
Spin rates decreased quickly in June, but began to rebound as the season went on, particularly in September. That month, the average spin rate was 2,350 RPM, up from less than 2,250 RPM in July and August. It meant MLB had to do more to address the issue in 2022. They believed pitchers had found a way to circumvent checks later in the year, given the routine nature of the umpire's checks
April 2022 - The Updated Methodology
New rules came in to begin 2022, allowing umpires to inspect more than just the glove, hat or belt, and instead inspect the pitcher's hand for any evidence of a stickier substance being there. It resulted in some protestations, but for the most part, it's cut down massively on the number of anomalies in the system and been key to evening the playing field.
Did the crackdown work?
In short, yes. Between Apr. 1, 2019 and May 31, 2021, there were 1,057 fastballs thrown with a spin rate of over 2,900 RPM. Over that time, the man notorious for many things (including his condemnation of pitchers using Spider Tack) Trevor Bauer led the league with 214 2,900+ RPM fastballs.
From June 2021 through the start of 2023, this number dropped by 86 percent, to just 146 fastballs league-wide, and the league leader over that time is Trevor Rogers, with 12. It's a stark contrast, and has resulted in a rise in batting average year on year, for the first time in decades.
Corbin Burnes's Role in it All
Burnes's high-spin cutter, which pairs extreme velocity with above-average movement, has been devastating since he introduced it in 2020. He's demonstrated a supreme feel for spin that leavrs hitters confounded at the plate. It made sense why people would be suspicious of this unique offering coming as a result of Spider Tack. In line with the above dates mentioned, here are Burnes's split stat lines:
Apr. 1, 2020-May 31, 2021: 2.21 ERA, 1.63 FIP, 13.75 K/9, 2.46 BB/9, 0.34 HR/9
Jun. 1, 2021-Sept. 30, 2021: 2.32 ERA, 1.73 FIP, 11.90 K/9, 2.08 BB/9, 0.32 HR/9
It's clear to see that, after the initial crackdown during Burnes's Cy Young year, there was hardly a dropoff at all. In fact, Burnes displayed improved command of his pitches. Given that there was a sag in MLB spin rates in June, July and August, you would expect some level of difference by this point. There was a decline in strikeout rate, but that could plausibly be more as a result of hitters getting a better look at his cutter and a better approach to it at the plate.
Apr. 1, 2022-Jul. 15, 2022: 2.14 ERA, 2.90 FIP, 11.40 K/9, 2.30 BB/9, 0.95 HR/9
The underlying stats again show a total contempt for hitters. Burnes churned out quality start after quality start even amidst the extra attention to tacky substances. His home run rate did go up, and has been a concern for him in recent years, but that appears to be due more to his pitch mix, with everything working better down in the zone. It should be noted, too, that although his FIP increased substantially, he drastically outperformed his expected FIP in both 2020 and 2021, while he was actually slightly unlucky in 2022. 
Using these time periods, and his consistent performance throughout, it appears quite clear that Burnes was not enhancing his pitches illegally. However, if more evidence is needed, here are his spin rates compared to average:

It's all quite subtle, but his cutter actually moved more in 2022 than it did in 2021, and it's also important to discount the 2019/2020 outliers (given the smaller sample sizes). There is a concern about the dropoff in 2023 that may be worth revisiting, but it should be noted that he also had a downtick in velocity in 2023 that marries up well with the reduced spin.
In short, Burnes's surface-level numbers, underlying performance metrics, and pitch movements demonstrate a consistency that belies the use of any unnatural substances to boost his performance. It means that he still has the Cy Young pitching ability in his arsenal, something he has shown in short spurts since the 2022 All-Star break. Knowing that he can still be the 2021 version of himself increases his value on the field and the trade market massively, and gives some enticing options to the Brewers front office.
Think you could write a story like this? Brewer Fanatic wants you to develop your voice, find an audience, and we'll pay you to do it. Just fill out this form.
MORE FROM BREWER FANATIC
— Latest Brewers coverage from our writers
— Recent Brewers discussion in our forums
— Follow Brewer Fanatic via Twitter, Facebook or email