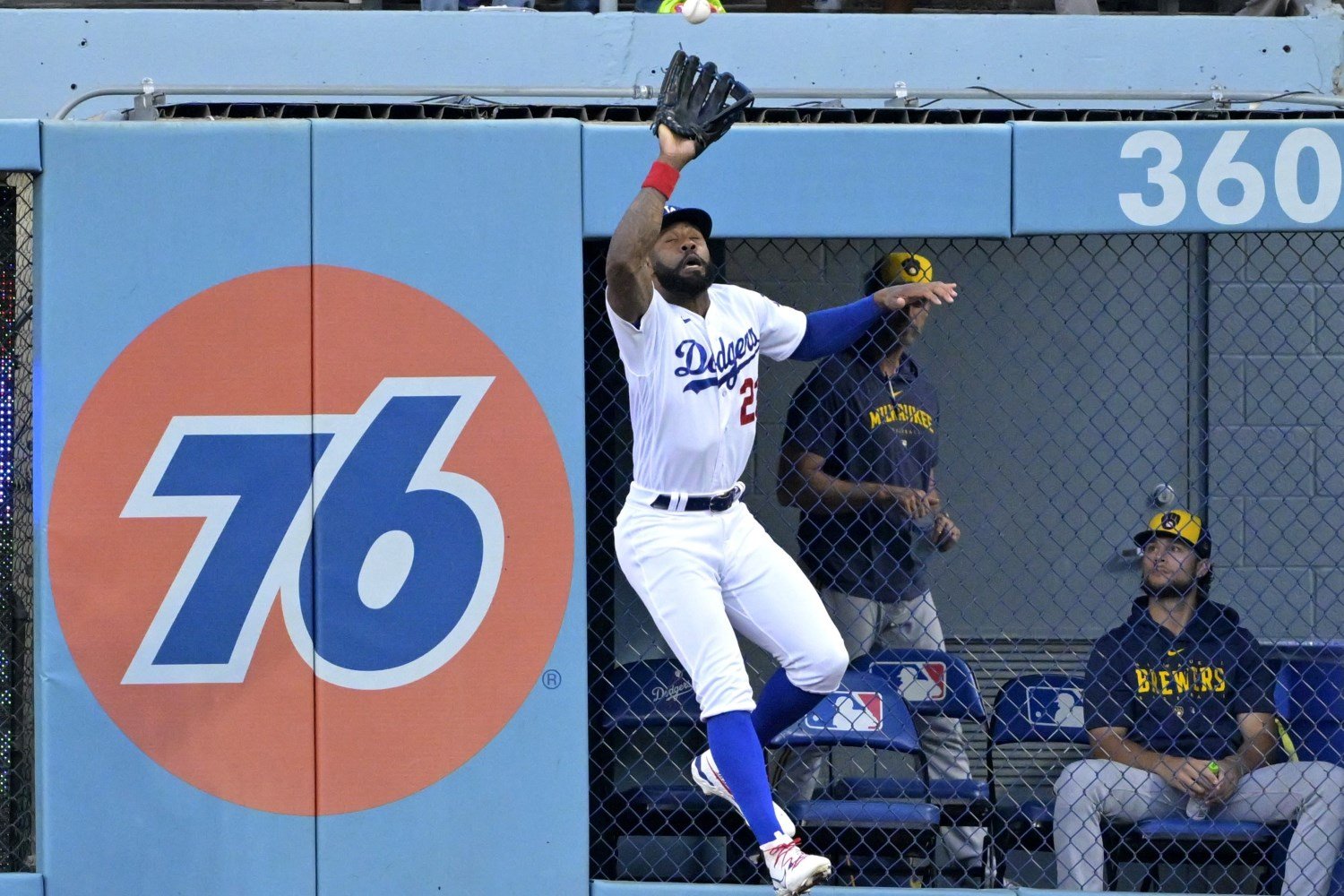 Image courtesy of © Jayne Kamin-Oncea-USA TODAY Sports
It's tempting in the extreme to think that the Brewers got excruciatingly unlucky in the Hollywood hills this week. It seemed like all their hard contact landed harmlessly in the gloves of Dodgers defenders. Worse, the Dodgers themselves seemed to escape the same fates, en route to just enough offense to sweep the Crew out of town.
In some part, that's a valid narrative. The expected batting averages generated from Statcast data would, broadly speaking, corroborate it. The Brewers hit a healthy number of fly balls and lofted line drives, often with some zip behind them. Bad luck does happen, and it needn't be confined to a single inning or game. Sometimes, it spreads itself out over a struggling offense, like fingers of icy water seeking any low spot.
On the other hand, though: the Dodgers have a great defense. The Brewers have, on average, an even better one, but the Dodgers are rising into their full bloom at just the right time, while the Brewers are trying to figure out where they can swap a bit of defensive prowess for some needed lineup thump. More importantly, though, the game is changing. The Brewers' many deep fly balls and line drives were caught, and many of them were caught easily, when even a decade ago, some of them might have split gaps or one-hopped the outfield walls.
That's because, in the last 10 years, teams have changed the norms and the shape of outfield defense. The Statcast Era (once a tongue-in-cheek term, but an increasingly legitimate one) is now in its ninth full season. In the first (2015), the median team's center fielders played an average of 312 feet from home plate. That year, the Brewers were extremists. Their center fielders played an average of 318 feet from home, and only the Rays (although by eight feet!) played deeper. The Cubs played an average of 300 feet from the plate that year.
As batted-ball data suffused and reshaped the sport, things changed almost overnight. By 2019, the median center fielder played 323 feet from the plate--deeper than anyone but the Rays had been positioning people just four years earlier. That year, no team played shallower (on average) than 315 feet from home, such that an average team in 2015 was playing a full step shallower than the shallowest team of 2019.
The Dodgers don't play unusually deep, by 2023 standards. On the contrary, they're 21st in MLB in average starting depth for center fielders. That depth is 322 feet, though. They'd have been playing three steps deeper than the average club eight years ago, and they'd be bang on average four years ago. Now, the average depth is another step deeper, at 324 feet, and two teams (the Nationals and Angels) play at least 330 feet from home on average. 
Obviously, outfielders (and infielders, for that matter) adjust their positioning from batter to batter. It's not a complete picture to look only at average positioning. Nor is center field the only position to consider. It's enough of a snapshot, though, to remind us that there's been a subtle but significant shift in the way defense is played in the modern game. Teams have made a careful study of batted balls, and realized they should be playing their outfielders deeper. They've done it. Now, while it's necessary to focus on generating power (thanks to the still-high global strikeout rate, among other things), anything less than over-the-fence power pays off much less than it used to. 
Draw a line at any batted-ball distance you prefer (I checked everywhere from 250 to 300 feet), and balls hit at least that far but not out of the park have gotten less productive over the period since 2015. The league's weighted on-base average (wOBA) on such balls was around .270 each year from 2015 to 2017, but it's been just under .250 each of the last two seasons. Deeper-positioned outfielders catch more long fly balls, which means the only valuable long fly balls are the ones that clear the wall. Last year, the Brewers cleared the wall more than enough times to make an approach centered on long fly balls viable, This year, they're Team Warning Track Power, 22nd in MLB in homers and 28th in wOBA on contact.
They don't swing and miss at an especially high rate. They draw a lot of walks, as a team. They can't consistently convert their grinding approach into runs, though, because they just don't have the power that fueled their offense last year. In a series like the one in Los Angeles, that becomes especially glaring, because the marine layer seeps in during those Dodger Stadium night games and makes it hard on fly balls that aren't absolutely obliterated. Austin Barnes beat the Crew Thursday night with a home run yanked into the reachable left-field corner, but alas, the Brewers also pull the ball less than almost any other team in MLB, such that they're too often using the big part of the field when they hit their good-not-great flies.
This offense is capable of more than it has shown. That won't matter unless they unlock their potential in a hurry, though, and Dodger Stadium in August is just a friendly preview of the heavy air the team might find waiting for them in night games in Philadelphia, Chicago, or San Francisco come October. An approach change is needed, because given the way teams defend the outer reaches of the field in this new era of big-league baseball, hitting deepish fly balls just isn't a productive way to go.