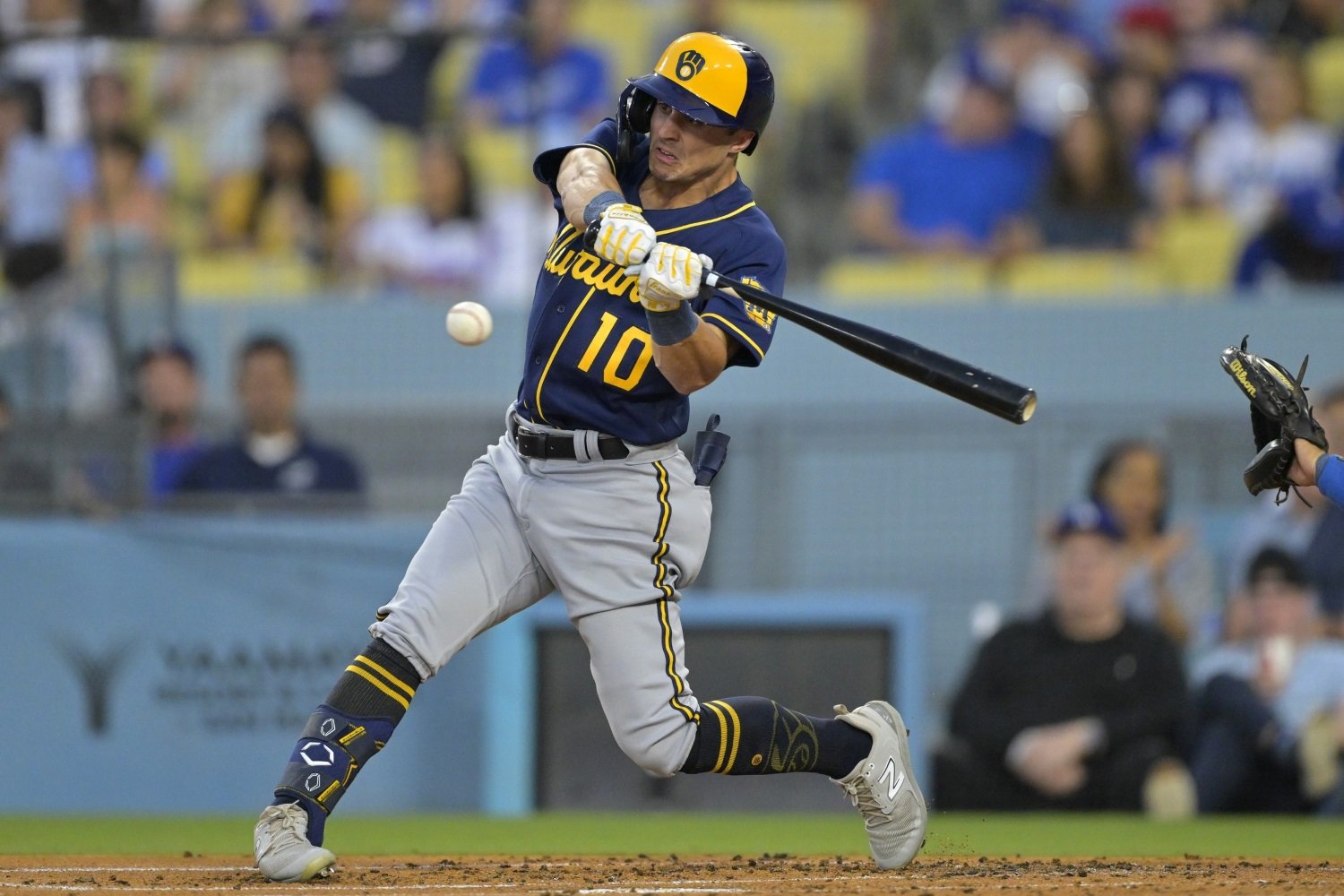 Image courtesy of © Jayne Kamin-Oncea-USA TODAY Sports
Despite a relatively tame ending with two tight losses to the Chicago Cubs, the Brewers have had an exceptional month of baseball. They found their feet both as a pitching unit and (more noticeably) with the bats, culminating in a nine-game winning streak. There is fair reason to believe that this isn't a flash in the pan, and that their success will continue through the month of September and beyond.
The Aces are Back
Brandon Woodruff's return from injury, alongside Wade Miley, has helped the Brewers return to the sort of pitching dominance many expected throughout the year. There are no four starters who, on their day, have a better chance of going six shutout innings, especially with the way the Brewers defense is stacked up. In the month of August, as a unit they were:
1st in Opponent Batting Average (.206)

3rd in ERA (3.36)

3rd in WHIP (1.08)

1st in Strikeouts per Nine (9.73)
Earlier in the season, the Brewers wanted to rely heavily on Freddy Peralta and Corbin Burnes while dealing with an injury-riddled rotation. However, neither performed to expectations, with Burnes struggling to generate the type of swing-and-miss to which he has made us all accustomed, while Peralta was struggling mightily with his command and with home runs. The Brewers were 15th in the league in ERA before the All-Star break, but since then, they have become the illustrious rotation that was expected.
The big difference is the number of strikeouts the staff has been getting, a key stat in that it's very projectable. A team that gets outs without the ball being in play is less susceptible to BABIP fortune, stops baserunners advancing cheaply and can get out of high-pressure situations. Although Burnes isn't quite putting up the gaudy numbers of 2021 and 2022, Peralta and Woodruff have been attacking hitters relentlessly behind their fastballs, to great effect.
An Offensive Formula
The new additions to the Brewers roster have given them an identity on offense--a gritty, hardworking identity, that has managed to scrape together hits in ways that just weren't being seen earlier in the season. I mentioned strikeout rate being important for the pitching staff above, and it's been key for the hitters, too. You can't get hits unless you put the ball in play, and doing so has made the offense a much more consistent weapon, perfectly suited for their pitching staff.
In trading out at-bats from an injured Rowdy Tellez, Owen Miller, Jesse Winker, Joey Wiemer and Brian Anderson for the far more consistent hitting talents of Carlos Santana, Mark Canha, Sal Frelick, Andruw Monasterio and a healthier Tellez, they've managed to connect the lineup, and generate more balls in play that will eventually lead to runs, one way or another. One thing's for sure: they don't need to score too many with this pitching staff the way it is.
The pre-break lineup had the fourth-most strikeouts in the league. In August, nobody has struck out less than the Milwaukee Brewers. Add to that the occasional power input from players like Rowdy Tellez, who has hit every single fastball hard in August, as well as a hard-hit rate of 71.4% against breaking balls (albeit a small sample size, but this was absent in May and June). If the Brewers are continuing to find ways to get on base ahead of an in-form Tellez, the runs will come.
The improved performance has actually been in contrast to a BABIP that's worse in August than it was for the earlier part of the season, so perhaps the luck part is still to come for the Brewers. (Then again, it's also true that they've had to trade some quality of contact to gain so great a quantity of it. It's the eternal dilemma of two-strike hitting.)
Fresh off the Farm
One thing the Brewers missed last season was support from their farm system, with a lot of their more talented prospects still amongst the lower levels of the system. Not so much now, and in August they've had two big weapons join the parent club.
Sal Frelick encapsulates what this offense was in August, with a 16% strikeout rate, and a 16% walk rate. He's been patient at the plate, putting balls in play, all while still finding his timing at the major-league level. There is more to come from this young rookie, but for now, a .371 OBP is exceptional, and a marked improvement over what Joey Wiemer had been providing against right-handed pitchers.
The other area where the Brewers struggled was the bullpen--not the top end, with their four top relievers excelling, but in the soft middle that so often lets down even well-built teams. Enter Abner Uribe, who (save for one shaky outing) has been far more than the Brewers could have hoped, especially given the rough patch faced by Elvis Peguero earlier in the month. His searing fastball and wipeout slider have resulted in a number of uncomfortable at-bats by some of the best hitters the league has to offer. His 1.12 WHIP and 1.83 ERA have been vital over the recent run of wins, keeping games tight and allowing the offense time to come back. Earlier in the season, this wasn't happening, with blowup outings at the back end of the bullpen.
Amongst the current line-up's approach and construction, the return to form of the Brewers rotation, and the energetic promotions from the farm system, the Brewers have earned every win they got in August, not through luck, but as a result of consistency and talent. Luck invariably plays a significant role in baseball, but that doesn't mean the Crew's success has been an accident. Make no mistake, this is a very different team from before the trade deadline, performing to a high level even despite some key contributors malfunctioning a little (such as Christian Yelich). They are primed to continue this stretch through September, and be a serious force in the postseason.
Think you could write a story like this? Brewer Fanatic wants you to develop your voice, find an audience, and we'll pay you to do it. Just fill out this form.
MORE FROM BREWER FANATIC
— Latest Brewers coverage from our writers
— Recent Brewers discussion in our forums
— Follow Brewer Fanatic via Twitter, Facebook or email