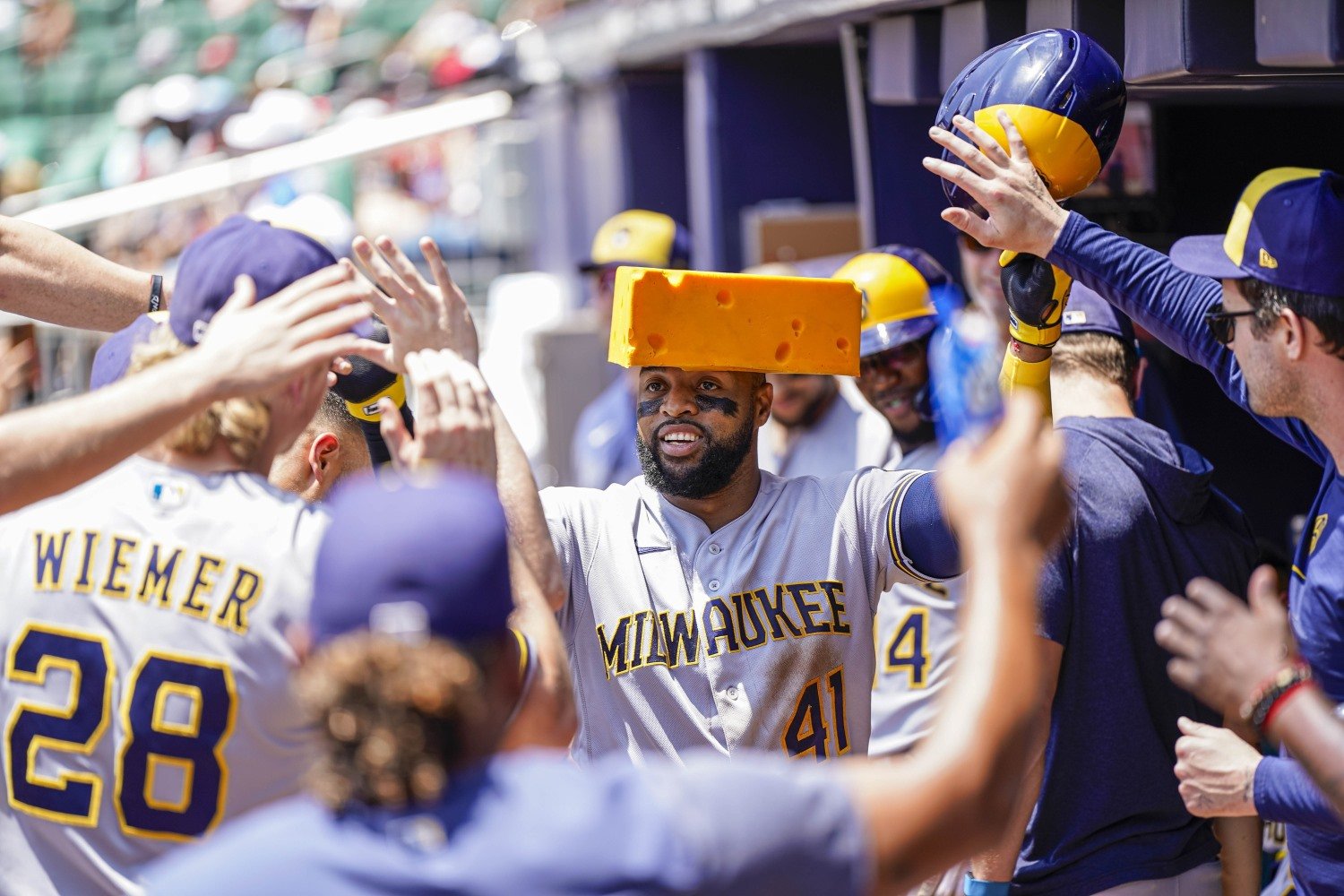 Image courtesy of © Dale Zanine-USA TODAY Sports
At the end of June, the Brewers were one game back of a surging Cincinnati Reds club who had caught fire following the promotions of a few rookies, with some remarkable offensive production covering a struggling rotation. Milwaukee was just four games above a .500 record, and it felt like they had barely earned that. They were the worst in the league in production from the right field, first base and designated hitter spots, as well as getting poor production from second base, while Willy Adames was struggling at the plate, and Brian Anderson proved very streaky at third.
The division looks incredibly close as it stands, but the Brewers should have a lot more optimism moving forward, as their roster begins to bulge with talent.
The First Base/Designated Hitter
While making it clear the Brewers haven't given up on Rowdy Tellez coming back and performing at a high level some time in mid-August, they had two slots here ideal for bat-first talent. Between Tellez's injury and Owen Miller's struggles at the plate since the month of May ended (while Keston Hiura struggles to get truly locked in at Nashville), the front office looked elsewhere. Insert Carlos Santana, a man reputed to have a big clubhouse effect and a premier defensive first baseman, two things that fit the DNA of the club. He provides a real consistency in the lineup, being a switch-hitter with extreme patience at the plate, as illustrated by his 17.4% strikeout rate and 11.6% walk rate. He essentially lengthens the order, given how William Contreras and Christian Yelich have almost singlehandedly carried the offense in July.
We haven't seen Miller's bat since the trade, which can only be a good thing, and Santana popped his first homer against the Braves. Santana has been hot since the All-Star break, with a .963 OPS. Between him and Rowdy, the Brewers have home run power that can make a difference.
Starting Pitching
Wade Miley, Julio Teheran and Colin Rea were almost holding the rotation together coming into June, with subpar performances from the likes of Corbin Burnes and Freddy Peralta really struggling to find their best form, and more crucially, their strikeouts.
Peralta had a blow-up outing against the Atlanta Braves, whose offense is otherworldly, but sandwiched that with two starts against the Reds where he almost had a no-hitter in one, then struck out 13 across six innings in the other. The Brewers coaching staff talked about trying to get him to enjoy himself more on the mound and let his personality out, and little mental adjustments can make a world of difference. Overall, he struck out 34 in 22 1/3 innings for a 3.63 ERA in the month of June.
Burnes has been, quite simply, lights out, especially since the break, embracing changing up his pitch mix and tapping into some real form while he does so. His only loss since the break came as a result of some awful batted-ball luck and a poor offensive showing. Coming into the month, he had fewer strikeouts than innings pitched, but has come out the other side with 42 Ks in July across 33 innings, and one more start to come against the Nationals tonight.
There was a thought that, given the way the rotation was going (especially the two aces of the staff while Woodruff was down), reaching the playoffs would be almost pointless. Burnes and Peralta just couldn't pitch with any authority in the postseason in their April and May iterations. Not so now, and on top of that, the Brewers are maybe just a week or two away from adding Woodruff back in and being a truly elite rotation again.
Right Field
Being regularly manned by Blake Perkins, whose quality defense is offset by his relatively poor performance with the bat, as well as Tyrone Taylor's scuffles earlier in the season, this was another area where even an average bat could make a massive difference for the Brewers. Enter Sal Frelick, whose incredible range has seen him make a number of remarkable catches since his debut, but it's the bat that has changed things. He has a regular, big cut at the ball until he gets to two strikes, and then becomes a brick wall, shortening his swing and using his hands to simply direct the ball into gaps, without a care in the world for exit velocity.
He's shown he can hit them out of the park when the pitch is in his wheelhouse, but it's the 11.1% strikeout rate and .438 OBP that really stand out so far. Frelick gets on base, and has again lengthened the Brewers lineup through his ability to do so. He's a pesky hitter, like Santana, and interestingly, he hasn't swung at a first pitch yet this season. He's running a 96.4% contact rate in the strike zone, which is absurd. An average offense is all this rotation needs to get the job done over the final two months of the season, and Frelick brings the Brewers one step closer to that.
Third Base
Andruw Monasterio was not a name on many fans' lips at the start of the season, but he has provided consistency since Brian Anderson's injury that had been sorely lacking beforehand. Not likely to hit for much home run power, but with the ability to walk (11.8% walk rate) and strong bat-to-ball skills while regularly keeping the ball off the ground (just a 37.5% ground ball rate), he provides a quality at-bat and has been really sound defensively at the hot corner, with more range (but less arm) than Anderson. He is due for some regression, but that's fine. He can regress and still have value as a role player. Most crucial is what he's brought against left handers, hitting for a .970 OPS against southpaws and being a big part in righting the ship against them for a team that really struggled against them early on.
In July alone, upon getting more regular playing time, he has hit .333/.397/.424, for an OPS of .821. Again, this is a small sample, and the underlying metrics suggest that the results are less than perfectly sustainable, but he has shown he has a developing bat at each level of the minor leagues, and he could keep improving with more time at the major-league level, too.
Second Base
Brice Turang's smoothness at second base, and his range, are amazing to watch, and they're a big reason for the Brewers' success this season, with the sheer volume of ground-ball pitchers they possess. That being said, his first stint in the majors didn't go well, with a plummeting OPS and a strikeout rate that just didn't work with his lack of power. Since returning however, Turang has improved his floor considerably, most notably with an improved walk rate that gave him a .333 OBP in July. He's not hitting consistently or for power yet, but he's shown an ability to learn and adapt at every step up in his career, and this can only come through exposure to the top level of pitching. Getting an on base percentage like that from the bottom of your lineup, with Christian Yelich coming up immediately afterward, can only be a good thing, while the defensive premium of having both Turang and Adames up the middle is huge for the strategy of run prevention.
Realistically, the Brewers need Adames and Tellez to start performing more to their capabilities in order to become an above-average offense, and the lack of power has hurt them a little in July. Yelich and Contreras have been almost the only places from which extra-base hits have come, but they have found the starting pitching that can dominate in October and noticeably improved their offensive floor with the acquisition of Santana, the promotion of Frelick, and the improved performance of Monasterio and (to a lesser extent) Turang.
One more big bat could make all the difference, particularly if it allowed an average contribution offensively from second base or center field (altough Joey Wiemer looks to have developed a two-strike approach that's borne recent fruits), but simply by passing the baton more, they can get the runs they need to get into the postseason and beyond. They fully deserved their 16-10 record in July. Keep this up, especially with a weaker schedule incoming, and they'll be feeling very good about their chances in the postseason.