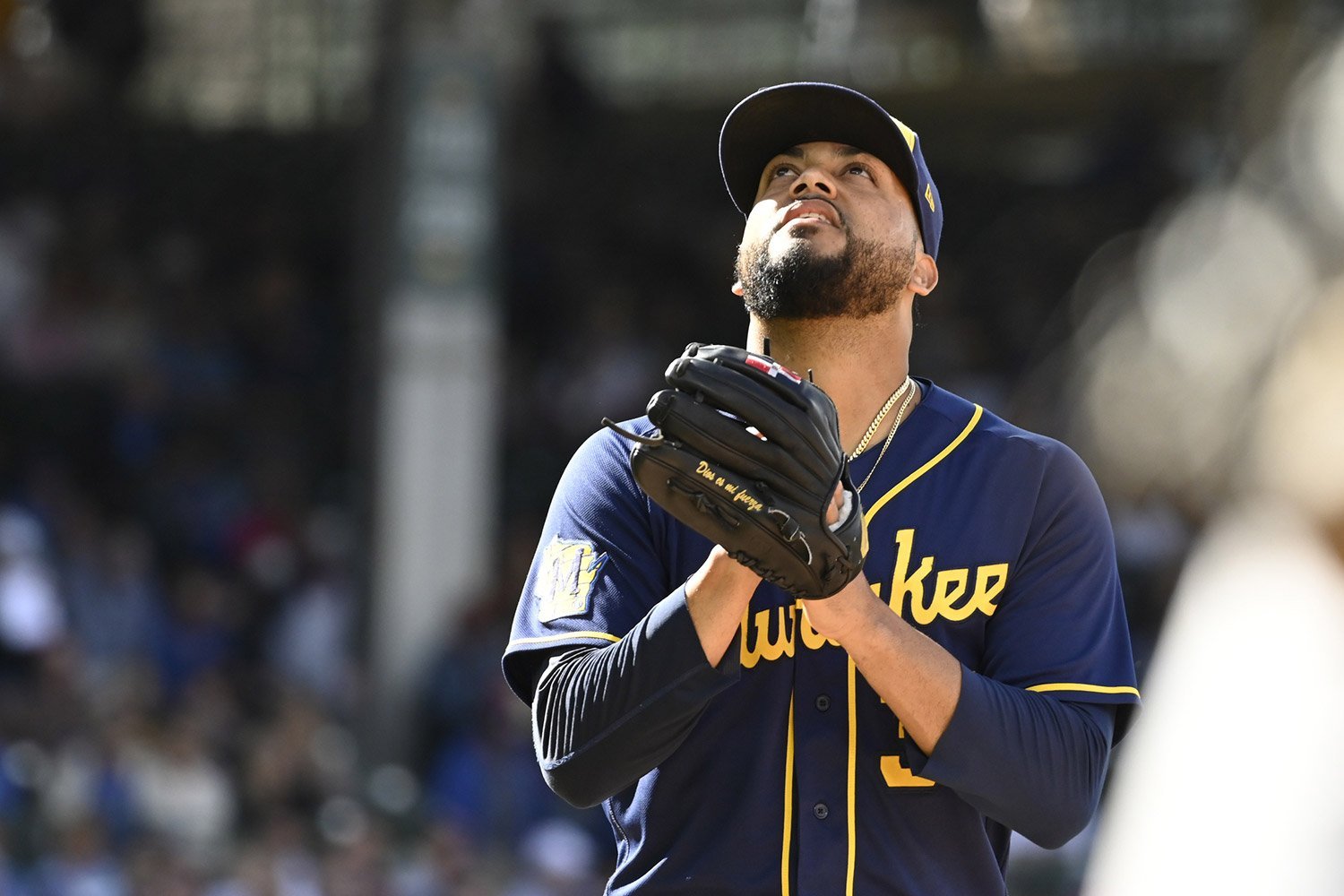 Image courtesy of © Matt Marton-USA TODAY Sports
August 1, 2022, is a date that will live in infamy for many Brewers fans. The Brewers traded Josh Hader to the San Diego Padres for major league pitchers Taylor Rogers, Dinelson Lamet, and prospects Esteury Ruiz and Robert Gasser. Lamet didn't pitch for the Brewers and was snapped up on the waiver wire by the Rockies four days after the trade. Rogers struggled with the Crew before getting a three-year, $33 million deal with the San Francisco Giants in December. The Brewers missed the playoffs by a single game, finishing just behind the Philadelphia Phillies in the Wild Card race.
However, trades don't just stand by themselves or get judged by that season's return. Brewers fans can fondly recall the Adam Lind deal with the Seattle Mariners, which gave the Brewers three pitchers in rookie league ball, one of whom was Freddy Peralta. Is anybody complaining about that deal these days? Indeed, Robert Gasser could be a similar success story from the Hader deal.
But prospects are not the only long-term returns from a trade. There is sometimes an indirect return from these deals. In this case, we should look at what happened on December 12, 2022. The Brewers got involved in what became a three-team trade with Oakland and Atlanta, dealing Ruiz to the A's and getting reliever Joel Payamps from the A's while the Braves tossed in catcher William Contreras and minor-league prospect Justin Yeager in the process. In essence, Brewers fans can call Payamps, Contreras, and Yeager the indirect return from the Josh Hader trade.
How have those acquisitions worked out? Yeager missed a lot of time, pitching two and one-thirds innings across three appearances, and he is slated to pitch in the Arizona Fall League. So, what he brings is hard to discern just yet.
But there is no doubt about the other two players who came to Milwaukee in that three-team deal. Contreras has been superb for the Brewers, generating a .286/.365/.459 line in 514 at-bats. More importantly, he turned into a very solid defender behind the plate. He arguably is the team's MVP, and the Brewers have him under control through 2027, and he is relatively cheap in 2024. Contreras for Ruiz even up was a massive steal.
But the Brewers also got Payamps from the Athletics in the deal. The 29-year-old Payamps took his pitching up a notch, posting a 6-5 record with three saves, a 2.62 ERA, and 1,078 WHIP while becoming the primary set-up option for closer Devin Williams. Payamps is under team control through the 2026 season.
To get Contreras and Payamps for Ruiz, who posted a .256/.308/.347 line with 63 stolen bases for the A's as their primary center fielder is a huge win just on the 2023 season alone – and both Contreras and Payamps will be under team control for years to come.
But would the Brewers have gotten in on that three-team deal if they didn't have Ruiz, who seemed hard to fit into their outfield picture given the presence of prospects Sal Frelick, Jackson Chourio, and Joey Wiemer, along with Garrett Mitchell, Christian Yelich, and Tyrone Taylor on the MLB roster? While it's possible, such involvement could have cost the Brewers Sal Frelick, Joey Wiemer, or even Abner Uribe, all of whom also made big contributions to the 2023 major league squad. Plus, given the talent pipeline the Brewers have, it's quite likely that the long-term return for Josh Hader could get even better for the Crew around the 2025 offseason when the hot stove economic realities hit the Brewers.
So while it was stunning at the time, fans should be thankful for the Hader trade, which has ultimately provided two crucial pieces for future success and added a solid prospect. In baseball, a trade that looks like a lemon at first can bring some very sweet lemonade down the road.
Think you could write a story like this? Brewer Fanatic wants you to develop your voice, find an audience, and we'll pay you to do it. Just fill out this form.
MORE FROM BREWER FANATIC
— Latest Brewers coverage from our writers
— Recent Brewers discussion in our forums
— Follow Brewer Fanatic via Twitter, Facebook or email
2