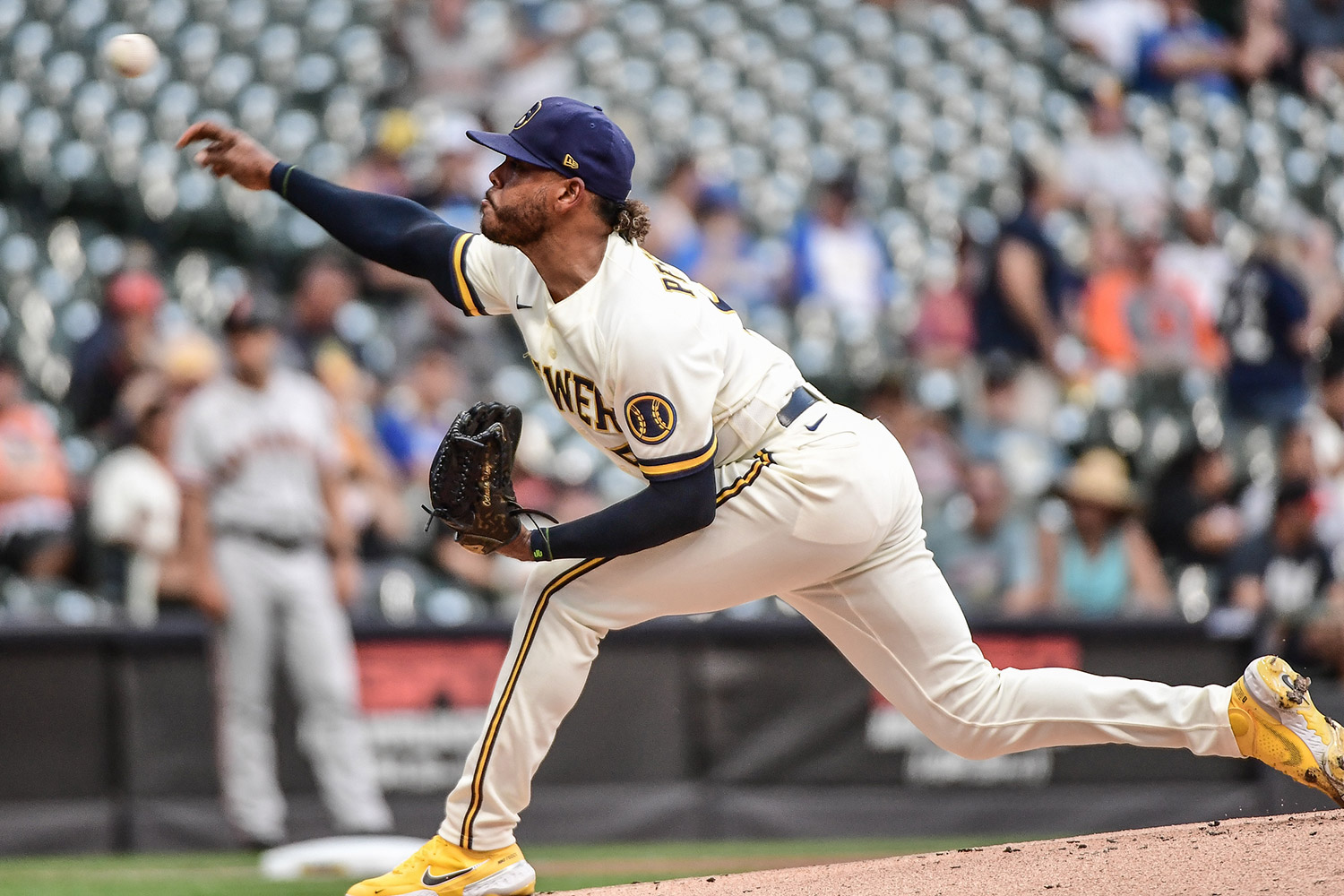 Image courtesy of © Benny Sieu-USA TODAY Sports
As a quick refresher, these rankings aim to answer one question: How valuable is this player to the Milwaukee Brewers organization in 2023? You can do so here if you'd like to see the five players that cracked numbers six through ten.
For the second part, here are the five best assets the Brewers have going into 2023, the pillars of the franchise.
The Top 10 Brewers Assets for 2023: 1 through 5
5. Willy Adames, SS
Willy Adames has been the Brewers' most valuable player since he was acquired from the Tampa Bay Rays in May 2021. He plays excellent defense, hits for power, and is the most influential voice on the field. The more fun Adames is having while he's on the field, the better he's playing.
Since the beginning of 2021, Adames has ranked 5th among all MLB shortstops in WAR. Adames has hit .256/.325/.483 during his time in Milwaukee and has a strong argument for being the best bat currently slotted in the Brewers lineup. 
The only problem is his price tag is catching up to the Brewers. Adames is projected to make over $9 million this year and more in his final arbitration year in 2024. With the spending flux for free agent shortstops and Boston's recent extension to Rafael Devers, the possibility of Adames being an extension candidate may be in limbo.
4. Brandon Woodruff, SP
Brandon Woodruff doesn't get enough credit. He's a legitimate ace, and his numbers back it up. As a starter, Woodruff pitched to a 3.24 ERA and a 3.34 FIP, amassing over 600 strikeouts in 586 innings. Those numbers are closer to being Cy Young numbers than anything. There is no spotlight too bright for Woodruff, and the Brewers realize that.
Woodruff is currently slated to become a free agent for the first time following the 2024 season and earned nearly $7 million in arbitration last year. The fact is, Woodruff isn't going to be around much longer at this price. Still, he remains a good extension candidate, which would require a re-evaluation of his value should it happen.
The Brewers have built a reputation as an organization that has leaned heavily on their pitching staff and has the luxury to keep doing so. Brandon Woodruff is undoubtedly a part of that, even though he isn't exactly the perfect combination of affordability and team control.
3.  William Contreras, C
William Contreras has yet to appear as a Brewer, and there's already enough reason to list him among some key names from past years. In his first year as an everyday option in Atlanta, Contreras hit and hit well, posting an .860 OPS. The Brewers expect much of the same coming into 2023 and beyond.
In 97 games last year, Contreras hit .278/.354/.506 with a wRC+ of 138. On top of his excellent offensive numbers, Contreras also earned a nod as a DH in the All-Star Game. 
Where the real value is apparent in his age and controllability, Contreras is barely 25 years of age, plays a premium position, won't enter arbitration until 2025, and is under team control until 2028. The Brewers stand to lose quite a bit of talent in a few years, but Contreras won't be one of them. Expect "Wild Bill" to don a Brewers jersey for years.
2. Freddy Peralta, SP
Freddy Peralta has had a wild ride to begin his major league career. He has one of the more memorable pitching debuts in recent memory, has battled injuries, pitched stretches out of the bullpen, and now has solidified himself as a key piece in the Brewers rotation. 
Though he only pitched in 78 innings last year, he posted a career-low ERA of 3.12 and increased his ground ball rate to 40 percent while striking out 86 batters and only allowing six home runs. Peralta's drawbacks have little to do with his on-field performance; he needs to keep himself on the field. Injuries are hard to predict, but if there's such thing as being "due" for a healthy season, Peralta's it.
What makes Peralta so valuable is his contract. The 26-year-old signed a five-year $15M contract in 2020, a deal that also features two club options. If the Brewers keep Peralta throughout the deal, he won't be a free agent until 2027. Not only is that a long time, but it won't cost the Brewers much in the process. 
1. Corbin Burnes, SP
What is there to say about Corbin Burnes that hasn't already been said? He's one of the best pitchers in all of baseball. He's already won a Cy Young Award and has two more years of being a Milwaukee Brewer.
Burnes has posted an ERA under 3.00 in his last three seasons, striking out nearly a third of the batters he's faced, all while walking only 6% of batters. His analytical numbers are great, too, suggesting his ascent has little to do with luck.
Burnes may not have Peralta's contract length or the same potential for a contract extension as Willy Adames or Brandon Woodruff. Corbin Burnes has a legitimate argument for being the best pitcher in the sport, and the Brewers are only going to be paying half of what he's worth in the coming two years, if not less. That may not seem apparent now, but in two years, Burnes will be one of baseball's most sought-after pitching assets.
Think you could write a story like this? Brewer Fanatic wants you to develop your voice, find an audience, and we'll pay you to do it. Just fill out this form.
MORE FROM BREWER FANATIC
— Latest Brewers coverage from our writers
— Recent Brewers discussion in our forums
— Follow Brewer Fanatic via Twitter, Facebook or email