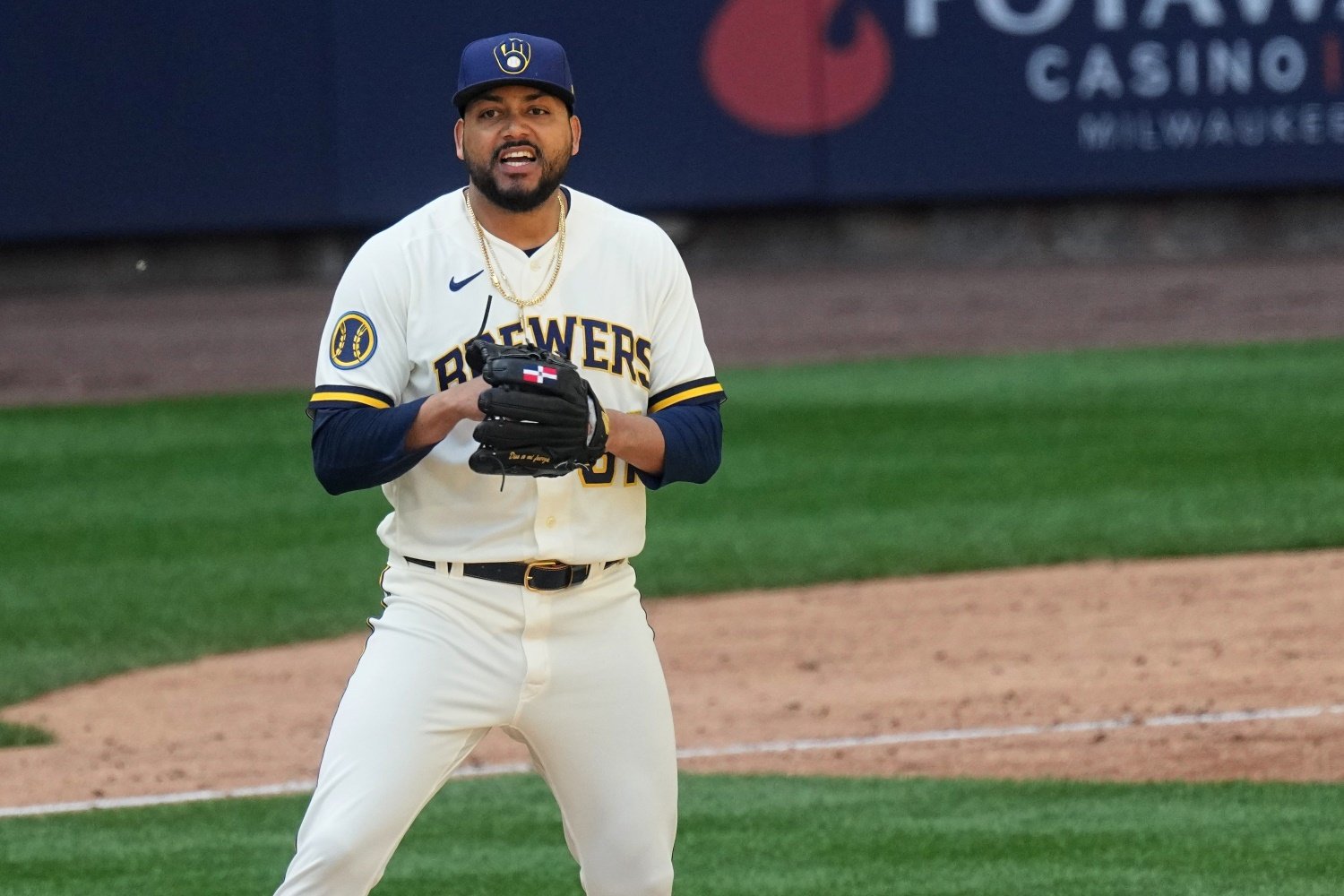 Image courtesy of © MARK HOFFMAN/MILWAUKEE JOURNAL SENTINEL / USA TODAY NETWORK
In his appearance Tuesday night against the Astros, Joel Payamps threw the hardest recorded pitch of his career. It was on the first pitch of an at-bat against Jeremy Pena, in the sixth inning of a game the Brewers led, but narrowly so. It missed, for ball one, but eventually, Payamps got his man. 
None of the above should surprise us. For Payamps, both things are becoming de rigueur. Of the 50 hardest fastballs of his career, he's thrown 16 this month. Striking out Pena (right after doing the same to Jose Abreu, stranding runners on first and third after taking over in a 2-0 game) gave Payamps a 0.123 Win Probability Added for the day. In essence, his fireman work was worth over 12 percent of a win that day, on its own. That's a good number to amass in a single game, for a middle reliever, but he'd been worth almost exactly that much in the Crew's lone win during their visit to St. Louis, one week earlier. Then, on Wednesday, he had a 0.188 WPA for the game, after escaping an even worse jam (the trailing runner at second this time, again with just one out and a 2-0 sixth-inning lead). Those numbers don't even account for the fact that he was facing Pena and Abreu in the first game and Yordan Alvarez and Kyle Tucker in the second, either.
Payamps is becoming a mid-game relief ace non pareil, and much of it is thanks to the extra tick he's added to his fastball at an improbable age.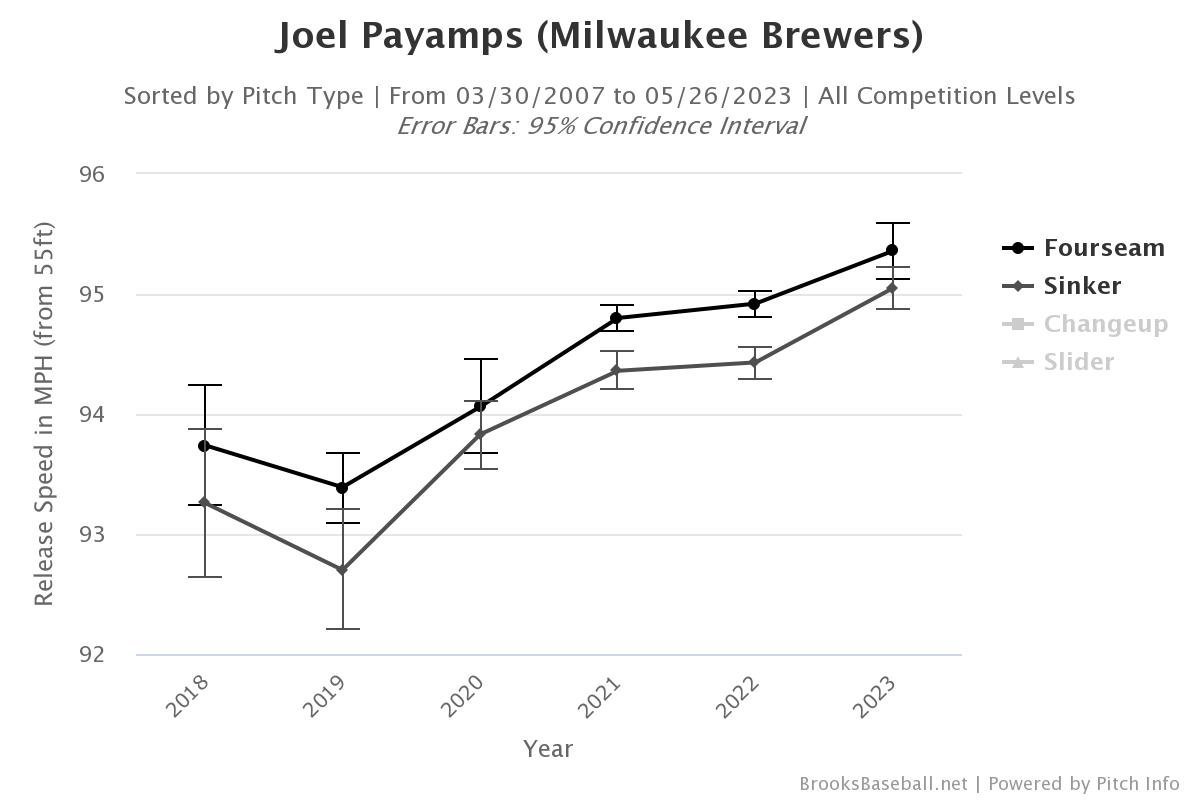 Even more than it appears, though, he's becoming a flamethrower. In May, and especially when not working on a second consecutive day, he's throwing 96 miles per hour or harder most of the time. That's crucial for him. For the year, he has thrown 149 fastballs at under 96, and batters have whiffed on just 13 of them. Their OPS against those more tepid heaters is over .800.
Payamps also has 43 fastballs over 96, though, and on those, he's gotten eight whiffs and allowed a meager .200 OPS. He's in the midst of a stretch in which he seems to have crossed a barrier and gone to a new level, with a fastball that can genuinely overpower opponents.
Of course, there also remain some changes to the way he's attacking hitters--largely ones about which we've talked before. He's a four-pitch pitcher, but really, he mostly uses two offerings for opponents on each side of the plate.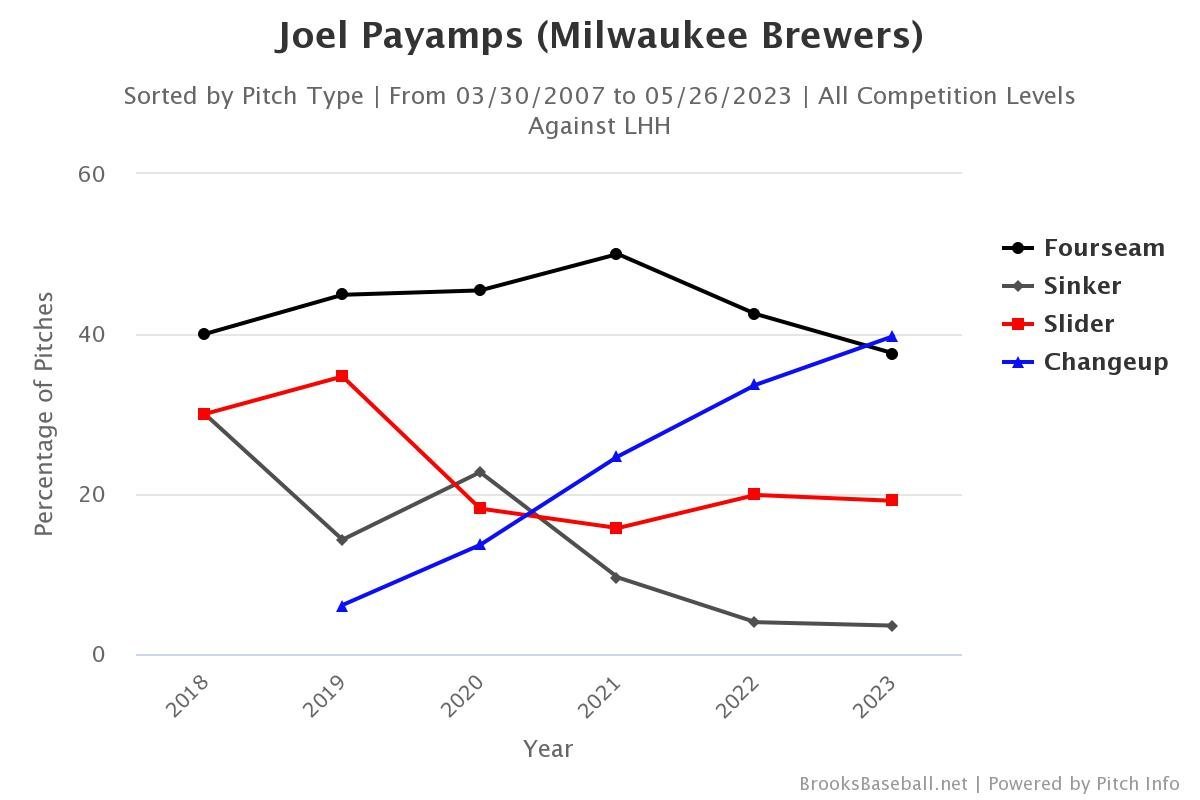 That he remains reasonably confident landing his slider for strikes against lefties is helpful, because Payamps's changeup is still pretty average. Still, finding the conviction to throw it more has helped maximize the return on investment he's seen from his improved fastball velocity.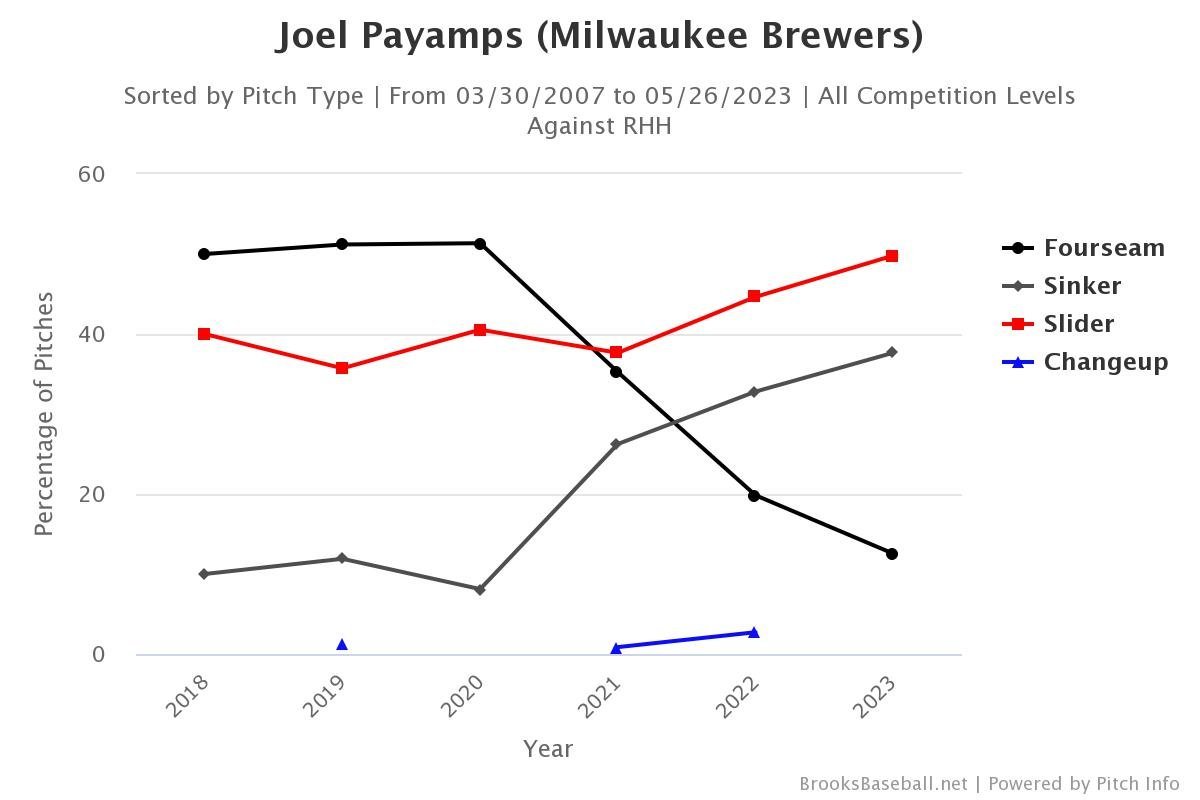 On top of all that, Payamps is also setting up closer to third base now, allowing him to disguise but still optimize the horizontal separation between his sinker and his slider to righties. That kind of deception also plays up when one finds a little extra gas, though. 
He doesn't need to usurp Peter Strzelecki, or even Matt Bush (if he returns from his injury looking like the best pitcher he can be). Payamps can keep coming in to get the team out of jams in the middle innings, and have the same degree of value. More speed already has proved to yield more whiffs for him, and if he's getting more whiffs, he's the perfect fireman for those situations. Already, he has demonstrated the ability to pound the zone, and that's only been more true this year, despite the slight change in approach angle. He's also limiting hard contact gorgeously. 
This is a glorious payoff for the early experimentation and trust-building Craig Counsell did with Payamps in April. Over the team's scorching first few weeks, he had to turn over some leads to hurlers who were not yet within his trust circle. Payamps was one of those who responded well to it, and he seems to have gained even greater confidence from working his way into Counsell's good graces. This is a big developmental win for Chris Hook and the rest of the Brewers' pitching team, too. If Payamps can stay healthy with this newfound velocity, they've manufactured precisely the bullpen depth this team was missing.
Think you could write a story like this? Brewer Fanatic wants you to develop your voice, find an audience, and we'll pay you to do it. Just fill out this form.
MORE FROM BREWER FANATIC
— Latest Brewers coverage from our writers
— Recent Brewers discussion in our forums
— Follow Brewer Fanatic via Twitter, Facebook or email