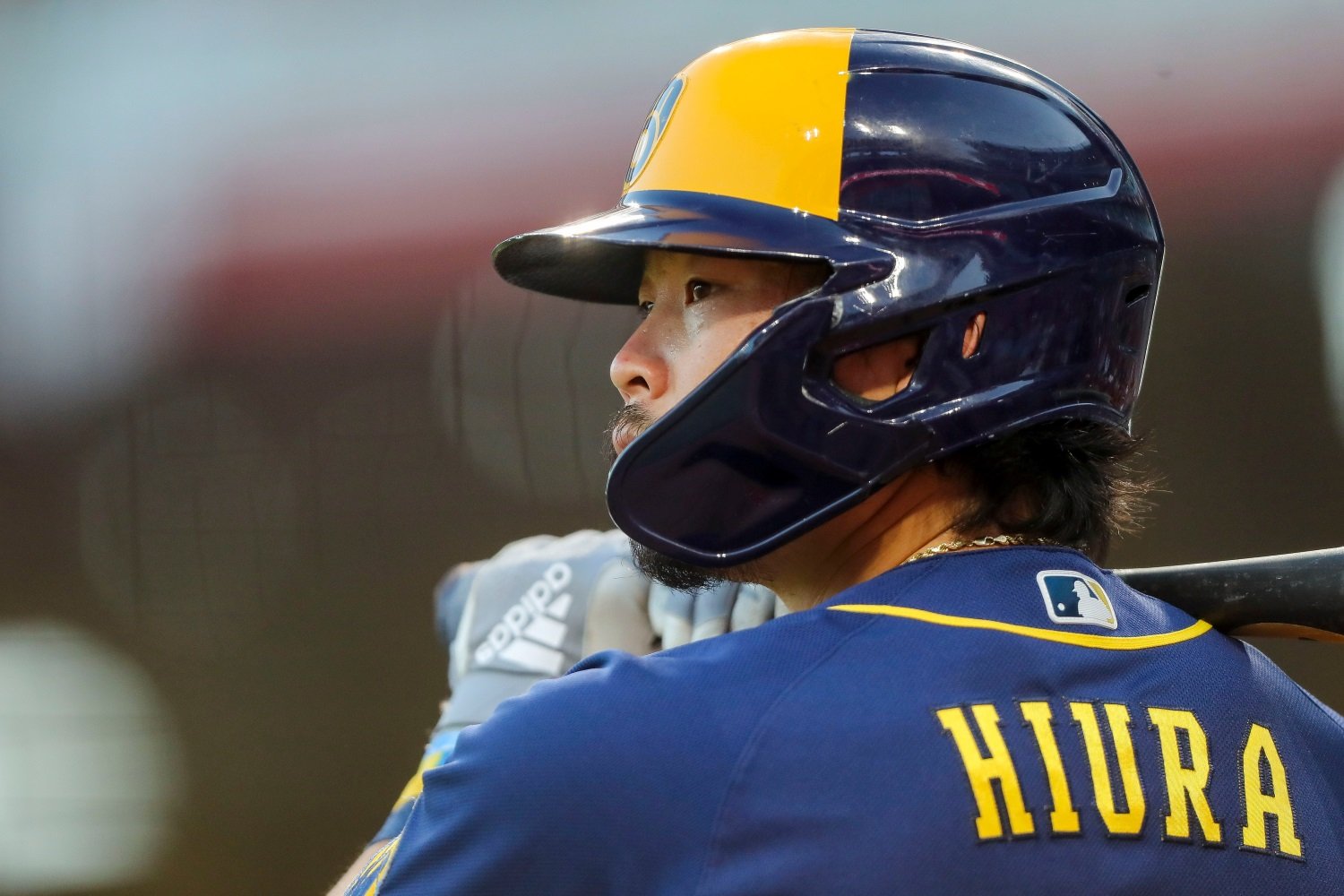 Image courtesy of © Katie Stratman, Katie Stratman / USA TODAY NETWORK
Looking further into his at-bats, there are some reasons to be optimistic that we might see a prime Hiura in the Brewers lineup sooner rather than later.
This is his second at bat below, and a slight indicator of his improvement at grinding against the high fastball:
Having fallen behind 0-2 with fastballs on each edge of the plate, he stayed patient on some very high ones i tight, took a well-located sweeper just off the outside edge of the plate, and punished the slider left over the middle. Previous iterations of Hiura get antsy, swing at the fifth pitch, and strike out, but this version had a far calmer approach, resulting in a hard-hit single.
This approach in his third at-bat is a typical example of how not to pitch to Hiura: a fastball down in the zone, followed by a cutter even lower. This is the AB finishing in the 98 mph "fly out", and they got away with it, but this would be classified as a barreled-up baseball.
His fourth at-bat is, perhaps, my favorite, as it located pitches exactly where you would want to Hiura
He swings early in the count at pitches he would probably regard as very hittable, over the middle of the plate and slightly above the knees, whiffing one and fouling off the next to fall behind early.
Then he takes a fastball just above the strike zone–again, something he'd previously be very likely to chase. A slider far off the plate and a high changeup evened the count, before a foul ball again on a pitch he would probably like back. 
And to finish it off, the high fastball, something he has perennially struggled with, slightly off the outside part of the plate. Mashed. A 107-mph double.
All in all, here were his exit velocities from the game:
83.9 mph groundout

100.9 mph single

98 mph flyout (19 degree launch angle, so basically a line out)

107.1 mph double 

99.9 mph lineout
That's four hard-hit balls consecutively, off a variety of different pitches in different locations.
The Issues
Let's face it, a fully firing Jesse Winker is an upgrade on a firing Keston Hiura at the plate, and Winker has begun to show some resurgence in the last week or so, making much better contact, hitting the ball noticeably harder even to the opposite field. He's hitting .261/.346/.478 over his last seven games, while hitting four doubles and a home run. (Bear in mind that he went over two months without an extra-base hit, beginning in mid-April).
The ongoing struggles of Rowdy Tellez at first do, however, present an opportunity for Hiura to try and seize that role against right-handers as well as lefties. Tellez has still shown occasional power, but his lack of home runs (previously his main value to this team) is very concerning, and you can't help but think even an average Keston Hiura is a substantial upgrade if his hands have improved with the regular playing time at first base.
Tellez last hit a home run on May 22nd, and recorded just seven RBIs in the month of June–shocking, from a hitter in the three or four hole, and given how often Christian Yelich got on base ahead of him.
Hiura has also played an average left field this season, unexpectedly, with some highlight-reel plays, so there are several ways to get him involved in the line-up should he come up.
Think you could write a story like this? Brewer Fanatic wants you to develop your voice, find an audience, and we'll pay you to do it. Just fill out this form.
MORE FROM BREWER FANATIC
— Latest Brewers coverage from our writers
— Recent Brewers discussion in our forums
— Follow Brewer Fanatic via Twitter, Facebook or email