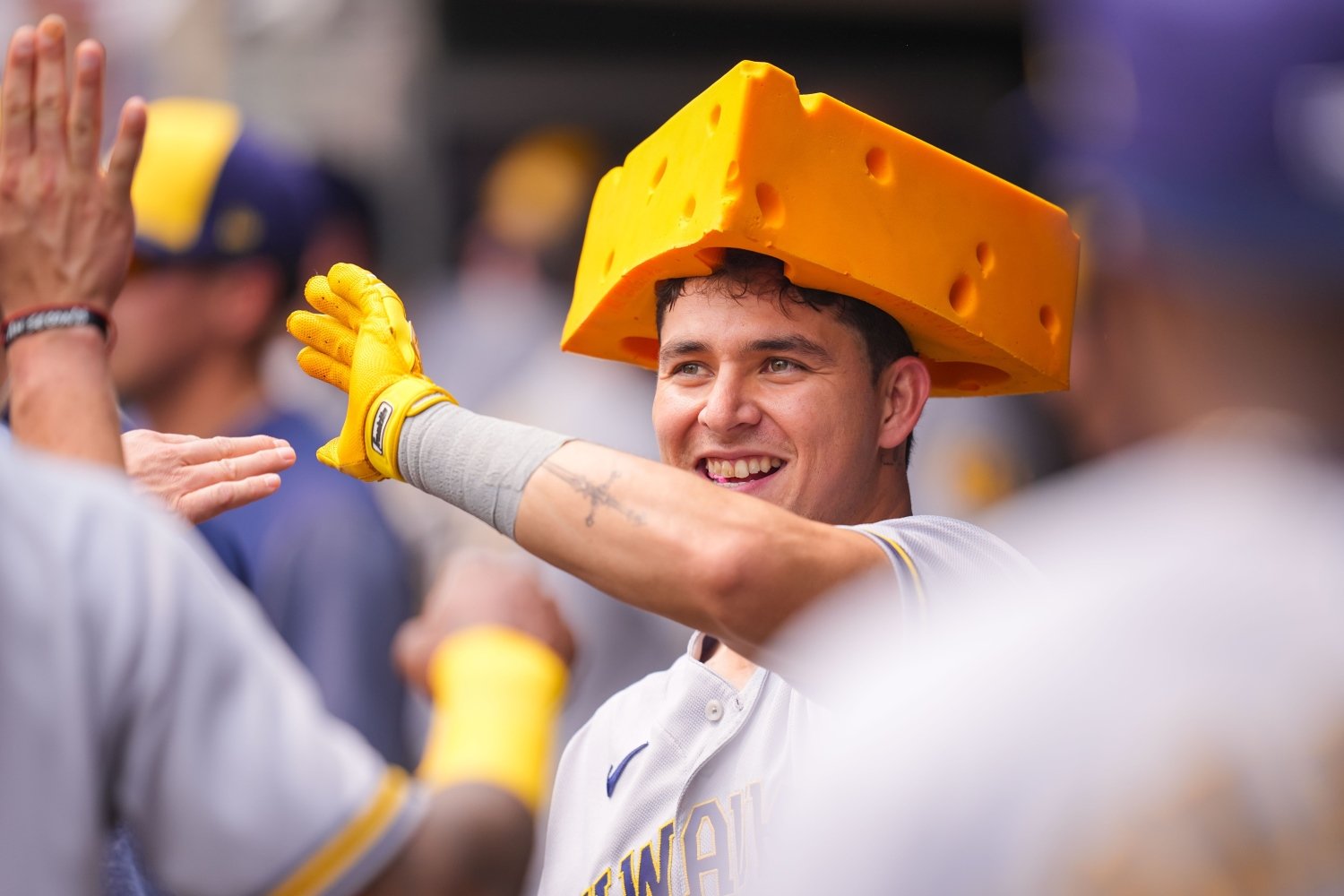 Image courtesy of © Brad Rempel-USA TODAY Sports
It would have been almost impossible, even during spring training, to predict the way this season has played out for Luis Urias and Eric Lauer. Certainly, if you'd said the Brewers would reach the trade deadline in a dead heat for first place, no one within earshot would have guessed that it would have been despite negative contributions in limited playing time from either of those guys. After a strong showing at the World Baseball Classic (including an unforgettable home run during the knockout rounds), Urias looked primed to be one of the Brewers' key cogs this year. Alas, he suffered a severe hamstring strain on Opening Day, and he didn't look remotely right even when he returned.
Lauer, by contrast, struggled throughout the spring, but he's the kind of pitcher who can look terrible in exhibition play, then flip a switch and be effective when it counts. After all, he's the rarest breed in the league: a hurler who depends on hitters missing or mishitting balls right down the middle on a semi-regular basis. Whatever allowed him to thrive that way in the past, however, it continued to elude him even in the regular season this time. Now, both Urias and Lauer have spent more of the season elsewhere than with the parent club. Urias has over twice as many plate appearances for Triple-A Nashville as he has for Milwaukee, and Lauer is just getting a rehab assignment going after a long stint on the shelf.
Yet, both players are likely to have a modicum of trade value. Urias would be an appealing project for a team selling a rental hitter to the Brewers; he still has two years of team control remaining after 2023. Lauer only has one year, and his health status makes things a bit murkier, but his track record of success and the fact that he's a lefty who's already successfully reegineered himself once will draw in at least a few interested parties.
Neither player will be the main piece in a notable trade, of course. Their stock is way down, even though Urias has heated up recently and seems like he might have survived his mid-career crisis. They're worth watching, though, because including them in a deal could lessen the prospect cost to the Brewers for a short-term acquisition, and it could also ease whatever crunch is created by the acquisition of new players who will need to fit onto the 40-man roster. At this time of year, players like Urias and Lauer sometimes change hands out of expediency, as much as out of genuine marketability, but that's ok. The Brewers' surprising depth and good player development have rendered the two redundant, even if they do recover their previous form. 
Interestingly, each feels like an especially good fit for the Red Sox or the Nationals, two potential Brewers trade partners of note. The Nationals have Jeimer Candelario, the top rental hitter on the market, and Urias could be an instant replacement for him, in addition to whatever prospect capital the Brewers include. Lauer, meanwhile, could eat innings on what is a truly putrid Washington pitching staff.
The fit in Boston is just as neat, though a little more layered. The Brewers would have interest in Adam Duvall, the aging, slugging outfielder, who's much less desirable and helpful than Candelario. Both Urias and Lauer are at least as valuable as Duvall alone, but if they included either (or both), the Crew might entice the infield- and pitching-hungry Red Sox to package Duvall with impending free agent James Paxton, whom Mark Feinsand called their best trade chip in an article on MLB.com Monday. Paxton would be a huge upgrade over Colin Rea and Adrian Houser at an unforgettable home runthe back end of the rotation, and could make the Brewers a more dangerous team in an eventual playoff series, too. 
Urias and Lauer don't have to be traded this week. It's just a good time to check in on each, and to remember that the guys on the fringes of the 40-man roster (really, anyone who is on that roster but not active with the big-league team) are always trade candidates at this time of year. It's strange how these two, especially, have slipped into obscurity, when they had such prominent roles with the team at the end of camp. Soon, they're likely either to be gone altogether, or to be back in the mix for the stretch drive.