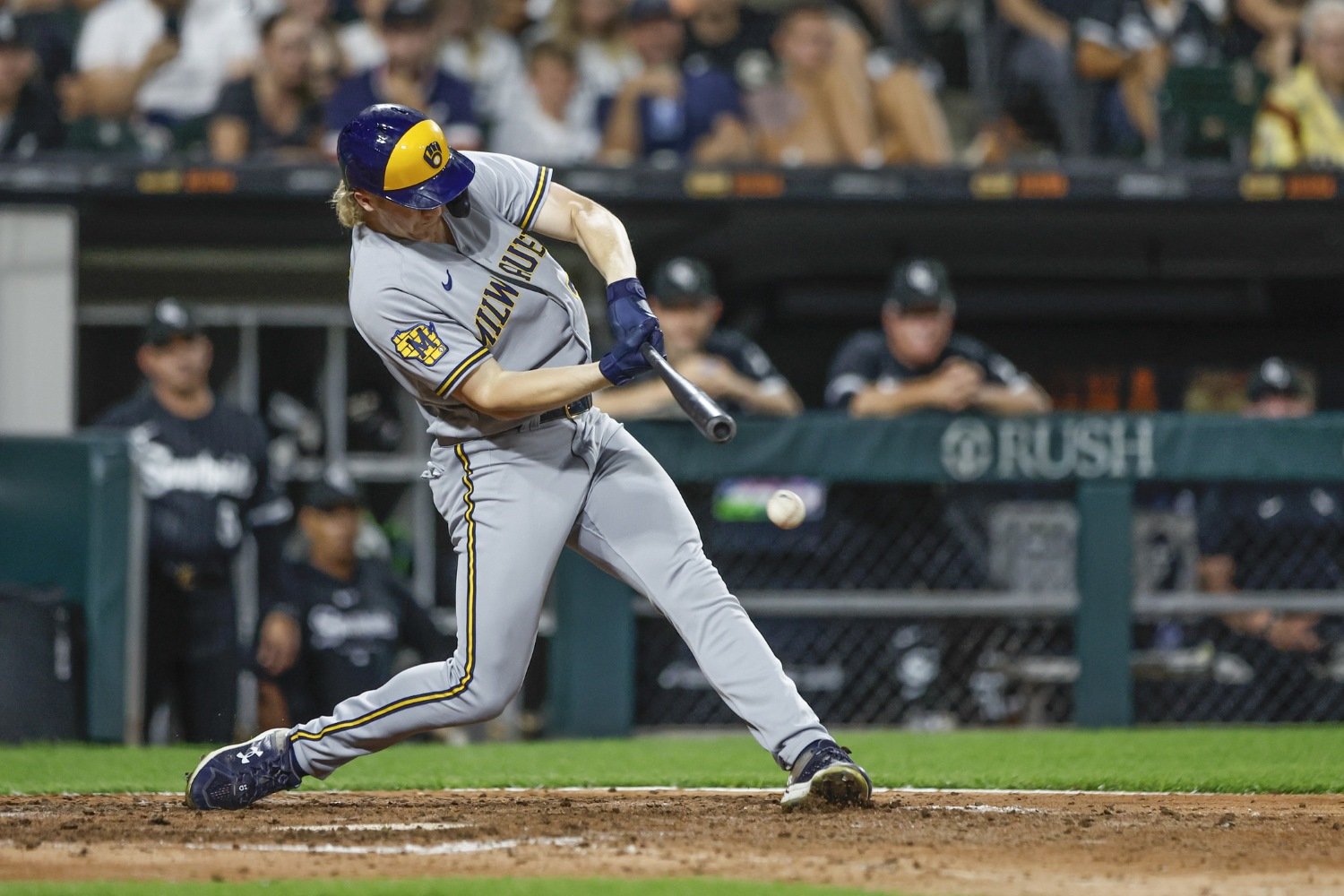 Image courtesy of © Kamil Krzaczynski-USA TODAY Sports
Ordinarily, a team wouldn't complain about 1.2 Wins Above Replacement (WAR) from a rookie center fielder, even if that value comes mostly from elite defense. The Brewers aren't good enough at the traditional offense-first positions to accept subpar production in center, though. They need Joey Wiemer to get right.
So What, Exactly, Is The Problem?
If you take a look at his slash line of .212/.289/.375, you'll see a player with below-average hitting abilities. While that is certainly true (he has an OPS+ of 81), it doesn't really tell the whole story. Only by looking at his Baseball Savant page can we begin to unpack the mystery at hand.
When he's able to make good contact, the ball is going places--often, places in the upper deck. Unfortunately, the ball doesn't often go places other than the catcher's glove. Wiemer has struggled immensely with swing-and-miss, preventing from putting more balls in play and making use of either his power or his considerable speed. He's no Joey Gallo, but he still can't seem to put his bat on pitches in the zone at a competitive rate. If you've watched him play this season, it's pretty easy to see why. His swing is about as messy as the Chicago White Sox front office.
There's a lot going on here. While there are slight variations, his swing usually follows these general steps:
He starts with the bat held high above his head, pretty typical stuff

As the pitcher begins his windup, Wiemer often drops the bat to his shoulder.

As the pitcher finishes his windup, Wiemer takes the bat off of his shoulder and drops it even lower, sometimes almost perpendicular to his body and below the beltline

As the pitch comes to the plate, he loads up in his back leg, lifts his front leg, and raises his bat again, splitting the back of his head to prepare his follow-through.
Within the span of roughly three seconds, Wiemer usually shifts his stance around four times and swings bat all over the place. This creates a lengthy, overly complex load. To his credit, despite the prolonged ritual, he's been able to adjust his timing to create a positive run value against fastballs. However, this problem has gotten out of hand against breaking balls.
Here are his statistics against the three breaking balls he's seen most frequently this season.
| | | | | | |
| --- | --- | --- | --- | --- | --- |
|   | Run Value | BA | wOBA | Whiff% | K% |
| Slider | -8 | .160 | .221 | 37.4 | 28.3 |
| Curveball | -4 | .217 | .240 | 46.5 | 43.8 |
| Sweeper | -5 | .083 | .144 | 34.0 | 32.0 |
The numbers aren't pretty, and they point to a clear issue. After seeming to figure things out in June and posting an .849 OPS for the month, he's regressed significantly, and his August has been abysmal, featuring a .556 OPS over 38 at-bats. This is likely the result of more robust scouting reports on him, and the steady diet of breaking balls opposing pitchers have begun force-feeding him.
How Did This Start?
A quick perusal of his minor league highlights from 2022 shows a much calmer swing at the plate. While it's still noisy compared to average, he moves much less than he does now at the major-league level. Most notably, he doesn't seem to drop his bat as low.
While we may never know for sure, one theory as to why he adopted this kooky practice could be that it was perceived as a necessary change to generate more power, leaning into his identity as a swing-first, ask-questions-later type of slugger. After clubbing six of his 13 homers in June, his hands seem to drop lower and lower to try and add more power, at the cost of more misses and more strikeouts.
Is There Hope?
The fact that this seemingly hasn't been called out by the Brewers hitting staff as a possible issue is surprising, but it may be something the team is waiting to fix in the offseason. It's a dramatic change, and with just a narrow lead over the rest of the NL Central, it's admittedly risky to try to make any such tweaks now.
On the bright side, there is one glimmer of hope that makes me optimistic. The parts of the strike zone that correspond to where he whiffs most are also where he makes some of his best contact.
As a rookie, it's expected that his game is still unpolished. There's always room for improvement, and no one is perfect, but if Wiemer gets a little better at tracking breaking balls sooner and making contact in the middle part of the strike zone, he may just become one of the most dangerous hitters this side of the Mississippi.
Think you could write a story like this? Brewer Fanatic wants you to develop your voice, find an audience, and we'll pay you to do it. Just fill out this form.
MORE FROM BREWER FANATIC
— Latest Brewers coverage from our writers
— Recent Brewers discussion in our forums
— Follow Brewer Fanatic via Twitter, Facebook or email
1

1