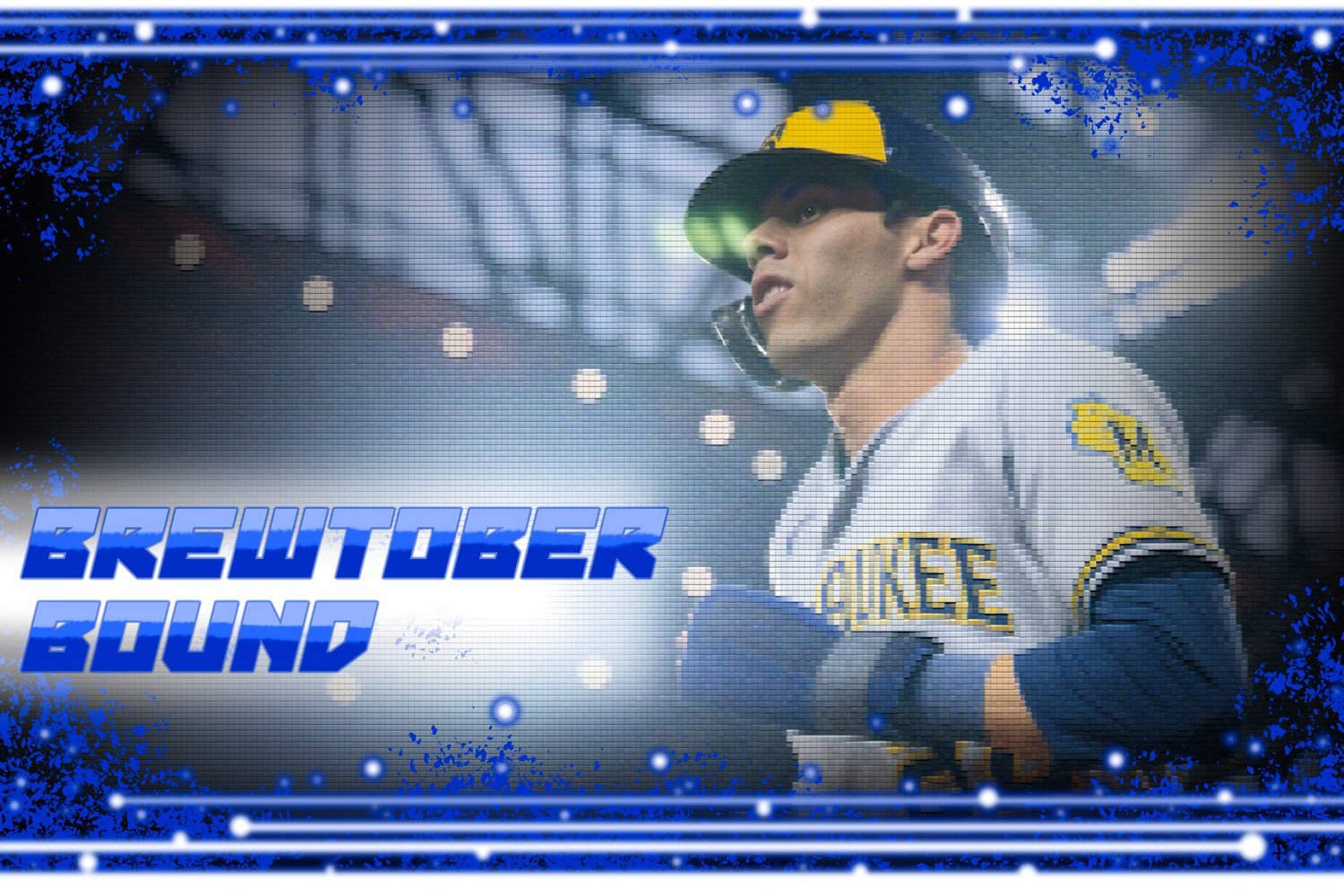 Image courtesy of Brock Beauchamp & Brewer Fanatic
Any successful October offense needs a leader--the man who delivers the big hit or just forces the opposing pitching staff into the stretch seemingly every time he comes up. The Brewers' highest-paid player is that kind of guy, when he's right. The question is whether he will be.
What He Can Do
During the months of June and July, the Brewers were treated to a taste--a timely reminder--of just what Christian Yelich can provide. He steadily improved throughout the spring, before taking off in the summer. Across his 228 plate appearances from June 1 through the end of July, Yelich hit nine home runs, 18 doubles, and a triple, and got on base at a .403 clip. More impressive was that he struck out just 13 times in all of July, abandoning his patience early in the count and instead looking to strike early in the count, a habit that has been sorely missing in recent seasons. One common denominator among Yelich's more successful seasons has been how often he swings at the first pitch. This year's mark in that category is the highest it's been since 2019 (26.5% in 2023, 21.7% in 2022). In June and July, this translated to a .559 slugging percentage, in other words Yelich wasn't looking to walk, he went to the plate to do damage.
As @Tim Muma wrote last week, the Brewers have an issue with the long ball and extra-base power, with many players capable of playing scrappy baseball and getting on base at effective clipsL Mark Canha (.388 OBP), Sal Frelick (.357), and William Contreras (.366 OBP). Even Willy Adames has a .367 on-base rate in September. In short, the Brewers can put men on base, but they're missing that premium bat that can clear the bases with one blow. Yelich can provide that and more, a bat capable of producing a 1.000+ OPS in a hot month. He can carry this team on his shoulders.
To demonstrate this, in his return on Friday night from a back ailment that may have been restricting him since early August, Yelich showed exactly what he could do, culminating in a 16-run explosion for the Brewers. He walked in his second plate appearance of the game, then smashed a two-run home run to left field, before a 106.4-mph double to left field and a 106.8-mph, 430-foot, three-run blast to center field. In total, over the weekend, he tallied six hits, two doubles, and two home runs. It was almost as if August never happened.
 
Is He Truly Healthy?
After his red-hot July, Yelich struggled mightily in August, slugging just .324 and posting an OPS of .676. As always, he adjusted and found his way on base at an above-average rate, but even so, he wasn't the player of earlier in the season. In large part, this was due to the underlying back injury, which prompted him to change his setup at the plate to compensate. Yelich's ground-ball tendencies do give him some room for BABIP fortune and misfortune, but one thing that has always stayed consistent with him is his ability to crush the ball, even if it is into the ground. In August, however, his average exit velocity dipped from 94.4 mph in July to 86.3 mph, and continued in early September. For reference, here's his average exit velocity by month this season:



 
It's important to note that the Baseball Savant page has its dates slightly mixed up, with the last two figures being August and September, but it's a noticeable drop-off. The length of time he was afforded to get healthy again seems to have paid dividends, with Tyrone Taylor's form allowing them the breathing room to get Yelich right. Here are his exit velocities from the weekend:
77.6 mph
103.6 mph
106.8 mph
106.4 mph
79.3 mph
61.3 mph
103 mph
70.6 mph
102.7 mph

Five of his nine balls in pay were hit at over 102 miles per hour, and while he'll still be refining his comfort and approach at the plate after a few weeks off, the fact that he's crushing the ball again is a great sign for Yelich moving forward--particularly given that he's been getting some air under the ball, too. For more evidence, Yelich's 1,500th hit involved him beating out a ground ball to first base, with a sprint speed of 30.1 feet per second. Elite speeds like that do not happen with a bad back.
He'll see more time against the Cardinals, and (hopefully) push the Brewers to another NL Central title in the process, but all eyes are on the postseason now. With the metronomic hitting machine that is William Contreras; the bat-to-ball skills of Canha and Frelick, and the potential power bats of Adames, Santana and Donaldson, this lineup has a playoff appearance to it when you add a fit and firing Yelich.
 
Where to Play Him
Although it may be tempting to have him migrate down the batting order to drive in runs (particularly given Sal Frelick's level of success), having Yelich leading off brings a number of advantages. Having a power hitter at the top of the order means that the lower part of the order, such as the on-fire Donaldson and Taylor and the much less dangerous Brice Turang, will be getting more pitches to hit, with pitchers wary of having men on with the experienced Yelich coming up. Frelick, however, needs no such advantage, with an ability to get on base whether you pitch to him or not.
The biggest advantage, however, might be that Yelich's hard grounders can be ideal for double plays if he comes up with runners on base. It's been a killer at times for the Brewers offense over the last two months, where they lead the league in twin killings. I'm not a big advocate for lineup construction mattering a whole lot, but in the playoffs, you want your best hitters taking as many at bats as possible (Yelich and Contreras), and the leadoff spot avoids at least one double play opportunity for him.
He's back to mashing the ball, and one month of the Yelich seen from July would make the Brewers a truly formidable offense, with eight effective hitters capable of causing problems, and several power hitters that can turn a game with one swing of the bat. He's recovered the upright stance that deserted him while compensating for his back injury.
Yelich isn't here to take part. He's here to take over. Brewers fans should be getting incredibly excited for what's to come.
Think you could write a story like this? Brewer Fanatic wants you to develop your voice, find an audience, and we'll pay you to do it. Just fill out this form.
MORE FROM BREWER FANATIC
— Latest Brewers coverage from our writers
— Recent Brewers discussion in our forums
— Follow Brewer Fanatic via Twitter, Facebook or email