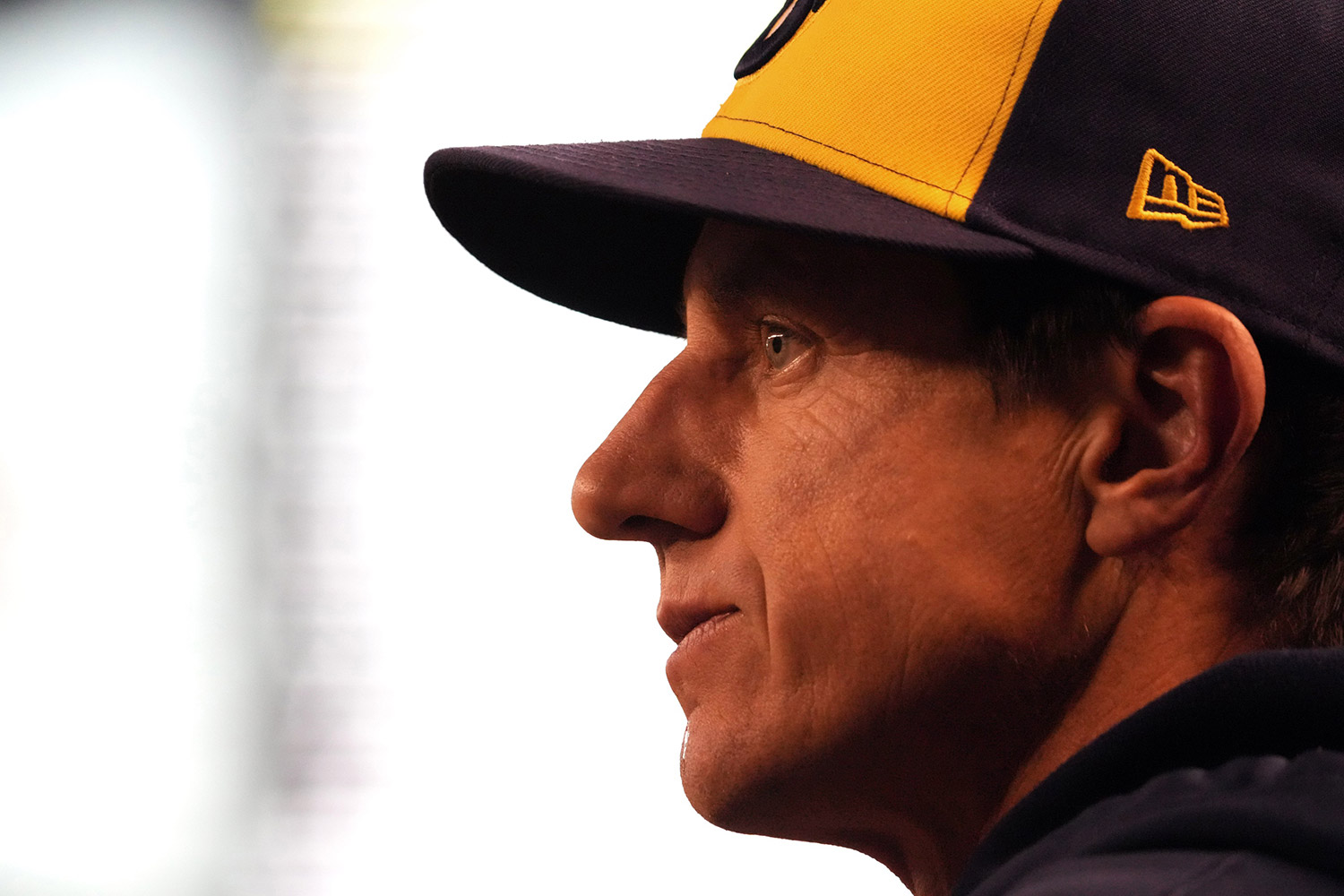 Image courtesy of © Joe Camporeale-USA TODAY Sports
Baseball managers prefer having job security heading into a new season for several reasons. Manager Craig Counsell is entering the final year of his three-year contract extension with the Milwaukee Brewers. He signed that deal on January 8, 2020 - right around this time a few years back. Something may happen this week, but intriguingly, nothing has even leaked out about the two sides having conversations. A lame-duck leader can cause uncertainty among players, strange decisions by the skipper, and possible trust issues among all parties.
Counsell has given the club plenty of reasons to want him in the fold for the foreseeable future. Hired May 4, 2015, the 52-year-old skipper is the longest-tenured manager in the National League (third in MLB). Counsell is the Brewers' franchise leader in managerial wins (615) and led the Crew to four consecutive postseason appearances from 2018-2022. The 2018 squad came within one game of the World Series, dropping Game 7 of the NLCS to the Los Angeles Dodgers.
Furthering Counsell's dedication and connection to the Brewers is his hometown appeal, as he grew up in a suburb of Milwaukee and passionately rooted for the team for which his father worked. From the time he was hired, Counsell stressed his long-time love for the team and how he feels responsible for bringing success to the Milwaukee baseball fans. 
"Baseball in this city is important to me. It's part of me. I feel a responsibility for it. I always have. And I'm proud to have that responsibility."
Perhaps that adds to his strength as a manager of this particular team - but that is subjective. But most people within MLB rave about Counsell, his ability to manage a clubhouse, and his approach to the game on a nightly basis. Though he hasn't won a Manager of the Year Award, he's consistently listed among the best skippers in baseball when polls are taken.
What could be preventing another extension?
General Manager Matt Arnold
Although Doug Melvin hired Counsell, Stearns took over as GM four months later. By all accounts, Stearns and Counsell worked well together and combined forces when discussing personnel moves, in-game strategies, statistical evaluation, and many other aspects. With Stearns stepping down after the 2022 season and Matt Arnold taking the lead role, there could be some hesitancy. Further muddying the waters, some reports indicate Arnold's contract also expires after this season. However, front office contracts are often kept quiet until someone leaks it out.
As far as his GM duties, Arnold seems to think and act similarly to Stearns in constructing a roster and looking at player values. However, he likely has plans that separate him from his predecessor, which could mean different thoughts on management. One would assume Counsell and Arnold have a relationship in some capacity. But would Arnold like to select his own man to lead the Brewers if he's here for the long run?
Need for a New Voice
After eight years of running the on-field tactics of the Brewers, some could feel a new voice is necessary to move the club forward. Counsell is often cited as a manager who forms strong relationships with players and handles the personalities in the clubhouse as well as anyone. However, many teams across all sports start to tune out the same messages they hear over time. Some might think that failing to reach the playoffs last season, after getting off to a franchise-best start, is a sign of his fading effectiveness.
Others have also raised in-game decisions and "crutches" when utilizing statistics. Whether it is lineup construction, bullpen management, or how to handle starting pitchers, players can lose faith when things go wrong. It's nearly impossible to gauge, but sometimes a fresh perspective can be something the players - and front office - would like to have.
The Josh Hader Trade
As noted above, Counsell is privy to front office information and possible personnel moves. The Josh Hader trade negatively impacted the 2022 club more than anyone thought it would within Milwaukee's staff. How much blame falls on Counsell is up for debate.
One aspect of Counsell's managerial success has been his communication with players. No one knows precisely when he knew the trade was going down or how he addressed it with players, but there was a failure on the organization's side. Did Counsell get ahead of it? Did he react too slowly? It could be part of the hesitation to extend him.
Craig Counsell Himself
We often assume the manager would be happy to have a multi-year commitment from the club. However, it could be Counsell who wants to wait and see. Counsell may be interested in another job at some point, especially if he wants to work with Stearns (if he goes elsewhere). Maybe he is frustrated with the lack of financial resources in Milwaukee. Much like players often need a new voice, a leader sometimes wants to explore another fan base, league, or group of players.
Counsell's two sons might be the more significant factor. His older son (Brady) is playing baseball as a sophomore at the University of Minnesota this year. His younger son (Jack) is currently a senior in high school and has already committed to playing at the University of Michigan. If Counsell were to leave the Brewers after the 2023 season, it would give him the freedom to follow each of his sons for the next few years. For those who are parents, that could be a powerful pull away from managing. He could return to the big leagues in five years with plenty of interested teams waiting for him.
There are plenty of strong feelings among fans regarding Counsell in both directions. Regardless of how one feels about him, the closer the Brewers get to Spring Training without an extension, the more intriguing 2023 becomes.
Think you could write a story like this? Brewer Fanatic wants you to develop your voice, find an audience, and we'll pay you to do it. Just fill out this form.
MORE FROM BREWER FANATIC
— Latest Brewers coverage from our writers
— Recent Brewers discussion in our forums
— Follow Brewer Fanatic via Twitter, Facebook or email