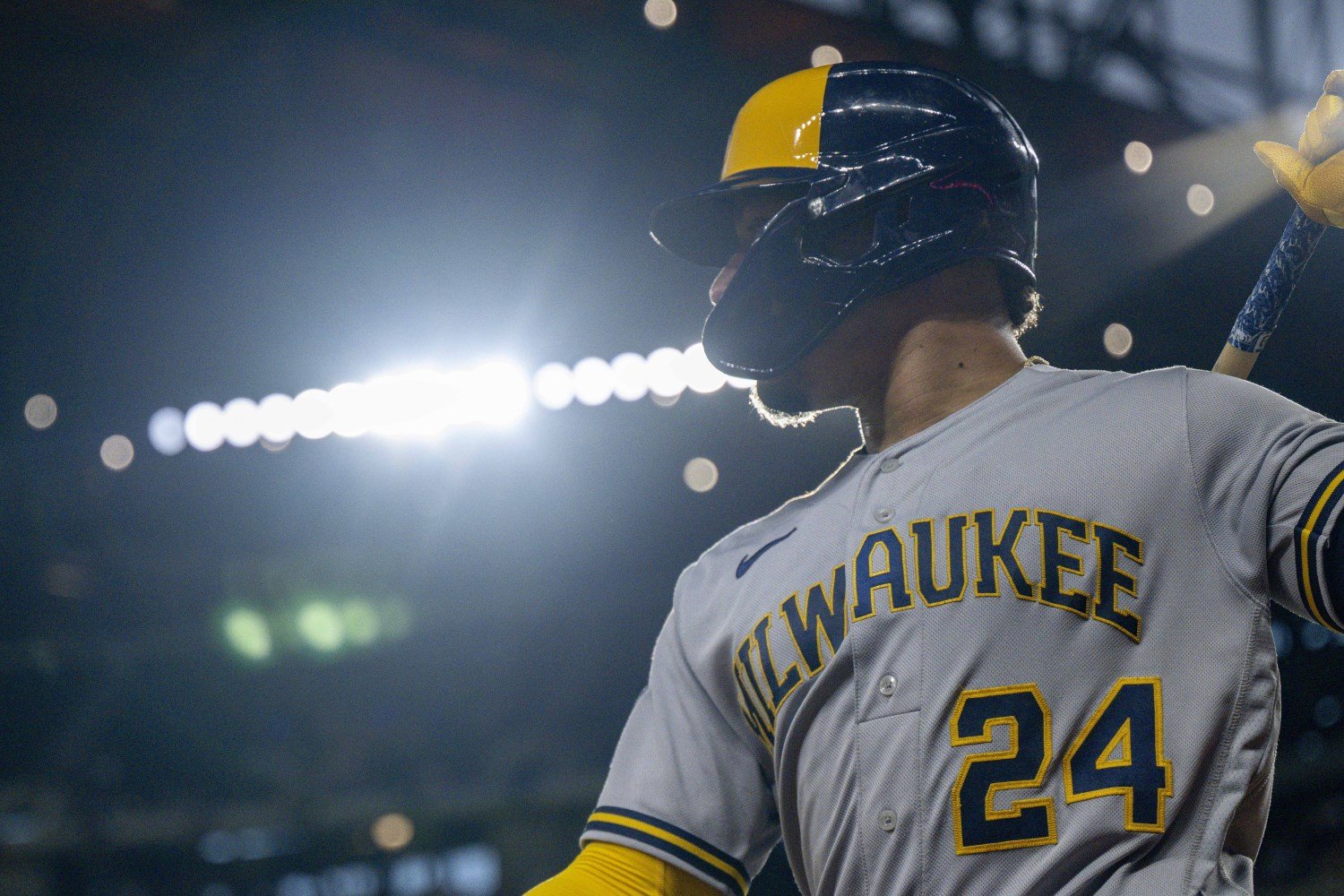 Image courtesy of © Jerome Miron-USA TODAY Sports
For almost anyone you ask, William Contreras was the MVP of the 2023 Milwaukee Brewers. He not only led the way for an otherwise anemic offense, but worked with the Brewers' deservedly famous cadre of catching coaches (Charlie Greene, Nestor Corredor, and Walker McKinven) to become a capable and valuable receiver behind the plate. He batted .291/.369/.459, and came up with some of the biggest hits of the Brewers' season, often by changing his approach, his swing, and even his stance to suit the situation. He was fifth-best among catchers in both Fielding Run Value and Framing Runs, according to Statcast, 
It's the single most exciting individual performance the Brewers got this year, made much more so because of the way they acquired Contreras--by crashing in on the trade that sent Sean Murphy from Oakland to Atlanta in December. Getting Contreras and eventual setup stud Joel Payamps for the low cost of Esteury Ruiz constitutes the biggest trade coup for the Crew in decades, and it was almost immediately obvious that that would be the case. The only surprise is how quickly and thoroughly that has come to fruition.
Shockingly, though, the Diamondbacks might have done just as well, albeit in a slightly fairer trade. Gabriel Moreno is two-plus years younger than Contreras, and a year further from free agency. He's not as thunderous a hitter, and he's not a match for Contreras as a pitch framer. In his rookie campaign, though, he batted .284/.339/.408. He, too, showed a knack for the clutch knock, and especially for driving it through the right side. He struggled a bit with pitch framing, but in a season history will remember as the renaissance moment for the stolen base, Moreno shut down opposing running games, cold. No one in the league was worth more runs with their arm behind the plate, despite the fact that an injury limited Moreno to fewer than 900 innings of work at catcher. He was also an excellent blocker of balls in the dirt. Extra bases are not available against the Diamondbacks, even as they're more available than at any time in recent memory against everyone else.
These guys are the new gold standard for National League backstops. They each had years that put them right in the picture with J.T. Realmuto and Will Smith, as well as Murphy, and because of the unforgiving aging curve at the position, Moreno and Contreras figure to be better than all three within a couple years. They can hit, they take great pride in their defense, and they always seem to be thinking the game. At the very least, they're the favorites to be Venezuela's catching tandem at the next World Baseball Classic.
The Diamondbacks had to give up Daulton Varsho, a young outfielder with exceptional defensive skills and a little offensive upside, to get Moreno. It was a bit more akin to surrendering Sal Frelick than to sending Ruiz. The second piece Arizona got in the deal was also better, though. Lourdes Gurriel, Jr. will be a free agent after next season, but he asserted himself as a fixture for Arizona this season, whacking 24 home runs and contributing to their league-best outfield defense. Moreno and Gurriel have given the Diamondbacks somewhere between five and seven wins of value above replacement players this year, depending on your website and model of choice. Contreras and Payamps have given the Brewers almost exactly the same amount, albeit in deeply different shapes.
This series will be fascinating on several levels. For baseball junkies and lovers of a good trade tale, though, these two young catchers make for the most scintillating viewing. The battle between Contreras's trimming of the strike zone and Moreno's gunning down of runners will be exhilarating, and the showdown could well hinge on which (perhaps with the other calling the pitches) comes through with a game-breaking hit. It's exquisite playoff baseball storyline stuff.
Think you could write a story like this? Brewer Fanatic wants you to develop your voice, find an audience, and we'll pay you to do it. Just fill out this form.
MORE FROM BREWER FANATIC
— Latest Brewers coverage from our writers
— Recent Brewers discussion in our forums
— Follow Brewer Fanatic via Twitter, Facebook or email