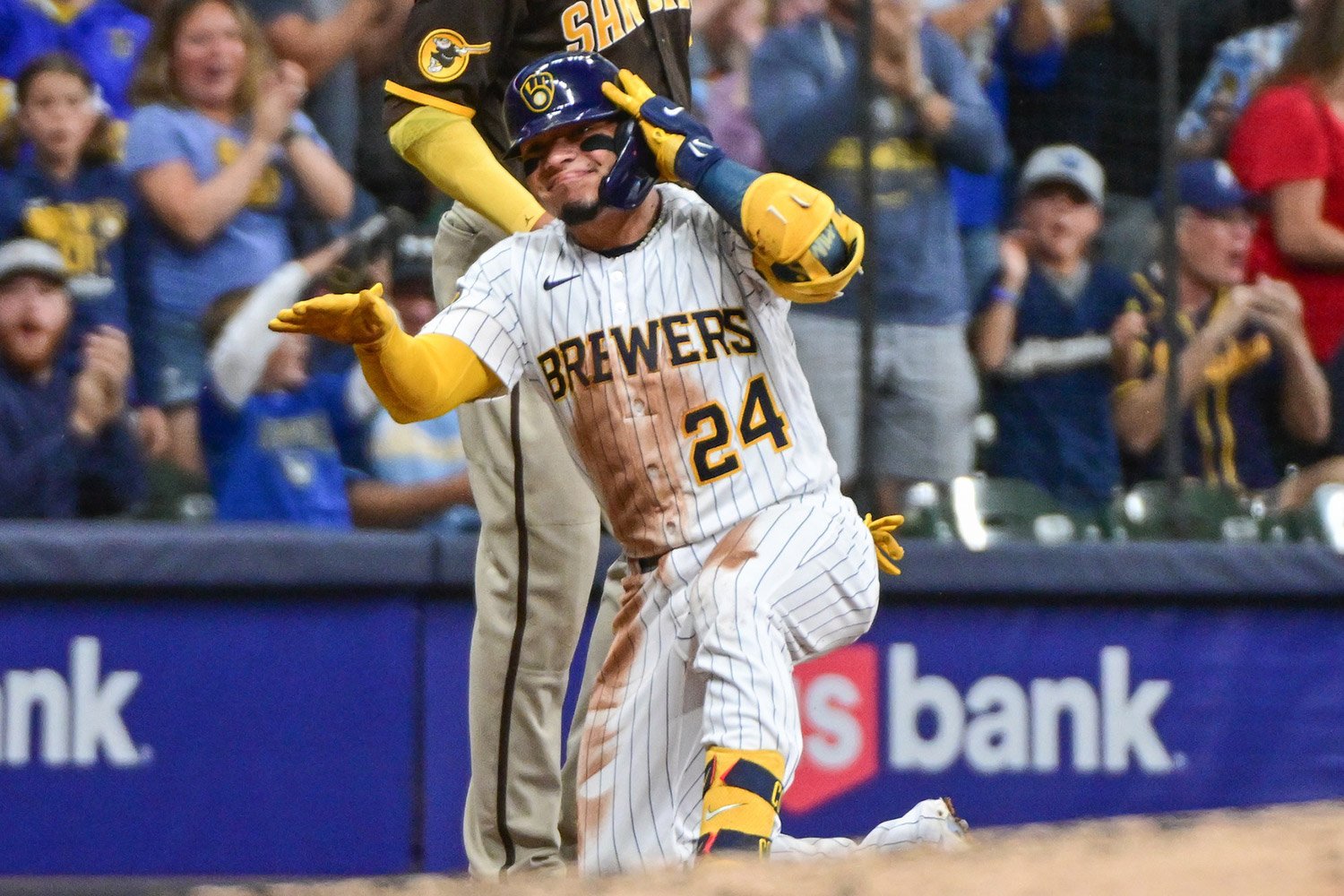 Image courtesy of © Benny Sieu-USA TODAY Sports
Determining a player's actual value to a club is often challenging. Sometimes, it's the most productive guy, but there is more to it. In the words of Brewers manager Craig Counsell, after a win over the Texas Rangers in August, Contreras "made his impact felt in every part of the game. He's been playing at a real high level for a while now." 
For the Brewers' Williams Contreras, his MVP status with the club is spurred on by his impact offensively, defensively, and in the intangibles that are difficult to measure, like energy and in-game adjustments. Value can also be relative to a position and the league baseline, where Contreras stands out. He's handling the toughest defensive spot on the field, enhancing the NL's third-best pitching staff by ERA, and fueling the Brewers' offense with a team-best 122 OPS+ (minimum 125 plate appearances). With less than 30 games remaining, Contreras has made himself the key cog in a postseason run. 
It starts with his bat, an invaluable piece in a lineup that desperately needs offense to complement its pitching and defense. Contreras entered Monday with 15 homers and 33 doubles (tied for 10th in MLB) and a fantastic slash line of .282/.357/.464. That's well above the league average for all players (.249/.320/.415), an even more impressive feat with most of his work done while catching. Getting such dynamic production from the catcher's position is extremely valuable and a reason to give Contreras the edge over Christian Yelich in a team MVP debate.
MLB averages for C: .237/.304/.395/.698

MLB average for LF: .254/.331/.420/.751
So, while Yelich has had an outstanding season and did much of the heavy offensive lifting in June (.912 OPS) and July (1.015 OPS), Contreras has been even better relative to his peers. He was red hot in July (.955) and carried the Brewers' offense in August with a .844 OPS, while Yelich slumped to a .676 OPS last month. But Contreras' value in the batter's box goes beyond the overall stats because he leads qualified Brewers' in some vital situations.
.350 average .953 OPS with runners in scoring position.

.331 average and .880 OPS during innings seven through nine.

.290 average and .773 OPS "late and close" in games
Contreras has also destroyed left-handed pitching (.339/.414/.616), an area where the Brewers have been terrible for several seasons. His bat has been so crucial that Contreras rarely gets an entire day off. It's not often a club will have their primary catcher be the regular DH on his "off-days," which is precisely what Counsell has been doing as the season has worn on. Contreras has an. 868 OPS when he is the DH, including his first-inning home run (off a lefty) on Sunday. This has helped solve another multi-year issue of ineffectiveness in the DH role.
Contreras is more than just the MVP for Milwaukee. Though he isn't a candidate for the NL's top award, he is the best catcher in MLB by FanGraphs WAR (fWAR). That even ranks him 15th in all of baseball, regardless of position. Among qualified catchers, his 4.3 fWAR puts him ahead of guys like Will Smith, Adley Rutschman, and Willson Contreras, his brother. Only Sean Murphy, whose trade to the Atlanta Braves made Contreras available to the Brewers, has a better fWAR (4.4); however, he needs more plate appearances to qualify. Regardless, Contreras is in the top five among MLB catchers in most offensive categories:
1st in weighted on-base average (.355)

1st in batting average (.282)

1st in RBI (66)

1st in doubles (33)

2nd in OPS (.821)

2nd in SLG (.464)

2nd in runs (68)

3rd in OBP (.357)
But to truly understand Contreras's value and a big reason he is at the top of the fWAR leaderboard, you have to check out his defense. Specifically, Contreras' ability to frame pitches and steal strikes for his pitchers has been elite. It's an enormous skill for a club like the Brewers, who are about run prevention first and foremost.
Contreras leads all catchers in Framing Runs (FRM), the metric used by FanGraphs. Where zero is average, Contreras sits at 12.4. Jonah Heim is second at 8.0 this season. Contreras and Heim are also tied for the top spot in Defensive Runs Saved (DRS) with seven each. Many questioned whether Contreras could be an above-average defensive catcher with a reputation that labeled him "bat first" behind the dish. He has shut up his detractors and made considerable strides in framing and blocking balls, partly thanks to the Brewers' vaunted "catching lab" from 2022 (top graphic) to 2023 (bottom graphic).


Looking at Baseball Savant's charts, his jump from 2022-2023 and his place among MLB catchers is astounding. Contreras improved significantly in Blocks Above Average (22nd percentile to 85th percentile) and Framing (20th percentile to 92nd percentile). You can't overstate the incredible value it brings to a pitching staff. He even made smaller increases in his caught stealing and pop time metrics. But Contreras's impact goes well beyond the raw numbers.
You can see the emotion Contreras brings to his game: behind the plate with a fist pump, exuberant joy when the Brewers score, and even a slap to his helmet when he's mad at himself. To get that from your catcher is a bonus. He has clearly taken on the responsibility of being a leader, pushing his pitchers through tough times and getting fired up when they execute. Throughout a six-month season, teams need that type of energy from a productive, everyday player. But Contreras's intangibles extend past the energy and emotion, too.
The blend of his intangibles was on full display Friday night on the Philadelphia Phillies' error, scoring three Brewers runs. Contreras trotted home from third, moved the bat out of the baseline so Carlos Santana had a clear path to the dish, and then directed Tyrone Taylor to slide to the back corner of the plate to avoid the tag. For added measure, Contreras gave a textbook safe call in harmony with the umpire before celebrating with his teammates. 
He often adjusts his approach as a hitter to the situation or the pitcher. At times, he looks to simply poke the ball to right field to drive in a run or at least move a runner to third base. You could see him emphasize this skill in the Brewers' recent loss to the Chicago Cubs when Kyle Hendricks was carving them up. With a leadoff runner on second, Contreras turned his body and focused all his energy on hitting the ball to right. He sliced an RBI single down the first baseline. He also knows when guys, including himself, should look to take the extra base on a long fly ball or base hit. He tries to toy with opposing batters, scraping his glove on the ground behind them to make them think an inside pitch is coming while setting up for a breaking ball away. Again, those winning MVP intangibles make huge differences over the long haul.
When Contreras was first acquired, he was eerily silent about the trade and later posted a group of broken hearts emojis on his Twitter account. It was understandable to a point, but after months with the team, Contreras is all in and proving to be the team MVP. No matter how you slice it, Brewers fans should be ecstatic to have him leading the 2023 team and poised to only get better for the next half-decade in Milwaukee. It looks like he's happy to be here, too. 
Think you could write a story like this? Brewer Fanatic wants you to develop your voice, find an audience, and we'll pay you to do it. Just fill out this form.
MORE FROM BREWER FANATIC
— Latest Brewers coverage from our writers
— Recent Brewers discussion in our forums
— Follow Brewer Fanatic via Twitter, Facebook or email