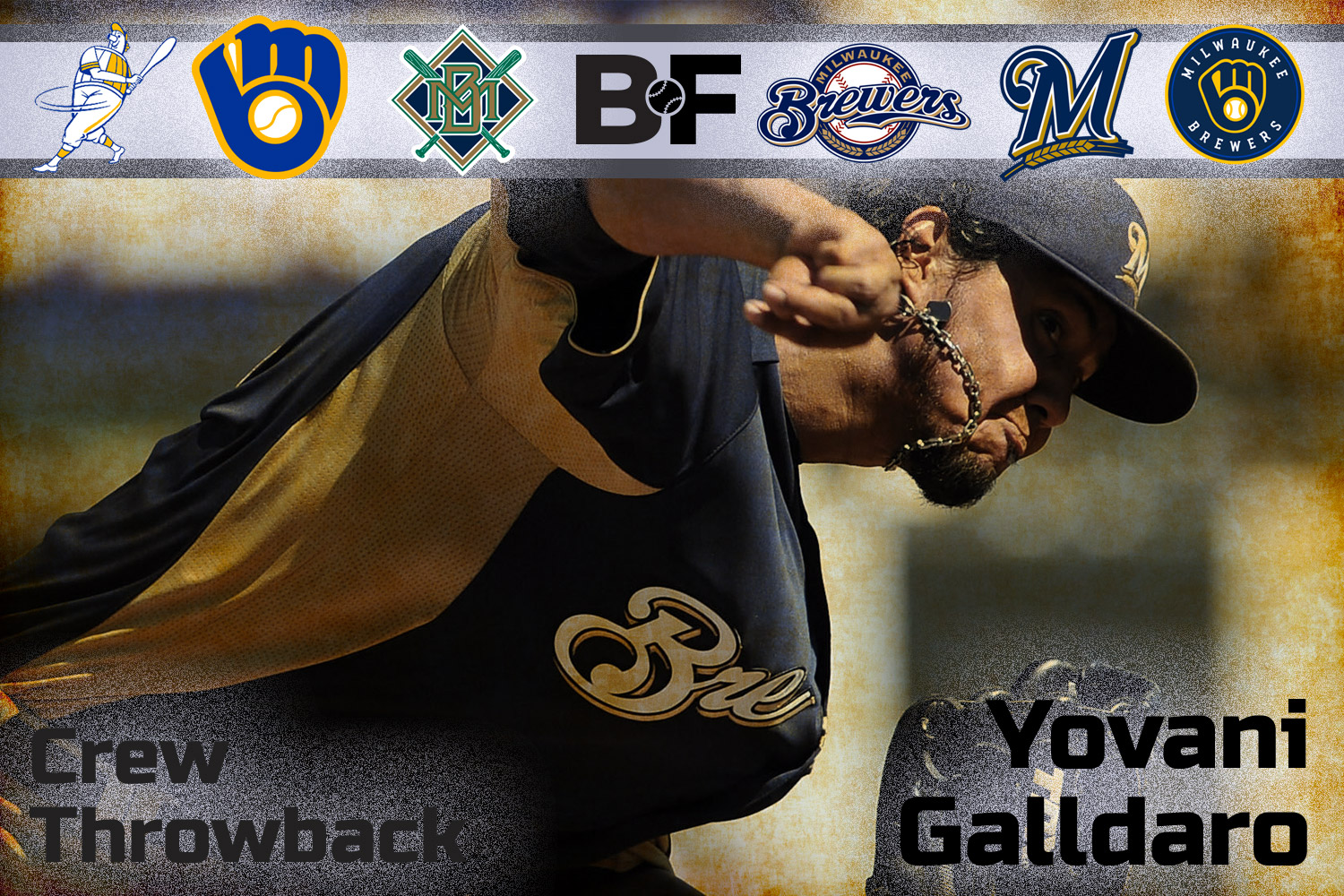 Image courtesy of Brewer Fanatic
Yovani Gallardo was born in Penjamillo, Michoacán, Mexico, in 1986. His family moved to Fort Worth, Texas, when Gallardo was four years old. In 2004, the Brewers selected Gallardo out of high school in the second round of the MLB draft. 
It didn't take long for Gallardo, a righty, to become one of the organization's top starting pitchers. Gallardo struck out many batters with his five-pitch arsenal - particularly his fastball/slider/curve mix. Scouts liked his poise, athleticism, and ability to go deep in games (he led the minors in innings pitched in 2006). If you wanted to nitpick anything, it might be that he walked too many batters, and there were some questions about how high of a ceiling he had.
Gallardo quickly worked his way up the minor league ladder and made his Brewer debut in 2007. Gallardo was impressive - starting 17 games while going 9-5 with a 3.67 ERA. Not bad for a 21-year-old.
The Brewers went into 2008 with hopes to reach the playoffs for the first time in more than a quarter century - and the young Gallardo was a huge part of that hype. However, Gallardo tore the lateral meniscus in his left knee in spring training - missing the start of the season. And then, on his return, he tore his ACL in his right knee while covering first base. He was on the DL the rest of the year until he was activated at the season's end. He started Game 1 of the NLDS but took the loss.
What followed next was six of the most consistent years of starting pitching in Brewer history. Gallardo - nicknamed Yo - started between 30-33 games each year, threw between 180-207 innings, and had an ERA between 3.51 and 4.14. He won 17 games in 2011, struck out 200 or more batters three straight years, and was named to the 2010 All-Star game (his only appearance). He also proved to be a quality hitter - winning a Silver Slugger award in 2010 - batting .254 with four home runs, 10 RBIs, and a .504 SLG%.
And then, before the 2015 season, with Gallardo just a year away from free agency, the Brewers made a dramatic move - dealing the reliable Gallardo to the Texas Rangers for Marcos Diplan, Corey Knebel, and Luis Sardinas.
The move frustrated many fans, who had grown accustomed to the steady work of Gallardo. However, there were signs that he was declining - despite being only 28 years old. The truth is Gallardo was one of the most worked pitchers in the league. He not only threw a lot of innings and faced many batters, but he also threw a ton of pitches.
Gallardo had an excellent 2015 season with Texas, which allowed him to ink a 2-year $22M deal with Baltimore. But the magic was gone. He bounced around for the next four years - playing for five different teams. His numbers went from solid to bad to awful (his combined bWAR in the last three years was a grisly -3.8). 
The 32-year-old Gallardo signed with the Brewers before the 2018 season, but he did not make the club and was released during spring training. It marked the end of Gallardo's playing career. 
For his Brewer career, Gallardo played 214 games (211 starts) and logged almost 1,300 innings pitched. He had a solid 3.69 ERA, and the one category he holds the team record for is for strikeouts - his 1,226 punch-outs edging out Ben Sheets by 20. As a hitter, Yo hit a respectable .201 with a dozen HRs in his career.
Some highlights of Gallardo's time in Milwaukee include a 14-strikeout game against Pittsburgh, a walk-off pinch-hit double in the 10th inning against Baltimore, plus a game where he tossed eight shutout innings and hit a home run - the only scoring of the 1-0 game. 
All and all, Gallardo had a very solid career - but it was disappointing in a couple of ways. First, Gallardo never developed into a top-of-the-rotation ace as many had hoped for. He had a lot of good tools and skills - but nothing exceptional that put him over the top as a pitcher. He was reliable, durable, and a great asset to the team - but he never rose to the level of an elite hurler. 
The second disappointing aspect of Gallardo's career was his rapid decline. For seven years, he was a model of consistency and durability. Yet by age 30, he was done as a quality pitcher. 
Despite those shortcomings, Brewers fans embraced Gallardo during his time with the organization. They loved his hardworking, stoic demeanor. And they loved his dependability - taking the ball every fifth day, year after year. 
Today, Gallardo and his family, including his wife, son, and two daughters, live in Fort Worth, Texas. He was inducted into the Brewers Wall of Honor in 2021.
Please share your memories of former Brewers pitcher Yovani Gallardo.
Think you could write a story like this? Brewer Fanatic wants you to develop your voice, find an audience, and we'll pay you to do it. Just fill out this form.
MORE FROM BREWER FANATIC
— Latest Brewers coverage from our writers
— Recent Brewers discussion in our forums
— Follow Brewer Fanatic via Twitter, Facebook or email