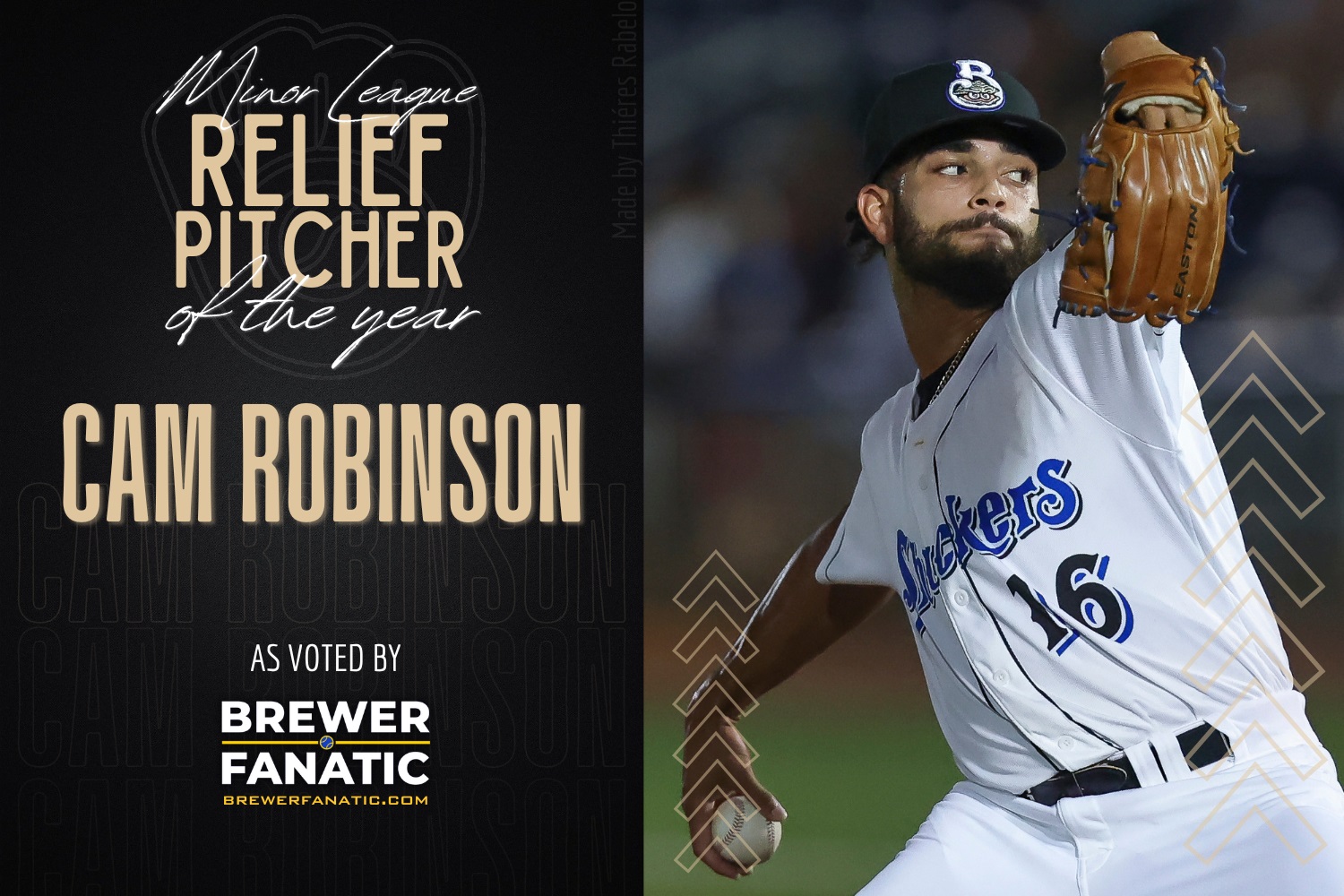 Image courtesy of Bobby McDuffie
Sometimes, the more traditional stats matter*. Through August 19th, RHP Cam Robinson's 25 saves led all of Minor League Baseball. And even with zero save opportunities over the final 40 days of the season, Robinson still ended the season atop the MiLB Saves Leaderboard.

High-A/AA Stats (41 G): 3-1 record, 1.38 ERA, 0.98 WHIP, 68 K, 22 BB, 52 IP, 25 Saves
AAA Stats (11 G): Not quite as pretty. To be improved in 2023!

A 23rd-round draft pick out of Orlando's University High School in 2017, Robinson started to blossom at Low-A Carolina in 2021 and reached an impressive level of dominance at High-A Wisconsin and AA Biloxi in 2022, forcing the Brewers into a tough decision of whether to add him to the 40-man MLB roster by November 20th or risk losing him in the Rule 5 draft on December 8th.

As the Timber Rattlers' offense struggled to get runs across in the early months of the season, Robinson was lockdown in the 'pen, earning 19 saves and 3 wins in 28 games at Wisconsin. In fact, the Timber Rattlers won a whopping 25 of the 28 games in which Mr. Robinson pitched!

Of those 28 High-A outings, 11 covered more than one inning of work, including nine games in which he covered two full innings.  Enjoy the mastery:
Promoted to AA Biloxi on July 4, Robinson didn't miss a beat, posting a 1.23 ERA and 0.89 WHIP while grabbing another 6 saves in 14 2/3 innings of work:
Intrigued by that level of dominance, the Brewers promoted Robinson to AAA Nashville on August 23rd, where he understandably struggled in 13 innings (6.92 ERA, 1.85 WHIP), presenting him with a new challenge for next year.

Having just turned 23 years old, once Robinson is able to replicate his amazing ground-out to air-out ratio (3.14 at Wisconsin, 2.57 at Biloxi) in baseball's higher echelons, he should have a long, successful major league career.
Runner-Up: James Meeker, RHP
High-A/AA (44 G): 4-4 record, 2.38 ERA, 1.06 WHIP, 57 K, 17 BB, 64 1/3 IP, 17 Saves
There aren't many players who get their first opportunity in affiliated baseball at age 26; fewer still the number who thrive. James Meeker, signed by the Brewers in August 2021, has been a terrific find, producing a minuscule 0.50 ERA at Low-A Carolina in 18 innings last year and continuing his excellence at High-A Wisconsin this year.

With Robinson racking up the majority of the early season save chances, 27-year old Meeker didn't move into a consistent closer role until July 30th, from which point he notched 12 saves (in 13 opportunities) over his next 16 games, producing a 0.44 ERA over this period and ultimately earning a promotion to AA Biloxi on September 13th. In all, James' 17 saves this season placed him seventh in the whole of Minor League Baseball.
Second Runner-Up: Peter Strzelecki, RHP
AAA Stats (27 G): 3-0 record, 2.84 ERA, 0.88 WHIP, 50 K, 10 BB, 31 2/3 IP, 3 Saves
Given his excellent work in the majors (3.06 ERA with 38 Ks in 32 1/3 IP), it's easy to forget that Strzelecki didn't make his Major League debut until June 2nd this year. Taking it back a little, he hadn't even played AA ball until May 5, 2021. Yes, it's been a rapid rise for the man who originally went undrafted out of the University of South Florida in 2018.

Early this season, 27-year old Strzelecki underpinned the fabulous Nashville Sounds' bullpen, producing the top WHIP in the 20-team International League before earning his deserved promotion to Milwaukee, whilst delivering a whopping 14.2 K/9 rate and earning four victories and three saves in the process. Hopefully, this will also be the year that Peter makes his MLB playoff debut.
Third Runner-Up: Trevor Kelley, RHP
AAA Stats (34 G): 3-3 record, 2.36 ERA, 1.14 WHIP, 42 K, 10 BB, 34 1/3 IP, 9 Saves
Kelley has been another dependable anchor in the Nashville bullpen, while also shuttling back-and-forth to the Brewers on five occasions. The 29-year-old joined the organization on a minor league contract in November 2021 and delivered immediate results in AAA, giving up just one run over his first 23 appearances.
Fourth Runner-Up: Hobie Harris, RHP
AAA Stats (53 G): 4-3 record, 2.04 ERA, 1.08 WHIP, 56 K, 28 BB, 53 IP, 8 Saves
Equally deserving of a call-up to The Show but not as fortunate as his peers in that regard, Harris kept his focus on the task-at-hand in leading Sounds' pitchers in games played (53), relief innings pitched, and ranked second on the team in saves. Hitting minor league free agency for the first time in November 2021, Harris opted to sign with the Brewers. After being a vital part of Nashville's 91-win season and hopefully winning a postseason title in Las Vegas, the 29-year-old Harris will undoubtedly be looking to sign a major league contract this offseason.
Honorable Mentions:

Luis Contreras, RHP (AA): 3-2 record, 3.00 ERA, 1.21 WHIP, 59 K, 21 BB, 42 IP, 1 Save
Born in Venezuela but listed as a Florida native, Contreras went undrafted and started his professional career in independent ball in 2019 before signing with the Brewers in June 2019. After Covid wiped out the 2020 season and he was injured for most of 2021, it was impressive to see the 26-year old register success in a leap to AA ball in 2022, striking out 12.6 batters per nine innings.
Michele Vassalotti, RHP (Low-A): 9-2 record, 2.64 ERA, 1.11 WHIP, 56 K, 24 BB, 47 2/3 IP, 7 Saves
An international signing as a 16-year-old in 2017, Italian-Venezuelan Vassalotti fell off the prospect map a bit with tough seasons in 2019 and 2021, but reinvigorated his career in a shift to bullpen work this year. Through his first 35 2/3 innings pitched this season, the 22-year-old had struck out 46 batters against only nine walks, but apparently tired down the stretch (15 walks in his final 12 innings). Give the man some deserved rest and let's see how he fares at higher levels in 2023.
Pablo Garabitos, LHP (Low-A): 6-1 record, 1.61 ERA, 0.96 WHIP, 61 K, 16 BB, 56 IP
The first and only left-handed reliever on this list, Garabitos was a 2018 international signing from the Dominican Republic as an outfielder, before shifting to pitching in 2019. Now 22 years old, Pablo produced the 5th-best WHIP in the 12-team Carolina League and was the youngest pitcher in the league with a WHIP below 1.09. Although he didn't make any starts, he averaged 2.33 innings per outing, covering as much as five innings on occasion and even throwing 87 pitches in one late-season victory. Will Mr. Garabitos shift into a starting role in 2023?

* Of course, Saves did not become an official MLB statistic until 1969, but it's fair to say they qualify as a traditional stat that was held in higher esteem before the sabermetric revolution.

Which of the Brewers' contingent of terrific minor league relief pitchers do you expect to become solid major leaguers one day? Would you have ranked these players differently? Your comments are welcome!
Think you could write a story like this? Brewer Fanatic wants you to develop your voice, find an audience, and we'll pay you to do it. Just fill out this form.
MORE FROM BREWER FANATIC
— Latest Brewers coverage from our writers
— Recent Brewers discussion in our forums
— Follow Brewer Fanatic via Twitter, Facebook or email