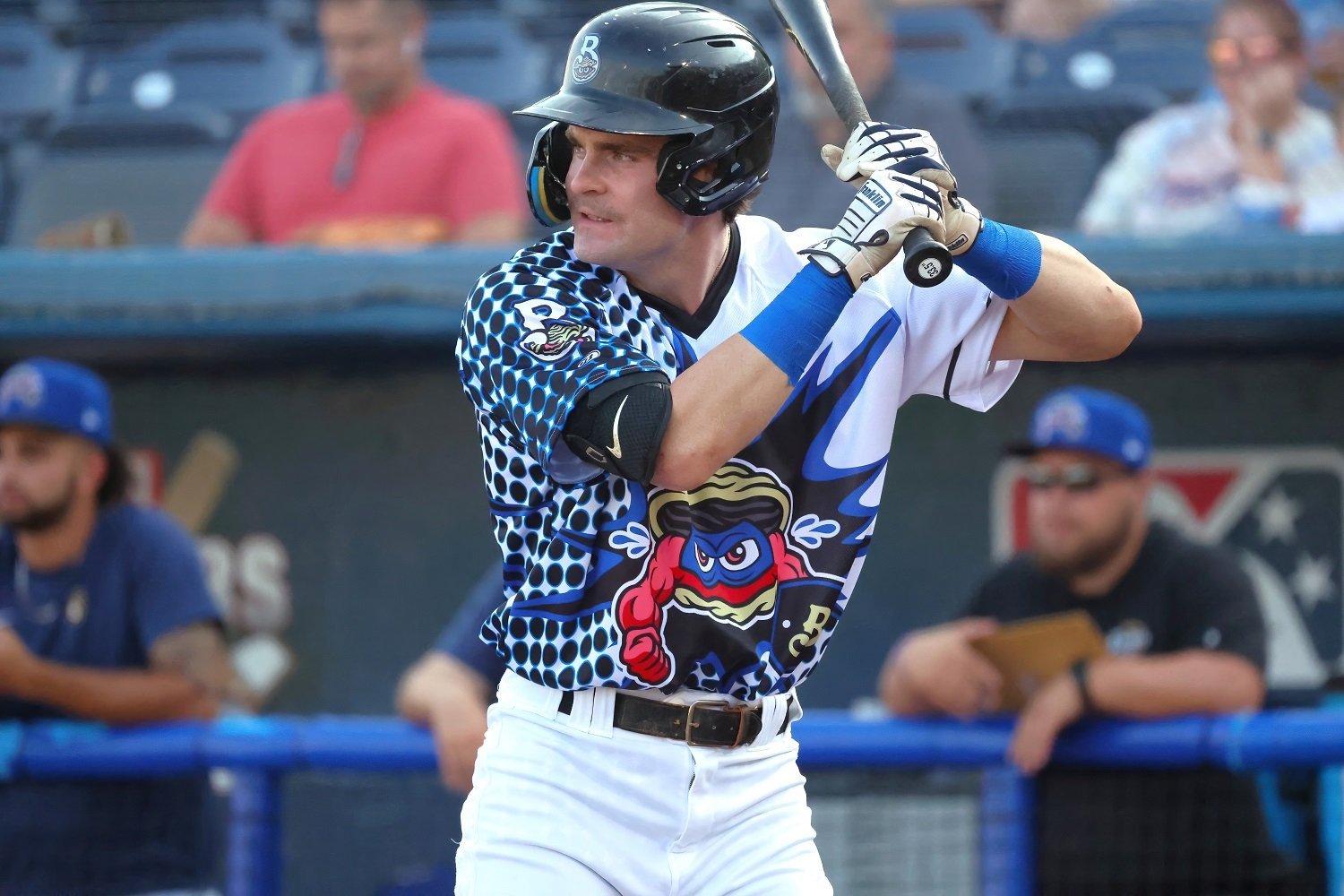 Image courtesy of Mike Krebs, Biloxi Shuckers
#4 IF Tyler Black (Biloxi Shuckers, Nashville Sounds)
The Brewers took Black with their Competitive Balance Round A pick in 2021. Coming out of Wright State, Black was a small school, model-based type of pick. After battling some tough injury luck in his first full season in 2022, Black stayed on the field in 2023 and broke out in a major way at the plate and on the bases.
What to Like:
Black's profile is going to be carried by his bat. At Wright State, he showed some in-game power, hitting 13 home runs in his final season. However, his batted ball profile didn't point to a ton of power in his future. He had a max exit velocity of 102.2 while in college. Jacob Wilson and Black are the only two first-round picks in the last three seasons with a 90th percentile exit velocity under 100 MPH. In his first 400 plate appearances of his career, that batted ball data appeared to be a more accurate sign of his power than the 13 home runs, as he only hit five home runs in that period. In 2023, that changed, and it changed pretty dramatically as Black hit 18 home runs. It doesn't appear to have been a fluke either, as his batted ball data has improved significantly since he entered pro ball. From 2022 to 2023, his 90th percentile exit velocity improved by four MPH, and his max exit velocity in Triple-A was up to 109.6 MPH. He cut his ground ball rate by over 11% to prove that his power jump is sustainable. The two main ingredients for sudden power upgrades are to hit the ball hard more often and to hit it in the air more often. Black did both in 2023. 
Even if the power isn't there for Black, he does a fantastic job controlling the zone and has the ability to spray the ball to all fields. His walk-to-strikeout ratio of 0.88 was sixth highest amongst the qualified hitters in the Brewers organization and second highest if you remove the short-season qualifiers. He has the tools to be a very good, all-around hitter at the major league level. On the bases, Black stole 55 bases in 2023, the most in the Brewers system. Unlike most minor leaguers who stole bases at a clip similar to him, Black stole that many bases largely due to his instincts and his feel. Those paired well with above-average speed, but a step below being plus speed to make him a threat all season long. 
What to Work On:
Defense is the question mark for Black. If he were an above-average defender, he would have a case for being a top-25 prospect in baseball. Coming into 2023, there were questions on whether he could handle the infield at all. He spent time in center field in 2022, and the outfield looked like a legitimate possibility for him. However, considering the amount of outfield depth the Brewers have, the organization knew that keeping him on the infield would be the best outcome for him and the team if he could handle it. To Black's credit, there was a definite improvement from him on the infield dirt this year. His actions improved from 2022 to 2023, looking more comfortable with his footwork and showing more range than in the past. While his arm isn't the strongest, it does appear that, at least glove-wise, third base would be a better fit for him than second base. Another possibility for Black moving forward would be seeing time at first base. He saw his first in-game action there this season, and it looks like a spot he could handle. It would lessen the importance of his arm, and he should be able to handle it with his athleticism. 
What's next:
A Ben Zobrist role is not out of the question for Black when he first reaches MLB. He'd be playing an everyday role but doing it by constantly moving around to give other players the day off. Black made a case to be called up at the end of 2023, and given he plays three positions that are pretty big question marks for the organization as they head into the offseason, Black will likely have a good chance of making the team out of camp. The fact that he is now making Top 100 lists around the league won't hurt him either, as he will most likely be one of the players eligible for the possible draft pick that comes with Rookie of the Year voting.
What are your thoughts on Tyler Black? Should he be on the Opening Day roster in 2024? Let us know in the comments!
1