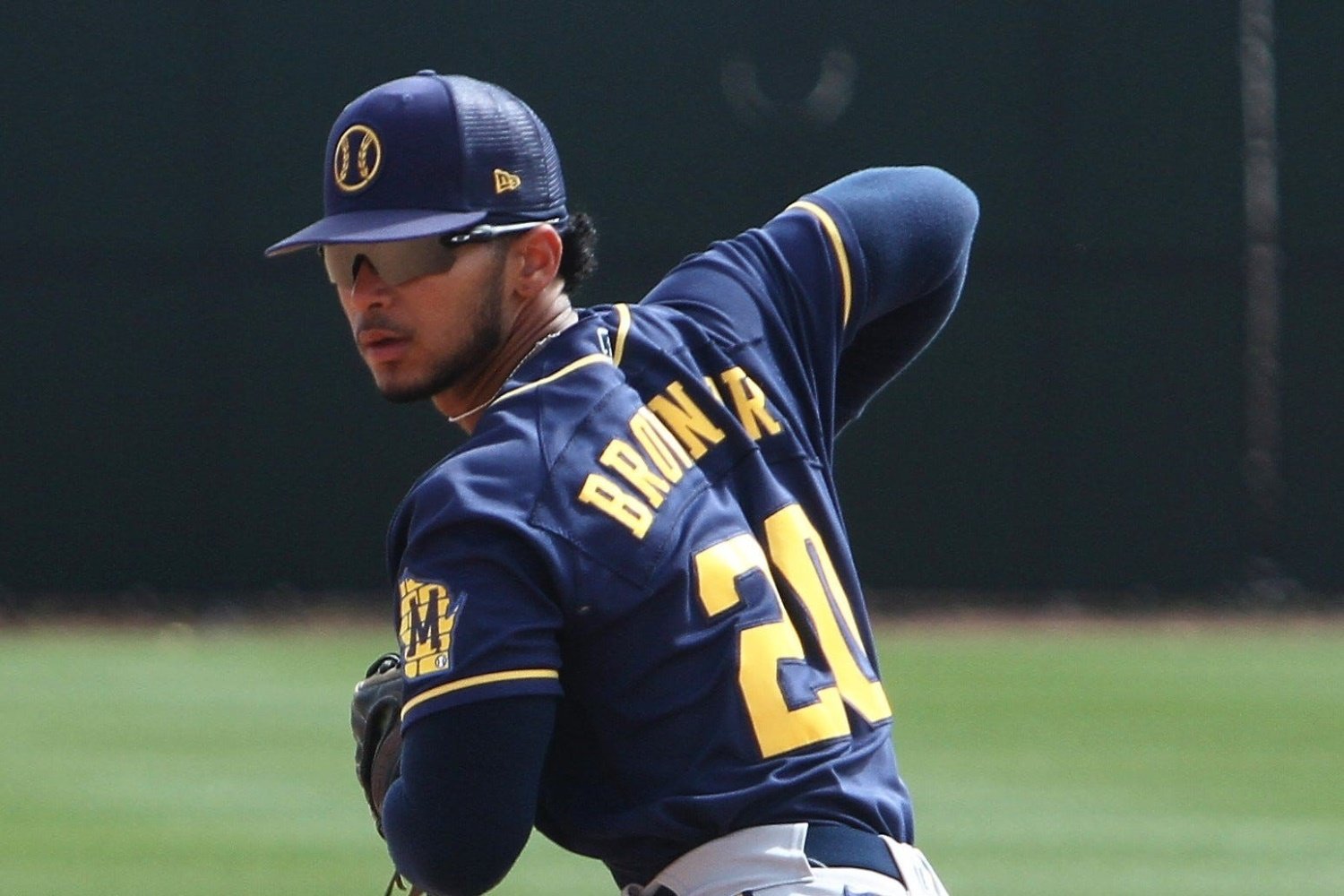 Image courtesy of © Curt Hogg / Milwaukee Journal Sentinel / USA TODAY NETWORK
Game Results
Monday, 10/16 | Surprise 8, Mesa 10
Tuesday, 10/17 | Salt River 5, Surprise 1
Wednesday, 10/18 | Surprise 8, Scottsdale 9
Thursday, 10/19 | Scottsdale 0, Surprise 5
Friday, 10/20 | Surprise 7, Salt River 1
Saturday, 10/21 | Surprise 2, Peoria 5
The third week of the Arizona Fall League was a regression to the norm for the Saguaros. After losing a couple of lopsided games in the first week and putting on some beatings of their own in the second, the third week showed off a higher-level of parity.
2B Eric Brown Jr. 
Week: 7-for-19, 2B, 2 BB, 2 RBI, 3K, 4 SB (6 games)
Eric Brown continued his upward trajectory, appearing in every game and averaging .368. His batting average for the season of .333 is second on the team, trailing only catcher Liam Hicks.
In addition to his hitting ability, his speed has been invaluable. Brown has swiped four bases, and he was utilized as a pinch-runner in a close game on Oct. 18 against the Scottsdale Scorpions. He's still looking to get his first home run of the season, but his consistent on-base abilities make up for a relative lack of power.
1B Wes Clarke
Week: 5-for-15, HR, 3 BB, 2 RBI, 6 K (4 games)
Clarke saw a slight reduction in usage but was effective when at the plate. He hit his fourth home run of the season against the Scorpions, and is now tied for second-most in the league. 
At 1.067, he boasts the second-highest OPS on the team (behind the aforementioned Hicks), and he has the second-highest slugging percentage, at .617. Clarke has been one of the most exciting prospects to watch on the Saguaros, and continues to impress. 
OF Hendry Mendez 
Week: 1-for-6, 2 BB, 2 K (2 games)
Mendez started just two games, splitting time between left and right field. On the bright side, he's been able to limit strikeouts and his on-base percentage of .313 is quite a bit higher than his batting average of .185. 
With a little more time allocated for training and development, Mendez might make his name as a player with elite plate discipline and above-average on-base skills.
RHP Joseph Hernandez
Week: 1.2 IP, 6 H, 5 R, 2 HR, HB, BB, K
Hernandez pitched only in the first game of the week and had a bit of a rough outing. His first inning saw him give up a single, hit-by-pitch, and a walk, but he avoided any scoring. After quickly getting two outs in the sixth inning, things started to fall apart: He gave up five consecutive hits, including two home runs.
Hernandez has an 11.25 ERA and a 3.00 WHIP over four innings this season.
LHP Justin King
Week: 1.0 IP, 2 H, 2 R, HR, BB, 2 K, L
Justin King came in the bottom of the 10th inning of the Saguaros' first game of the week against the Mesa Solar Sox. With the game tied 8-8, King gave up the game-winning home run to Kevin Alcantara, the first batter he faced. He threw just three pitches, all of which were strikes.
He had a much better outing against the Salt River Rafters on Oct. 20, striking out two batters and giving up no runs in the eighth inning. He threw 24 pitches, 14 of which were strikes (58.3%).
King has a 5.40 ERA and a 1.50 WHIP over 3 ⅓ innings this season.
LHP Adam Seminaris
Week: 2.0 IP, 5 H, 2 R, HR, BB, 2 K
Seminaris made a two-inning start at the beginning of the week, conceding two runs and five hits over two innings while netting two strikeouts. It was his first start (and just his second game) of the fall season.
Seminaris has a 3.00 ERA and a 1.17 WHIP over six innings this season.
RHP Justin Yeager
Week: 2.0 IP, H, 0 R, 1 BB, 4 K
Yeager was lights-out, making two scoreless relief appearances. He pitched the final inning against the Salt River Rafters on Oct. 17, striking out two and giving up one hit and one walk. He used 19 pitches, 12 of which were strikes (63.2%).
He also pitched the seventh inning of the team's final game of the week against the Peoria Javelinas, striking out two and conceding no baserunners. He used 16 pitches, 9 of which were strikes (56.3%).
Yeager has a 7.20 ERA and 2.00 WHIP over five innings this season.
Do any of these performances turn your head? Which Brewers assignees to the AFL have your mental gears turning, as you look ahead to the offseason and to 2024?