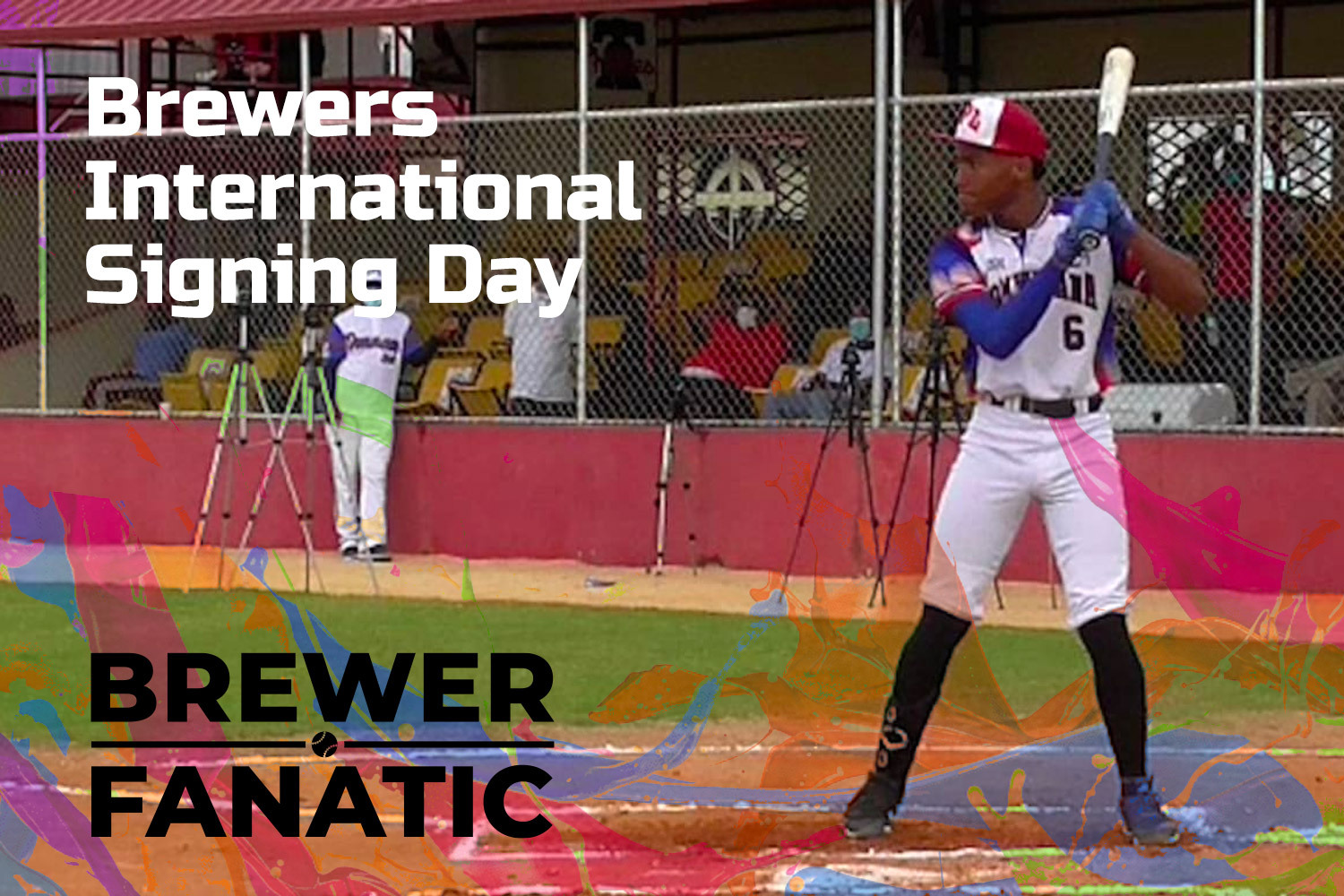 For the 2022 international signing period, the Brewers' pool stands at $6,366,900. On the first day, the Brewers signed 29 players. We don't know for certain what the total expenditure for the day was, but we know three of the values. 
The goal, of course, is to find the next Jackson Chourio or Abner Uribe?
The Brewers signed three players that were among MLB Pipeline's Top 35 international period prospect rankings. 
Number 22 on their rankings was outfielder Yophery Rodriguez from the Dominican Republic. He signed with the Brewers for $1.5 million. He just turned 17 in early December and is a very toolsy player. He has a good feel for hitting and over time he could develop a lot of power. He's got a good approach to the strike zone and has been training with former big leaguers Carlos Guillen. How much will he grow, and how much strength will he gain? That may determine whether he remains a viable centerfield option. 
Filippo Di Turri ranked #33 by MLB Pipeline. He is a shortstop from Venezuela who turned 17 early in November. He's all about projection. He stands about 5-10 and weighs in at just 150 pounds, maybe. Di Turri is a very solid all-around player already at this stage. He has really good instincts at shortstop to go with soft hands, quick feet and range, and a strong arm. While he is not very big and will have to gain a lot of strength over the coming years, scouts have been impressed by his swing from both sides of the plate and believe that he could develop some power from both sides. 
The Brewers also signed MLB Pipeline's #35 international prospect, shortstop Kevin Ereu on Sunday. Another shortstop from Venezuela, Ereu won't turn 17 until the end of May. He is already 5-11 and 170 pounds. While he is very solid and makes the routine plays at shortstop, and they will want to keep him there as long as they can, he may be a guy who switches positions down the line. He is right-handed and hits the ball hard from gap-to-gap and has already exhibited the ability to hit the ball over the fence. 
Both Di Turri and Ereu signed for between $1.2 million and $1.3 million. 
With these three top prospects, the Brewers have accounted for approximately $4 million. That leaves an additional $2.2 million or so to spend. 
Here are 26 other players that the Brewers signed on Sunday: 

Pitchers
Nestor Mena, RHP, Nicaragua
Saul Sanchez, RHP, Nicaragua
Melvin Hernandez, RHP, Nicaragua
Enniel Cortez, RHP, Nicaragua
Jesus Flores, RHP, Venezuela
Eric Prado, RHP, Mexico
Gabriel Colmenarez, RHP, Venezuela
Aldrin Gonzalez, RHP, Venezuela
Luis Guevara, RHP, Venezuela
Linbel Jimenez, RHP, Dominican Republic
Lenin Mendez, RHP, Dominican Republic
Ismael Yanez, RHP, Venezuela
Oliver Camilo, RHP, Dominican Republic
Catchers
Freider Rojas, C, Venezuela
Infielders
Luis Lameda, SS, Venezuela
Luiyin Alastre, SS, Venezuela
Pedro Ibarguen, SS/OF, Venezuela
Joan Gutierrez, SS, Venezuela
John Bencosme, SS, Dominican Republic
Eduardo Charles, SS, Dominican Republic
Roderick Flores, SS, Dominican Republic
Tyler Rodriguez, SS, Dominican Republic
Outfielders
Pedro Tovar, OF, Venezuela
Danny Puerta, OF, Colombia
Smarlin Espinal, OF, Dominican Republic
Antony Gomez, OF, Dominican Republic

It is very hard to find shortstops. That is why you see teams sign dozens of shortstops knowing how difficult it is to develop big-league shortstops. Sign a bunch. Let them play a lot at shortstop and other places. Athletes can always move around. But finding guys who will hit enough while playing good shortstop defense is very difficult. 
As for pitchers, we are still talking about 16 to 18-year-old kids. You can't just look at velocity. Scouts look at a pitcher's frame, their height, their mechanics. It's really a lot like scouting high school players. You are trying to find players that you think can develop into big leaguers in the next six to eight years. 
While most of the Brewers' Day 1 signings come from the Dominican Republic and Venezuela, they signed guys from other countries too. They also signed an outfielder from Colombia and a pitcher from Mexico.
They also signed four pitchers from Nicaragua, a country that hasn't exactly been a hotbed for baseball talent. Seven players from Nicaragua signed with MLB organizations on Sunday. 
Enniel Cortez is fairly experienced. He has pitched professionally in Nicaragua. He tops out around 92 right now and is said to have a tremendous slider. Melvin Hernandez is also 5-11. He went on a tour of the Dominican in November and showed a fastball at 92 and the ability to spin a couple of really good breaking pitches. Nestor Mena stands 6-1. He is a little bit more raw than some other pitchers. However, he has worked very hard and now it touching 90 mph with his fastball and has developed a big curveball as well. Saul Sanchez is 5-11 and also hits 90 mph. 
The search will continue and teams can sign eligible players within their allotment throughout the year. 
 
Think you could write a story like this? Brewer Fanatic wants you to develop your voice, find an audience, and we'll pay you to do it. Just fill out this form.
MORE FROM BREWER FANATIC
— Latest Brewers coverage from our writers
— Recent Brewers discussion in our forums
— Follow Brewer Fanatic via Twitter, Facebook or email
1