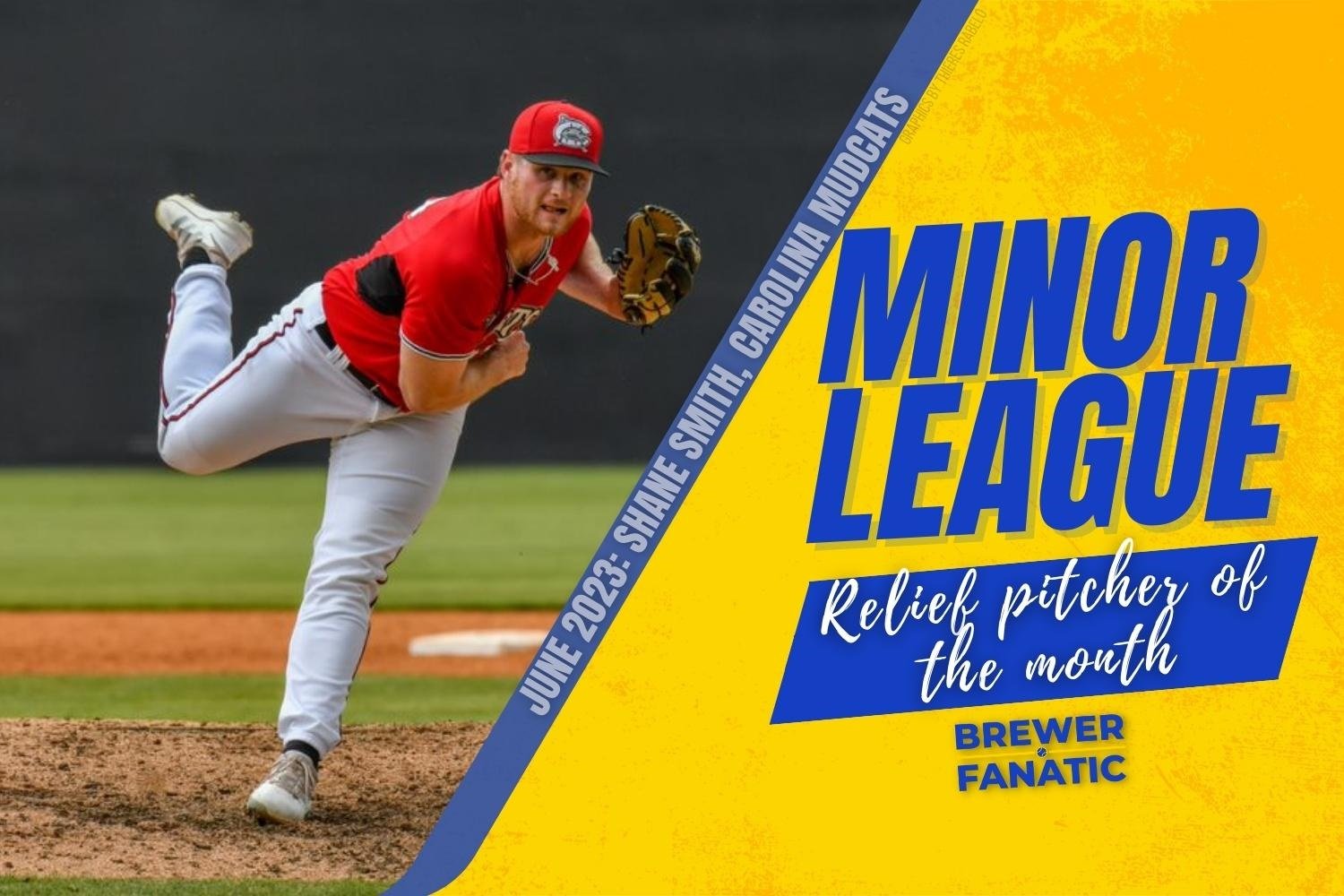 Image courtesy of Neal Hock, Carolina Mudcats
We close out our MiLB Player of the Month series with our top seven Relief Pitchers for the month of June. This list was filled with viable candidates and was very tough to narrow down to even seven. After a bit of a down month in May, the reliever group was pretty dominant in June throughout the system. We will begin with a couple of honorable mentions.
HONORABLE MENTIONS
RHP - Abner Uribe - Biloxi Shuckers and Nashville Sounds - 9 G, 8.2 IP, 1-1, 2.08 ERA, 3.90 FIP, 1.04 WHIP, 3 H , 6 BB, 17 K.
Uribe was featured in the May version of this article and had another very solid month, including a promotion to Triple-A. Most months he likely would have made the top group, but there were a lot of top of the line performances in June.
RHP - Miguel Guerrero - Carolina Mudcats - 4 G, 11.1 IP, 1-0, 1.59 ERA, 2.35 FIP, 0.88 WHIP, 8 H , 2 BB, 12 K
Guerrero was signed in 2020 as a 19 year old. He has now spent parts of the last three seasons in Carolina. Last season he got off to a great start there and received a promotion to High-A. Unfortunately he struggled mightily there and ended up back in Carolina to start this season. His fastball is in the mid-90s and has some sink to it. He also throws a slider. If you're projecting best case scenario down the line, there is some Elvis Peguero to Guerrero's profile, though his slider does not have the same type of velocity. As of 7/4, he is on his way back up to Wisconsin where he will be hoping for better results his second time around.
RHP - Jeferson Figueroa - Carolina Mudcats - 5 G, 9.1 IP, 0-0, 1.93 ERA, 4.32 FIP, 0.88 WHIP, 8 H , 2 BB, 12 K
Figueroa was the Brewers 32nd round pick in 2019 (the last draft that expanded beyond round 20). He was a high schooler out of Florida. Currently showing a fastball with life at the top of the zone and touching 96-97 at times, he also throws a wipeout slider. His command could use work, but June was a step in the right direction for him. He is another that could end up in Wisconsin soon.
TOP SIX RELIEF PITCHERS FOR JUNE
#6 RHP - Ryan Brady - Wisconsin Timber Rattlers - 7 G, 20.0 IP, 2-0, 1.35 ERA, 3.26 FIP, 0.75 WHIP, 13 H , 2 BB, 16 K, 1 SV.

Unranked by all publications

Brady snuck into the April Relief Pitcher of the Month rankings as well. Much of the next portion is pulled from that article, as there hasn't been any change to his repertoire since then. Brady was an undrafted free agent pickup by the Brewers, following the 2022 draft. Though he's already 24 years old, and thus a bit of an older High-A player, his results have been great and his repertoire has the looks of a legitimate reliever. A fastball that sits in the 93-96 range, with great life at the top of the zone, pairs extremely well with his sharp slider and his slower, yet powerful curve. Brady has lightning fast arm speed, but a very relaxed delivery where he is not leaking any of his power. It should allow him to maintain very very strong command, which he showed in May with only two walks and three hit by pitches. He also showed off his athleticism on the mound a few times, including on an incredible double play in extra innings.
Brady's June was filled with strong outings, as he went three or more innings in six of his seven appearances. However his longest outing of the month was also, arguably, his best. On June 30th, Brady went four scoreless innings, only allowing two hits and striking out four batters. This was the last day of the month, meaning it was obviously his last outing of the month, but as it turns out it will also be his last outing at High-A. Brady was rewarded with a promotion to Double-A Biloxi earlier this week. 
The BYU product may not have been drafted in the 20 round draft last summer, but he's just another example of the depths the Brewers will go to in order to find good arms. If you're an undrafted or independent ball pitcher and the Brewers approach you, it would seem wise to join an organization that gives the type of opportunity the Brewers give to these types. They don't care what your background is, they just want pitchers who can get the job done. Brady could be one of the next, in a pretty long line, of overlooked prospects to prove that point.
#5 LHP - Clayton Andrews - Nashville Sounds - 8 G, 10.0 IP, 2-0, 0.90 ERA, 3.08 FIP, 1.20 WHIP, 5 H , 7 BB, 13 K

Unranked by all publications

Andrews was featured in the April version of this article as well, and the next portion will pull from that a decent amount. Drafted in the 17th round in 2018, Andrews stands in at only 5'6, and if we're being honest, that might be a bit generous. Despite his stature, his ride through the minor leagues has been an exhilarating one. In 2019, he was not only pitching, but also playing center field and racking up a batting average hovering around .300. After COVID he did get a few more plate appearances in 2021, but would undergo Tommy John surgery shortly thereafter. He returned from TJS last season, no longer playing the field, and also to mixed results on the mound. He was striking out nearly two batters per inning. Unfortunately he was also walking close to a batter an inning and had an ERA over nine. This year he came into a spring training game and immediately caught a lot of people's attention when he touched 96 MPH and sat in the 94-95 range. For a left handed pitcher, that type of velocity will always create some intrigue. When that left handed pitcher is 5'6? It creates a lot of intrigue. After seeing a bit of a down turn in results. Andrews returned to the type of surface level results we saw in April, though the command was far from perfect. 
In June, Andrews was walking over six batters per nine, which is not an ideal place to be. He also threw two wild pitches and was generally a little all over the place. He was also, however, striking out over 11 per nine and keeping the ball on the ground really well. His best outing of the month was on June 6th, when he went 2.1 innings, striking out four and only allowing two baserunners with one walk and one hit allowed. 
Andrews' month was rewarded with a promotion to the major leagues, which was an incredible accomplishment for someone who was a 17th round pick and the height that Andrews is. Not to mention his recent Tommy John surgery. While his debut did not go very well, his second appearance went much better and showed a lot more of what he's capable of. Hopefully he will continue to be given chances. The fact he was not immediately demoted following his blowup appearance is a good sign that the organization believes in him.
#4 LHP - Darrell Thompson - Nashville Sounds - 9 G, 10.1 IP, 1-0, 1.74 ERA, 3.10 FIP, 0.97 WHIP, 6 H , 4 BB, 15 K

Unranked by all publications

Signed this past offseason, Thompson's organization debut went as well as one could imagine. He began in Double-A Biloxi and finished April in second place in that month's version of this article. Having been signed away from the Schaumburg Boomers, Thompson came to the Brewers throwing a 4-seam fastball at 92-94, as well as a changeup and a slurve. He is now mixing in a cut fastball in the upper 80's and a "sweeper" and the slurve is a bit more of a true curve.
In June Thompson worked parts of multiple innings three times, but only completed two full innings once. That outing, coming on June 22nd, was likely his best of the month. He only allowed one hit and he struck out four in those two innings pitched, and he did it against a very talented lineup in Baltimore's Triple-A affiliate, Norfolk. 
Thompson was moved quickly from Double-A to Triple-A after such a good start. It did take him some time to get settled in at the new level, as his command faltered and he finished May with a 9.45 ERA at the Triple-A level. It's hard to say whether this adjustment period was due to leaving the pre-tacked Southern League baseballs behind, simply getting used to a higher level, or perhaps a combination of the two; but once he figured things out at the start of June he was right back to dominating and once again appears to be close to making an impact at the MLB level.
#3 LHP - Luis Amaya - Wisconsin Timber Rattlers and Biloxi Shuckers - 8 G, 15.1 IP, 2-1, 0.59 ERA, 2.88 FIP, 0.78 WHIP, 7 H , 5 BB, 12 K, 1 SV.

Unranked by all publications

Amaya was signed as a minor league free agent this offseason after he was released by the White Sox organization. His fastball only sits in the upper 80's, sometimes touching 90, but it is commanded really well and he is able to use it to sneak up on hitters using deception. Despite this Amaya's start in the Brewers organization has gone extremely well, spearheaded by strong command and his curveball, which is a plus pitch. He uses deception to keep the contact soft and the curve is his go to when he is attempting a strikeout.
In June, Amaya only allowed one run, which came in his first appearance, on the first day of the month. His next seven appearances he was able to keep the teams he was facing off of the board entirely. His best outing was probably his last of the month, which was also his first appearance at Double-A. He only threw one inning, but he struck out the side. He did allow one walk in the midst of the strikeouts, but it was a great start to his time in Double-A.
Amaya is never going to blow anybody away with his pure stuff, but as discussed a number of times in this article, the Brewers don't care how you get outs. They only care that you are, in fact, getting outs. So far, Amaya is doing exactly that.
#2 RHP - Max Lazar - Wisconsin Timber Rattlers - 6 G, 14.0 IP, 2-0, 1.35 ERA, 2.32 FIP, 0.75 WHIP, 13 H , 2 BB, 16 K, 1 SV.

Unranked by all publications

Lazar was selected in the 11th round of the 2017 draft. Before COVID hit, he was seen as an up and coming starting pitcher prospect in the organization. Unfortunately COVID threw a small wrench in those plans, and then a torn UCL threw a much bigger wrench into those plans. Prior to Tommy John surgery and as a starter, Lazar's fastball only sat in the 88-90 range, dipping as low as 86 at times. He was getting by on deception and with a very good changeup. When he returned from the surgery in 2022, Lazar was moved to the bullpen in a multi-inning role. Now in 2023, his fastball is sitting in the 92-95 range and spinning at 2500+ RPM. Coming from an extremely over the top slot that is somewhat reminiscent of Oliver Drake, it gets a ton of ride and plays very well at the top of the zone. With the jump in velocity it has turned into a much bigger swing and miss pitch for him. His changeup is still his best secondary, but his breaking ball has improved as well. It may not be as a starter anymore, but Lazar has been regaining some of his prospect luster in 2023, June only added to that.
In June, Lazar went two or more innings in all five appearances, including three appearances with three or more innings pitched. His best outing was actually a two inning outing on June 18th, where he retired all six batters he faced, including three punch outs. 
Lazar's performance in June was rewarded with a promotion to Double-A Biloxi where he will look to continue to re-make a name for himself in the organization.
#1 RHP - Shane Smith - Carolina Mudcats - 6 G, 12.0 IP, 1-0, 0.00 ERA, 3.10 FIP, 0.58 WHIP, 5 H , 2 BB, 14 K, 1 SV

Unranked by all publications

Smith was a member of the undrafted class following the 2021 draft, signed out of Wake Forest, where he had been their closer in 2020. Unfortunately for Smith he was in the midst of Tommy John rehab during the draft, which played a big role in him not being selected. Prior to this 2023 season, he had only thrown three professional innings at the complex level. 
Armed with a mid-90's fastball and a sharp curveball that he often goes to as his "out' pitch, Smith also mixes in a cutter that shows good shape and life as well. He may also be mixing in a slider, but it's very possible that those are just cutters that are generating a bit more movement than average. His entire time at Low-A was very successful, but during June in particular he took it up a notch, as shown in his numbers for the month. 
Often being used multiple innings at a time, Smith not only used his three pitch mix to rack up more than a strikeout per inning, but also to keep the baseball off the barrel of his opponents. Having allowed three home runs in the first two months, Smith did not allow a single extra base hit in June. Eliminating the home run ball, and the extra base hits, entirely were a huge reason for his successful month. As mentioned earlier, he used the curveball when he was in strikeout counts and it was very successful for him. The cutter is the pitch that did the best job of avoiding solid contact, breaking a few bats and coming close on a number of others.
Smith's month was highlighted by his June 16th outing in Augusta. That Friday night he threw three scoreless and hitless innings against the GreenJackets. His only base runner came on a walk. In that outing he struck out five batters and picked up his only save on the month. 
After his hugely successful month, Smith was promoted to High-A Wisconsin where he has gotten himself off to a good start through his first three innings. Like with Ryan Brady, the Brewers may have found another good one in the undrafted ranks with Smith. Given his advanced age and the fact he faced a lot of good competition at Wake Forest, he may be a fast mover if he continues to perform.
Thanks for following along with this three part series on the Brewers minor league system. Please let us know your thoughts in the comments. We hope you learn something new each time around!
Think you could write a story like this? Brewer Fanatic wants you to develop your voice, find an audience, and we'll pay you to do it. Just fill out this form.
MORE FROM BREWER FANATIC
— Latest Brewers coverage from our writers
— Recent Brewers discussion in our forums
— Follow Brewer Fanatic via Twitter, Facebook or email