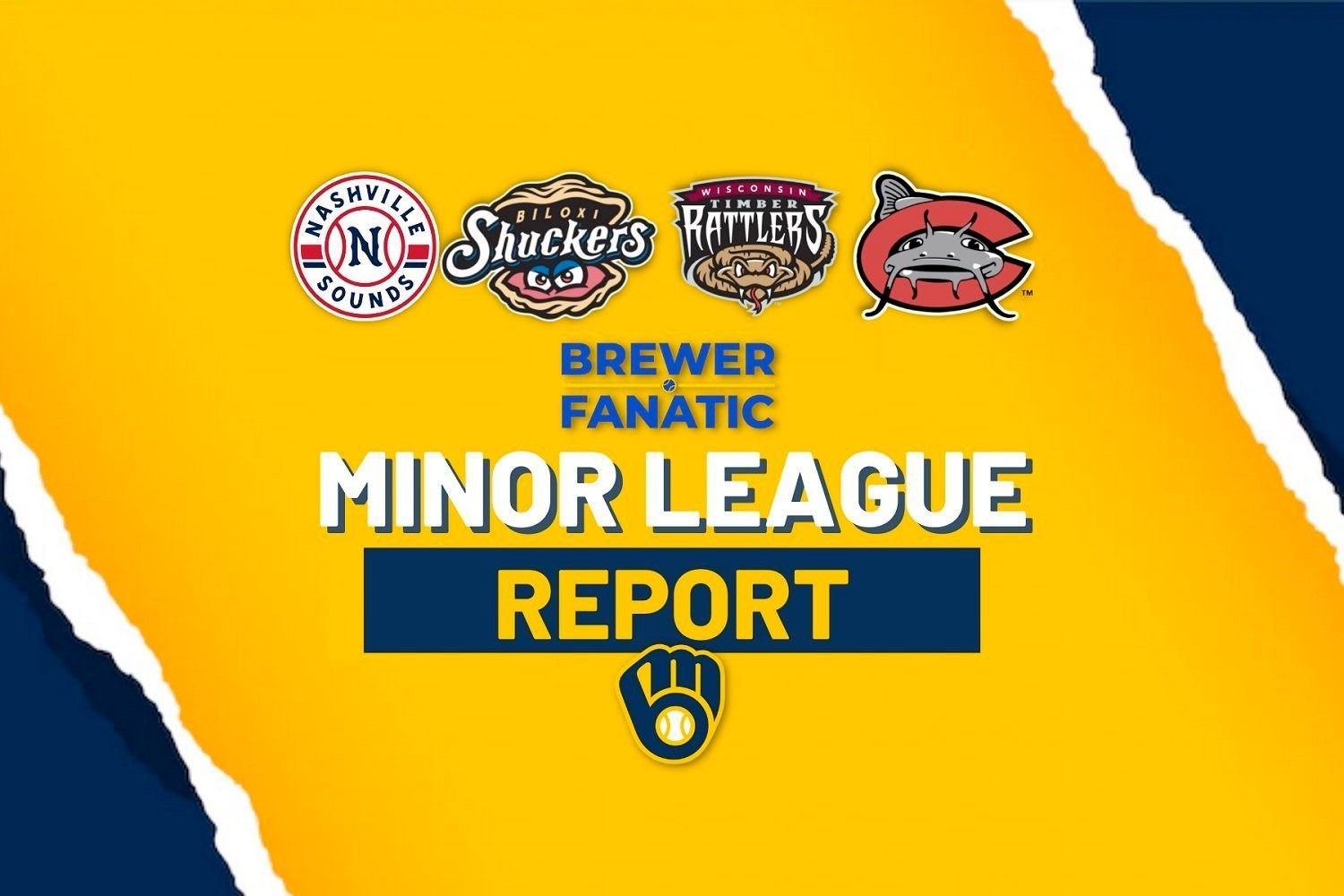 Image courtesy of Minor League Link Report
Transactions:  Jamie Westbrook (INF/OF) was traded to the Detroit Tigers organization for cash considerations. We wish Jamie the best at his new Triple-AAA affiliate in Toledo.  
Carolina Pre-Game Media Notes
Final: Carolina 13, Fredericksburg 6
Box Score / Game Log
Via the Mudcats' website, game details, please review:
Garcia and Cipion Homer in 13-6 Road Win  -  The Mudcats scored seven runs in the eighth to seal Wednesday's series-tying victory
It is time to start having 'Top Ten' conversations about toolsy and tantalizing prospect Eduardo Garcia. In the recent past, shadowed by the press and excitement for fellow Low-A prospect Hedbert Perez, it seemed as though Eduardo was an under-the-radar by-line or afterthought - perhaps, a player too young to garner serious attention in those hallowed one through ten slots. I know it is extremely early in the 2022 season, but when a player flashes what Garcia is flashing daily, something needs to be said to push this conversation. To date, Eduardo typically finds himself ranked in that 10-20 range in most publications. I will get out ahead of the crowd: He is top ten. Today. There is too much swagger, skill, athleticism, and 'It' in this young man to relegate him anywhere outside this upper echelon. We've seen more than one web gem in the field (including a first-inning put out today to first - from his knees, beyond second base, on a scorched liner that one-hopped off his chest) in the five games to date. After stabbing yet another well-hit ball his way deep in the hole between shortstop and third base to claim the first out of the bottom of the second, Joey Zanaboni (Nats' primary broadcaster and MiLB.TV voice) asked:
Quote

"And, how many times is this guy going to break our hearts? A beauty of a play to put away White."  His sidekick and backup broadcaster responded: "At this point, the Fred Nats have got to do everything they can to avoid hitting the ball Garcia's way because it's going to be an out if you do. He's automatic and has been this entire series and season for the Carolina Mudcats."
***(If you are an MiLB.TV subscriber, tune in to the 1:25:19 mark of today's recorded game cast.)*** 

And, can I get a: "Hey Now!"?
Eduardo has shown range, incredible explosive leaping and timing ability, and an absolute cannon for an arm with accuracy to pair with it. We see a free and easy swing, capably recognizing and mashing breaking balls out of the park while simultaneously splitting the gap for doubles when taking heat.
Is the next great Brewers shortstop nipping at the heels of higher-level candidates like Freddy Zamora? I say this is a worthy question to ask. It is too early to tell, but warning flares are being sent quite high and with visibility into the partly cloudy skies of lofty projections and hopeful aspirations. I can see a future 'Big Club' infield featuring Biloxi's Felix Valerio manning the dirt between first base and second base while a maturing and even more refined Garcia is deftly handling duties at shortstop. Time will clearly define this current unknown, as it always does, but if there is one player to tune in for at Low-A Carolina, I would be hard-pressed to say any player's name outside 'Eduardo Garcia.' And, I would be remiss if I did not add: there are several compelling young players to watch on a day-in and day-out basis. More to follow as the season progresses.
Final Viewing Notes:
Oh, to be young! A tip of the cap to Jeferson Quero is in order. He deserves recognition when any catcher mans the backstop in consecutive outings with shortened rest - an evening to midday. As mentioned in the Fredericksburg broadcast, it would not be surprising to see Jeferson get a rest day tomorrow or man the DH spot. Will we see Jose Sibrian or Jesus Chirinos filling in as catchers tomorrow? Stay tuned.
The Fredericksburg Nats' batters have taken 44 walks in 5 games this young season. This is, um, noteworthy. Yes, that's the word.
Miguel Segura faced some trouble early in his debut at the Low A level - he spent 2021 dominating his DSL and ACL outings. He struggled a bit in inning one as he walked a runner on four pitches after allowing a run to score on a House single. In the ensuing at-bat, he grabbed some luck as House, hugging the second base, was uncertain if Bello was under the fly ball to deep left. He was not. The ball hit midway up the deep left-center fence and one-hopped to Bello while House held at third. Nabbing a much-needed strikeout on his best breaking ball of the early inning, he then managed to induce a hard but tricky chopper to Vargas between the pitcher's mound and the third baseline. Vargas adeptly and miraculously charged the ball, bare-handed it, and in one motion rifled an accurate throw to nab the runner at first base. Out of a rough first inning, he settled down for two more while limiting any further damage. He left the mound after three in full allowing three hits, two walks, punching three k's, and allowing the one earned run.
Micah Bello continues to see the ball and is swinging comfortably and under control. His 1st inning opposite-field two-run single on a pitch up and in was not an easy hit. But, he saw the pitch, liked what he saw, and executed a highly effective inside out swing to line it to the RF grass. This is the maturation we hoped to see. Micah struggled last season at the plate: a 33.5% k rate and a near 6.6K:BB ratio. This was not ideal and, understandably, he was left off most pre-season 'Top 30' prospects lists as a result. As I consistently mention, and it truly does need to be said as the sample size is much too small, it is early. But, I am also one to celebrate small victories in hopes they will lead to stacked successes. In the early going Bello has seen that strikeout rate drop to the low 20's, albeit in a mere 18 at-bats, and his K to BB ratio dip to 2:1. He is hitting to the tune of an unsustainable 0.444 with an OPS of 1.222 (5 doubles). Here's hoping a corner of some kind has been turned.
Your 2022 Carolina Mudcats have a penchant for early inning success. If you are considering tuning in, do so early or you may risk missing some meaningful output. This is two games in a row where they've jumped on the starter from the get-go and put runners on, smoking balls, and sending runners across home plate. Yesterday, the bases were loaded from the start and two runners crossed home plate by the inning's end. Today, it was 4-0 and the second and third outs were on well-hit fly balls. Tune in early. Tune in often.
Arbert Cipion deserves mention as a prospect who is playing with more discipline in all facets. Like many young players, Arbert was drafted at the 21st pick of the 2018 ninth round clear out of Passaic County Technical Institute (the only player ever drafted from the school), Arbert struggled to find his footing as an offensive player in the earliest days of his professional career. COVID certainly didn't assist in any on-field growth or playing time and added a year of development missing from his belt. He's always been a solid defender with range. Originally drafted as a centerfielder, and today playing right field, Arbert showed arm strength to hold a runner on 3rd with the game still not broken open. But, he has shown more with his bat in this young season than he has in quite some time. It would appear, he is getting comfortable. Take a look at his calmness here as he crushes this home run to deep left field...over the fence, out of the stadium, and into the trees:
Is Michele Vassalotti in for a resurgence with a shift to the bullpen? I don't know. But, after struggling with walked batters as a starter in Carolina last season, the early results are a bonus. Although he has hit one batter, he also hasn't walked a batter (the main culprit of his elevated 1.74 WHIP last season given batters hit to a tune of 0.237 in his 13 games started) and has struck out three in two innings pitched.
***
Wisconsin Pre-Game Media Notes
Final: Postponed
For your viewing pleasure, here's a 40-second video segment proving it was indeed a postponed outing.
And, so, the Timber Rattlers Wednesday game is pushed to Thursday where we'll have a double-header (see tweet above). Our very own @damuelle will be working double-time right off the bat in his first 'Minor League Report' of the young season. 
Biloxi Pre-Game Media Notes
Final:  Biloxi 3, Mississippi 2
Box Score / Game Log
Via the Shuckers' website, game details, please review:
Shuckers Walk Off to 5-0 Start - Luna Allows 1 Over 5.1 Innings
It was 'Bark in the Park' night in Biloxi for the only remaining undefeated team in Double-A baseball:
A certain pup was indeed making itself known in the top of inning one and again in the top of the third. While concessions employees and patrons alike were fearing the worst...

* The author notes, no dogs or dog owners were injured in the crafting of this post*
...it was another facet of dog 'personality' menacing the ballpark. With two down and the batter in an 0-2 count during the top of the first, there was a yapping, resounding, and consistent choir of high-pitched barks resonating from said pup. 'Fido', if that is your name, you know who you are. On behalf of the fans, viewers, and players: Go take a walk! And, with that, the internet has spoken.
On to more details of the fantastic Double-AA contest that took place at Biloxi's MGM Park:
After surrendering a lead-off triple, Carlos Luna continued the top of the first inning with a breaking ball strikeout in the dirt and followed it with a breaking ball swing and a miss. After walking the dangerous lefty first baseman, Lugbauer (formerly, a third baseman and catcher for the University of Michigan college baseball enthusiasts may recall), on a questionable ball 3 call I might add, Carlos finished his first frame by inducing an infield pop-up to Freddy Zamora who calmly collected the ball. It's always good to work through the early hiccups when making your first appearance of the season.
It is worth noting, Mississippi stacked the lineup with lefty batters to face Carlos with the lone right-handed hitter the red hot hitting Trey Harris in the Mississippi DH slot. Facing the Atlanta Brave's #9 (MLB Pipeline) overall prospect in Freddy Tarnok (a very tantalizing 4-pitch prospect featuring a 12-6 knee-breaking curve), things didn't start smoothly for the Shuckers as the young pitching prospect worked the order three up and three down - including a four-pitch strikeout on an unexpected changeup to young Joey Wiemer. Things continued through the third inning as Tarnok held the Shuckers hitless through all three frames. Ultimately, he only surrendered 1 hit, 3 walks, and a hit batsman after his last pitch to catcher Jakson Reetz grazed off his hands. After 4 2/3 innings, Tarnok would not qualify for the potential victory. Luna, on the other hand, made it through 5 1/3 efficient innings and called it a night.
Further Viewing Notes:
Freddy Zamora saw fly-ball action early and often. After collecting four pop-ups in the early going, he did not see much action the remainder of the evening. I await any improvements from his throwing accuracy in the games ahead.
Shuckers Media Relations Manager and Broadcaster extraordinaire, Garret Greene's update on Garrett Mitchell: "He's in good spirits but he's getting the day," seemed to hint at the young outfielder just taking the rest needed due to his recent bad luck with the baseball. Well, to close this loop, Mitchell did indeed play the part of a pinch-runner in the top of the ninth inning after Jakson Reetz opened the closing frame with a base on balls. It would appear he is on the mend, and for good measure, he scored the winning run! It's a 'Walk-Off'! Have a beer Tristen Lutz:

Jakson Reetz deserves some recognition in this young season. He is playing a very very solid back stop for his pitching staff. He has shown off a cannon to both second and first base. He is also a well-built young man and he's shown an ability in the early going to surprise at the plate with some discipline and decent AB's. As mentioned above, it was his lead off walk that got the ninth trending in the right direction. 
Joey Wiemer had an uncharacteristic 0-5 evening. This wasn't for lack of contact as several of his groundouts were absolutely smoked. What was uncharacteristic, if we consider these first five games, was the strikeout in the early innings. I would tip my cap to Freddy Tarnok here whose four-pitch mix kept all Shuckers batters on their heels. It appeared to be the changeup that was fooling the young prospect.
 Fine bullpen work from Harold Chirino, Nash Walters, and Arnaldo Hernandez. Hernandez may be new to many of you and this is because he was only signed to the Brewers organization as a minor league free agent in December of 2021. This is a young man who has been in professional baseball for 10 years and is still only 26 years old. He's had his ups and downs in all levels of the minor leagues but, to date, has definitively had noteworthy success at the Double-AA level. I enjoy his mound presence, and I look forward to seeing if he can continue to pound the zone in the weeks and months ahead. He picks up the win tonight moving his record to 2-0.
Kudos to Cam Devanney knocking in the original tying run on a single to right field in the bottom of the seventh inning.  Cam turned 25 years old on this beautiful Biloxi spring day. That hit had to have felt good! Cam, if you're reading, I got up from my chair; took a sip of hard cider; I might have made some indiscernible utterances of joy; and I clapped. And, I clapped again. And, I clapped loudly. This isn't the celebration you deserved but it was the celebration I could offer.
Nashville Pre-Game Media Notes
Final: Nashville 7, Gwinnett 5
Box Score / Game Log
Via the Sounds' website, game details, please review:
Sounds Erase Five Run Deficit for Another Comeback Win - Dahl's Two-Run Blast Puts Nashville Ahead in 7-5 Victory at Gwinnett
I don't know what it is with the microphone set-ups or the acoustics at Coolray Field in Lawrenceville, Georgia,  but let me tell you: every pitch, every bat struck, and every round of applause has a resounding volume unlike any other I've experienced, virtually at least, in the years of watching minor league baseball. It's truly uncanny. And, in the early going, it was easily the most exciting aspect of Sounds baseball. This was one of those games where the players seemed to be moving at half speed early. BUT, fear not, they picked it up late in this one. Things aren't always the way you want it from the get-go in life - sports remind us of this all the time.
Dylan File (#24 on MLB Pipeline's Top 30) came out, as he always does, ready to pitch and ready to rapid-fire. Who needs pitch counts anyhow when Dylan is on the mound? After a clean first inning, Dylan found the zone elusive in innings two and three falling behind too many a batter 2-0. After getting a couple of fly outs, including a rip to the deep left-center warning track Corey Ray calmly collected, he was able to induce a broken-bat ground out to end inning two. There was trouble ahead in the bottom of the third, however, as Dylan again found a favorable pitcher's count elusive. Ultimately, after some seeing eye weakly hit singles, he saw his first run surrendered on yet another weak ground ball.  Weston Wilson who was incapable of corralling the ball as he dove to his right saw no play at first and then saw the runner down the third baseline. The throw home, from his knees, was a second too late. With the bases loaded, Dylan gave up a deep double to left-center field and the bases were cleared and the Sounds trailed 0-4 after three. All told, Dylan's night can be summed up this way falling behind in the count, weak or seeing-eye ground balls, a bases-clearing double, and an ineffective uneven evening. Sometimes, it just isn't your night. He left the game after a walk and a hit batter to start the bottom half of the fifth. 
Further Viewing Notes:
I continue to be impressed by Jon Singleton's approach at the plate. I said it yesterday, and I'll say it again today: this is a Big League hitter. We are seeing his early MLB pedigree starting to shine through. He has the strength to fight off pitches late over the plate. He also has the eye and discipline to lay off most questionable deliveries. He grabbed a savvy base on balls to get on base in the 4th inning. He tacked on a hit (a triple!) and added two RBI and a run to his night. But, let's also point out another aspect of Singleton's game: he is a much better fielder than given credit for. This isn't just a big and strong first baseman, this is a big and strong athlete. In the 4th inning alone, he made two very agile plays back-to-back nabbing a hard-hit line drive to his right a mere foot from the ground while casually doubling the runner off of first. In the very next at bat, Jon stabbed a hard hit grounder that brought him over the first base line where he smoothly went to his lower left, fielded it, and stepped on the bag. We are going to see this man on the Big League club. Mark my words.
Congrats are in order for David Dahl. We all know he's shown he's a capable hitter. We also all know he would have liked a hotter start to his early season. Tonight, however, he showed his stroke with his first deep ball of his early season. Take a look as he turns his hips and ropes a bomb over the wall in right field:

Let's hope he continues seeing the ball like this and we start seeing his suite of offensive numbers trending up.
The strength of this Sounds team would appear to be their bullpen at the present time. Unsung MVP on the evening, Hobie Harris, was the first man out of the pen inheriting File's two-men on no out mess in the fifth. After walking his first batter on a slider off the plate loading the bases with zero outs, he limited the damage to one run inducing a double-play ball and snagging a hard-hit bouncer right over his head to close the inning. There were no runs the rest of the way for Gwinnett. Appearances side-armer Trevor Kelley, Miguel Sanchez, Luke Barker, and Luis Perdomo all went scoreless.
Speaking of bullpens, Braves prospect Nolan Kingham (promoted to Gwinnett during the 2021 MiLB season) impressed me tonight. He may not be on any top 30 lists, but he is an effective reliever right now. I'll be curious to see if he grabs a cup of coffee at the Braves' big league club sometime this season.
All-in-all, the word for this Sounds comeback victory is: scrappy. The hits were elusive through the 7th, but, they stuck with it and had a heck of a finish. They head into tomorrow's contest with a 5-3 record.
That's a wrap Brewers and Brewer's Affiliate fans. My work this week is done. However, our teams play into tomorrow and the weekend. Please stay tuned daily as @damuelleand @Mass Haas reward us with their fine works as we sit back, watch games, and catch up on all news 'down on the Farm'.
Thursday April 14th:
Organizational Scoreboard including starting pitcher info, game times, MiLB TV links, and box scores
4