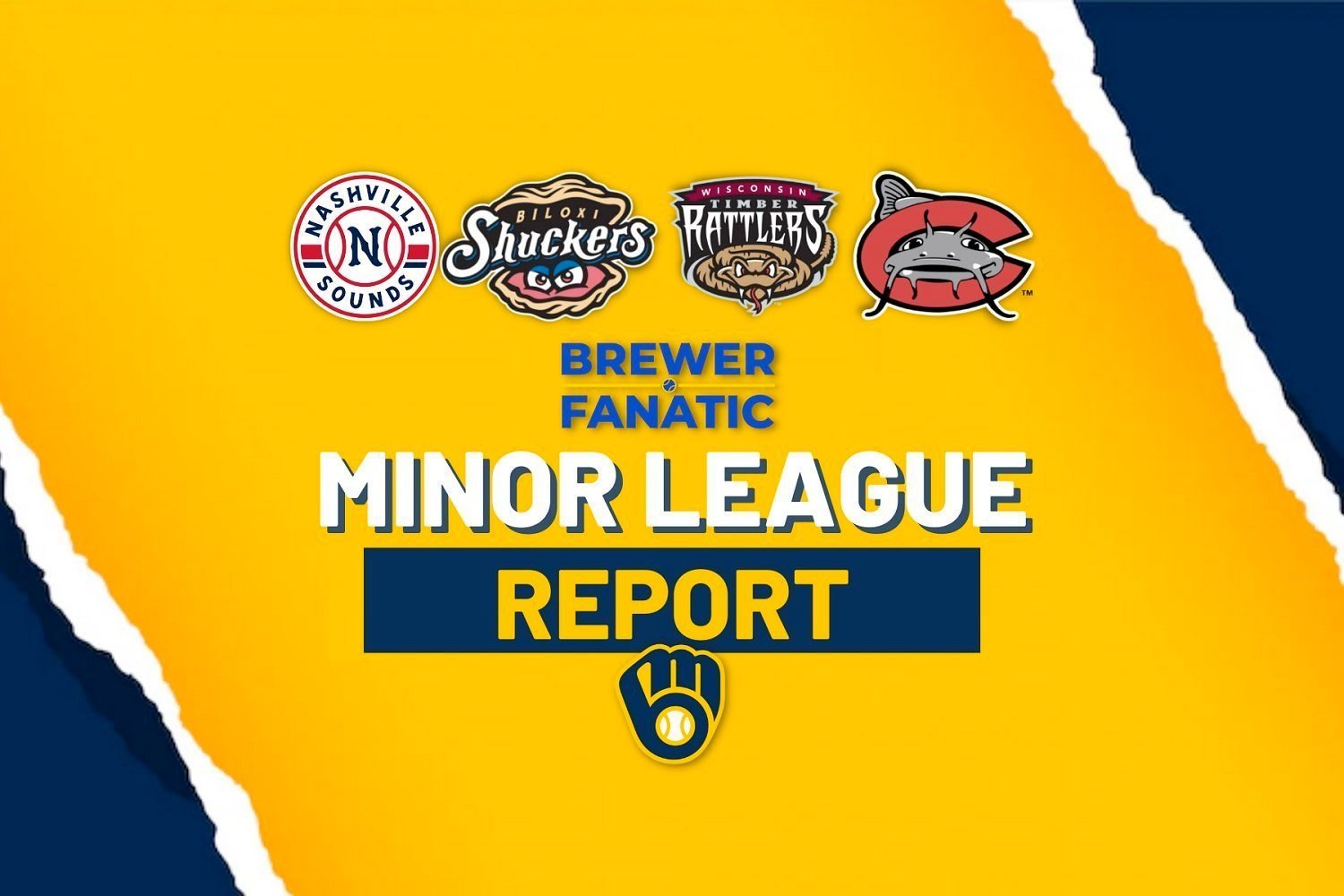 Image courtesy of BrewerFanatic
TRANSACTIONS:

- OF Monte Harrison activated from AAA Nashville's Development List
- RHP Justin Jarvis assigned to AAA Nashville from AA Biloxi
- RHP Max Lazar assigned to AA Biloxi from High-A Wisconsin
- OF Eduarqui Fernandez placed on High-A Wisconsin's 7-day injured list, retroactive to 6/29
 
---

Final: Nashville 6, Memphis (Cardinals) 2

Via the Sounds' site, we encourage readers to review each of the affiliate write-ups as part of your season-long Link Report routine:
Sounds Power Past Redbirds, Take Fourth Straight - Patrick Dorrian and Abraham Toro launch homers as Nashville clinches at least share of series at Memphis
Box Score / Game Log

Plenty of worthwhile notes within said summary above, let's see what we can point out that may not have been included there.

Eddy Alvarez handled a very easy grounder to shortstop to end the Memphis 5th, he picked it up and stepped on second base for a force-out. Alvarez didn't come back out to play defense in the 6th. Watching with an MiLB TV subscription (only $3.99 a month at this point in the season should you wish to jump in), the play is at the 02:29:00 hour/minute mark here. It's barely perceptible but Alvarez is moving slightly gingerly as he walks off, and a tiny mini grimace on his face appears when in the dugout. For all I know, he passed gas. No real injury insight, but he did exit.

By the way, the HD quality for MiLB TV from some of the locales is tremendous.

Alvarez stole his 16th base in 18 tries earlier in the game, that kind of snuck up on us, didn't it? He hadn't approached anything nearing that volume nor success rate since 2019.

Cam Devanney was just 1-for-5 at the plate, but how many starting first basemen become your in-game replacement shortstop? Goodness, we love us some Cam Devanney. 

In terms of the bats the parent club are monitoring, RF Sal Frelick (single) and LF Keston Hiura (HBP) combined to go 1-for-9.

LHP Darrell Thompson has righted his early AAA call-up ship and had a wonderful June, as his splits show here. RHP Trevor Megill fanned three in the 9th, hitting one batter, which must have hurt based on likely velocity. Batter stayed in the game, good.

The mix of bullpen talent both from a 40-man roster perspective and a non-40-man perspective is really strong. Matt Arnold could and likely should rotate someone in and out to begin each big-league series. Step in, step up, or step out. Let the "what do you do with Matt Bush" discussion continue to light the interwebs afire.
 
---

Final: Mississippi (Braves) 4, Biloxi 1

Via the Shuckers' site:
Bennett Sets New Season-High with Five Relief Innings in Shuckers' Loss to M-Braves - Quero, Black both tally multi-hit games in 4-1 loss at MGM Park
Box Score / Game Log

If you're going to score only one run, at least two of your prime prospects - Tyler Black (double, single) and Jeferson Quero (three singles) had productive nights.

RHP James Meeker walked a man over a three-inning stint. His amazing command still shines, five walks and 49 strikeouts over 40.1 IP in '23. This was the first time he has issued a free pass in consecutive outings this season (18 appearances) and he has yet to walk more than one batter in any outing. You have to go back to July 2nd of 2022 to locate a Meeker effort with more than one base on balls.

LHP Nick Bennett's brief video postgame interview is here, Don't forget about the Shuckers' pre-game interview archive page, Freddy Zamora the latest.

Jackson Chourio walked to reach base, then you can see just the slightest hesitation by Tyler Black here rounding second base. Worthwhile gamble with one out.
---

Final:  Quad Cities (Royals) 10, Wisconsin 5

Via the Timber Rattlers' site:
Bandits Break Wisconsin Win Streak - Quad Cities blitzes Rattlers in 10-5 win
Pre-Game Media Notes (Download Link) via the team's Virtual Press Box

Box Score / Game Log

Whenever you read in the game summary "emotions ran very high in the top of the seventh inning", you know that's prompting a visit to the MiLB TV archive. Go to the 02:47:00 hour/minute mark here to see that while very close, Manager Joe Ayrault was definitely in the right. Tough call for the home plate umpire, if this game were at the AA level or above with a three-man umpiring crew, bet they get that one right.
Can't quite remember a box score with pitching lines for only two pitchers, where they could not be more diverse. A completely uncharacteristic Tyler Woessner performance, and Ryan Brady remains solid and was outstanding here.

Back to the archive: this time go to the 01:14:30 hour/minute mark. After completing a 5-3 putout on defense for the 2nd out of the River Bandits first inning, 3B Eduardo Garcia was removed from the game as he was grabbing at his hamstring. He was able to walk on his own to the Rattlers dugout (first base side), and while he started off walking very gingerly he was a bit more brisk as he reached the bench, but it didn't look great regardless. Expect an absence for the soon-to-be 21-year-old, hopefully brief. Rare you see that type of injury while fielding a ground ball on a slight backhand.

The Rattlers bench is very shallow right now, but the Carolina roster isn't overflowing with promotion candidates. Once Ernesto Martinez entered after an infield shuffle post-Garcia injury, only INF/OF Jose Acosta and catcher Darrian Miller remained available.
 
---

Final: Down East (Rangers) 11, Carolina 0
Mudcats Allow Season Highs in Runs & and Hits in 11-0 Loss - Carolina lost its fifth straight game after Friday's lopsided loss
Box Score / Game Log

MVP of this game? Voice of the Mudcats for putting together the game summary for us.

As for this post, less is more. Go get 'em Saturday.
 
---

Final: ACL Brewers 12, ACL Guardians 8

Box Score / Game Log
Entertaining box score and linescore. Even if it was just a camera-view from high above home plate, it'd be nice to have some video access to complex league games in Arizona (and Florida). It seems that particularly in these big-league capable spring training ballparks, that could be a reality. I'm betting we see some semblance of this within three-to-five years. Make it happen, MLB. Doesn't even need audio play-by-play, though what better training ground for perspective announcers would there be.

Third-year RHP Edrian Robinson's 2022 was cut short after just two outings, and it's been a tough early go on the comeback trail in 2023. The A-Crew trailed 4-0 after one inning, but tied it at 4-4 after five innings, and scored eight runs between the 7th and 8th.
I am this close to tossing the word phenom onto 2nd-year-pro 17-year-old (18 in August) RHP Manuel Rodriguez, the Mexico signee. Five innings of one-run middle relief here. It's just the age and that he's been brought stateside that impresses beyond the small-sample 2023 numbers.

Remember when we discussed that Timber Rattler short bench above? Get OF Hendry Mendez up pronto, he's clearly beyond dominating Maryvale for rehab. Fellow corner outfielder Luis Castillo should be back in full-season ball soon as well, and a leap directly to High-A for the first time can't be ruled out after a .696 Carolina OPS in 2022 (28 games). The duo combined to reach base seven times here, including three doubles. For good measure, each added an outfield assist. Take that, young Guardians.

Gee, the ACL Central standings look a bit like the NL Central standings, don't they?
 
---

Final: DSL Guardians Red 19, DSL Brewers #1 Squad 10

Box Score / Game Log

The Ceveceros Prime Number scored in five different innings, including a five-run 5th.

The Guardians "Rojo" only scored in three innings. Unfortunately, they pushed across eight runs in the 4th and then ten runs in the 8th. The Crew went from one run up to nine runs down after that fateful frame.

18-year-old Nicaraguan native RHP Nestor Mena salvaged mound respectability. Although he allowed his inherited runner to score, Mena managed to toss 2.2 scoreless. The final 8th inning pitches were tossed by C/1B Brayan Oropeza (three runs allowed), forced into action when 16-year-old Saul Sanchez, another Nicaragua native, could not retire any of the seven men he faced to start the inning. Ironically, Sanchez pitched a 1-2-3 7th inning. All three Cerveceros errors in the game came in that eight-run Guardians 4th.

Top 2023 $$ signing LF Yophery Rodriguez finished only 1-for-4 with three K's, but he drove in four on a three-run HR (2nd of his brief career) and a sacrifice fly. Congratulations to 19-year-old C/1B Yannic Walther (DH'ing here) on the first professional homer for the young man from Germany.

I continue to be mesmerized by the lines posted by 17-year-old (thus far utility INF/OF) Dominican native Tyler Rodriguez. Batting in the 9-spot, Rodriguez reached all four plate appearances (single, two walks, HBP). Rodriguez' line through 36 plate appearances is .182/.472/.182. Eight walks, five plunkings, a reasonable six K's. Mix in four stolen bases in six attempts.

After a fast start, this Brewers club has fallen to 10-9, and have dropped their last four games.
 
---

Final: DSL Dodgers Mega 6, DSL Brewers #2 Squad 2

Box Score / Game Log

This isn't a loss to the still-undefeated Dodgers Bautista team, which is remarkably now at 19-0! (DSL Standings)

You'll notice Team Dos has now lost six in a row at that standings link.

Only four base knocks for the good guys, but one was the first professional home run (and RBI) for 19-year-old 2nd year Colombian C/1B Estefano Lozano, who has seen limited time.

Youngster (aren't nearly all of them?) SS Filippo Di Turi, 17 years old, continues to show patience, walking thrice in this one. Impressive numbers in Di Turi's first 19 games - .338/.453/.408 (.861 OPS, 13 RBI, more BB's than K's). Not so impressive - two SB in nine attempts! Hopefully Filippo builds his skills in that regard in future years and laughs about this SB stretch when he's standing in Am-Fam for the first time.

The pitching efforts were non-descript. The one true rookie was starting RHP Linbel Jimenez, an 18-year old Dominican.
 
---

Seven Saturday games on tap. Calling in now - the 7-12 DSL Cerveceros 2 club will knock off the 19-0 Dodgers behemoth in late-morning action. Come back and see how that prediction went when we (and I) return for Sunday AM's report. Thanks for reading, enjoy your July 1st!

Organizational Scoreboard including starting pitcher info, game times, MiLB TV links, and box scores
Current Milwaukee Brewers Organization Batting Stats and Depth
Current Milwaukee Brewers Organization Pitching Stats and Depth
Think you could write a story like this? Brewer Fanatic wants you to develop your voice, find an audience, and we'll pay you to do it. Just fill out this form.
MORE FROM BREWER FANATIC
— Latest Brewers coverage from our writers
— Recent Brewers discussion in our forums
— Follow Brewer Fanatic via Twitter, Facebook or email
2