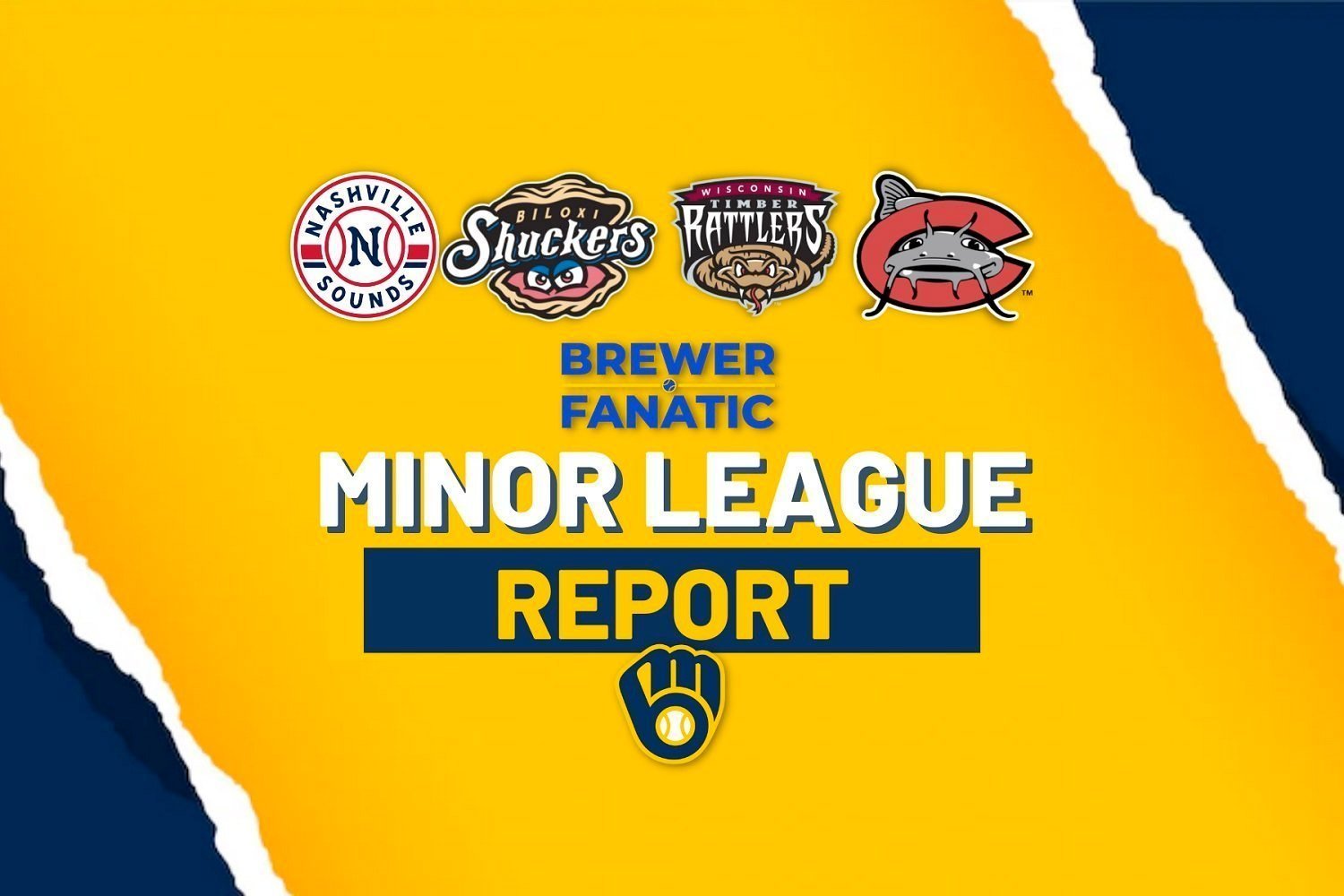 Image courtesy of BrewerFanatic
Transactions:
INF Jhonny Severino of ACL Brewers traded to Pittsburgh for 1B Carlos Santana
RHP Trevor Megill optioned to AAA Nashville from MLB Brewers
RHP Pedro Fernandez activated by AAA Nashville from the Development List
C Brent Diaz assigned to AA Biloxi from AAA Nashville
C Nick Kahle placed on AA Biloxi's 7-day injured list
RHP Wilfredo Cordero activated from DSL Brewers-1's reserve list
Game Action:

Nashville Pre-Game Media Notes
Final: Norfolk 5, Nashville 3
Box Score / Game Log

Via the Sounds' website, game details, and we encourage readers to review the affiliate write-up as part of their Link Report routine: Sounds Drop Thursday Matinee To Tides

The Sounds were unable to build on an early 3-0 lead, failing to advance any runner past second base after the 1st inning. The loss reduces Nashville's lead to two games to one in this highly competitive series in Norfolk.

3B Luis Urias (2-for-3, 2 walks) led off and remains hot, reaching base four times as he tries to earn his way back to the Show. He singled and scored in the 1st inning, walked to lead off the 2nd inning, walked to start the 7th inning and singled with two outs in the 9th inning.
Sounds' Extras:
Starting LHP Robert Gasser (5 IP, 2 R, 6 H, 3 BB, 1 HBP, 5 Ks) was hit early (a double and four singles in first two innings), but limited the damage to two runs. Things got hairy again with three straight walks (on 12 consecutive balls) with two outs in the bottom of the 5th inning, but he escaped with a popout for a respectable outing.
LHP Ethan Small (2 IP, 2 R, 2 H, 0 BB, 1 K) was less fortunate, conceding solo home runs to two of the first four batters he faced and taking the loss on this day. However, his season ERA remains a respectable 3.45, with 38 Ks in 31 1/3 innings pitched, suggesting that hope is not lost.
DH Keston Hiura (0-for-4, 2 Ks) did not help his promotion case, but 24-year old switch-hitting left fielder Noah Campbell (2-for-3, double, walk, RBI) likely boosted his own case for more AAA playing time.
Friday's outlook: RHP Janson Junk (4.57 ERA, 1.36 WHIP, 5.7 K/9 in 86 2/3 IP) gets the ball for his 17th start (18th appearance).
Biloxi Pre-Game Media Notes
Final: Biloxi 7, Birmingham 1
Box Score / Game Log

Via the Shuckers' website, game details: Rodriguez, Chourio, Warren Lead Shuckers to 7-1 Win Over Barons

Despite dealing with a tight strike zone and an error early, which contributed to five batters reaching base in the first two innings, starting RHP Carlos F. Rodriguez (5 IP, 1 R, 2 H, 2 BB, 8 Ks) was dominant once again.  
Offensively, center field phenom Jackson Chourio led the way as he demonstrates a more patient approach at the plate:
Walking and scoring in the 1st inning to tie the game 1-1
Blasting his 15th homer, a solo shot in the 4th inning to push the lead to 4-1
Walking and scoring again in the 4th inning as the lead grew to 7-1
Chourio's season BB/K rate is now 29/74, but he has 7 walks and 8 Ks in 79 July plate appearances. 
Shuckers' Extras:
INF Tyler Black led off and made his first career start at first base, although he had a rare 0-for-5 day at the plate, with one K. Time will tell whether this is part of a positional transition or if we're simply demonstrating Black's versatility for 29 other MLB clubs right before the trade deadline.
3B Zavier Warren, left fielder Isaac Collins and C Wes Clarke picked up the slack for Black, combining on a 4-for-9 day with 3 walks and 4 RBIs.
Still just 21 years old, Rodriguez retired the final ten batters he faced in order and claimed the Southern League's top spot in strikeouts (114 Ks in 85 1/3 IP). Would it be worth pushing him up to AAA later this year?
The bullpen of RHPs Zach Vennaro and Max Lazar were solid over four scoreless innings. 24-year old Lazar, who will be a minor league free agent at season's end, dropped his season ERA to 3.18 in 54 2/3 innings pitched.
Friday's outlook: 21-year old RHP Jacob Misiorowski (2.98 ERA, 1.09 WHIP, 13.1 K/9 in 54 1/3 IP) is set for his second start in AA ball, looking for more success than his first outing (4 IP, 4 R, 4 H, 4 BB, 2 HBP, 5 Ks).
Wisconsin Pre-Game Media Notes
Final: Wisconsin 4, Cedar Rapids 3 (in 10 innings)
Box Score / Game Log

Via the Rattlers' website, game details: Wisconsin Wins With Moore

The Timber Rattlers are not backing down against the powerhouse Kernels (57-36), although of course it helped to have MLB All-Star Brandon Woodruff pitch the first four innings of the game. The victory gives Wisconsin a 2-1 advantage in this home series.

Stealing the show was 2B Robert Moore (2-for-4, HR, walk, 3 RBIs), who homered to give Wisconsin a 2-1 lead in the bottom of the 3rd inning, then smacked the first pitch he saw with two outs in the bottom of the 10th inning to deliver the walk-off 2-run single.

As always for home games, be sure to enjoy extensive video highlights from Wisconsin's media team, as well as the 27-minute Mehring-Lobner podcast.
Timber Rattlers' Extras:
In his second rehab start, Woodruff (4 IP, 1 R, 4 H, 0 BB, 3 Ks, 1 WP) threw 52 pitches (36 strikes), retiring the first six batters before conceding a double and three singles over the next two innings.
21-year old RHP Alexander Cornielle (5 IP, 1 R (0 ER), 1 BB, 7 Ks) followed Woodruff to deliver his best performance of the season, with only one batter reaching base (via an error to lead off the 9th inning) in his final three innings.
Despite allowing the first two batters to reach base (single, walk) in the top of the 10th inning, RHP Tanner Shears bore down to strike out the next two and induce a fly out to only allow the ghost runner to score.
Mr. Woodruff also tells us what it's like playing for the Timber Rattlers:
Friday's outlook: RHP Tyler Woessner (3.80 ERA, 1.30 WHIP, 7.6 K/9 in 87 2/3 IP) is scheduled to make his 18th start of the season.
No Pre-Game Media Notes Available
Final: Carolina 11, Columbia 2
Box Score / Game Log

Via the Mudcats' website, game details: Sibrian Hits Grand Slam in the 9th as Mudcats Roll in an 11-2 Win

While C Jose Sibrian (4-for-5, 2 HRs, 5 RBIs) deservedly gets the plaudits, the game was largely won earlier on the back of:
Timely hitting from four different Mudcats to build a 6-2 lead by the 6th inning;
Another respectable start from 20-year old RHP Patricio Aquino (5 IP, 2 R, 6 H, 3 BB, 2 Ks); and
RHP Jesus Rivero coming in with two-on, nobody out in the bottom of the 6th inning to strand the inherited runners.
Despite being a road game, we're blessed to have a ton of offensive highlights at the Mudcats Twitter feed, though you can enjoy the grand slam right here:
Mudcats' Extras:
2B Jadher Areinamo (2-for-4, 2 RBIs, SF, SB) did the early work, knocking in runs in the 2nd and 4th innings for an early 2-0 lead, with Kay-Lan Nicasia (2-for-4, walk, 2 RBIs, 2 SBs) also grabbing two RBIs on a 6th inning single before Sibrian's late blasts.
In just his eight game of the season and fifth game in Low-A ball, 20-year old Rivero (4 IP, 0 R, 0 H, 1 BB, 1 HBP, 7 Ks) truly showed off his potential with four dominant innings of work, mixing heat and junk as my colleague @JosephZarr captured well in the daily forum.
In his 8th season in the organization, 24-year old Sibrian is proving to be far more than just a veteran presence, lifting his season OPS to .898 with this two-homer game. He also threw out both attempted basestealers.
Friday's outlook: RHP Will Rudy (3.73 ERA, 1.26 WHIP, 8.0 K/9 in 62 2/3 IP) will try to lead Carolina to a clinching fourth straight victory in Columbia.
Arizona Complex League Action

Final: ACL Reds 16, ACL Brewers 7
Box Score / Game Log

In a reversion to previous form, pitchers were run ragged (13 hits, 10 walks, 5 hit-by-pitches) and fielders were of limited help (3 errors, 1 passed ball, but also turned 3 double plays), as the ACL Brewers fell to 18-18 on the season.

2023 first round draft pick 3B Brock Wilken led the offensive charge, tripling and scoring in the 1st inning, then driving in two runs with a single in the 4th inning to momentarily cut the deficit to 6-4.

None of rehabbing LHP Brian Fitzpatrick, RHP Darling Solano or Felipe De Los Santos were effective in this game, but at least RHP Edrian Robinson pitched 1 2/3 scoreless innings to drop his ERA to 9.45.

The bright side was of course the offense, which knocked out 15 hits. Every spot in the lineup collected at least one hit, led by Wilken (3-for-4, triple, walk, 2 RBIs), 2B Dylan O'Rae (3-for-3, 2 walks, SB) and C Satchell Norman (2-for-3, double, 2 walks, RBI, SB). DH/3B Johan Barrios also connected on his first home run of 2023.

19-year old O'Rae now has an unbelievable season slash of .354 AVG / .515 OBP / .414 SLG in 136 plate appearances, with 24 stolen bases in 25 opportunities. Can we promote this young man to Carolina please?
Dominican Summer League Action

Continuation Game (from top of 5th inning) Final: DSL Brewers #1 Squad 3, DSL Guardians Red 1 (in 8 1/2 innings)
Box Score / Game Log

DSL Brewers-1 and DSL Guardians Red picked up where they paused their game 10 days earlier, with the Uno squad trailing 1-0 in the top of the 5th inning but having the bases loaded with 1 out. Unfortunately, a K and pop out ended that opportunity.

18-year old RHP Emir Suarez (3 IP, 0 R, 2 H, 1 BB, 0 Ks, 1 balk) then worked three scoreless innings, with the Crew tying the game in the 7th inning on a 2B Luiyin Alastre RBI single, then grabbing a 3-1 lead in the top of the 8th inning on an double from SS Kevin Ereu and an RBI single by left fielder Argenis Aparicio.

Unfortunately, a 33-minute rain delay followed, so Suarez exited and nerves spiked. But 20-year old RHP Wilfredo Cordero (recently signed after being released by the Rangers) pitched a scoreless 8th inning in his Brewers' debut.

Despite the weather, the teams attempted to play the 9th inning as well, with the Guardians loading the bases with nobody out against RHP Yonawil Florimon (two singles, walk) before the Brewers were luckily saved by game-ending rain. Whew!

Normally-awesome center fielder Yophery Rodriguez started the day 0-for-2 and ended it 0-for-5, but did not strike out. Ereu was 2-for-5 and Aparicio 1-for-3 with a walk in the game, while C Yannic Walthier added a single and two walks.
Regularly Scheduled Game (Postponed): DSL Brewers #1 Squad vs. DSL Guardians Red

This game was rained out and will be made up as part of a doubleheader on August 11.

Postponed: DSL Brewers #2 Squad 1, DSL Braves 1 (halted in top of 3rd inning)
Box Score / Game Log

Rain stopped this game early, with the teams expected to make it up as part of an August 3rd doubleheader.

Before the postponement, 2B Filippo Di Turi had a double and scored on a single by center fielder Peter Ibarguen. Starting RHP Melvin Hernandez conceded a run in 2 innings without yielding a hit or walk (an HBP came around to score).
We hope that you enjoy the Minor League Link Report. Good luck in Friday's 8-game MILB slate, including the ACL Brewers finishing a game delayed by rain earlier in the month.

Organizational Scoreboard including starting pitcher info, game times, MiLB TV links, and box scores
Current Milwaukee Brewers Organization Batting Stats and Depth
Current Milwaukee Brewers Organization Pitching Stats and Depth
1