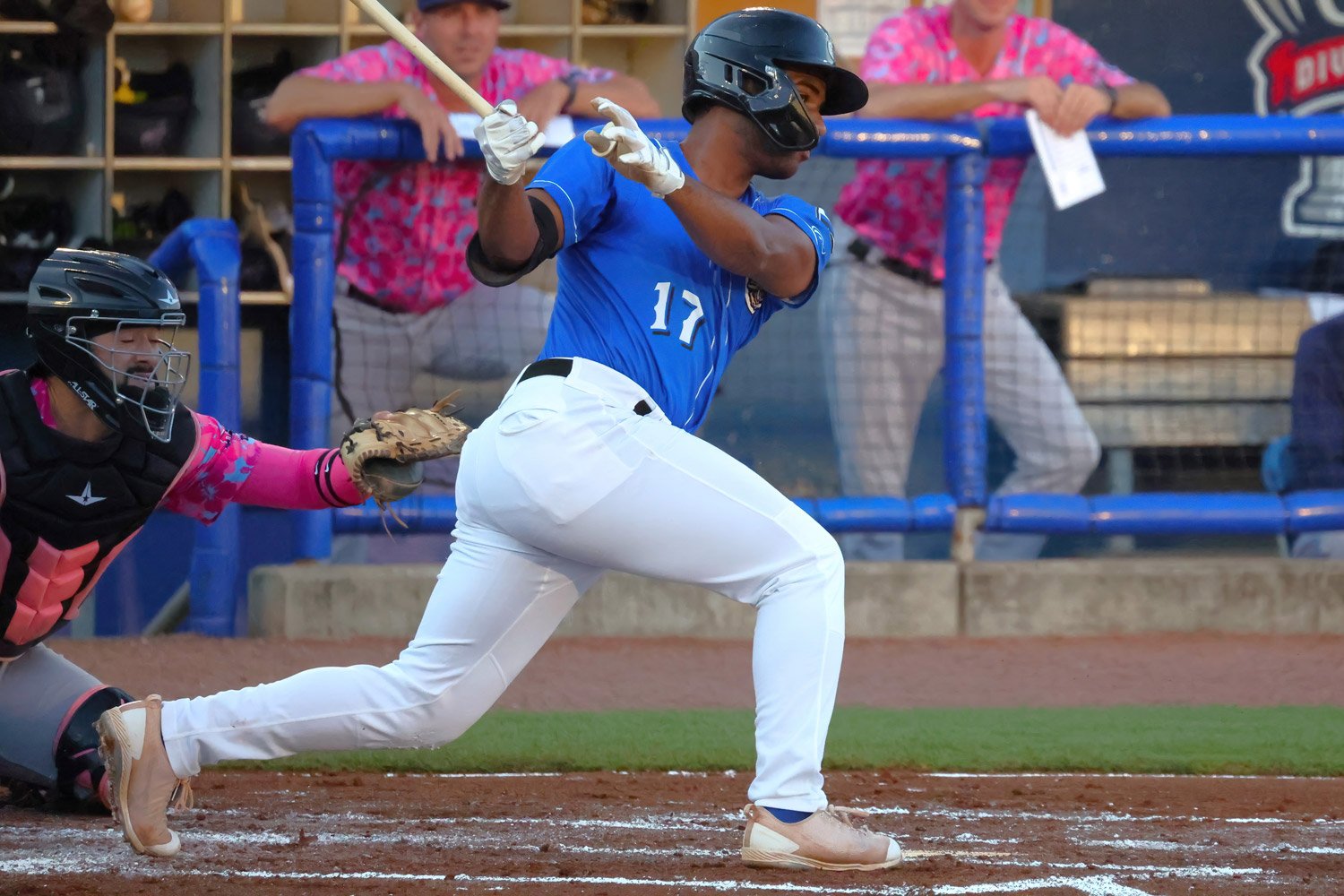 Image courtesy of Biloxi Shuckers
Game Balls:
* Honorable Mentions:
1B Jesus Parra went 2-for-5 with 1 R, 4 RBI, 1 2B, 1 K.
INF Robert Moore smacked a triple extending his on base streak to 22 games. And, oh hey, let's use this as a shameless plug for Moore's recent T-Rats Talk with Kyle Lobner.

(Telling answers in here. And, man, that hair is slick Mr. Moore. My receding mid-40's hairline weeps!)
Transactions:
---
Final:  Columbus (Guardians) 19, Nashville 2 
Box Score / Game Log

(*There were no Game Notes posted for this series opener*)

Via the Sounds' site, game details, please visit and review: 

Sounds Throttled by Clippers on Independence Day
No, that score is not a typo. RHP Janson Junk has been mostly solid as a Sounds starter. He definitely has his limitations as a MLB-caliber pitcher - he lacks swing and miss stuff at the highest levels and, when it comes to MLB outings, almost has to be perfect to compete. With his Sounds club red hot to start the second half, Junk brought his worst stuff of his entire season and was hit hard and quite often. The addendum here would be this was the fourth time Junk has been asked to pitch on four days rest in the 2023 season. I would kindly opine, maybe this isn't such a hot idea:
4/7 - solid - 0 runs, 2 hits in 5 IP

4/12 - pretty rough MLB debut - 5 runs, 7 hits in 4 2/3 IP

 5/28 - not a good time - 5 runs, 6 hits in 6 IP

 7/5 - disaster - 9 runs, 6 hits, 3 walks, 1 HR in a mere 1/3 IP
(Special kudos to @damuelle for pointing this out in our game thread HERE)

We'll kindly thank C Payton Henry for giving us the face we all endured throughout this laugher.
1) About the best thing that happened in this game in the early going was a lightning delay in the fourth inning after an INF Patrick Dorrian walk. Considering how things were going up until that point, I'd have called it right there if I had the power. I should also mention, for posterity's sake, INF Luis Urias doubled to lead off the inning. It was a very fitting ending, however, when the game resumed to see INF Cam Devanney strike out on three straight pitches. It was indeed that kind of night. There were no Sounds fireworks before the actual fireworks.
2) Game recognizes game. Sometimes, as a relief pitcher, you just encounter bad luck to start an inning. I'd say rising LHP Darrell Thompson experienced such misfortune to start the fifth frame. Three consecutive singles, including a run-scoring deflection off his glove into center field, got his evening going in the wrong direction. But, he buckled down from there with three consecutive punch outs. It was a bit of a flippant dismissal from that bad luck earned run. I continue to love the upside of Thompson and hope he can finish out his second half in fine form.
3) OF Tyrone Taylor did put some runs across the plate for the Sounds with his two-run HR jack in the fifth inning. All was not lost - just, well, mostly. How bad was it? C Payton Henry pitched two innings. INF Patrick Dorrian took the hill for two innings of his own. This was about as ugly as it gets for a Sounds team that had been absolutely cruising fresh off a 5-1 series victory in Memphis. I don't imagine seeing many more games like this in the second half. At least, I sure hope I don't. The Sounds fell to 5-2 to start their second half push - 1/2 game behind St. Paul and tied with these same Columbus Clippers. Fireworks anyone?
 
---
Final:  Biloxi 8, Pensacola (Marlins) 5
Box Score / Game Log 

Game Notes  

Via the Shuckers' site, game details, please visit and review:

Shuckers Celebrate America's Birthday with 8-5 Win over Pensacola

Three Quick Strikes:
1) INF Tyler Black struck out with the bases dripping to end the third frame. It was a failed check swing on a heater likely just high and just outside the zone. He was clearly disappointed but it was also clear throughout the entire AB he was working something out in his left plant leg during the entire AB. Upon further investigation, it appears that an injury (or, hopefully, a tweak) likely happened when Black was sprinting toward second base during a classic hit-and-run scenario off the bat of OF Jackson Chourio earlier in that same third inning. Yes, he went to the dish twice in the third frame. Black awkwardly landed on the corner of the second base bag and then stumbled into the base path beyond before collecting himself and sprinting to 3B. We'll have to monitor this moving forward. If you care to check it out yourself, venture to the 1:33:53 mark of the game feed HERE at MiLB.TV and you'll see what I am describing here.
2) RHP Kaleb Bowman was the first relief man out of the Shuckers bullpen when Meeker's fine day of work had ended. It's easy to be a fan of Bowman - his story is remarkable and, by all appearances, he appears to be a young man who goes about his business in the right way. And, given all of this, it's still worth pointing out: Bowman has now conceded runs in 6-of-12 relief outings out of the Shuckers bullpen. He absolutely deserved the promotion from Wisconsin but there is quite a bit of work to do to find his footing in the challenging Southern League. Bowman finished tonight's outing with a final line of 2 IP, 3 H, 0 BB, 3 K, 2 ER. 
3) It's been a rough season so far for INF Zavier Warren as he tries to build some semblance of momentum and, hopefully, find more playing time. Well, a night like tonight will hopefully jump start his second half. Three XBH's total in a 3-for-4, 2 R, 1 RBI, 1 BB, 0 K night - each hit ripped with meaning. A line drive double deep off the right field wall. A 1-2 off-speed delivery sent over the wall in RF for a home run.
 
These were classic comfortable Zavier Warren swings - reminiscent of his scorching close to his 2022 season. Let's hope this is a sign of things to come.
---
Final:  Wisconsin 3, Beloit (Marlins) 1
Box Score / Game Log 

Game Notes

Via the T-Rats' site, game details, please visit and review:

Rattlers Bop Beloit 3-1

This is the best RHP Alexander Cornielle has looked all season long - and, I'd be lying if I didn't say it made me quite happy. After a breakout 2022 season, Cornielle predominantly scuffled throughout the first half of this season. Tonight, he pitched with purpose in and around the zone mixing his patented high rising heat in advantageous counts. He sprinkled his off-speed low in the zone. It was a sight for extremely sore eyes. Unfortunately, he was pulled after 3 2/3 IP, 2 H, 2 BB, 5 K as manager Joe Ayrault and his staff try to build back his pitch count and arm strength. Cornielle left after walking his last batter. I would opine he was likely robbed of a strikeout pitch in a 2-2 count - a gorgeous pitch in the inside and lower part of the zone. But, so it goes in Minor League baseball where the tie almost always goes to the defense and the strike zone is dubious at best.
And, now, you will be served your "We are blessed as Brewers Minor League baseball fans" post-game home stand T-Rats treats:
1) C/DH Darrien Miller really scuffled at Quad Cities as he finished with a 1-for-16 mark overall. However, as we all know, that's an extremely small sample size and those types of series outputs happen to the best of them. It goes without saying, his solo shot squeaked inside the right field foul pole was a wonderful turn of fate. It was Miller's fifth long ball of his 2023 season and it gave the T-Rats an insurance run extending their middle innings lead to 2-0.
2) LHP Karlos Morales has definitely scuffled throughout parts of his last two months. He still is losing his control all too much within his outings. However, I'd like to point out: he is still managing to help the bottom line of his greater pitching staff. Coming into tonight's game he had stranded all 13 of his inherited runners in 2023. He stranded two more in the fourth frame helping a much improved Alexander Cornielle's bottom line. That's 15 inherited. That's 15 stranded. His second inning of work was perhaps his best inning I've seen since the early part of the first half - his sinking off-speed deliveries were fooling every left-handed batter he faced. It's unscathed outings like this you hope can help a young arm get back on track.
3) The Timber Rattlers have had issues by and large with the bases loaded in 2023. However, OF Je'Von Ward is the team leader in this department with a 3-for-8, 1 2B, 2 1B's, 1 Sac, 7 RBI line to date. He came to the dish with the bases juiced in the bottom of the sixth inning and the T-Rats leading 3-0. With a chance to extend the lead before the seventh inning stretch, Ward hit a grounder to 2B in a 1-1 count. The threat ended. It was up to the bullpen from there and, aside from a ninth inning solo shot off RHP Shane Smith, they were up to the challenge. Special mention, as noted in the 'Game Balls' to RHP Tanner Shears. 
---
Final:  Carolina  13, Fayetteville (Astros) 4
Box Score / Game Log 

Game Notes 

Via the Mudcats' site, game details, please visit and review:

Sibrian and Parra Lead the Way in 13-4 July 4th Victory

Jumping out to an early 13-0 lead would help most young arms. RHP Patrcio Aquino, fresh off his Brewer Fanatic Minor League Starting Pitcher of the Month runner-up status, was dealing early and often. Ultimately, he worked around two harmless solo shots well after the gargantuan Mudcats lead was established. Aquino continues to shine as he finished his evening with 5 IP, 2 H, 0 BB, 5 K, 2 HR. He has very clearly become part of a dynamic duo between RHP Logan Henderson and himself. 

Three Quick Strikes:
1)  20-year-old RHP Jesus Rivero has flashed all the signs of what prompted the promotion from the ACL. He has a very lively arm that certainly sees the ball arrive with some solid rise. He delivers his off-speed stuff from the same delivery slot with nearly identical action. There's a lot to like. Yet, so far at least, he has struggled to command his pitches consistently. Another five free passes tonight over 4 IP with three wild pitches to boot is obviously not a sustainable pattern. We'll chalk it up to nerves and inexperience at this juncture. As I said, all the intriguing ingredients are there. He just has to put it together at a new and higher level of competitive baseball. He picked up his first save as a Mudcat going 4 IP, 1 H, 5 BB, 3 WP, 4 K, 2 ER
2) C Jose Sibrian is heating back up. After a fairly hot start to 2023, he had lulled back into a fairly pedestrian overall offensive output hitting 0.196 in the month of June. But, that has definitely changed in a hurry over the first four games of early July. After a 2-for-4, 2 2B, 4 RBI, 3 R evening he has now hit safely in 3-of-4 July games. He is 5-for-15 with 5 R, 7 RBI, 3 2B, 1 HR, 1 BB, 1 K overall. Fantastic stuff for a catcher who is all too often overlooked. 
3) In a game (and box score) filled with solid performances (go ahead check that box score, folks), we'll give special mention to two things. Firstly, the improved overall play of INF Jadher Areinamo. He is having much better success at the dish and continues to play solid defense all across the infield dirt. We'd love to see some more XBH production, but I'll personally never complain when a young man simply plays solid baseball. Secondly, and riffing off this tune, Areinamo replaced INF Gregory Barrios in the very early going. Barrios was hit by a pitch in the first frame. The pitch seemed to nail his lead left leg just above his knee cap. Seriously? Yes, seriously. Barrios was down on the dirt immediately and in obvious pain. He ultimately rose to his feet and walked extremely sluggishly to first base. He scored a run later in that inning in what honestly looked like a full out sprint. However, he did not return. We'll have to keep tabs on this but I wouldn't expect to see him playing tomorrow even if it is just for precautionary measures. Let's hope that's the case.
UPDATE: Embedded within the game summary above is the postgame interview with Manager Victor Estevez. Barrios will miss just a single game with a bruise.
---
ACL Padres 7, ACL Brewers 3
Box Score / Game Log

The highlights of this game lie in the continued advancements we are seeing from INF's Dylan O'Rae and Juan Baez. Baez has been the standout of the early Brewers ACL season. I don't think a single one of us could have predicted this torrid pace. He collected three more hits today in a 3-for-4, 1 RBI, 1 2B, 1 SB line. He is now hitting 0.440 over 75 AB's with 8 2B and 2 3B. Throw in 10 SB to 1 CS. Just a phenomenal ACL season. O'Rae grabbed his 15th SB (0 CS) and went 1-for-4 with 1 R, 1 RBI, and 1 K. He has a 16:7 BB:K ratio to boot. This young man is starting to very snakily make a statement as he continues to demonstrate he might be an innate lead-off hitter at every level. Keep monitoring his progress Brewers fans. 1B/DH Tayden Hall continues to take free passes with the best of them in the ACL - 2 BB today and 8 BB in 24 PA's with not a single strikeout. The Mudcats could really use him as a stabilizing force at first base. Let's hope he stays healthy and gets that opportunity sooner than later. Rehabbing RHP Ryne Moore was given the first inning of work and he went a scoreless 1 IP - 0 H, 0 BB, 0 R, 1 K. Wonderful to see such success in his first action on the mound in quite some time. Beyond that, RHP Darling Solano was incapable of holding the 3-1 lead the ACL Crew carried into the fifth frame. The Padres scored six runs over the 5th-through-9th frames and that was all she wrote as the Crew never scored after the third frame. The Crew fell to 11-11 overall and they'll look to bounce back tomorrow against (GASP! ?) the ACL Dodgers. 
---
The DSL Brewers #1 vs DSL Brewers #2 contest will be completed on July 14th. OF Yophery Rodriguez and up-and-coming INF Gery Holguin each smacked early doubles setting the tone for the DSL Brewers Uno. We'll see where the game goes from here: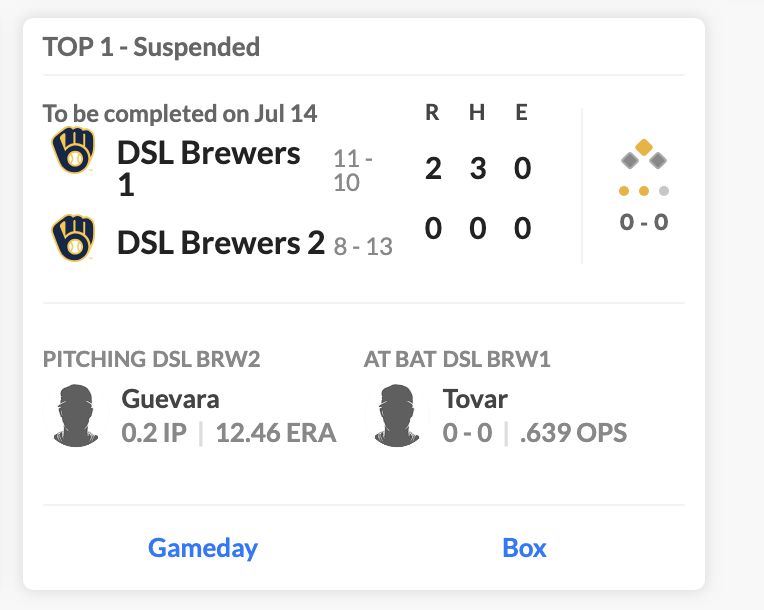 ---
The DSL Cerveceros squads will be taking their mid-week rest tomorrow. However, the ACL Crew will be looking to get back on track. In the evening hours, we'll also see all four affiliated clubs back at it as they head to game two of each of their respective series. RHP Jason Alexander will look to get the Sounds back on track during his second outing since his rehab assignment in Nashville. RHP Carlos F. Rodriguez will take the hill for Biloxi as he looks to cut back on those free passes and string of recent questionable first innings. RHP Stiven Cruz will look to build off his most recent, and best of 2023, outing. And, finally, RHP Will Rudy will look to find that dominant form of his early tenure with the Mudcats. As always, thanks for reading and thanks for supporting Brewers Minor League baseball.
Organizational Scoreboard including starting pitcher info, game times, MiLB TV links, and box scores

Current Milwaukee Brewers Organization Batting Stats and Depth

Current Milwaukee Brewers Organization Pitching Stats and Depth
Think you could write a story like this? Brewer Fanatic wants you to develop your voice, find an audience, and we'll pay you to do it. Just fill out this form.
MORE FROM BREWER FANATIC
— Latest Brewers coverage from our writers
— Recent Brewers discussion in our forums
— Follow Brewer Fanatic via Twitter, Facebook or email