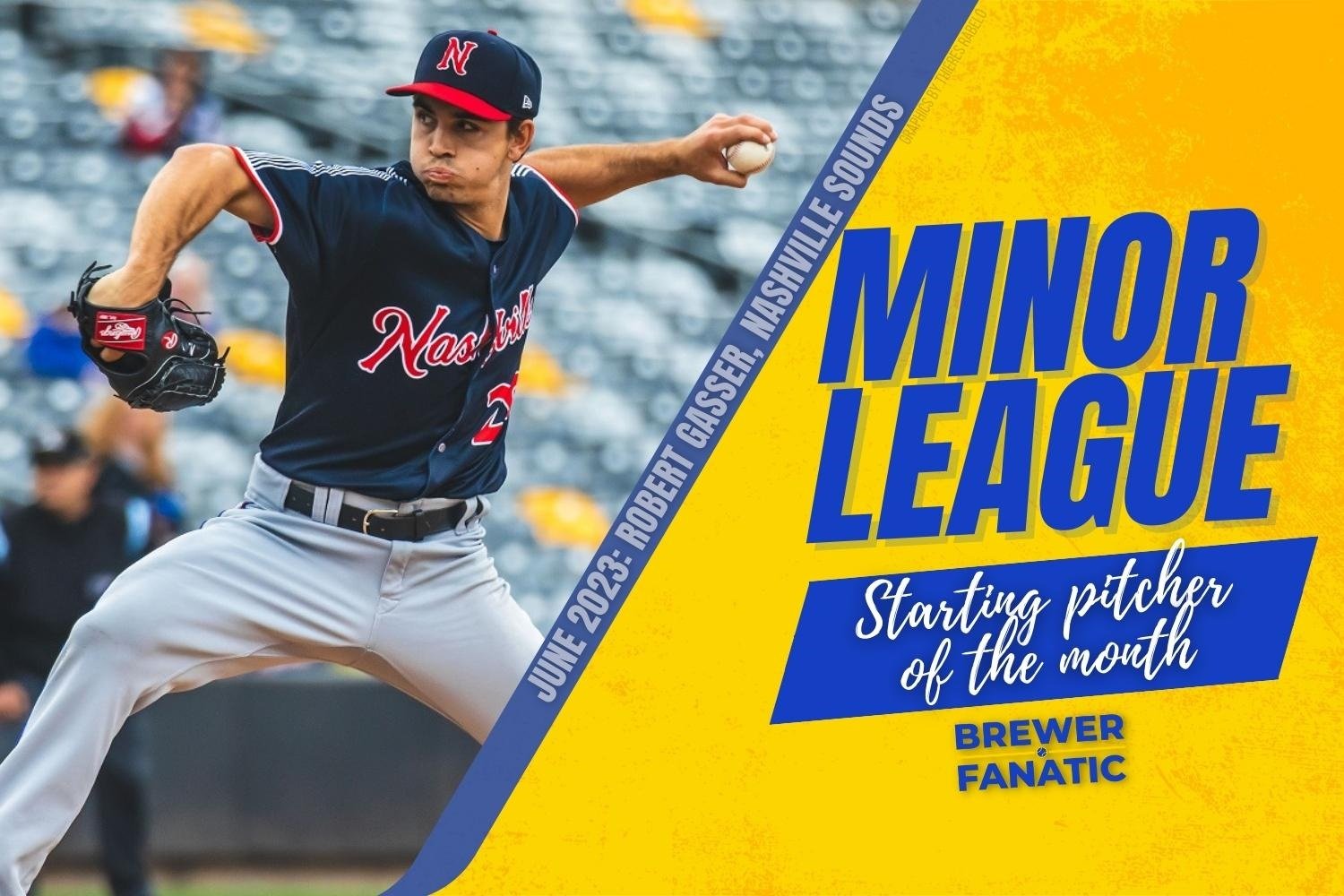 Image courtesy of Casey Gower/Nashville Sounds
We went through the top hitters for the month yesterday, today we will be taking a look at the four starting pitchers who had the best June themselves. Beginning with three honorable mentions.
Honorable Mention
RHP - Ranwell Smith - DSL Brewers 2 - 3 G, 3 GS, 13.1 IP, 0-1, 1.35 ERA, 2.83 FIP, 1.35 WHIP, 13 H, 5 BB,  17 K.
Smith was part of the Brewers 2022 signing class and got little to no fanfare, there is no information on his stuff or his velocity, but the start to the season is hard to ignore.
RHP - Janson Junk - Nashville Sounds - 5 G, 5 GS, 29.1 IP, 3-0, 2.76 ERA, 4.70 FIP,  1.02 WHIP, 24 H , 6 BB,  15 K.
Junk does not have much in the way of strikeout stuff, but he has had great results pitching to contact in AAA.
LHP - Thomas Pannone - Nashville Sounds - 4 G, 4 GS, 24.2 IP, 2-1, 1.82 ERA, 3.21 FIP, 0.85 WHIP, 17 H , 4 BB,  25 K.
Pannone was DFA'd after his first MLB appearance for the Brewers, but he had a fantastic June and earned the promotion before falling victim to an unfortunate roster situation.
TOP FOUR STARTING PITCHERS OF APRIL
#4 RHP - Eric Prado - DSL Brewers 1 
4 G, 2 GS, 13.1 IP, 0-1, 1.35 ERA, 3.21 FIP, 0.60 WHIP, 5 H , 3 BB,  13 K.

Unranked by all publications

Signed by the Brewers in this past international signing class, Prado is one of the rare pitchers to receive a six figure bonus from the Brewers. Out of Mexico, he is already up to 94 MPH at 17 years old. An extremely over the slot delivery creates a lot of ride on his fastball, characterized as "elite carry" by Baseball America. He also mixes in a big, loopy curveball, as well as a changeup with a lot of horizontal movement. 
In his first four games of professional baseball, he showed ability to limit baserunners at an elite level and he struck out about a batter an inning. His best appearance was on June 22nd, when he tossed five scoreless innings and he only allowed one hit and struck out five. BrewersPD provided us our first look at Prado, including video of that June 22nd outing.
If Prado continues to put up results like he did in his first month of pro ball, he may be due for a trip stateside before the end of the year. That isn't a common occurrence, but if the organization likes him enough to give him $130k, then he isn't a common international pitcher either. The Brewers are aggressive with promotions and they clearly like him. You never know.
#3 RHP - Jacob Misiorowski - Wisconsin Timber Rattlers 
4 G, 4 GS, 15.2 IP, 1-0, 1.15 ERA, 3.19 FIP, 1.15 WHIP, 9 H, 9 BB, 20 K
Misiorowski made the May edition of these awards and this next portion is pulled directly from that article, as nothing changed in his repertoire in June. In terms of pure ceiling, the Brewers' second-round selection in last year's draft has one of the highest in all of baseball. Misiorowski is a freak athlete on the mound, with long levers and a fastball that regularly touches triple digits. He also throws a wicked slider in the upper 80's and a curveball that is more in the mid-80s. His changeup has been used more sparingly, and he struggles to throw it for strikes, but it has shown flashes as well. There is potential for three elite pitches, and a solid fourth pitch. The concern has been, and will continue to be, with his command. Misiorowski's lankiness, and long levers make it hard to sync up his mechanics repeatedly, and his stuff is so nasty it can also become tough to command pitches that move as much as his do.
In June Misiorowski's command issues did show up a bit more than they did in May. It did not affect his bottom line, as he still posted a fantastic 1.15 ERA, but the peripheral numbers were not as good as they had been in May. His walk rate was 13%, which was equal to 5.2 per nine innings. His strikeout rate is down a bit at High-A as well, though 11.5 per nine is nothing to scoff at. 
Misiorowski's best start of the month was his first, which was also his first at the High-A level. He went 5 1/3 innings, only allowed one hit and one walk while striking out seven. Something that has been very noticeable is that Misiorowski's velocity has been holding deeper into games, at least pitch count wise. Hitting 99 MPH on pitch number 81 the other day. In Carolina that velocity had dropped down to the mid-90's once he was beyond 60-70 pitches. Which is a huge deal for anyone hoping to continue his role as a starter and not end up having to move to the bullpen in the future. 
Misiorowski has started to struggle with command a bit more and is likely starting to find a bit more of a challenge than he was given by the Low-A hitters. Despite that, he still was able to land himself on this list with his ability to avoid giving up a string of hits. It seems likely that he will spend the remainder of the season in Appleton, perhaps being given a cup of coffee in Biloxi for the last week or two, similar to Jackson Chourio in 2022. 
#2 RHP - Patricio Aquino - Carolina Mudcats
5 G, 5 GS, 20.0 IP, 0-2, 1.80 ERA, 3.44 FIP, 1.05 WHIP, 12 H, 9 BB, 19 K

Unranked by all publications

Aquino was part of the Brewers 2021 international signing class. He signed for $16k and has moved very quickly, already reaching full season ball and pitching to great success. Aquino's fastball is in the 92-94 range, but he can reach back for 95 or 96 at times as well. At only 20 years old, he may still develop a bit more velocity as he continues to mature. His best pitch is his slider, which he throws on two different planes. He may be considering it as a slider and a curveball, though the slider version is more of a "slurve". The breaking balls spin in the 2600 RPM range and generate a lot of whiffs, but is also the pitch he lands for strikes the best. He mixes in a changeup from time to time as well, but it lags behind the other offerings by quite a bit and unless it makes big strides, it will likely be scrapped somewhere along the line. His results prior to this season were not all that exciting on the surface, but his stuff and his peripherals showed a much higher ceiling than the numbers would seem to point to. In 2023 and especially in June, the numbers have caught up to everything else.
Aquino used his fastball and breaking ball mix to keep hitters off balance all month, but his best outing was on June 15th where he went 4 1/3 hitless innings pitched and he struck out seven. The only baserunner he allowed was one walk. Outside of one hiccup of a start the next time out on the 21st, where his command faltered and he walked four batters and hit another, he may have taken the top spot on this month's rankings. 
Aquino has the stuff to be promoted, and the results have followed as well. He may find himself in Appleton sooner rather than later. 
#1 Robert Gasser  LHP - Nashville Sounds
4 G, 4 GS, 25.1 IP, 2-0, 2.84 ERA, 3.18 FIP, 0.95 WHIP, 20 H, 4 BB, 27 K
Gasser was acquired as part of the prospect return in the infamous Josh Hader trade with San Diego. He throws four above-average pitches in his fastball, slider, changeup, and cutter. The regular fastball probably being the worst of the four, closest to average. His slider is best described as a sweeper, and is a pitch he can throw in any count or situation. His changeup is a bit firmer than you would want, but it has good action and is a good counter to right-handed hitters. He mixed his cutter in more with the Brewers than he had with the Padres, and while it wasn't always perfect, it showed some flashes of being a really good pitch for missing barrels and as another counter to right-handed hitters. He did not throw many curves for the Brewers, and that will likely continue as it lags behind his other offerings. 
As a Padres 2021 draft pick, Gasser was in the midst of his first full season when the trade happened in 2022. He finished his Padres career at the High-A level, having thrown 90.1 innings for the Fort Wayne TinCaps. The Brewers decided that was plenty of experience at that level and assigned him to Double-A Biloxi to begin his Brewers career. Four starts later Gasser, and his 2.21 ERA and 11.5 strikeouts per nine, were headed to Triple-A Nashville. This is where he would finish the 2022 campaign and where he has begun 2023. 
Having never walked more than 2.79 batters per nine with the Padres organization, Gasser had raised that number to 3.54 in his four Biloxi starts. Once he reached Triple-A that number had jumped up to 5.47 in 2022. In April of 2023 he had the exact same number at 5.5 per nine. His numbers in May did show some improvement, as he brought that number down to 4.16 per nine. While that isn't where you would want the number to be, it was a sign of progress and something he would hope to continue to improve upon. 
When June rolled around, Gasser suddenly got back to the high level command that made him such an attractive piece for the Brewers last summer. Over the course of his four starts in June, Gasser only walked four batters in 25 1/3 innings, which is equal to 1.4 per nine. Unsurprisingly this was also his best month at the Triple-A level, pitching to the tune of a 2.84 ERA and striking out over a batter per inning. While he didn't have the lowest ERA in the system, he had the full package working for him in June. His strikeout to walk ratio was a fantastic 6.75 and he worked at least six innings in all four of his starts.
Gasser appears to be ready for a shot at the MLB level. Whether the Brewers can find a suitable role for him or not, that's the main question. Barring a collapse in his production, it seems likely we will see him at some point over the next few months.
Please share your opinions! Who should have made it that didn't? Who made it, but should not have?
Think you could write a story like this? Brewer Fanatic wants you to develop your voice, find an audience, and we'll pay you to do it. Just fill out this form.
MORE FROM BREWER FANATIC
— Latest Brewers coverage from our writers
— Recent Brewers discussion in our forums
— Follow Brewer Fanatic via Twitter, Facebook or email
1