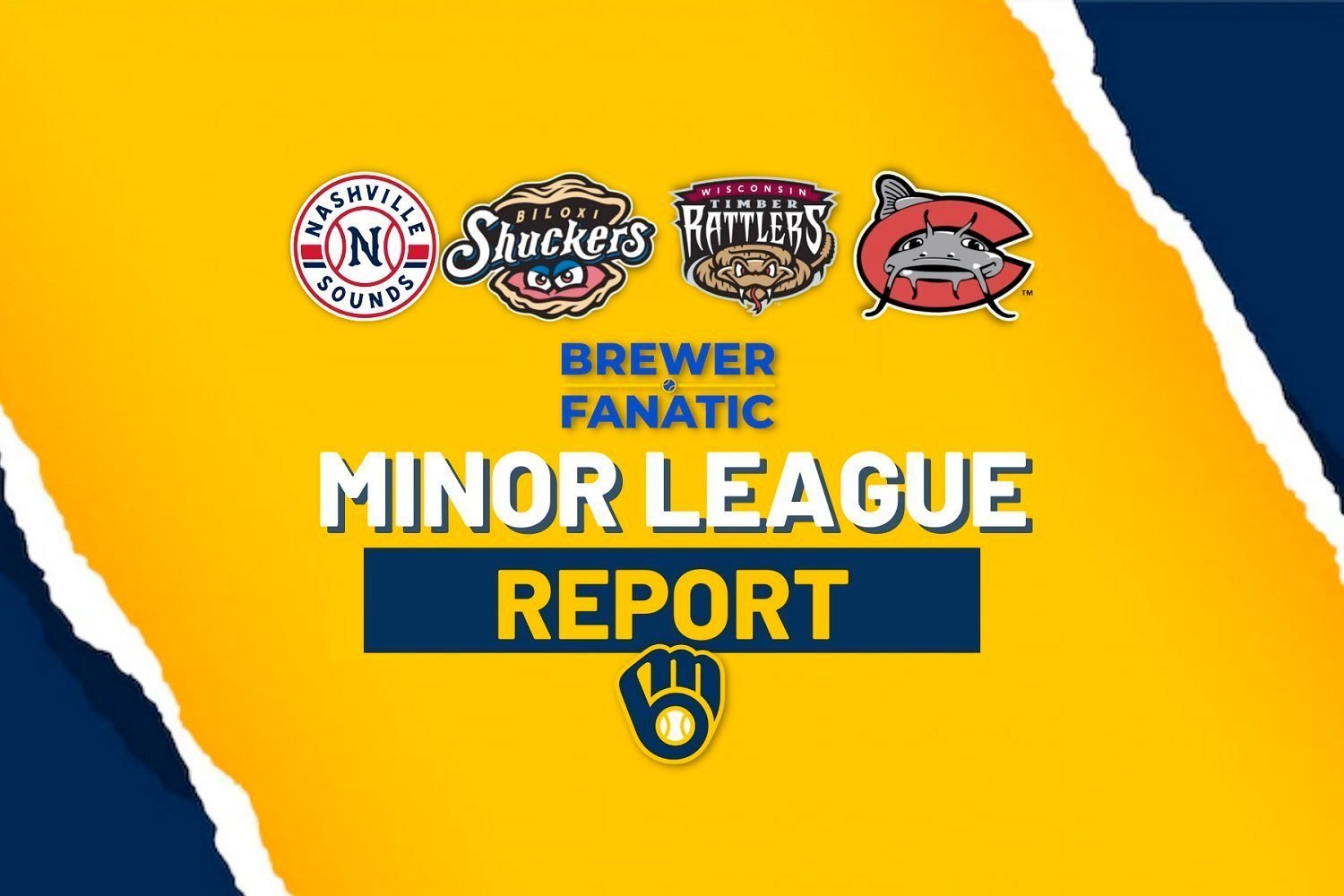 Image courtesy of Brewer Fanatic
Transactions: 
INF Alberis Ferrer was re-instated from Carolina's 7-Day IL 
RHP Jason Alexander was optioned to the Nashville Sounds by the Milwaukee Brewers
RHP Trevor Kelley was recalled by the Milwaukee Brewers from the Nashville Sounds
Stop the presses! We have a first MLB hit for catching prospect and 2022 Nashville Sound, Mario Feliciano:
That's the stuff right there. May those knocks rain forth from here, young stud! 
And, lastly, on an evening with few if any highlights amongst the affiliated twitter accounts, let me offer an extremely enticing look at a young arm in the ACL in one RHP Anthony Perez. His numbers, to date, haven't met what I'm seeing here: a nasty two-seamer with an equally nasty breaking ball. This will certainly play if he can harness this filthy stuff. Movement is king and there is plenty in this clip.
---
Final: Nashville 6, Jacksonville (Marlins) 2
Box Score / Game Log                         

Via the Sounds' site, game details, please visit and review:
Sounds Even Series with Comeback Win - Josh Lindbolm Delivers Quality Start and Sal Frelick Delivers Four Hits in Win
In just his fourth career outing versus the Jacksonville Jumbo Shrimp, RHP Josh Lindbolm was looking to build off his previous outing at home versus Gwinnett. Having scuffled quite often in the last month, it was a sight for sore eyes to see Lindbolm toss a season-high 9 K while holding the Stripers to a mere 2 H and 2 BB in his last outing in Nashville. That was vintage AAAA Josh Linbolm stuff right there - when he's 'on', any and every Triple-A ball club struggles to find their footing in the batters box. The Sounds were looking to even the series at 1-1. All told, Lindbolm built atop his last outing and certainly stacked success. He worked around a solo shot and a second run aided by a ball lost in the lights in deep right field that fell mere feet from Joey Wiemer's waving arms. Let's take a quick look at some key takeaways. 
Three Quick Strikes:
1) I've mentioned this a couple times in the past week or so since OF Esteury Ruiz has been on the Nashville Sounds roster:  the art of the bunt single. I don't know when the Brewers have had a weapon like this in the system. I really don't. I've now seen three absolutely perfect bunt singles down the third base line in the past two weeks. This doesn't even get into the ability to sacrifice or move runners or suicide squeeze - these have simply been surprise singles. He does it with absolute skill and talent. I've typically been agnostic to the art of bunting because, frankly, most baseball players simply can't do it in the modern game. Well, this is a legitimate weapon in Ruiz's tool kit. In the top of the sixth inning, with Frelick having just reached on a walk (his third consecutive time reaching first base), Ruiz laid down an absolutely primo bunt down the third base line. Suddenly you had ridiculously dangerous speed on first and second base with nobody out. This is a notable development within the system. This is a weapon.
2) Speaking of Frelick, my goodness what a run this young stud is on. He is evolving, before our very eyes, into an absolutely dangerous lead-off weapon. In five trips tonight, he reached base all five times - three infield singles included in this buffet. If you follow his on-base capacities with the dangerous Esteury Ruiz, that's quite simply two young stallions looking to wreak havoc on the base paths. After his output this evening, he saw his batting average rise to 0.440 in Triple-A with a 1.065 OPS. Think about that. No, really, think about that. Frelick has gotten better with every promotion and has now achieved his literal best output in Triple-A. The sky is the limit with this young man and, sheesh, what a pleasure to witness. What's crazy about this current Frelick production is it is somehow pushing Garret Mitchell's fantastic Triple-A output onto the back burner. That's saying something. Go ahead, take a look at Mitchell's output to date in Nashville. Really. The future is briiiiight.
3) This is your RHP Trevor Rosenthal update: this was his first live action since August 29th of 2020, mind you. He came up to pitch the seventh frame for the Sounds and their 5-2 lead. Rosenthal came on throwing lasers. First batter? Three pitches. Three strikes. Out. Second batter? Three outside balls - including an off-speed. Two consecutive 98 mph heaters blown by the hitter. After several foul balls, Rosenthal skies a fastball to the back-stop. Hey if you're going to walk the batter? Give him a FREE pass?. At this point, he was throwing 95-99 routinely. Facing his third batter, he jumped up to an 0-2 count. Then a 1-2 count. And, he got a well-hit double-play ground out to INF Brice Turang (playing second base yet again tonight - with these new promotions, his CF days are most likely over in Nashville) and escaped unscathed. Outing numero uno: success.
---
Final:  Montgomery (Rays) 4,  Biloxi  1 
Box Score / Game Log                                  

Via the Shuckers' site, game details, please visit and review:
Biscuits Take Down Shuckers 4-1 - Biscuits Take Down Shuckers 4-1
LHP Brandon Knarr had struggled mightily over his past five outings and that trend certainly continued in the first inning tonight. He did manage to limit the damage to two runs but he also gave up three hits and walked a batter in the process. If you consider over the past 27 2/3 IP (coming into tonight), Knarr had allowed 35 H, 9 BB, and 18 ER, it was suddenly starting to turn into a late-season troubling trend. We all know the challenges of maintaining pitching dominance - especially as a young arm with upside in a new League. So, how did Knarr fare overall this evening in Montgomery? Better. He certainly fared much better. Let's celebrate a step in the right direction. Unfortunately, it wasn't enough as the Shuckers bats were relatively silent for the most part and the team lost yet again in Montgomery. Overall, the Shuckers moved five games back of the first place Biscuits while Knarr moved to 1-6 with a 4.38 ERA in Double-A.
Three Quick Strikes:
1) It took until the top of the ninth frame for the Shuckers to grab an XBH, but, who other than recently promoted red-hot Zavier Warren to accomplish this feat? Warren absolutely ripped a double to the wall in deep left center and nearly missed his first Double-A home run by a matter of 5-10 feet. That was the fifth hit, and as mentioned the first of an extra base kind, of the Shuckers evening and they were trailing 4-1 at the time. With Cam Devanney heading to the plate, there suddenly was a wee bit of drama in Montgomery. Oh, and the always-dangerous Cam Devanney walked. There were suddenly men on first and second base with zero outs. Drama indeed.
2) Well, just like that, Felix Valerio roped yet another extremely well-hit ball...into the sprinting outstretched glove of OF Kameron Misner in Montgomery's far right field warning track dirt. It was a heck of a run down by Misner and Zavier Warren was unfortunately picked off second base - a potential rally was suddenly squashed by a play that screamed "Well, sometimes, that's just baseball!" In the past month, I would park a flag on the hill of: "There isn't another player in the system that makes as good of contact as Felix Valerio with as little results to back it up." I've seen this young man punish so many balls in the past two weeks and they simply went directly into the mitt of opposing fielders. The hits have to fall...right? Right?!?
3) In a game where not all that much of significance happened in the Biloxi line-up, it is worth noting RHP Arnaldo Hernandez pitched a clean and crucial inning with a scoreless 1 H, 0 BB, 1 K sixth frame. I touched on it last week: Hernandez has struggled quite often since his IL return, but, he is certainly capable of clean innings. The ERA is bloated at present, but, let's hope that is simply a by-product of a rough stretch. Here's hoping the tides have turned. ? 
---
Wisconsin Pre-Game Media Notes     
Final: Cedar Rapids (Twins) 2, Wisconsin 1 
Box Score/Game Log                            
Via the Timber Rattlers' site, game details, please visit and review:
Cedar Rapids Outduels Wisconsin - Kernels Beat Rattlers 2-1
RHP Carlos F. Rodriguez took his 1-0 record and 0.90 ERA into the second game of the current six-game road series in Cedar Rapids. In his third start at High-A, Rodriguez was hoping to bring his deft mix of off-speed breaking pitches with tailing heat to even the series with the Kernels at 1-1. Let me just say this: he did not disappoint. This young hurler is an absolute stud. For a spry 20-year-old arm, he simply pitches well beyond his years. I already find myself saying: "He's already got the full Lindbolm aresenal in his tool kit. Where does he go from here?" This is the highest of compliments. Tune in to watch this young man work his magic.
Three Quick Strikes:
1) I don't normally do something like this - actually, I never have...which should say something. When an announcer causes me to turn the sound off entirely and, honestly, consider not even watching the game - well, I'll say a brief something. I don't know who the Cedar Rapids home announcer is on the MiLB.TV apparatus and I'm not going to flat call him out by name here, but, a general heads up to all you committed and talented announcers: I absolutely appreciate it beyond measure when you actually know who your opponents are. Thank you. Thank you. Thank you. I appreciate it when you know who is actually at each base and who is actually on the base paths. I appreciate it when you can match a name to a face and to a position. I appreciate it when you add all that nuanced flavor to the Minor League telecasts. Please, keep studying up and making each and every game a true joy to watch. We are absolutely blessed in the Brewers organization - every affiliate level is filled with broadcasting talent in spades. Oh, right, there was a game. I watched quite a few innings...sadly, with the sound muted.
2) Game recognizes game. If I'm going to question Jackson Chourio in center field in yesterday's report, I'm certainly going to bring up his fantastic diving stop in dead center on a weak flare grabbing the second out in the bottom of the fifth frame. I had been waiting to see if this talented young man could lay out. Let me tell you: he absolutely can. He had a fantastic jump - step one. He then made the full on diving effort. He made the clean grab. It was a key out to prevent a base runner clinging to a 1-0 lead. You absolutely love to see it. For those of you with MiLB.TV, move your dials to 2:13:04 HERE on your replays. You will not be disappointed - this was a truly impressive grab. Somehow, we have no highlight of this catch - road game and all. You'll actually hear the dramatic pause by the Kernels announcer: he didn't even know Chourio was playing center field. Trust me. Unbelievable.
3) This game came down to one inning and one inning alone. Rodriguez was absolutely cruising...until he wasn't. He gave up a lead-off single in the bottom-half of the sixth inning. But, lo and behold, Darrien Miller threw to second base clearly grabbing the runner for the first out. A fist pump was executed in due fashion. Shortly thereafter, Rodriguez put two men aboard with consecutive full-count walks. RHP, and previously red hot, Robbie Baker (having retired 19 consecutive batters) was brought on to face a lefty. He gave up the tying single on a well-hit dug out ball to center field. An extremely wild pitch, high and inside, made it to the backstop advancing runners to second and third base. And, after deftly striking a batter out for the second out...Baker balked in the winning run. One word suffices here, and one word only: Ouch! 
---
Carolina Pre-Game Media Notes                  

Final:  Carolina 6, Fayetteville (Astros) 5
Box Score / Game Log                          
Via the Mudcats' site, game details, please visit and review:
Bullpen Dominates in 6-5 Carolina Victory - Carolina Scored Four Runs with Combo of Bases Loaded Walks and Hit by Pitches in their 6-5 Home Win
Coming into tonight's contest, the Mudcats were sitting 5 1/2 games back of the second-half divisional leading Fredericksburg Nats (and their massive +67 run differential - yowza). RHP Jeferson Figueroa took the mound to start things off and he worked around a walk and a stolen base to strike out two batters on change-ups while striking out his last right-handed batter, after his 22nd pitch of the inning, on a 93 mph heater just outside the home plate stripe. A fine inning overall despite the elevated pitch count - Figueroa is known to struggle with location. Case and point, with the bases juiced and a 1-2 count, he offered up too much plate on a change-up here:
Notice, the bases were juiced. There were no outs. When things fall apart for Figeuroa, they tend to fall apart like this - 2 IP, 4 H, 3 BB, 4 K, 5 ER on his evening. What has to be frustrating for the young hurler is he truly has a solid and unpredictable change-up pitch he can drop in on a dime. It's been absolutely up-and-down (mostly down) in 2022. He'll go yet another game with not a single mark in the 'W' column (still 0-7 in 2022).
Lastly, please do check in on the post-game conversation between Mudcats manager, Victor Estevez, and Mudcats announcer Greg Young:
Three Quick Strikes:
1) Seeing a runner reach second base in both the first and second innings was probably not all that surprising for Figueroa who has grown accustomed to base runners in 2022. However, INF's Jadher Areinamo and Eric Brown Jr. had no intentions of allowing the runners to score. Both young men made stellar diving stops and accurate darts to first to throw runners out and help their team escape unscathed. It's not often you see such stellar work at the Low-A level - let alone any level. These were web gems in the fullest sense of the phrase. Unfortunately, there are no highlights to share with you to showcase this incredible glove work. If they rear their heads tomorrow, I will share in the comments below.
2) The Mudcats presser speaks of the bullpen. Figueroa and the Mudcats team at large have much to thank for the continued fantastic bullpen work from RHP Miguel Guerrero. All told, Guerrero was solid once again: 4 IP, 3 H, 2 BB, 0 ER, 4 K. His scoreless work in the crucial early and middle innings paved the way RHP Michele Vassalotti's three inning save - the sixth save of his 2022 season. Without these two, tonight's contest may have turned south.
3) He gets a tag and a nod above, but it's worth highlighting here: INF Jadher Areinamo showcased why he's such an interesting prospect tonight. His diving stab and throw from well beyond third base to first in the early going was as web gem as it gets. To follow that work up with two singles and two RBI's? The icing on the cake. Do not sleep on this young man. He's a riser - you probably just don't know it yet.
---
DSL Brewers #1 6, DSL Twins 4
Box Score / Game Log
The DSL Brewers Uno got a much needed win versus the Twins and they did it in classic DSL fashion - consecutive wild pitches to take the two-run lead and, ultimately, the ball game. That's that vintage DSL stuff. A game ball will have to go to INF/OF Angel Pereira who led-off for the Brewers Uno. He managed to hit a single and get plunked twice (ouch!) while ultimately scoring three runs in the process. INF Luis Watter sat in the five-hole and managed a 2-for-3 afternoon - 1 2B (his fourth of the year), 1 BB, 1 K, 1 RBI. Watter did scuffle some in the filed with two errors - one apiece fielding and throwing from the hot corner - his 10th errors of the summer. INF Richard Rojas, batting sixth and playing second base, hit 2-for-4 with 1 RBI and 2 K. Wild pitches aside, the Brewers Uno did put the pressure on in solid fashion - a lead-off HBP, a single, then a run-scoring single - in the seventh inning. That tying single was hit to right field by consistently performing 1B/C/DH Edgardo Ordonez - 1-for-4 on the day with the timely RBI (0.292 BA / 0.811 OPS / 96 AB in 2022). He managed to plate OF Luis Lara who was sent on as a pinch runner. The DSL Brewers 1 moved to 20-34 on their season.
DSL Brewers #2 5, DSL D-Backs Red 4 (completion of the 7/27 postponed game)
Box Score / Game Log
The DSL Brewers Dos came into this re-start contest looking to put pressure on the D-Backs Rojo and they managed to do so with six stolen bases on the day - 2 apiece for OF's Reminton Batista and Mendy Ferreira. Batista, interestingly, took three free passes on the day and plated two runs in a 0-for-0 line anomaly. The D-Backs managed to pull within one run in the top of the sixth (of a seven-inning affair) on a throwing error by INF Demetrio Nadal and a sac fly to center field. But, 21-year-old RHP Roman Perez was up to the task in closing this one out: 1 1/3 IP, 1 H, 0 BB, 1 K, 1 S. This was Perez's first save of his 2022 season. The DSL Brewers #2 move to 26-27 overall - nine games back of San Pedro divisional leaders Texas Rangers Blue.
---
Think you could write a story like this? Brewer Fanatic wants you to develop your voice, find an audience, and we'll pay you to do it. Just fill out this form.
MORE FROM BREWER FANATIC
— Latest Brewers coverage from our writers
— Recent Brewers discussion in our forums
— Follow Brewer Fanatic via Twitter, Facebook or email
1