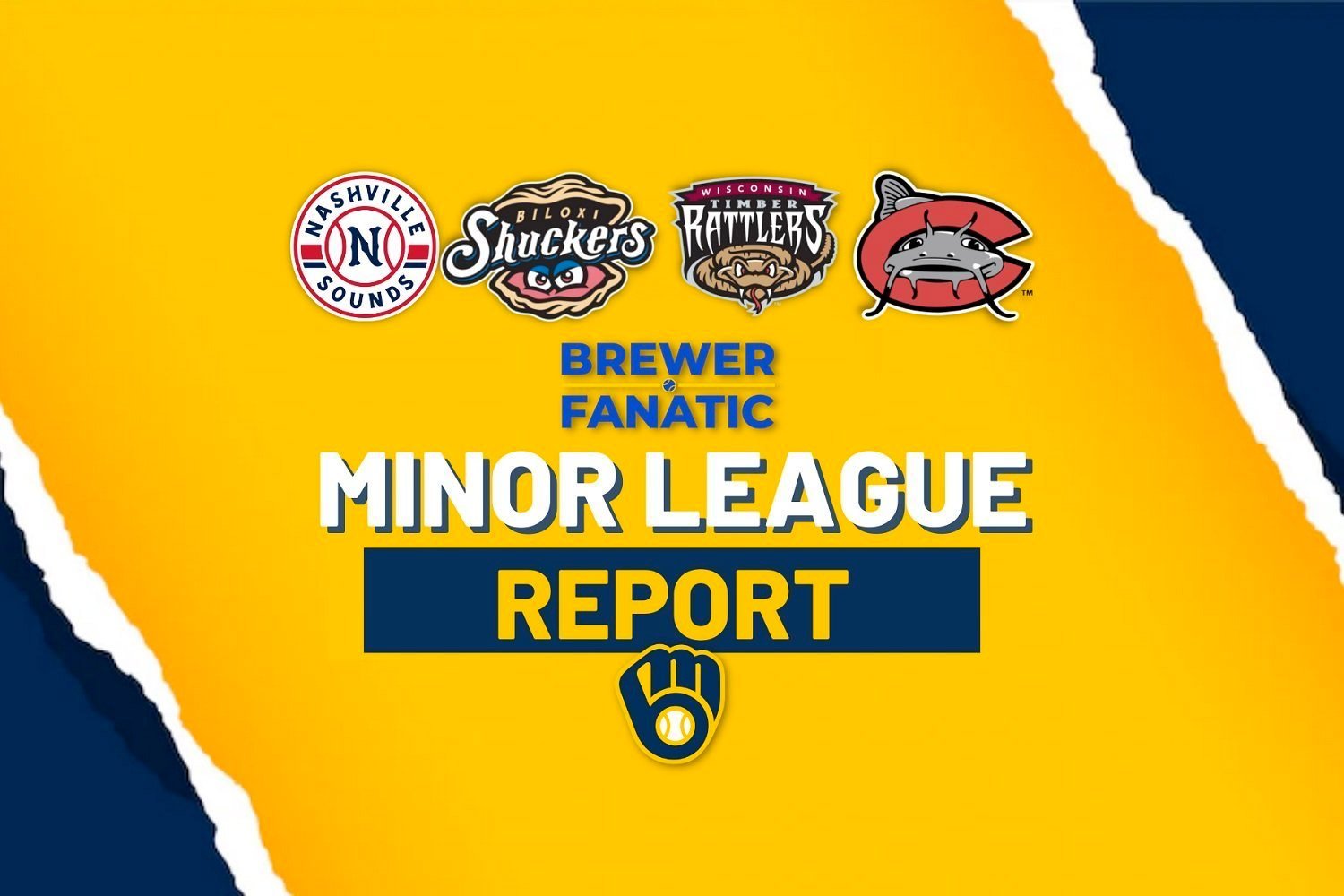 Image courtesy of BrewerFanatic
Transactions:
- RHP Jason Alexander recalled to MLB Brewers from AAA Nashville - replacing injured LHP Aaron Ashby
- RHP Tyler Woessner (2022 6th round, Central Arizona JC) promoted to Low-A Carolina from ACL Brewers Gold
- RHP Trevor Tietz promoted to Low-A Carolina from ACL Brewers Gold - Tietz had been with Carolina previously thru June 5th
---
Final: ACL Brewers Gold 6, ACL Mariners 1, seven innings as scheduled
Box Score / Game Log
All nine in the lineup contributed for the 31-21 Gold squad in their 5th straight win. Despite the shiny record, the team has a run differential of -3. 
Arizona Complex League Playoff Qualifying
Postseason begins on Thursday, Aug. 25, 2022.
Three (3) division winners and one (1) wild card team (i.e., the team with the best winning percentage who is not a division winner).
Unfortunately, the league standings seem to indicate the Brewers entry will fall just short of qualifying, with only Tuesday's game against their Crew Blue counterpart remaining on the schedule.  The standings show an elimination number of three as of this post time, but that does not seem to be the case.
With a walk and a base hit to go along with his 5th and 6th stolen bases, the ten-game pro debut of 18-year-old third baseman Luke Adams has been exciting (.357/.514/.536). Adams was drafted in the 12th round out of an Illinois high school.
15th round Florida JUCO catcher Satchell Norman is off to a similar ten-game pro start - .344/.447/.406.
19-year-old RHP Henrison Mota , a Dominican native in his 2nd season and first stateside, tossed three scoreless, striking out seven. His 3.62 ERA is fine on the surface, but Mota walked three here, representative of the 39 he has walked in 32.1 innings this season.
---
Final: ACL D-Backs Black 4, ACL Brewers Blue 3, eight innings (scheduled for seven)
Box Score / Game Log
How the Blue Brew fared in the ghost runner inning may help explain their 19-33 record. Click on that Game Log link to follow along as the Arizona left fielder netted outfield assists both at third base and at home.
Meanwhile a sharp fly ball double quickly ended things in the bottom of the inning.
Prior to that, here's how the Crew tied things with a run in the top of the final regular inning - soft infield single by CF Jamal Zalm, to second on a wild pitch, and after two of his teammates struck out, stole third base and scored on a wild throw from the catcher.
Three relative newcomers with a college background - 10th round 6'7" LHP Brian Fitzpatrick (Rutgers), and post-draft RHP signees Ryan Brady (Brigham Young) and Jonathan Beymer (Campbell) - combined for 5.2 innings, allowing one earned run on four hits and 13 strikeouts. At ages 22, 23 and 23 (Beymer turns 24 this week), such results are expected.
Shortstop Daniel Guilarte stole three bases on as many attempts, and is now 8-for-11 in that department. I feel as though folks need to learn more about Guilarte, who may have surprised some with his jump to #16 on MLB Pipeline's Brewers Top 30 list. I strongly suggest you go the Top 30 list here and click on Guilarte's name to learn why the Brewers are high on him.
Advancing his unique .235/.426/.510 line (.936 OPS in 51 AB's), 20-year-old catcher Jhonnys Cabrera reached base thrice including his 4th HR of the summer. 
---
Final: DSL PIT Gold 4, DSL Brewers #1 Squad 2, seven innings as scheduled
Box Score / Game Log
The 21-37 Uno Crew was down 4-0 thru four innings, then scored single runs in the final two innings, falling short.
Giving a shoutout to catcher Ludwin Tejada, a LH bat in his true age 17 season (May 12th), single and walk here. The Dominican native has a .386 OBP with more walks than strikeouts in his smallish 60 AB sample.
It was an uncharacteristically wild start for promising 18-year-old Venezuelan LHP Osbriel Mogollon, owner of a 2.74 ERA and 1.00 WHIP in an otherwise excellent debut campaign.
---
Final: DSL Brewers #2 Squad 6, DSL Phillies Red 5, seven innings as scheduled
Box Score / Game Log
The 27-31 Deuce Men scored two in the 4th and three in the 5th thanks to sloppy Philly play to grab a 6-3 lead, and then held on for the win.
Still listed as a catcher from when he first signed, Dominican native Juan Baez (he only turned 17 in June), has 18 errors split over 37 games at shortstop, nine at third base, and five at second base. Baez has posted a solid-enough .685 OPS with 17 stolen bases in 23 attempts.
OF Irving Igualas only has a .592 OPS, but his name remains 80 grade.
---
On Tuesday, as hinted at above, the rookies wrap things up, including one final faceoff between the two Maryvale teams. Nashville continues an extended road trip moving on to Durham, while Biloxi and Wisconsin return to their cozy confines. Carolina hits the road hoping to maintain momentum for a long-sought playoff berth.
Organizational Scoreboard including starting pitcher info, game times, MiLB TV links, and box scores
Standings and sortable stat pages
Current Milwaukee Brewers Organization Batting Stats and Depth
Current Milwaukee Brewers Organization Pitching Stats and Depth
Think you could write a story like this? Brewer Fanatic wants you to develop your voice, find an audience, and we'll pay you to do it. Just fill out this form.
MORE FROM BREWER FANATIC
— Latest Brewers coverage from our writers
— Recent Brewers discussion in our forums
— Follow Brewer Fanatic via Twitter, Facebook or email
1