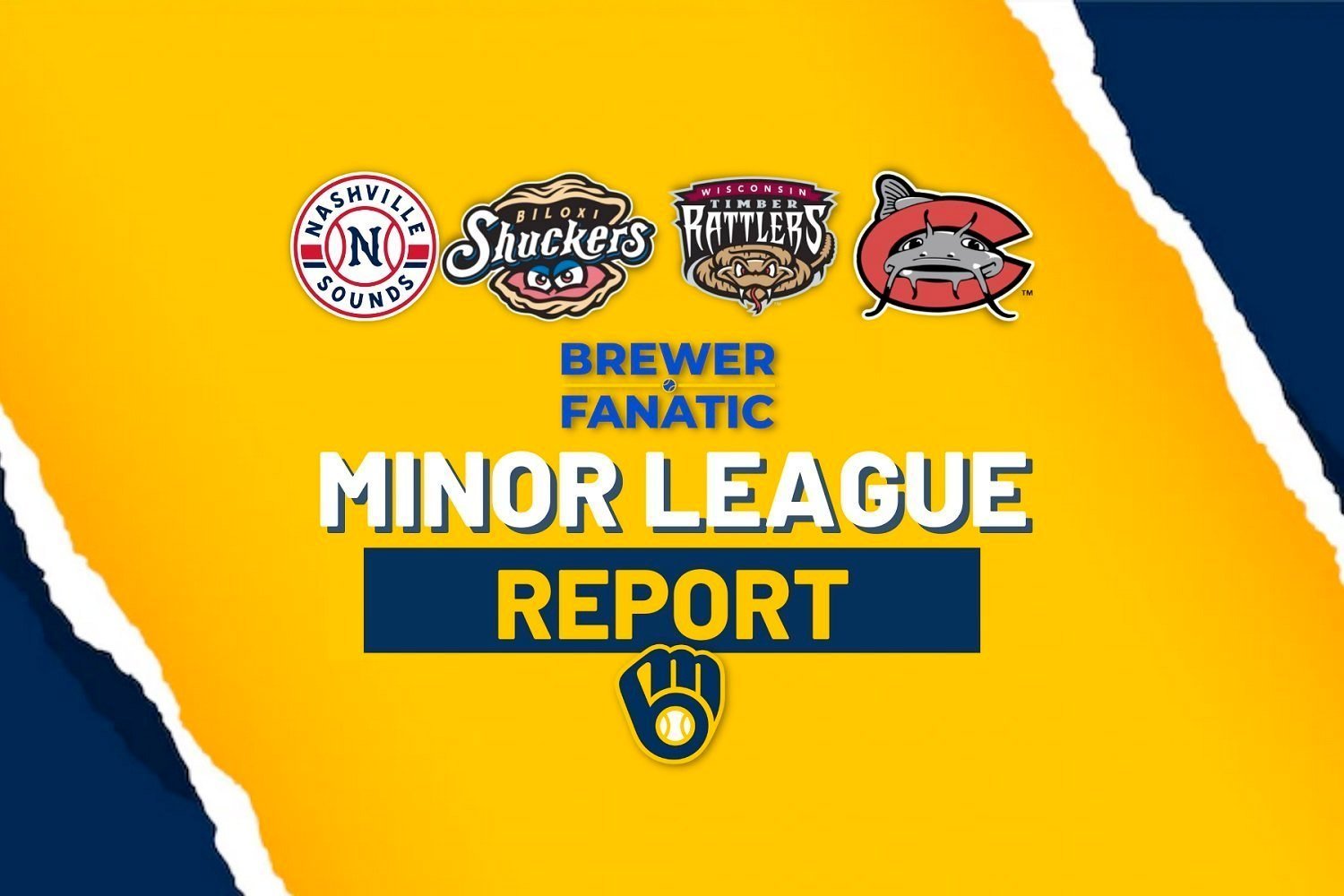 Image courtesy of Brewer Fanatic
Game Balls:
More below, but INF Patrick Dorrian continues to makes his case for 'most undervalued positional player in the system'. I swear to you fine Brewers Fanatics, he flashes in nearly every game I am privileged to watch. He has really made a case this season he should be considered for future utility man call-ups. 4-for-5, 3 R, 5 RBI, 2 HR. He now has 18 HR on the season for Nashville.
LHP Nate Peterson gets the nod for a fantastic bounce back performance back at the T-Rats home ballpark: 4 IP, 3 H, 3 BB, 5 K, 0 R. He held it down after his offense gave him a six-spot in the first inning.
RHP Tanner Shears gets the nod for some fantastic work to close it down for the T-Rats. C Matt Wood had a very hard time of catching Shears' stuff - it moves and moves and moves, so he'll have to adjust to that - and Shears was likely robbed of several strikes but he continued to dig deep. He has been a revelation in 2023 - 1 1/3 IP, 1 BB, 0 H, 3 K, 1 W.
RHP Jesus Rivero picked up his 4th Save of 2023 and continues to show if he can dial back his free passes he has a bright bright future as a professional hurler. 4 IP, 0 H, 3 BB, 5 K, 0 R, 1 SV.
RHP Alexander Vallecillo also gets the nod for the fantastic start he gave his Mudcats team: 5 IP, 1 H, 0 BB, 6 K, 1 ER, 1 HR. Tonight's outing further drove the point home: the best and deepest pool of pitching month-to-month in the affiliated levels has been in Carolina. 
Transactions:
Milwaukee Brewers 1B Rowdy Tellez was sent on a rehab assignment to the Nashville Sounds (he hit a single and also ran very slowly down the first base line in several groundouts - that's my update for you)
Wisconsin Timber Rattlers RHP Joseph Hernandez was sent on a rehab assignment to the ACL Brewers
RHP Harrison Durow was assigned to the ACL Brewers (Durow pitched for Division III Trinity University in San Antonio, Texas)
C Jesus Garcia was transferred to the Development List by the Nashville Sounds. 
Highlights from the System at Large:
Let's start with one of my favorites in RHP Logan Henderson. He's been phenomenal for Carolina. Now that he's healthy, the sky is the limit. If you've visited Brewer Fanatic in the past year plus, it should be no secret Henderson is one of my favorite "...why don't people talk about how good this young player is more than they do?" players:
Lots of digital hardware was handed out in the past five days - players of the month; players of the week and the like. Let's take a look at who was honored in the Brewers organization by the Brewers:
OF Yophery Rodriguez was a big bonus International FA signee and he was in the DSL All Star game. Already quite developed in his lower half with room to grow, he's had a very good season and has given glimpses of a possible Chourio-like breakout next season. We'll simply have to stay tuned.
It should surprise absolutely nobody that OF Jackson Chourio was recognized for his stupendous month of July in Biloxi. But, every one of us should take moments in our fandom to appreciate the historical month he had:

It should surprise nobody C Wes Clarke was named Southern League Player of the Week this past week for Biloxi:

And, lastly, it should also surprise nobody INF Mike Boeve was honored for his scorching hot start in the ACL:
---
Final:  Nashville 9, Indianpolis (Pirates) 8  
Box Score / Game Log 

Game Notes 

Via the Sounds' site, game details, please visit and review: 

Sounds Survive for Series Opening Win at Indianapolis
Sounds rotational stalwart RHP Caleb Boushley was in fantastic form early in Indianapolis. Boushley is at his best when his stuff is playing low in the zone. He gets in danger, shocking I know, when he's playing his lower velocity stuff up in the zone - exactly what happened in the sixth frame when he tired and couldn't locate. He also benefited from several fantastic defensive plays early. It was clear the Sounds, as a team, came ready to play. As a fan and a habitual watcher, I was quite pleased.  Those defensive gems gave Boushley the confidence he needed as he struck out five consecutive batters through 3 IP with the Sounds leading 8-0. A great outing turned what could have been, however, as the Sounds barely hung on late to preserve the victory. All told, Boushley finished with 5 1/3 IP, 5 H, 3 BB, 6 K, 3 ER. The Sounds barely pulled out the victory and improved to 17-16 in the second half 3.0 GB first place Lehigh Valley and Worcester.

Three Quick Strikes:

1) INF Patrick Dorrian continues to exceed your expectations. Why is that? Because, Dorrian is a fantastic baseball player and he is entirely under-recognized for his diverse array of skills. His team was unraveling around him in the sixth inning and he then stepped to the plate and added his second long ball in a line drive absolutely hammered over the RF wall to add an absolutely crucial insurance run. His Achilles' Heel in 2023? He's been asked to play far more SS than he likely should. He botched two routine transfers on clear double play balls that almost cost the Sounds the game when all was said and done. Given his offense kept his team in the lead, we'll let it slide. But, those who know, know: Dorrian is a 3B/2B guy and an emergency SS. It's a bit confounding (for me at least) because his glove and arm are actually quite solid but he is not a true SS.
2) The 6th inning nearly got away from the Sounds - I mean, they did surrender seven runs and let the Indians pull within a single run. BUT, so often the box score doesn't tell the story. RHP J.B. Bukauskas did more than enough to escape the inning in solid fashion. But, CF Monte Harrison had one of the worst errors you'll see in 2023. Just take a look starting at the 0:23 mark of this highlight reel: 
I still have absolutely zero idea what Harrison was attempting to do with that catch attempt. The out was obviously there. Plenty of time. Catch it straight on. Catch it underhanded. BUT, catch it via a flailing fly swat maneuver? Not so much.
3) 3B Tyler Black showed out tonight with a beautiful diving stab and near one-skip out at 1B. A remarkable play, honestly. On the next play (barely seen in the above highlight clip - in game the second angle was quite a bit more telling), however, he was eaten up by a hard hit grounder that slipped under his glove as he dove awkwardly to his right. He did grab his first hit of his brief Triple-A career when he singled to RF, and he flew out very very hard to straightaway right center field for his first out of the game. I share all this to say: Black is very much still finding his footing in Triple-A. He has not hit the ground running but, this is all negligible given how ridiculously small the sample size is.
---
Final:  Tennessee (Cubs) 14, Biloxi 1  
Box Score / Game Log 

Via the Shuckers' site, game details, please visit and review:

Shuckers Drop Series Opener to Smokies
 
RHP Christian Mejias did not bring his best stuff to the mound early and it put his team in a 4-0 hole. He missed giving up back-to-back first inning long balls (the first a three-run shot well over the LF wall on a hanging slider dead center) by about a single foot high off the wall in dead CF. Four runs on four hits when the first five reached base before a single out - thankfully, he went three up and three down thereafter to end the threat. Things carried on that way in the second frame when Mejias gave up a shallow single on a looping liner to RF. The Smokies are a very formidable offense and lead a bevy of Southern League categories - their record bespeaks their play on a near nightly basis. Do I enjoy seeing such a formidable Double-A Cubs affiliate? I absolutely do not. Mejias did not give the outing his team needed: 2 IP, 7 H, 2 BB, 2 K, 7 ER, 1 HR. The Shuckers pitching staff gave up 14 runs in only 5 IP. It was ugly.

Let's Wrap this One Up Real Quick:
At what point does the madness end? RHP Robbie Baker is now on red alert with the number of long balls he is surrendering since May 31st. It has gotten to the point in mid August where I am surprised when he doesn't surrender a long ball in his bullpen work. Anyhow, he gave up two more long balls tonight but he did manage to salvage the bullpen with a 5 IP yeoman's relief effort. We thank him for that courageous work with his team getting shellacked but we certainly hope he can turn the tides. Either way, when your squad manages eight knocks but goes 1-for-10 with RISP any thoughts of a comeback fall to the wayside. DH Wes Clarke did manage a 2-for-4 evening with another XBH (1 2B) to keep his torrid offensive output going. 1B Ernesto Martinez Jr. went 1-for-2 with the Shuckers sole RBI as well as 2 BB in his Double-A debut. He did commit a fielding error at 1B as well.
---
Final:  Wisconsin 6, Dayton (Reds) 4
Box Score / Game Log 

Game Notes 

Via the T-Rats' site, game details, please visit and review:

Rattlers Hang on to Beat Dayton

The T-Rats six-run first inning held the entirety of the game. The end result further validated an obscure baseball truism: the less runs you allow in innings, the greater the chance you have to win ball games. Think long and hard on that one, folks. It came from the dusty corners of Confucius' dugout. The bullpen had some rough moments but, ultimately, they did enough to hand the ball to trusty high-leverage arm of RHP Tanner Shears (honored above in the prestigious 'Game Balls' section) who sealed the 'W'. LHP Nate Peterson was the first man on the hill and he was much-improved from his struggles at South Bend. The T-Rats jumped back above 0.500 for the second half at 19-18. They are two games back the team they are chasing for a chance at a Playoff series, Peoria.
Post-Game Podcast:  (*Included: 3B Brock Wilken's pre-game Wisconsin Media interview*)
Post-Game Full Game Highlights:
Kyle Lobner's T-Rats Talk: INF Jose Acosta

Three Quick Strikes:
1) 3B Brock Wilken showcased he is quite a bit more than a power bat. Brocken continues to showcase he has an extremely disciplined bat - 8 BB to a mere 3 K in five games as a High-A professional (1 BB and 0 K tonight). He is taking what pitchers give him and he is absolutely not forcing anything - he showed he can take what is given and spray it to all fields. He also has an extremely lively arm from the hot corner. He can verifiably make the throw from deep beyond the bag accurately to 1B or accurately while charging a weak grounder as he ended tonight's contest. And, I would politely opine: he has much better wheels than you'd anticipate. This is a fun player who is much more than advertised.
2) INF Robert Moore had what may have been his finest game as a SS - and he started at 2B, oddly. Truly. He made two stellar game-changing plays - one aggressively throwing to 3B to grab a lead runner in the fifth inning where he threaded a throw to Brock Wilken  and another when he dove past 2B onto the dirt, fully laid out, firing a throw to 1B from his knees for the final out in the sixth inning. He was smooth, confident, and making those plays that truly tilt the balance toward a chance at victory. The T-Rats need these plays and then some. Moore answered the call. Let's hope he continues to shine.
3) INF Eduardo Garcia was pulled, unexpectedly, early. In the post-game podcast (above) manager Joe Ayrault mentioned he may have tweaked a leg. Ruh roh. It appears this may have happened (off screen to us) when he was legging out his first inning double. Garcia has already been on the shelf in 2023 and was just getting into the swing of things. We'll have to stay tuned, but it doesn't look as though he'll be back in the lineup tomorrow.
---
Final:  Carolina 6, Delmarva (Orioles) 1 
Box Score / Game Log 

Via the Mudcats' site, game details, please visit and review:

Vallecillo Tosses Gem as Mudcats Win Fourth Straight

Even though the Mudcats ultimately pulled away to a comfortable 6-1 victory, their ongoing failures with RISP (3-for-14) certainly made it feel like a game that could go either way throughout. We largely have the fantastic start from RHP Alexander Vallecillo to thank for that (as the article alludes to). Other than the single solo shot (his only hit surrendered and the only hit for the Shorebirds in the entire game), Vallecillo was dealing. This was a start reminiscent of his first two months of his 2023 season. With the Mudcats pushing hard towards a possible playoff birth, let's hope this he keeps this rolling. He even showed (first highlight here) in 2023 you can strike a batter out without throwing a pitch:
Three Quick Strikes:

1) The Mudcats sprayed a whole bunch of singles throughout this contest. But, pressure is pressure and with the pitching as good as it was, that pressure finally popped the lid off. This Mudcats team, oddly, is the most consistent nigh-in-and-night-out team in the entire system. These young men play with a consistency well beyond their years. I continue to laud the leadership and work of manager Victor Estevez. The Mudcats faced adversity to close the first half - with a playoff position in their sights they absolutely faded. Now, having seen the likes of RHP Jacob Misiorowski, RHP Tanner Shears, RHP Miguel Guerrero, RHP Shane Smith, C Matt Wood, RHP Nick Merkel, OF Eduarqui Fernandez and LHP Nate Peterson assigned to higher levels...the Mudcats are playing their best baseball of their season. It's a true testament to the Mudcats organization as a whole. They are on the precipice of history. And, I'll be rooting for them every step of this final leg. The Mudcats improved to 11 games over 0.500 at 24-13 in this second half. They lead the second place Fredericksburg Nats by 5.5 G. 
2) RHP Jesus Rivero continues to walk too many batters for my liking but he also continues to work around this issue because his raw stuff is so good for Low-A. He can change speeds. He can change eye levels. His stuff moves. His raw goods are a fantastic base to work with. This being said, he has much work to do to corral his propensity to suddenly lose his stuff, inexplicably, batter-to-batter. Make no mistake, this has been a fantastic debut in the affiliated levels of Minor League ball and it has been a privilege to watch. Consistency in and around the zone will be the key to his future success as he is challenged at higher Levels. 
3) If you read my reports with any semblance of regularity, you know by now C Jose Sibrian is another of my unheralded and unsung players in the Brewers Minor Leagues. Tonight, well, he flashed again. He called the game. He caught foul tips. He made a crucial pick-off of a runner at 3B for the third and final out after a double steal in the top of the 8th inning. He also smashed a two-run home run adding to the Mudcats 3-1 lead in the seventh inning: 
This is a very underrated catcher. I will continue to pound the gavel of Minor League recognition Justice! 🧐
---
ACL Brewers 3, ACL White Sox 2
Box Score  / Game Log

The ACL Crew have now won six straight and are sitting at 27-20. THey lead the second place ACL North Reds by 2.5 G. Several things stood out for me as I Gamecast shadow-watched this extra innings contest into the West Coast evening:
2B Dylan O'Rae started in CF?! Yes. And, he still did O'Rae things: 2-for-4, 1 R in lead-off. However, he also did unknown CF Dylan O'Rae things: first OF assist throwing out the go-ahead runner at home plate for the final out of the 10th inning. Whoa. 
INF Mike Boeve is apparently human after all: 0-for-4, 2 K
INF Juan Baez hit another 2B (1-for-4) and didn't commit a single error...he was in the DH spot.
RHP Ryne Moore with a bounce back scoreless 2 IP but he had to work around 4 H.
RHP Joseph Hernandez got his first rehab work in and pitched as an abbreviated starter: 3 IP, 1 H, 1 BB, 2 K, 0 R. Big to see Hernandez get action again late in his season.
Debuts: 8th Rounder, RHP Craig Yoho 1 IP, 2 H, 1 BB, 1 K, 1 ER; UDFA RHP Bayden Root 1 IP, 0 H, 1 BB, 0 K, 0 R; UDFA RHP Blake Whiting 1 IP, 0 H, 0 BB, 2 K, 0 R.
LF Miguel Briceno deserves recognition for his game-winning single in the 10th. Big time moment. Big time result.
---
DSL Braves 7, DSL Brewers #1 6
*Game Suspended in 10th Inning: to be continued Thursday August 10th*
 Box Score  / Game Log

It would appear we may have been dealing with some of that classic Dominican rain to cut this one short after a HBP reloaded the bases for the DSL Braves with two down. The game went to extras after RHP Yonawil Florimon was done in by a one out triple and then a run-scoring groundout to knot the game at 6-6 in the top of the ninth frame. You have to give the 12-30 DSL Braves credit for playing and competing far beyond their overall record. To close this brief summary out for you fine folks, I'll lean on @sveumruleswho generously gave us a brief rundown:
Quote

Barring substitution they will have Jhon Benscome, Joan Gutierrez and Luiyin Alastre due up bottom of ten. Yophery due up fifth.

Yophery Rodriguez (2-3, 2xBB, SB), Yannic Walther (0-2, 3xBB), and Tyler Rodriguez (1-2, BB, 2xSB) have been busy on the bases while Wilfredo Cordero and Oliver Camilo have the only scoreless IP with a walk/strikeout each in each of their innings.
---
DSL Brewers #2 7, DSL Blue Guardians 1
Box Score  / Game Log

I will again lean on the fine abbreviated post from our fine friend @sveumruleswho generously gave us a brief run down early in our day in the running Game Thread. Why you might ask? Because it's far too late and I'm a farmer who rises at day break.😅
 
Quote

Filippo Di Turi (1-3, 2B, BB, SB of home), Luis Lameda (3-3, BB), Pedro Ibarguen (2-4) and Estefano Lozano (2-4, 2B) all reached multiple times in addition to the aforementioned Demetrio Nadal (1-2, BB, HBP, SF, 2xSB).

Luis Guevara went five strong with 1 R | 2 H | 1 BB | 3 K while Lenin Mendez followed up with two frames of 1 BB | 3 K.
The DSL Brewers #2 again claw their way closer to 0.500. They now sit at a respectable, if unexciting, 18-26.
---
We'll have a rare DSL Brewers mid-week treat when the DSL Cerveceros Uno make-up their previously postponed match-up with the DSL Red Sox Red in the early hours. Beyond that, we'll see all affiliate action (no ACL) in the evening hours. LHP Ryan Fitzpatrick will get the start at Home for Carolina. RHP Stiven Cruz will try to overcome his ongoing woes and give his team a solid start in Wisconsin. RHP Jacob Misiorowski will try to build off his last outing for Biloxi. And, it would appear LHP Eric Lauer is grabbing the starting nod as Nashville looks to take Game 2 at Indianapolis. All in all, we had a fairly successful evening of baseball - let's hope INF Eduardo Garcia doesn't have anything lasting to deal with. Thanks for reading and thanks for supporting Brewers Minor League baseball.

Organizational Scoreboard including starting pitcher info, game times, MiLB TV links, and box scores

Current Milwaukee Brewers Organization Batting Stats and Depth

Current Milwaukee Brewers Organization Pitching Stats and Depth
 
Think you could write a story like this? Brewer Fanatic wants you to develop your voice, find an audience, and we'll pay you to do it. Just fill out this form.
MORE FROM BREWER FANATIC
— Latest Brewers coverage from our writers
— Recent Brewers discussion in our forums
— Follow Brewer Fanatic via Twitter, Facebook or email