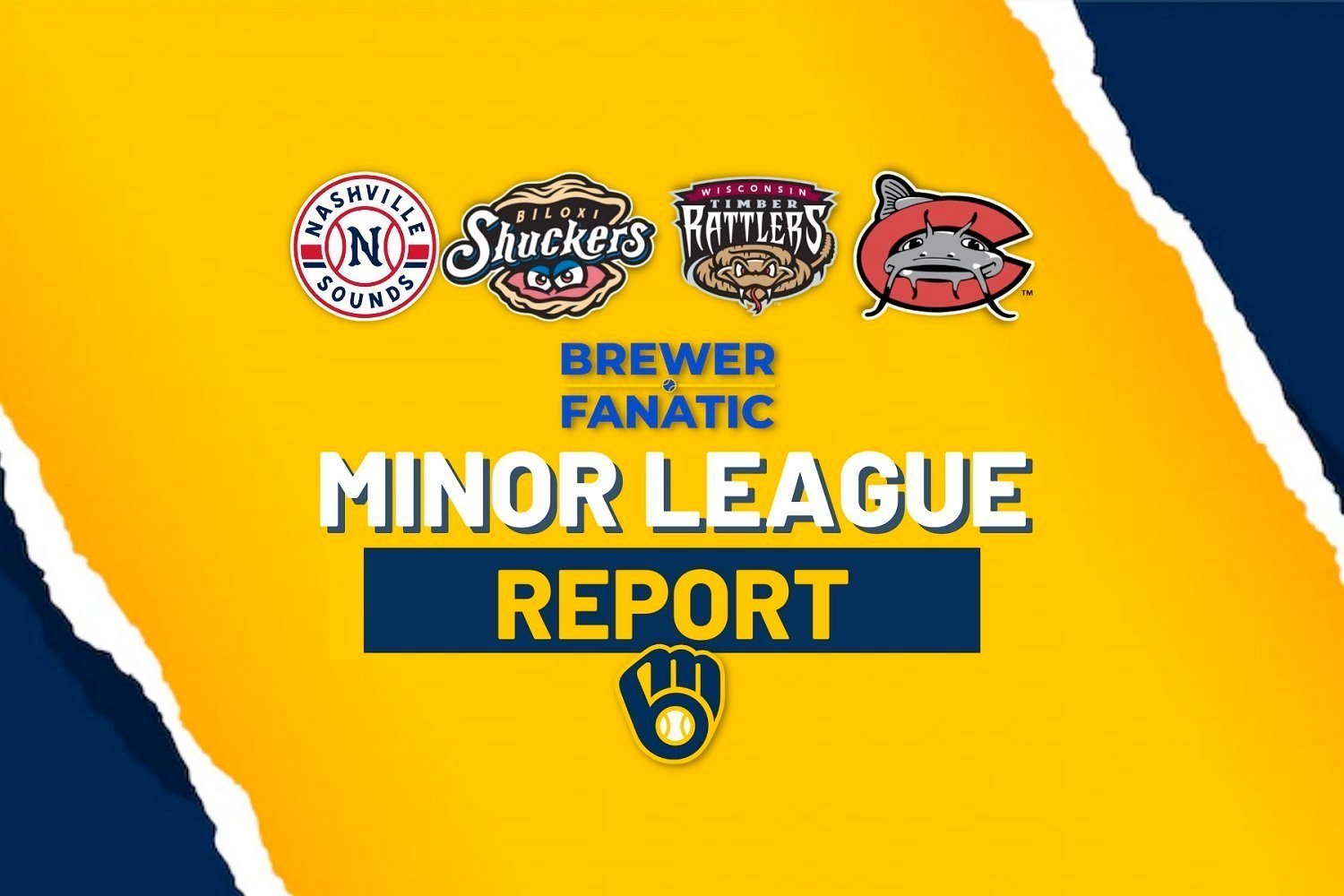 Image courtesy of Brewer Fanatic
Game Balls:
INF Mike Boeve gets the nod here for a very solid debut at the dish in a DH role for manager Joe Ayrault and the T-Rats. He was patient at the plate. And, he was opportunistic in his execution. Every hit led to runners batted in: 2-for-4, 2 R, 3 RBI, 1 BB, 1 K, 1 HR. A fantastic debut. The bat is going to play at any level. The swing is that good.

3B Brock Wilken gets the nod for another solid night of work at the dish and reliable play at 3B. He finished his evening 2-for-4, 1 R, 2 RBI, 1 BB, 1 K (9-to-4 BB-to-K so far). As a matter of fact, he and Boeve (as alluded to in the title) went back-to-back to fire up the near 4,000 at Fox Cities Stadium.

CF Luis Lara gets one for his ongoing stellar work in CF. His web gem of a snow cone grab in deep CF saving further damage in LHP Brian Fitzpatrick's Low-A debut was a thing of beauty: 
He makes these types of plays on a regular basis. His jumps and his glove are tantalizingly good.
1B Alex Hall gets on for his 4-for-5 night in the wake of all the Boeve and Brocken hype. Hall has definitely been more good than bad at the dish for two months now. I would opine he has a lovely swing that deserves better results. He goes 4-for-5, 2 R, 1 RBI, 2 2B in a fantastic night's work.
In another nod to ongoing fine work, let's give LHP Karlos Morales the nod for his incredible work with inherited runners in 2023. He stranded two more (for RHP Cameron Wagoner) base runners tonight in a pivotal spot and has now successfully stranded 21-of-22 inherited runners in 2023. Just sublime work in high-pressure moments: 1 1/3 IP, 2 BB, 0 H, 3 K, 0 R, 1 Hold (5th of his season) of work in his team leading 28th appearance.
Transactions:
C Jeferson Quero was activated off the 7-Day IL by the Biloxi Shuckers 

?

OF Tristen Lutz was released by the Biloxi Shuckers

RHP Jhosep Ospino was assigned to the DSL Brewers #1 (signed on 8/3)

INF Mike Boeve was assigned to the Wisconsin Timber Rattlers from the ACL Brewers

RHP Pedro Fernandez was temporarily placed on the Inactive List by the Nashville Sounds
---
---
Final:  Tennessee (Cubs) 4, Biloxi  2
Box Score / Game Log 

Game Notes 

Via the Shuckers' site, game details, please visit and review:

Smokies Pitching Out-Duels Shuckers in 4-2 Biloxi Loss

RHP Jacob Misiorowski was dominant in the zone. The problem was, and has been in his brief Double-A tenure, he was all too often not in the zone. No matter how good your stuff is (and, we all know Misiorowski can be electric), it is extremely difficult to win ball games with 3 HBP and 4 BB in in 3 2/3 IP. Such was the case for Misiorowski in another erratic Double-A outing: 3 2/3 IP, 3 H, 4 BB, 9 K, 2 ER. Dominant in the zone. But, simply not in it enough. This forced his bullpen mates to enter in the fourth frame. Though their efforts were largely up to the task, the game was ultimately decided early. The nail in the coffin, little known at the time, were two two-out runs off the arm of LHP Nick Bennett in the top of the 5th frame. And so it goes as the Shuckers fall to 0-2 on the home stand versus these very talented and sharp Smokies who continue to impress with their overall play. The Shuckers fell to 19-16 in the second half but remain 2.0 G ahead of Montgomery.

Three Quick Strikes:
1) Small Sample Regression Alert: CF Jackson Chourio is 0-for-8, 1 BB, 2 K to start this challenging series versus the Smokies. Simply put, his AB's early in the series match that line. A stark return to normalcy after a scorching hot July. And, there's four games left to get back in the superstar saddle versus these juggernaut Tennessee Smokies. Stay tuned!
2) The big Shuckers moment came in the bottom of the 8th inning when SS Freddy Zamora struck out with the bases juiced and two down on three pitches. He looked at two swooping curves that caught the outer half of the plate. He then swung and missed late on a 93mph heater on the outer half. It was a big moment and Zamora was incapable of meeting it. It was likely the pivotal out in a game of extremely limited opportunities for the Shuckers bats (1-for-3 with RISP).
3) Let's recognize the way 1B Ernesto Martinez Jr. has landed and performed in Biloxi. The move to the Southern League, as we've discussed numerous times is a challenging one. Martinez Jr. has played very patient at the plate and he is providing that mammoth catching radius at 1B. He gave us a patented error-saving splits stretch up the 1B line saving SS Freddy Zamora another gaffe and saving LHP Luis Amaya's bottom line in the 8th inning. It's really fantastic to see this young man rising to his big moment. Let's keep it going, young man!
---
Final:  Wisconsin 9, Dayton (Reds) 3
Box Score / Game Log 

Game Notes

Via the T-Rats' site, game details, please visit and review:

Boeve Impresses in Timber Rattlers Debut
RHP Stiven Cruz surrendered his 14th HR of his 2023 season early but managed to get into the third inning with a 2-1 lead in tact. Cruz, as has often been the case in 2023, wasn't especially sharp - 3 IP, 4 H, 2 BB, 3 K, 2 ER, 1 HR. Thankfully, however, despite this he managed to keep the damage to a bare minimum. A 1 hour and 26 minute rain delay ended his outing at 52 pitches. Thankfully, for the Rattlers, the plan was in place to piggyback with RHP Cameron Wagoner. Both hurlers battled men on base but they ultimately did enough damage control to maintain a tie or a lead.

Full Game Highlights:




Three Quick Strikes:

1) Speaking of Wagoner, we continue to see real flashes that RHP Cameron Wagoner has turned a corner. He was touching 94-95 mph at points in the early going. His off-speed stuff continues to play hammering down in the zone. He is, simply put, playing more confidently and the results are showing. After his last fantastic start on the hill in South Bend, he came on in post-rain delay relief of Cruz and gave his squad everything they needed early. It was a pleasure to watch. Though his pitch count elevated and he was hit hard on two mistake heaters dead center, I would call his outing an overall success given the circumstances: 3 2/3 IP, 5 H, 2 BB, 5 K, 1 ER. He picked up the 'W' and moved to 4-11 on his season.
2) This ultimately became a game of what either team could do with their bounty of baserunners. Where the T-Rats found those opportune moments to shine (5-for-17 with RISP), the Dragons struggled mightily (1-for-13). The Rattlers' bats rose to the moment in several key spots to add breakaway and insurance runs. As a T-Rats fan and habitual viewer, it goes without saying: the additions of INF's Mike Boeve and Brock Wilken are going to do wonders for the heart of the Timber Rattlers lineups.  
3) I continue to appreciate the comfortability INF Robert Moore is showing as he gets more and more reps at SS. He made another daring throw to grab a lead runner at 3B tonight. With Wilken collecting those cannon shots at 3B and laying down confident tags, it makes the operation look smoother and easier than it is. Moore is throwing accurate darts and showing why he has always been considered a 2B/SS. Don't sleep on the overall value of Moore's steadiness and availability. We'd love better output at the dish, most definitely, but, I would also politely opine: a lot of the negative damage was done in a prolonged early-season slump. He's been swinging a better and more level bat for over two months now. 
---
Final:  Carolina 6, Delmarva (Orioles) 4
Box Score / Game Log  

Game Notes  

Via the Mudcats' site, game details, please visit and review:

Red-Hot Mudcats Win Fifth Straight 6-4

LHP Brian Fitzpatrick was very accurate and effective early in his debut outing for Low-A Carolina. When a pitcher debuts, you are hoping he isn't over-amped. Fitzpatrick was inducing several swings and misses with both his slider and his heater in the first frame. All weak contact in the opening top half. In the second inning, Fitzpatrick left a couple off-speed pitches dead center - one of which was hit hard off the LF wall - but he ultimately managed to escape unscathed when 1B Jesus Chirinos made an adept turn and throw to home plate after an errant INF Daniel Guilarte throw brought him off the bag. C Blayberg Diaz applied the tag in plenty of time as the runner was caught dead to rights in the base path.
All in all, we'll consider this a successful debut. It's great to get more of those prolonged injury-related cobwebs off that throwing arm: 3 2/3 IP, 4 H, 2 BB, 0 K, 1 ER, 1 Balk on 56 pitches (33 strikes). He can also thank the super talented CF Luis Lara for a more palatable final line: 
Three Quick Strikes:
1) 1B Jesus Chirinos' continued his post-birthday hot streak. It's uncanny how Chirinos heats up as he approaches and passes his late July birthday. 1-for-1, 3 BB, 1 R while batting in the 5th spot in the batting order is a solid night of work. He also made a fantastic lunging grab at 1B during the 3B Luke Adams DP tag and running one-hop toss to 1B to end the game. You love the plate discipline and you love the steadier play at 1B. We all know Chirinos isn't the best athlete in the system, but when he's playing focused and disciplined baseball he's more than capable of giving you meaningful play at the crucial position. 
2) RHP Quinton Low's ongoing inability to find the strike zone is becoming a serious problem for the young hurler. Consecutive full count walks to start his first inning of relief work is the type of Low outing I have seen all too often as his season has progressed. It's truly unfortunate because, as I've discussed previously, he has a very nice raw set of pitching tools to work with. He gave up an rbi single and a a HBP to give the Shorebirds two runs pulling within 4-3. Luckily, he induced a double play ball in a 3-1 count to end his only inning of work. All in all, Low just continues to put entirely too many runners on the base paths - often allowing batters to simply watch the pitches miss the zone. It goes without saying, but Low is absolutely going to have to sharpen this up. 1 IP, 1 H, 3 BB, 1 HBP, 2 ER, 1 K is not the outing he was looking for. I'm near certain manager Victor Estevez was wanting more innings from his suddenly troubled flamethrower. 
3) With the 'W', the Mudcats ran their second half first place record to 25-13. They maintain a 5.5 G lead over the 2nd place Fredericksburg Nats and these talented young men are now 24-8 since the calendar flipped to July. And, well, I'm going to be monitoring their home stretch like no other given their Minor League leading 13-season Playoff drought. This is also a testament to the manner in which the Brewers organization has placed emphasis and built meaningful depth across the lowest of their affiliated and rookie ball levels. I celebrated their current brand of baseball and ongoing second half success in last night's report. And, well, here I am sharing this joy with you again. Let's root them. on and support this squad as they look to change history for the better. 
---
DSL Red Sox Red 12, DSL Brewers #2 9
Box Score  / Game Log

The DSL Crew #2 led 6-1 after one inning. They also led 9-6 after five frames of an abbreviated seven inning make-up affair. It all appears to have unraveled, in multiple directions, when RHP Dikember Sanchez came on in relief in the fifth frame. Sanchez gave up a walk, double, rbi ground out, and rbi single in that fifth frame. An 8-4 game was suddenly 8-6 headed to the bottom half. After grabbing one back in this same bottom half (INF Demetrio Nadal walk, SB, and RBI single from 1B Danny Puerta), things really fell apart in the six-run sixth frame. We see a throwing error, a fielding error, and three wild pitches helping keep the Red Sox party going strong. When Sanchez was replaced after the second out (a punch out), his replacement in LHP Pedro Quintana threw another wild pitch to help plate the 12th run. Trailing 12-9 at that juncture, that's how the game ended. Quintana actually faired well in relief beyond that wild pitch - 1 1/3 IP, 1 H, 0 BB, 3 K, 0 R, 1 WP. Let us never take for granted the inherited runner pitching savants - they are few and far between. 

Offensively, the Cerveceros Dos had many highlights:
5-for-13 with RIPS and only 6 LOB 

5 SB to only 1 CS 

INF Demetrio Nadal, who swiped his 27th base in 2023, hit a three-bagger and drew a walk in lead-off

The offense, as a whole, walked six times to only three strikeouts

We saw multi-hit games from 1B Danny Puerta (with two two-out RBI's for good measure), OF Ramon Moreno, and INF Roderick Flores
Unfortunately, what looked like another recent victory versus a team with a better record turned into an unfortunate defeat in a wild inning - literally and figuratively. The DSL Crew #2 fall back to nine games under 0.500 at 18-27. 
---
We'll be moving on to game threes of all affiliated series tomorrow and the DSL Crew and ACL Crew squads both return for regularly scheduled tilts. It will be a heavy slate of 8 + games (the DSL Crew Uno will finish a game starting in the 10th frame - let's hope for our sake it's a quick one?). Intriguing starting pitching will be happening throughout - RHP Evan McKendry; RHP Carlos F. Rodriguez; RHP Alexander Cornielle; and RHP Patricio Aquino all take the hill in evening contests. Tune in early and tune in often - to our game thread and the games themselves. Let's support these young men in their ongoing pushes for the post-season of Minor League baseball. 

As always, thanks for reading and thanks for supporting Brewers Minor League baseball.

Organizational Scoreboard including starting pitcher info, game times, MiLB TV links, and box scores

Current Milwaukee Brewers Organization Batting Stats and Depth

Current Milwaukee Brewers Organization Pitching Stats and Depth
1