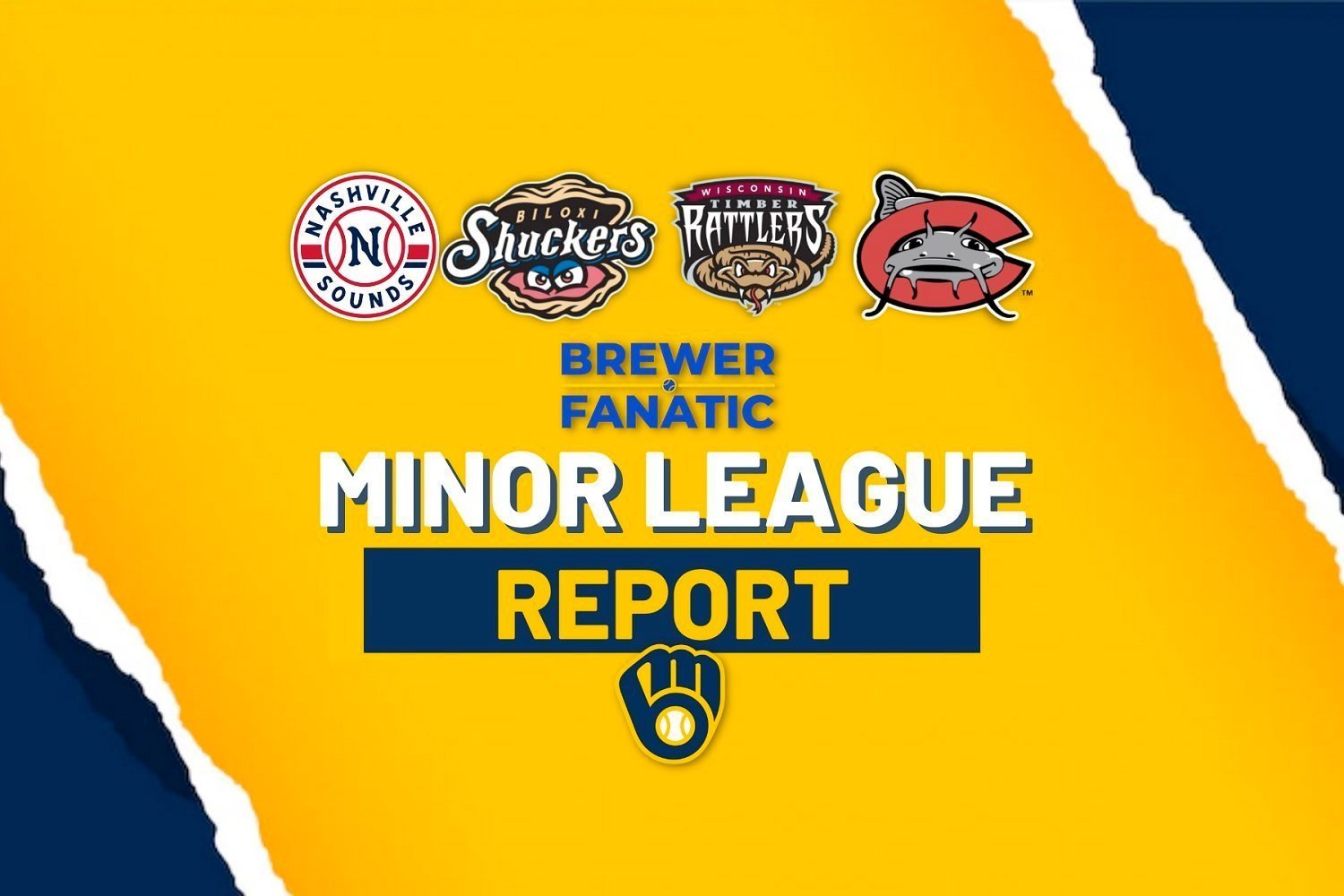 Image courtesy of Brewer Fanatic
Game Balls:
RHP Evan McKendry continues to shine late in his regular season (more below). In an interview with Jeff Hem recently, McKendry mentions seeing himself as an almost right-handed replica of LHP Robert Gasser. If this indeed is true, we are indeed luckier than we originally imagined. 
OF Jace Avina made things exciting early when he absolutely crushed a RHP Brock Porter offering off the scoreboard at Five County stadium. Have a look:

RHP Logan Henderson gave his young Mudcats everything he had through 5 2/3 IP. He fell just short of an unblemished outing but ultimately succumbed with a game-tying triple before he could record a final out of the fateful sixth frame. His final line read 5 2/3 IP, 4 H (two in his final inning of work), 2 BB, 5 K, 3 ER. 
3B Brock Wilken's first Double-A knock was a grand one. My oh my, what a moment in what was a fantastic debut (more below): 

RHP Ryan Middendorf gets the nod for saving the Shuckers victory by inducing a game-ending groundout to INF Freddy Zamora at shortstop off the bat of Minor League superstar, 3B Junior Caminero. It was an absolutely huge moment. The bases were dripping for the third consecutive inning. There were two down. He picked up his second save of the year. No out of his 2023 season was more important.
Transactions:
RHP Michele Vassalotti was released by the Wisconsin Timber Rattlers (9/11)
3B Josh Donaldson's contract was selected by the Milwaukee Brewers from the Nashville Sounds (9/11)
INF/OF Owen Miller was optioned to the Nashville Sounds from the Milwaukee Brewers (9/11)

3B Brock Wilken was assigned to the Biloxi Shuckers from the Wisconsin Timber Rattlers

SS Eric Brown Jr. was assigned to the Biloxi Shuckers from the Wisconsin Timber Rattlers
RHP Shane Smith was assigned to the Biloxi Shuckers from the Milwaukee Brewers
OF Blake Perkins was sent on a rehab assignment to the Nashville Sounds by the Milwaukee Brewers
1B Darin Ruf was sent on a rehab assignment to the Nashville Sounds by the Milwaukee Brewers
OF/1B Jesse Winker was sent on a rehab assignment to the Nashville Sounds by the Milwaukee Brewers
RHP Kaleb Bowman was transferred to the Development List by the Biloxi Shuckers
2B/LF Felix Valerio was transferred to the Development List by the Biloxi Shuckers
C Jason Lopez was transferred to the Development List by the Biloxi Shuckers
RHP Robbie Baker was transferred to the Development List by the Biloxi Shuckers
C Nick Kahle was activated from the 7-Day IL by the Biloxi Shuckers
LHP Aaron Ashby was sent to Biloxi to continue his Minor League rehab work with the Biloxi Shuckers (it is reported he will be sent to Nashville next week)
---
Final:  Nashville 5, Charlotte (White Sox) 3
Box Score / Game Log 

Via the Sounds' site, game details, please visit and review:
Four Run Seventh Powers Sounds to Victory in Charlotte
What is it like to chase a Rays affiliate in a playoff hunt? In the Sounds case, you only really find out in a head-to-head series as they win every other game. The Sounds won again and gained nothing on the first place Durham Bulls who shellacked Louisville 17-11. There are still 11 games to go so it's mathematically 'possible'. At this point, however, the realist just wants to see the Sounds finish strong. And, finish strong they are continuing to do.
RHP Evan McKendry was once again quite masterful with his bevy of sinking, tailing, and moving pitches. He pitched to the tune of 6 IP, 6 H, 1 BB, 2 ER, and 5 ER. The two earned runs came via a soft single to RF and a sac fly to LF. Once again, not all that much was hit hard off his offerings. He picked up his twelfth win of his season and moved to 12-5. It's a shame we likely won't see McKendry or Gasser pitch in a playoff series. It is really a shame. 
Three Quick Strikes:
1) INF Cam Devanney played solid defense at shortstop, as per usual, and he also found success at the dish: 3-for-4, 1 BB, 1 2B, 1 RBI. That was his 25th two bagger of his season. He continues to demonstrate he will one day be worthy of an MLB call-up. He bumped his season-long BA up to 0.274 and his OPS gained a couple of points to 0.829. There are a lot of very good baseball players chipping away at their first Big League opportunity and Devanney is absolutely one of them. His RBI, to boot, was about as savvy as a reach poke bloop with a man on third base as you could ask for. It was a disgustingly beautiful piece of situational hitting on a ball he had absolutely no business making money off of. He showed he has more tricks in his evolving bat than we knew of. Thank you Mr. Devanney for continuing to reward my faith in your talents. From the affiliated post-game article above but definitely worthy of highlighting here:
Quote

Since August 12, Cam Devanney ranks fifth in the International League with a .338 batting average and is tied for second in the league with nine doubles. Devanney has slashed multiple hits in each of his last three contests.
2) One thing has been absolutely certain in 2022 and 2023: the Brewers personnel department and the Nashville Sounds staff know how to roll with the ongoing movement amongst Triple-A veterans (seeking contract releases and opportunities elsewhere), the implementation of talented prospects from with the system at large, and the ongoing taxiing of worthy players up and down from the MLB level. It's a true art form. And, it's a testament to everyone involved - players; coaches; and personnel professionals. Our latest batch of recently acquired talent continues to make their marks - OF's Chris Roller and Jahmai Jones, for example, each contributed mightily in a tightly played low-scoring contest in Charlotte. I don't envy the job of makeshift managing on the fly - it seems awfully challenging. But, I also don't take for granted how awfully good the Brewers organization has been at successfully doing so for two seasons now. I tip my cap.
3) Speaking of the above point, RHP J.B. Bukauskas definitely deserves an 'Honorable Mention' game ball above. His two innings of four strikeout, one hit, shutdown bullpen work secured victory. Sure he allowed an inherited runner to score but he limited any further damage in a 5-3 game. It's innings like this that make any manager proud. Fantastic stuff tonight as he picked up his sixth save of his Triple-A season.
---
Final:  Biloxi 11, Montgomery (Rays) 7
Box Score / Game Log 
Game Notes 
Via the Shuckers' site, game details, please visit and review:
Wilken's Dream Debut Leads Shuckers to 11-7 Win over Biscuits
There are a bevy of highlights at the Shuckers Twitter page. Please visit their page and check them out HERE. And, as a friendly reminder, be sure to stay current with Shuckers broadcaster Javik Blake's ongoing pre-game interview series HERE.
The Shuckers magic number is '3'. Three more victories versus these tough out Biscuits and the Shuckers move into the post-season to face Pensacola. No big deal. It's a best of five series from here on out. Quite the series.
LHP Adam Seminaris had about as good an outing as I've seen from the young lefty in 2023. Facing a brutally tough Biscuits lineup, he nearly finished five complete innings. Pre-game, I had mentioned I was worried about the big inning he had seemed to encounter in nearly every start of 2023. Tonight, however, in the Shuckers biggest regular season game to date, he brought his best stuff. I commend him for his effort. He worked around an early 3B Junior Caminero solo shot when he discovered hanging a dead center 80 mph change up against the Rays' number one prospect isn't the best of plans: 
After that mistake pitch, however, he buckled down quite nicely. His only real trouble came in his final fifth inning and even then, I would argue, his final run tally should have been held to two runs. No need to delve further here - there are plenty of in game observations and shares in our Game Thread. Suffice to say, Seminaris did more than his part tonight and it was a breath of fresh air: 4 2/3 IP, 5 H, 1 BB, 4 K, 3 ER, 1 HR. Personally, I'll take that output any day of the week from the lefty. 
Three Quick Strikes:
1) Let's just sit back and enjoy how absolutely fast C Jeferson Quero home runs can leave his piece of lumber. His rockets to the pull side are a thing of beauty and I have grown quite accustomed to their launches in 2023. Hopefully we see more of this in the ongoing series with the Biscuits and into the playoffs, should we be so lucky. What's more? This smash greeted old Brewers farmhand (now with the Rays - RHP Javy Guerra PTBNL) RHP Victor Castaneda: 
2) The Shuckers bullpen is going to have its work cut out for their collective unit versus this very playoff-ready Montgomery team. Through the sixth inning they had allowed every inherited runner to score. An early 7-1 lead (all scored in the second inning) had suddenly turned into a 9-6 lead - at the time it felt precarious. Any lead thereafter suffered the same precarious fate. The culprits tonight were RHP's Zach Vennaro (2/3 IP, 3 H, 1 BB, 1 K, 3 ER), Ryan Brady (1 1/3 IP, 2 H, 1 K, 0 R), James Meeker (2/3 IP, 1 BB, 1 K, 1 WP, 1 HP, 0 R), and Cam Robinson (1 1/3 IP, 2 H, 2 BB, 1 HBP, 2 K, 1 HR, 1 ER. To a man, not a single one of these Shuckers hurlers were sharp. Their control was off and it put them in unfavorable counts and situations. In a series like this, with the playoffs on the line, the Shuckers are really going to need to fine tune and re-discover their bullpen efforts (and their dominant defense) of their recent road series. In Tennessee and Birmingham, the Shuckers were nearly flawless all across the diamond. Tonight, they discovered how talented this Biscuits team is. Thankfully, they managed to pull out the 'W'. They'll definitely look to sharpen their tools for future outings.
3) 3B Brock Wilken, highlighted above and in a couple places, was pivotal at the dish. He was also challenged at 3B with very hard hit balls extending his range - he ultimately was incapable of corralling any of these diving attempts but the efforts were sound. It was at the plate where he really earned his keep. 3-of-4 balls he hit off the bat were launched at 102 mph or higher - including a 105 mph grand salami and a 109 mph groundout. The young man just continues to absolutely crush baseballs on a nightly basis. 1-for-4, 1 BB, 5 RBI, 1 HR. We have another stud on our hands and it is mighty mighty fun. He wasn't even credited for the 102 mph dart he ripped off the shortstop standing on the inner infield grass that ripped into and out of the webbing sending two pivotal insurance runs late. It felt an unfair tally for a very challenging play to make at that distance.
---
Final:  Down East (Rangers) 4, Carolina 3
Box Score / Game Log 
Game Notes  
Via the Mudcats' site, game details, please visit and review:
Avina Homers but Mudcats Fall 4-3 in Game 1 (Note: This Hyperlink was broken at the Mudcats website at time of publish)
It was a showdown of two Low-A Aces. The Down East Wood Ducks sent uber-talented 20-year-old RHP Brock Porter to the hill while the Mudcats countered with their Ace in RHP Logan Henderson. The two teams met just nine days ago where the Mudcats managed a single run on three hits in Porter's 4 IP. And, in the first frame Henderson worked around a few base runners by getting two swing-and-miss punch outs. Meanwhile, Porter worked around a two out hit by grabbing three swing-and-miss strikeouts himself. It was a dazzling display. Henderson maintained a shutout into the sixth inning. He began the frame getting two outs via a swinging strikeout and a line out to O'Rae in CF. His luck ended there, and his outing shortly thereafter. He gave up a single and then a free pass. Those runners were scored one batter later on a triple. RHP Chase Costello then followed by giving up a go-ahead single of his own to CF. It was a tough pill to swallow in what was ultimately a very evenly matched and hard-fought game. What's an even harder pill to swallow is the upcoming MiLB.TV blackout provided to us by the Low-A set-up at the Rangers' Down East stadium. 
Three Quick Strikes:
1)  RHP Chase Costello began scuffling over the past month and it has cost his team on numerous occasions. Tonight was no different. He allowed his inherited runner to score from third base putting his team in a 3-2 hole. He pitched a solid and scoreless seventh frame - kudos deserved. But, he is known as a multiple inning reliever. He came back out for the top of the eighth frame and just like that he gave up two doubles and his team trailed 4-3. He has now conceded runs in 6-of-10 outings since August 4th. I'm sure manager Victor Estevez may be questioning his eighth inning strategy in the Mudcats first playoff game in 15 years - hindsight is 20/20 here so I am certainly not casting an ounce of blame. It was a truly unfortunate sequence of innings in a very important game.
2) Since INF Juan Baez's promotion to Carolina, we have been seeing less and less of Luke Adams. It's understandable, honestly - Adams has been in a struggle at the dish in the latter part of his season and there is plenty of talent deserving of opportunities across the Mudcats roster. Thankfully, Baez really showed out tonight - in the field and at the dish - and it gave me even greater hope about his future outlook as a Brewers prospect. He made a couple very nice charging scoops and accurate darts to 1B Jesus Chirinos (who had a fantastic defensive game himself). I've been waiting to see this from Baez and he absolutely delivered tonight. It was quite refreshing in such a high stakes game. He also showed off some of his refined opposite field power: 
Even in an unfortunate loss, there are always things to look forward to regardless of how this series shakes out. Baez and his 2024 season in affiliated ball is indeed one of these things.
3) INF Jadher Areinamo and 2B/CF Dylan O'Rae are crucial cogs in the Mudcats offensive wheel. When these two talented young men go a combined 0-for-8, 2 K, 0 BB (a rare occurrence) in the one and two spot in the batting order it challenges the entire lineup. INF Gregory Barrios found success (2-for-4) batting eighth in the order but he was followed by Nicasia's 0-for-3, 2K before the lineup flipped to Areinamo and O'Rae. If the Mudcats look to anything in their challenged offensive output, outside their woeful 0-for-7 with RISP, they will likely look at the lack of production from the very bottom and top of their orders. Does this merit adjustments? Maybe. Or, maybe they simply need another game and more opportunities - likely the latter here. 
---
Big games throughout for our final three affiliates left standing. The Mudcats will be taking a travel day as they travel to Down East for their Divisional Game Two on Thursday. So, tomorrow evening we'll be watching the Sounds and Shuckers as they play game two of their six-game series. I am feeling quite lucky myself as LHP Robert Gasser and RHP Carlos F. Rodriguez are the scheduled starters. I am hoping for big things. 
As always, thanks for reading and thanks for supporting Brewers Minor League baseball.
Think you could write a story like this? Brewer Fanatic wants you to develop your voice, find an audience, and we'll pay you to do it. Just fill out this form.
MORE FROM BREWER FANATIC
— Latest Brewers coverage from our writers
— Recent Brewers discussion in our forums
— Follow Brewer Fanatic via Twitter, Facebook or email