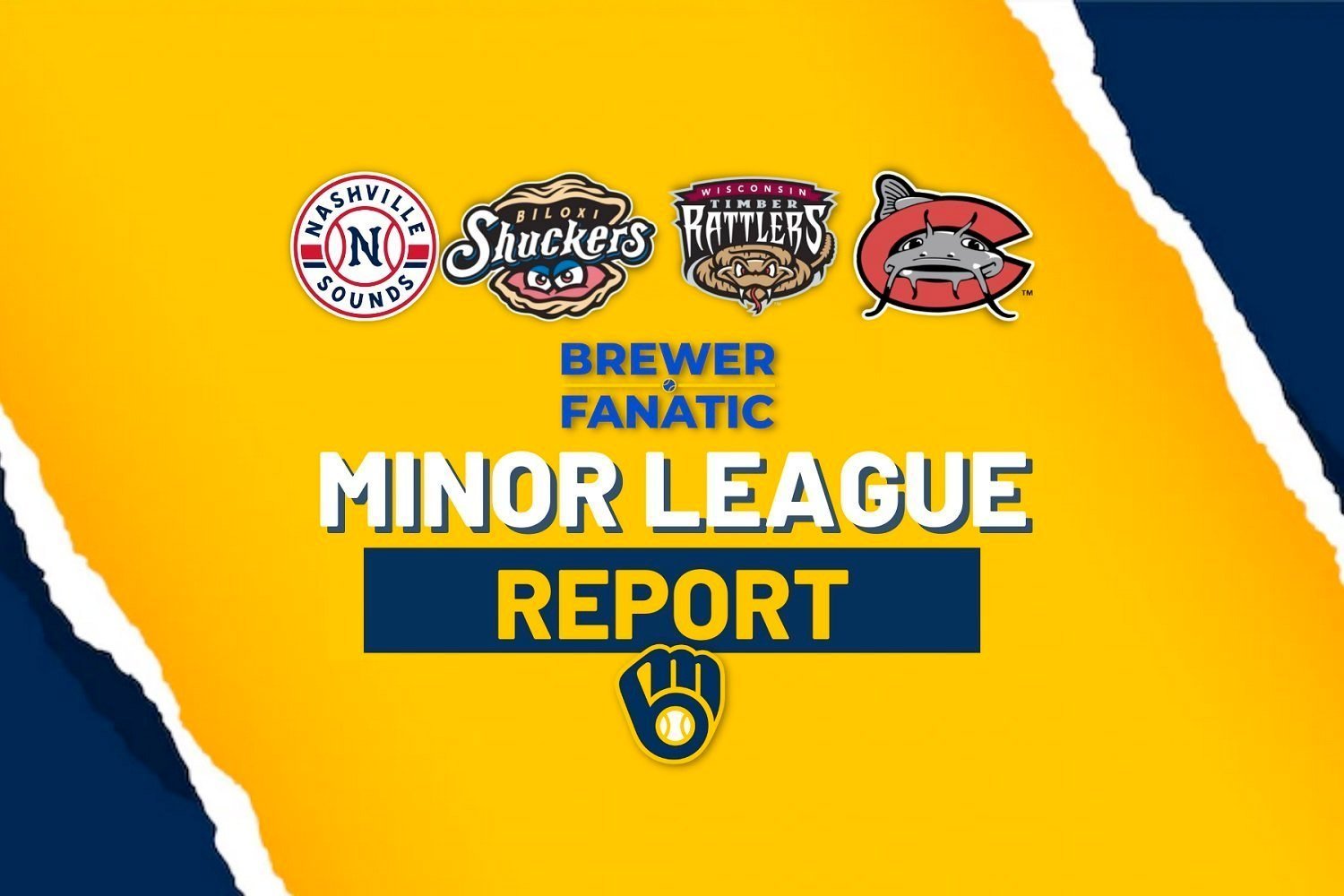 Image courtesy of BrewerFanatic
For the week, the Sounds were a 4-2 series winner, while the Shuckers lost their final series of the year four games to two.
Transactions:
Game Action:
Nashville Pre-Game Media Notes
Final: Charlotte 8, Nashville 2
Box Score / Game Log
Via the Sounds' website, game details, and we encourage readers to review the affiliate write-up as part of their Link Report routine: Sounds Drop Finale in Charlotte
With so many players vying for possible inclusion on the Brewers' prospective playoff roster, I really expected more competitive Saturday and Sunday games. Instead, Nashville's recent weekend malaise continued, as they've now dropped 16 of their last 20 weekend games despite playing winning baseball overall.
Starting RHP Evan McKendry (4 IP, 6 R, 7 H, 3 BB, 2 Ks, 1 WP) was coming off of consecutive solid starts, but he never found his footing in this game, giving up three home runs in the first four innings and exiting down 6-1.
Is 3B Tyler Black (1-for-4, HR, RBI) the system's minor league hitter of the year? The 23-year old has a blended AA/AAA OPS of .906, with 18 homers, 53 stolen bases and a solid 87 BB / 99 K ratio. 
Sounds' Extras:
Hitters on the MLB 40-man roster hoping for a call-up (Garrett Mitchell, Jesse Winker, Abraham Toro, Owen Miller, Jahmai Jones) went a combined 2-for-18, with only center fielder Mitchell making something of an impression: single, walk, HBP, SB.
LHP Clayton Andrews and RHP JB Bukauskas had the best staff outings, with only one of seven batters reaching base (on an INF Patrick Dorrian error – his 14th of the year, as we stubbornly try to make him into a shortstop) – combined 2 IP, 0 R, 0 H, 0 BB, 3 Ks.
The 25-year old McKendry (recently acquired for C Alex Jackson) will likely get one more chance next week to secure an offseason 40-man MLB roster spot or risk being exposed to the Rule 5 draft.
Next week's outlook: Nashville returns home for its final games of the season, taking on Marlins' affiliate Jacksonville, with RHP Janson Junk (4.26 ERA, 1.33 WHIP, 6.0 K/9 in 131 IP) listed as the scheduled starter for Tuesday's opening game.
Biloxi Pre-Game Media Notes
Final: Montgomery 7, Biloxi 2
Box Score / Game Log
Via the Shuckers' website, game details: Shuckers Fall in Season-Finale to Biscuits
Having been eliminated from the playoff chase in a heartbreaker the night before, with two players going out injured (see transactions above), you had to wonder how much energy and focus could be summoned for the season finale. But the Shuckers started great, getting three scoreless innings from starting LHP Adam Seminaris (3 IP, 0 R, 2 H, 2 BB, 4 Ks) and a two-out, two-run double from 3B Brock Wilken to grab a 2-0 lead in the 3rd inning. 
Then rehabbing LHP Aaron Ashby (2/3 IP, 5 R) entered in the top of the 4th inning and unfortunately everything fizzled in 31 pitches thrown: K, BB, 1B, ground out, BB, HBP, 1B – three runs had scored before he exited, then the two remaining baserunners also scored on a double off RHP Ryan Brady.
After that deflating half-inning, the Shuckers only managed three singles and two walks the rest of the way, scoring none. Wilken had the only extra-base hit for the team and no batter reached base more than once. Other than that, it was a lovely Sunday afternoon game – 85 degrees, sunny, 6mph wind.
Shuckers' Extras:
The season finale didn't go as hoped, but let's applaud players, coaches and staff for their terrific 2023 season, going 40-28 in the second half and 74-63 overall. What a year for OF Jackson Chourio (20-40 club), RHP Carlos F. Rodriguez (2.77 ERA), C Wes Clarke (26 homers), INF/OF Isaac Collins (.424 OBP), RHP Tobias Myers (168 Ks), OF Carlos D. Rodriguez (.291 AVG), RHP James Meeker (1.83 ERA and 0.94 WHIP in relief), C Jeferson Quero (16 homers, 35% caught stealing rate) and other exceptional players.

The organizational plan has been to get Ashby some work in Nashville next week, but we'll have to watch to see whether that plan holds. Then again, maybe he'll pitch an inning just to end his 2023 campaign on a better note.

Minor league free agency awaits several Biloxi players. Was this the last time we'll see them in the Brewers' organization?: 1B Ernesto Martinez (1-for-4), RHP Max Lazar (1 IP, 1 R (0 ER), 2 H, 0 BB, 3 Ks), LHP Luis Amaya (1 IP, 1 R, 1 H, 2 BB, 1 K), C Jason Lopez (0-for-1). We wish them all tremendous success going forward, whether in the Milwaukee system or elsewhere.
Next week's outlook: The season may be over for the Shuckers, but stay on the lookout for possible promotions to AAA Nashville for this final week of the minor league season – e.g. Chourio, C.F. Rodriguez, etc.
We hope that you enjoy the Minor League Link Report. Enjoy the Brewers' Monday contest (in St. Louis at 6:45pm CST), then follow the Sounds for their final games of the year beginning on Tuesday night.
Organizational Scoreboard including starting pitcher info, game times, MiLB TV links, and box scores
Current Milwaukee Brewers Organization Batting Stats and Depth
Current Milwaukee Brewers Organization Pitching Stats and Depth
Think you could write a story like this? Brewer Fanatic wants you to develop your voice, find an audience, and we'll pay you to do it. Just fill out this form.
MORE FROM BREWER FANATIC
— Latest Brewers coverage from our writers
— Recent Brewers discussion in our forums
— Follow Brewer Fanatic via Twitter, Facebook or email
1