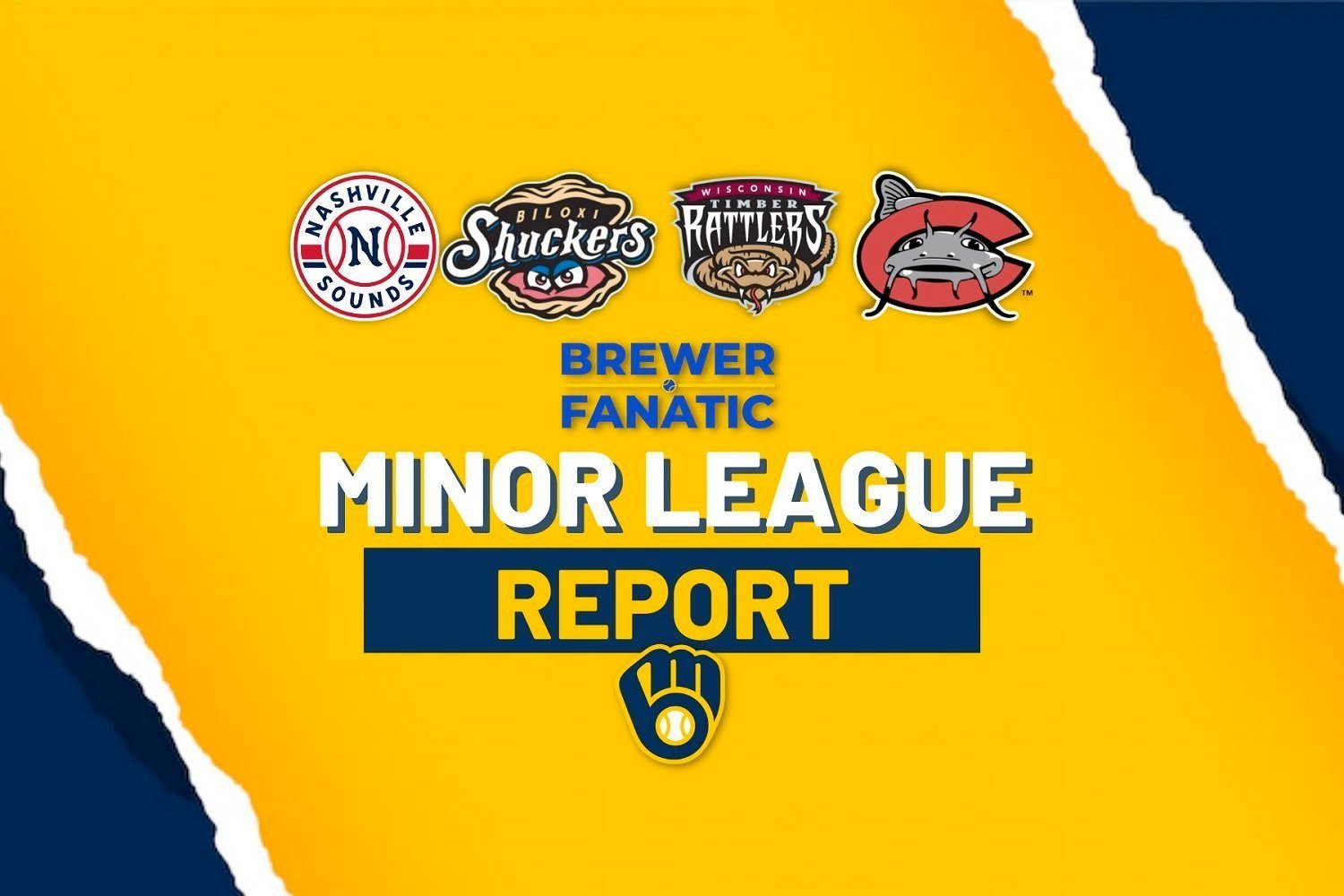 Image courtesy of Brewer Fanatic
Spotlight:
We've seen many box score highlights throughout the ACL season from the breakout season of INF Juan Baez. And, now, we are afforded the chance to see his form in the batters box via our good friends at the Brewers Player Development twitter team:
I agree @Jake McKibbin: that swing looks very smooth - easy, relaxed, and repeatable. Quite the leg lift to boot.
---
Transactions: NONE
---
Final: DSL Brewers Uno 3, DSL Guardians Blue 0
Outhit 4-to-2, the DSL Uno still managed a 3-0 shutout. Glorious. The big hit for the Crew came in the bottom of the second inning: a bases loaded two out three-run double off the bat of OF Pedro Tovar. Actually, both hits came in that frame. Four walks came the young Crew's way in the remaining seven frames but nothing came of it. This game was about the combined shutout between 17-year-old Nicaraguan RHP Enniel Cortez and 19-year-old Dominican RHP Jesael Cabrera. 
Cortez continues to excel in his first year as a member of the Brewers and, it is quite clear to me, he is currently pitching beyond his age. In his fifth start of the summer, Cortez managed to hurl 5 IP of 4 H, 1 BB, 5 K, 0 R ball. His K:BB ratio has now elevated to 30:4 in 25 2/3 IP. Man, that's eye-opening for a 17-year-old. Hitters are managing a 0.213 BAA and he is sporting a 0.94 WHIP. He moved to 3-0 on his season.
RHP Jesael Cabrera was not to be outdone: 4 IP, 0 H, 1 BB, 3 K. He picked up his first save of 2023 in the process. In his second season with the Brewers, Cabrera has definitely made improvements despite a similar ERA as 2022 (4.19-to-4.15). However, he is seeing batters hit a mere 0.200 BAA and he has lowered his WHIP in 2023 to a very workably 0.98. These are good signs for the young hurler as he looks to keep making strides toward a potential stateside ACL promotion in 2024.
With the victory, the DSL Brewers #1 moved to 15-11 - 7 1/2 games back the first place DSL Dodgers Bautista (23-4).
---
Final: DSL Brewers Dos 5, DSL  Phillies Red 2
The DSL Brewers Dos lost a precarious 1-0 lead in the bottom of the eighth frame when the Phillies Rojo tied it up 1-1 on the backs of three consecutive singles. Kudos to 17-year-old Venezuelan RHP Luis Guevara for escaping the jam (3 IP, 5 H, 2 ER, 3 K, BS, W - 2-0 / 9.82 ERA / 2.00 WHIP). After conceding the tying single up the middle, and a scored error on CF Ramon Moreno advancing runners to second and third, Guevara managed to work around a HBP (loading the bases) by striking out the final two Phillies. Close call! In the top of the ninth inning, the Brewers Dos pounced early with an INF Filippo Di Turri single (2-for-4, 1 RBI, 1 R - 0.354 BA / 0.864 OPS) and a Phillies throwing error allowing C Eric Martinez to advance to 2B and Di Turri to 3B. DH Pedro Ibarguen flew out but CF Ramon Moreno then walked to load the bags and 3B Luis Lameda cleared them all with a triple. It was just Lameda's second XBH of 2023 and definitely his biggest - hopefully this kick starts a run as he is clearly disciplined at the dish sporting a very healthy 11:11 K:BB ratio. Mr. OPS, OF Christopher Vazquez (1.210 OPS in 34 PA's), followed Lameda with a run-scoring double himself. Leading 5-1 at that point, the Crew #2 held on to win 5-2. INF Demetrio Nadal didn't repeat yesterday's heroics but he still grabbed a free pass in an 0-for-3 outing and managed to successfully swipe his 12th stolen base (12-for-12 in 2023). 
Finally, let's acknowledge the ongoing fine work of 18-year-old Venezuelan Jesus Flores. Starting his fifth contest for the DSL Brewers Dos today, he was unable to improve his 0-4 record despite his stellar 6 IP, 2 H, 1 BB, 0 R, 2 K work. Clearly that record absolutely does not tell the tale of his season: 20 1/3 IP, 13 H, 8 BB, 15 K, 1 HB, 1 HR, 0.183 BAA, 1.03 WHIP. Is there more strikeout stuff in his young toolkit? We'll have to stay tuned as he works his way through the lower levels. 
The Brewers #2 moved to 11-15 - four games back their compadres on the Brewers Uno and 11 1/2 game back the juggernaut that is the first place DSL Dodgers Bautista.
---
As Jim alluded to Monday, the Brewers are entirely off tomorrow. Click the link and check Thursday's schedule - both DSL teams will be back at it and our ACL squad will be taking on the formidable 19-8 ACL Rockies. Thanks for checking in during the All-Star break and, as always, thanks for supporting Brewers Minor League baseball.
Organizational Scoreboard including starting pitcher info, game times, MiLB TV links, and box scores
Current Milwaukee Brewers Organization Batting Stats and Depth
Current Milwaukee Brewers Organization Pitching Stats and Depth
Think you could write a story like this? Brewer Fanatic wants you to develop your voice, find an audience, and we'll pay you to do it. Just fill out this form.
MORE FROM BREWER FANATIC
— Latest Brewers coverage from our writers
— Recent Brewers discussion in our forums
— Follow Brewer Fanatic via Twitter, Facebook or email