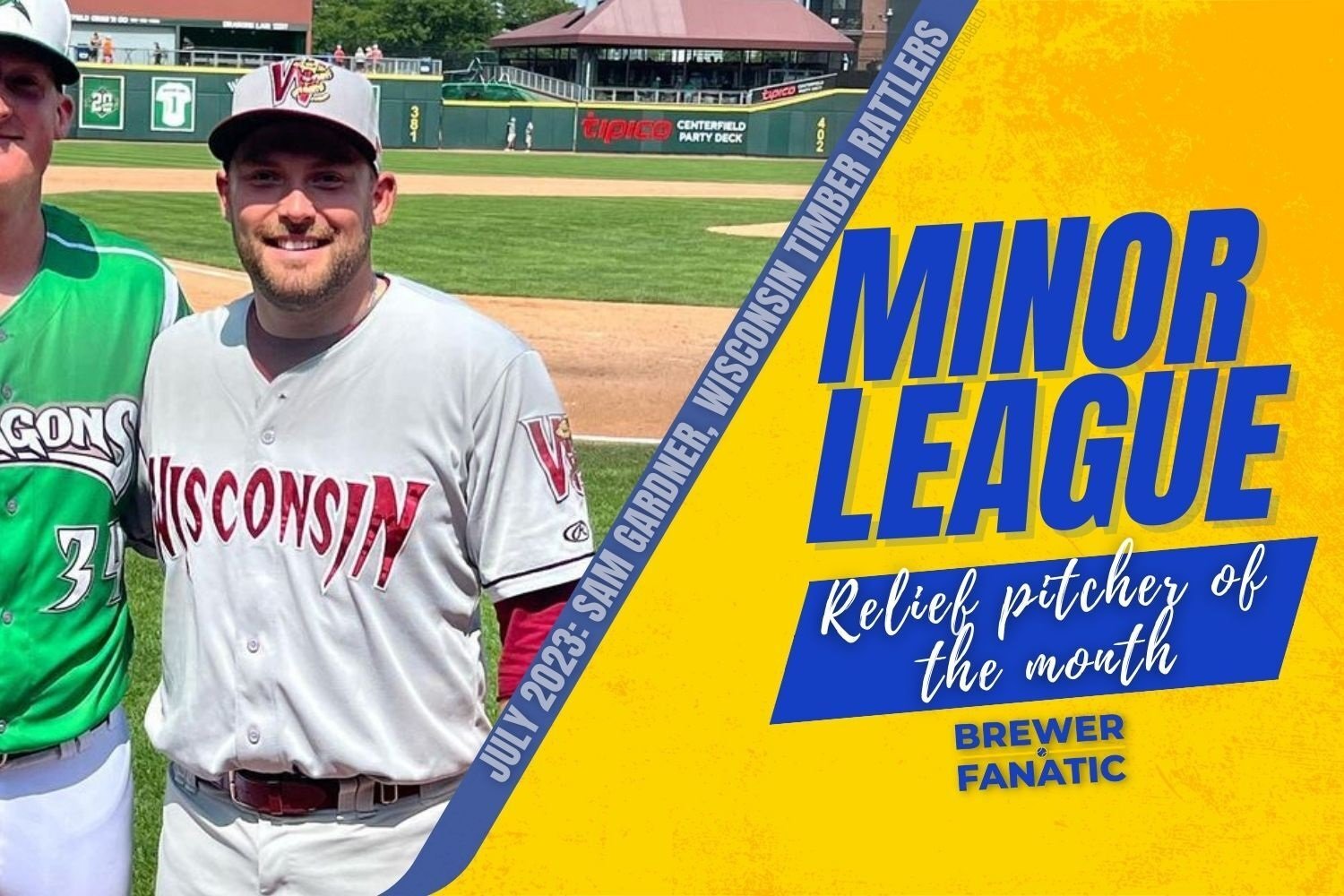 We close out our Brewers Minor League Player of the Month series with our Top 5 Relief Pitchers for the month of July. While June was a dominant month for the relievers in the system, July was a bit of a step back, though there were still five that stood out above the rest, as well as a couple honorable mentions.
HONORABLE MENTIONS
     RHP - Gerson Calzadilla - ACL Brewers - 7 G, 16.1 IP, 2-0, 1.65 ERA, 4.87 FIP, 1.16 WHIP, 13 H , 6 BB, 20 K
     RHP - Jeferson Figueroa - Carolina Mudcats - 6 G, 12.0 IP, 0-0, 1.50 ERA, 4.76 FIP, 1.17 WHIP, 8 H , 6 BB, 12 K.
TOP FIVE RELIEF PITCHERS FOR JULY

#5 RHP - Yerlin Rodriguez - Carolina Mudcats - 8 G, 10.2 IP, 0-0, 2.53 ERA, 2.55 FIP, 1.13 WHIP, 9 H , 3 BB, 12 K, 6 SV
Unranked by all publications
Signed as part of the Brewers 2019 international signing class, Rodriguez is in possession of some of the highest velo readings in the Brewers system this year. His fastball regularly sits in the upper 90's and has been touching triple digits with relative regularity too. It works well up in the zone, though he also seems to throw a fastball with a bit more sink at times. His slider is a wipeout offering that has reached 3000 RPM's a number of times. It's a very similar profile to that of Abner Uribe, though he doesn't quite have the ability to reach 102+ like Uribe was during his time in Carolina. Unfortunately for Rodriguez, he also has similar issues with throwing strikes to those that Uribe battled throughout his minor-league career. 
Rodriguez made some big strides in terms of limiting walks in July. He only walked three in his 10 2/3 innings pitched. He was given the closer role for the Mudcats early on, and he rewarded them with an organizational-high six saves on the month. His month was highlighted by his July 20th outing against the White Sox affiliate, Kannapolis Cannonballers. That night, he recorded a save while allowing one hit, but striking out the side around that hit. His first save on July 7th included a web gem of his own, as well as him touching triple digits. Take a look at the video below.
Rodriguez just turned 21, but he has been in the organization for a while now and is getting close to his Rule 5 date. Considering his raw stuff, he will likely be pushed next season to see how he handles the assignments. This year though, it seems safe to assume he will remain in the closer role for Carolina and continue to work on commanding his pitches.
#4 RHP - Tanner Shears - Wisconsin Timber Rattlers - 9 G, 9.1 IP, 1-0, 1.93 ERA, 4.76 FIP, 0.97 WHIP, 6 H , 7 BB, 14 K, 3 SV
Unranked by all publications
An independent league signing by the Brewers this past offseason, Shears has continued to work through some command issues all season. He has really good stuff. His splitter is a borderline elite pitch that completely kills spin and sits around 83-86. His fastball has arm side run, but sits mid-90's and touches higher. It does a great job riding up in the zone and plays well with the big splitter. He also mixes in a slider as a solid third pitch that gets some sweep in the mid-80's as well. Shears struck out a lot of batters in May, but also walked a lot and gave up his fair share of hits too. The results were a little fluky as the FIP indicates, but with his pure stuff, he can get himself into and out of danger.
In July, Shears had his best appearance on July 4th. He went 2 1/3 scoreless innings that night, striking out four and only allowing one baserunner. Shears then recorded his first save as a Timber Rattler later in the week with a dominant 1-2-3 inning that featured two punch outs.
Shears is 24 years old, and the command issues are pretty legitimate, but he has the type of stuff you find in MLB relievers. He will likely be pushed relatively quickly. Similar to Yerlin Rodriguez, if Shears can hone in the strike zone a bit more consistently there could be a future high leverage arm here.
#3 RHP - Jesus Rivero - Carolina Mudcats - 4 G, 13.0 IP, 0-0, 1.38 ERA, 3.45 FIP, 1.00 WHIP, 4 H , 9 BB, 18 K, 3 SV.
Unranked by all publications
RIvero was a member of the Brewers' 2021 International signing class. He possesses some of the best pure stuff in the Brewers minor league system. He uses a fastball, slider, changeup, and what appears to be a sinker as his primary mix. Fastball readings have been few and far between on broadcasts, but the few that have been announced have been in the 94-95 range. He likely has reached back for a bit extra as well. The ball explodes out of his hand. It seems to have some of the Brandon Woodruff characteristics on it, where it's a "heavy" pitch that can still be thrown up in the zone. The slider has been his go to put-away pitch in two-strike counts for both lefties and righties. In fact, throwing it to the back foot of lefties has probably been more effective than throwing it away from righties. His changeup has a very big drop in velocity, down to the low 80's. His command in general is not where you'd want it to be, but the changeup in particular has been a struggle for him so far.
As mentioned above, command has been a bit of a concern for Rivero so far and the walk numbers in July certainly show that. However, five of his nine walks came in his first four innings of the month. He walked, a much more respectable, four batters in his final nine innings. The strikeout numbers were there all month, as he struck out at least a batter per inning in all four of his appearances. His best outing of the month came on July 27th when he pitched the final four innings of the game. He only allowed two baserunners, one on a hit by pitch and the other on a walk, but he struck out seven and recorded his third save of the month.
Rivero's stuff is going to start drawing more attention now that he is in full-season ball. He will need to rein in the command to at least a respectable number of free passes, but this is one of the more talented arms in all of minor league baseball. His stays at each level may not be all that long.
#2 RHP - Shane Smith - Wisconsin Timber Rattlers - 7 G, 12.2 IP, 1-0, 0.71 ERA, 3.24 FIP, 0.63 WHIP, 4 H , 4 BB, 14 K, 2 SV
Unranked by all publications
Smith was a member of the undrafted class following the 2021 draft, signed out of Wake Forest, where he had been their closer in 2020. Unfortunately for Smith he was in the midst of Tommy John rehab during the draft, which played a big role in him not being selected. Prior to this 2023 season, he had only thrown three professional innings at the complex level. 
Armed with a mid-90's fastball and a sharp curveball that he often goes to as his "out' pitch, Smith also mixes in a cutter that shows good shape and life as well. He may also be mixing in a slider, but it's very possible that those are just cutters that are generating a bit more movement than average. He has had a very strong season overall, and his July was a continuation of that.
As he has all season, Smith was often used multiple innings at a time, Smith not only used his three-pitch mix to rack up more than a strikeout per inning, but also to keep the baseball off the barrel of his opponents. Having allowed three home runs in the first two months, Smith did not allow a single extra base hit in June. In July, Smith allowed one home run, but that was the only extra base hit he gave up. He was once again using his curveball when he was in strikeout counts and it continues to perform very well for him in those situations. His cutter is the pitch to contact pitch and he does a good job keeping it off of barrels.
Smith's month was highlighted by his July 15th outing against the Cardinals High-A affiliate. That Friday night, he threw two perfect innings and was able to punch out three. That was probably his best appearance but you really could have picked any of his seven appearances. He never allowed more than one hit, nor did he ever allow more than two baserunners total.
After his very successful June, Smith was promoted to High-A Wisconsin and he just kept on trucking in July. He may have a chance to touch Double-A this year.
#1 RHP - Sam Gardner - Wisconsin Timber Rattlers - 6 G, 14.1 IP, 1-0, 0.00 ERA, 3.10 FIP, 0.58 WHIP, 5 H , 2 BB, 14 K, 1 SV
Unranked by all publications
Gardner graduated from Murray State in 2021, and after going undrafted, he signed with the Gateway Grizzlies of the Frontier League. The Brewers purchased his contract from the Grizzlies in early June and after a slow start in his first few appearances, he has been unhittable for a month and a half now.
Gardner throws a low 90's fastball that will get up to 94 at times and 95 once or twice. The fastball works well at the top of the zone. He plays off of that fastball with a curveball that sits in the high 70's and he can both land it for strikes as well as throw it out of the zone to get hitters to chase. It's his put-away pitch, and might even be his primary pitch. It's probably around a 50-50 split in terms of usage. At times the fastball will show more run on it than usual, unable to tell if that's on purpose or if it just happens from time to time. 
Gardner's best appearance of the month came on July 23rd against Dayton, a Reds affiliate. In that appearance he threw 3 1/3 scoreless innings while striking out four. He didn't have any free passes and only allowed two baserunners overall, both on ground ball singles. Gardner limited hard contact all month, and in that appearance the only ball that left the bat with anything on it was one of the ground ball singles.
At 26 years old, Gardner should probably be getting a chance to see Double-A this year and see him in a more age-appropriate environment. For now all he can do is dominate High-A and he certainly did that in July.
Thanks for following along with this three part series on the Brewers minor league system. Please let us know your thoughts in the comments. We hope you learn something new each time around!
Think you could write a story like this? Brewer Fanatic wants you to develop your voice, find an audience, and we'll pay you to do it. Just fill out this form.
MORE FROM BREWER FANATIC
— Latest Brewers coverage from our writers
— Recent Brewers discussion in our forums
— Follow Brewer Fanatic via Twitter, Facebook or email