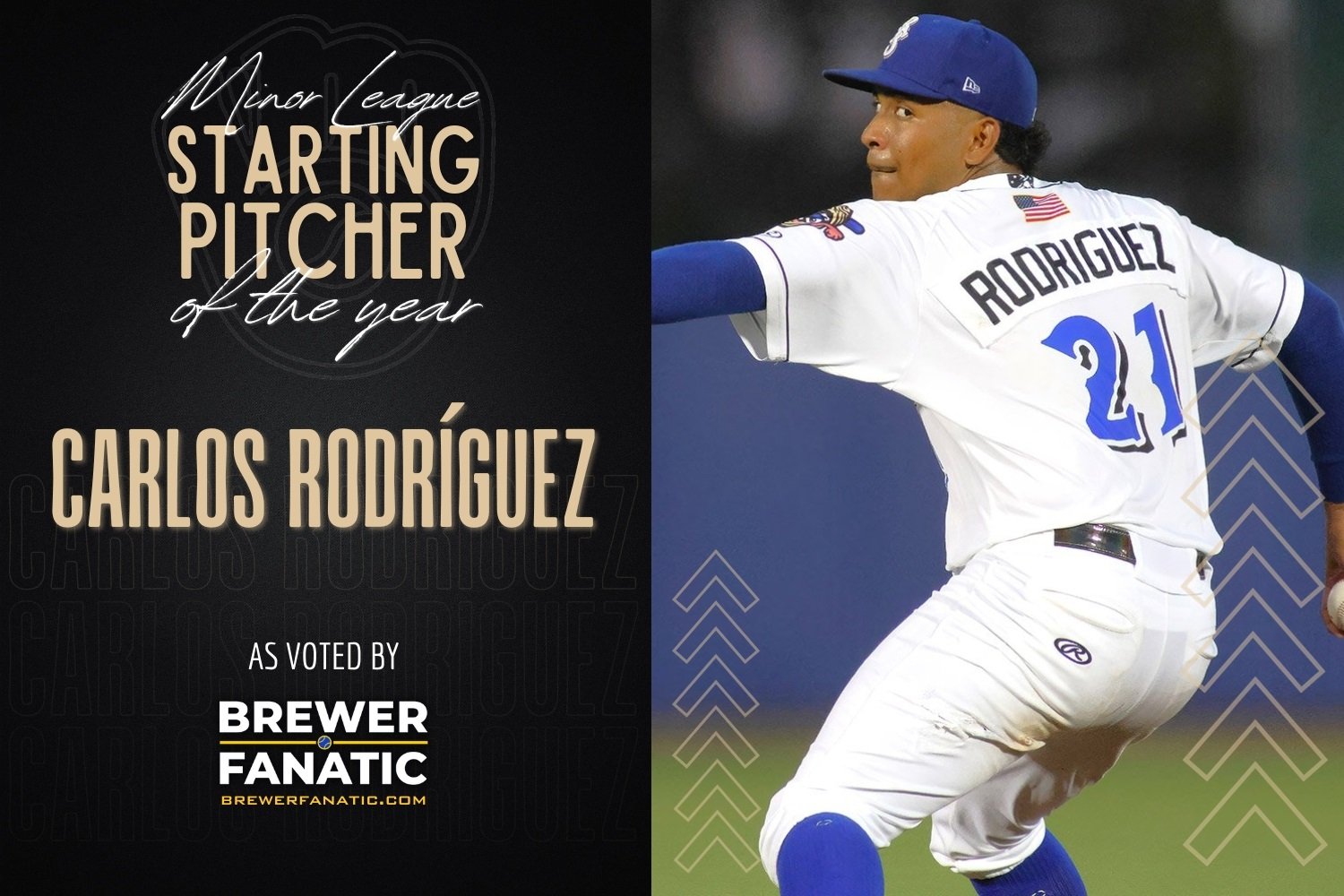 There were a handful of notable performances this season, within the Brewers organization. With every organization putting such a premium on developing pitching, having players stand out early at the lowest level is a must. Being able to continue to foster that growth throughout their experience in professional baseball is what hopefully will translate to major-league success. 
Before getting into the top four, here are a few others that received votes.
Honorable Mentions
**Jarvis' numbers only include his time in the Brewers organization (he was traded to the New York Mets in a one-for-one deal for outfielder Mark Canha)**
Brewers Minor League Starting Pitcher of the Year
Here are the top four vote-getters for the Brewers Minor League Starting Pitcher of the Year.
4. RHP Jacob Misiorowski, 21, Carolina/Wisconsin/Biloxi
In terms of pure ceiling, the Brewers' second-round selection in the 2022 draft has one of the highest in all of baseball. A Junior College standout from Crowder College in Missouri, Misiorowski is a freak athlete on the mound, with long levers and a fastball that regularly touches triple digits and has been up to 102. He also throws a wicked slider in the 89-91 range, and has even seen the velocity up to 94 on the slider. His third offering is his curveball that is usually in the mid-80s and can have a slider shape to it at times. During the Futures Game, Statcast had labeled his slider as a cutter, but Misiorowski refers to them as a slider and curveball. His fourth offering is a changeup that has been used more sparingly as he struggles to throw it for strikes, though it has shown flashes of having some decent depth to it as well. The changeup registers in the low 90's.
Since selecting Misiorowski, the Brewers have been extremely cautious in terms of managing his workload. He only appeared in two games in 2022, and in spring training of 2023 he was built up very slowly. That continued as he began making starts for Carolina in April. Misiorowski did not throw a pitch in the fifth inning until May 25th. In that appearance he went five hitless innings, only allowing one base runner on a hit by pitch, and he struck out nine hitters in the process. Following one more strong start on the final day of May, Misiorowski was aggressively promoted to High-A Wisconsin, where he continued chugging along to the tune of a 1.15 ERA in June. The strikeout numbers did come down a bit at High-A, as he began to see more hitters that were able to keep the bat on their shoulder when his fastball command wasn't at its best. When given the chance to make a name for himself on the national stage in Mid-July though, Misiorowski took advantage. He threw one inning in the previously-mentioned Futures Game appearance and took the baseball world by storm. Touching 102 MPH on his fastball and getting up to 94 MPH on his slider. Pitching Ninja even took notice and that seemed to be what put Misiorowski on everyone's radar.
After that outing in Seattle, Misiorowski had one more outing in Appleton before getting the call to Double-A, where he pitched at his third level in only 3 1/2 months. His first two starts at that level did not go how he would have liked, allowing nine earned runs in only 6 1/3 innings, while allowing thirteen free passes. After his rough start though, he was able to adjust and eventually finished his season with three outings where he struck out eight, nine and twelve. In his final appearance of the season, Misiorowksi threw a career-high six innings, allowed one hit, and struck out twelve. He was already approaching his career-high in innings at the time, and when his arm didn't bounce back how they were hoping, the Brewers decided to shut him down for the remainder of the season. While he likely would have preferred to finish the season a bit differently, he was able to go out on a high note with that final start, and hopefully will be able to carry it over into 2024. He will likely return to Double-A next season, where an arm as lively and electric as his could be knocking on the doorstep to the majors in short order.
3. RHP Logan Henderson, 21, Carolina



As was the case with Misiorowski, the Brewers selected Henderson out of a Junior College. A member of their 2021 draft, Henderson was drafted out of McLennan Community College and bypassed his Texas A&M commitment to sign with the club. Unfortunately for Henderson, during the early part of his professional career he struggled mightily to stay healthy. Prior to this season, he had only thrown 15 2/3 innings in his first year-and-a-half of pro ball. 
Equipped with a low-90s fastball coming out of McLennan, he has raised his average velocity to about 93 and has even reached 97 MPH a few times. The fastball plays especially well when it's thrown up in the zone, due to its high spin rate and spin efficiency. He spins his slider at nearly 3000 RPMs, and it shows signs of being a really nice pitch. At times, however, it seems that he loses the angle/tilt on the pitch , and in that scenario the slider doesn't move much. His best pitch is his changeup. You would be hard-pressed to find a better changeup in the Brewers system. There are some airbender qualities to it when he's really got it going. Much like with Devin Williams, the changeup is a great pitch on its own, but it also helps his fastball to play up above the velocity readings.
Due to past health issues, Henderson had battled prior to this season, he began the season in Extended Spring Training. His first appearance of the season didn't come until May 9th. Even then, he had to be built back up and that first start only lasted 1 1/3 innings. He began an impressive run where he struck out 22 batters in his next four starts, which encompassed a total of 15 1/3 innings. He allowed one earned run in each of those starts. His sixth start of the season is probably the start he would most like to have a shot at a do-over. In that appearance, he went three innings, only striking out one batter while walking four and allowing five earned runs. After that start, Henderson went on a tear over his final 12 starts.
In those 12 starts, Henderson never allowed more than three earned runs in a start, and he only allowed three earned runs one time. He did have one start mixed in where he was essentially acting as an opener and only went one inning. In the other eleven starts, he struck out at least five batters and punched out at least eight in seven of 11 starts. When it was all said and done, Henderson finished with a 2.29 ERA in his final 12 starts and had a 12.4 K/9 rate while limiting his walks to a 1.98 per nine clip. It was an extremely impressive finish to his first professional season. He put the cherry on top of that stretch in his final start, when he went six innings of one run baseball, struck out a career high ten batters and did not issue any free passes.
Given all of his success and being a bit older than the average prospect at Low-A, it was a bit surprising that Henderson never got a promotion to High-A this year. At his age, it would not be a huge surprise if we see him skip that level altogether and have him begin 2024 in Double-A Biloxi, where hopefully he can build upon his first full season of professional baseball and continue to stay healthy. If he can, be on the lookout for Henderson to shoot up prospect lists and begin to put himself on the major league radar.
2. LHP Robert Gasser, 24, Nashville


Gasser was acquired as part of the prospect return in the infamous Josh Hader trade with San Diego at the 2022 trade deadline. He throws three above-average or better pitches in his fastball, slider, and cutter. His four-seam fastball sits in the 91-93 range most days and can get up to 94 at times. His slider is best described as a sweeper and is a pitch he can throw in any count or situation. The sweeper sits in the low 80s and is his biggest swing-and-miss pitch. He mixed his cutter in more with the Brewers than he had with the Padres, and while it wasn't always perfect, it showed some flashes of being a really good pitch for missing barrels and as another counter to right-handed hitters. He also uses a changeup and a sinker. Both show flashes but are considered a work-in-progress still. His changeup is a bit more firm than you would want, but it has good late action and could act as a counter to right-handed hitters. The sinker is a newer pitch for him. He was able to get the sinker in the zone more often than any other pitch. It generated a 52% ground ball rate in 2023. Unfortunately, he also gave up a lot of his hardest contact against the sinker, as hitters had an average exit velocity of 91.4 MPH against it.
As a Padres 2021 draft pick, Gasser was in the midst of his first full season when the trade happened in 2022. He finished his Padres career at the High-A level, having thrown 90 1/3 innings for the Fort Wayne TinCaps. The Brewers decided that was plenty of experience at that level and assigned him to Double-A Biloxi to begin his Brewers career. Four starts later, Gasser and his 2.21 ERA and 11.5 K/9 were headed to Triple-A Nashville. This is where he would finish the 2022 campaign and where he spent all of 2023. 
Gasser didn't get off to the best start in 2023, as he struggled to adjust to a very strong hitting environment in Triple-A in April and May. Through his first nine starts, Gasser was checking in with a 4.59 ERA. Having never walked more than 2.79 batters per nine innings with the Padres organization, Gasser had raised that number to 3.5 in his four Biloxi starts. Once he reached Triple-A, that number had jumped up to 5.5 in 2022. In April of 2023, he had the same number at 5.5 per nine. His walk numbers in May did show some improvement, as he brought that number down to 4.2 per nine. While still higher than you would want that number to be, it was a sign of progress and something he would look to continue to improve upon as the season continued.
When June rolled around, Gasser did exactly that. In his four starts that month, Gasser walked only 1.4 per nine, and the rest of the results followed. He posted an ERA of 2.84 and went at least six innings in all four starts. His July didn't go as well. The walk numbers went back up to 3.4 per nine, while he couldn't get through the sixth inning in any of his starts. His ERA in July would end up at 4.71, and unfortunately, those struggles came at a time when the Brewers were likely considering him for a promotion due to the injuries at the major-league level. Gasser never did get that call, but he did finish the season on a very high note in August and September.
Over the course of his final seven starts, Gasser posted a 2.93 ERA, walked only 2.7 per nine and struck out 11.7 per nine. During that stretch he never allowed more than three earned runs in one game, and he had two games with 10 strikeouts and a game with nine strikeouts. His last two starts were his two worst during that stretch and the Brewers elected to skip his final start of the season as Nashville had been eliminated from playoff contention.
Gasser's final season line may not look special in comparison to what we expect from a MLB starting pitcher. When the numbers are looked at in the Triple-A environment, however, Gasser stacks up extremely well. Among the 38 pitchers who threw at least 100 innings in Triple-A, Gasser finished first in total strikeouts and strikeouts per nine innings. He finished second in ERA and FIP while also having the second-highest K:BB ratio. Considering it took him about two months to adjust to the league, those numbers are very impressive. Assuming the Brewers move on from at least one of their top starters this offseason, Gasser will likely be given a chance to make the major-league rotation out of spring training. He appears to be ready.
1. RHP Carlos F. Rodriguez, 21, Biloxi/Nashville
For the second straight season, the Brewer Fanatic choice for Brewers Minor League Starting Pitcher of the Year is Carlos F. Rodriguez.  
Rodriguez was selected by the Brewers in the sixth round of the 2021 MLB Draft out of Florida Southwestern State Junior College. That means that three of the top four pitchers on this list were drafted out of junior college. Pretty impressive work on the part of the Brewers area scouts. Rodriguez is a six-pitch pitcher who throws the kitchen sink at hitters and keeps them off balance. Don't assume that he's just a junk-baller with a bunch of average offerings. A number of his pitches are above average. 
First of all, he throws three different "fastballs." He throws a four-seam fastball, a sinker and a cutter. The four-seamer is a riding fastball that he can throw up in the zone and miss bats with. He throws the four-seamer in the 90-93 range and can get all the way up to 96 on occasion. His sinker moves quite a bit and is the pitch he gets the majority of his ground balls with. The sinker sits in a similar velocity band to the four-seam. His cutter is a bit slower, usually in the upper 80s, around 86-88 most days. He uses it to keep the ball off the barrel. It isn't a big swing-and-miss offering for him at this time, but he can get soft contact with it, especially against left-handed hitters.
To go along with the three fastballs, he also throws three different offspeed pitches. His offspeed offerings include a changeup and two different breaking balls, a slider and curveball. The changeup is probably his best pitch out of any of the six. Usually thrown in the 82-85 MPH range, it's his go-to swing-and-miss pitch and can generate ground balls. It pairs really well with his sinker. The slider is his second-best offspeed pitch. With a velocity usually hovering around 80 MPH, it shows flashes of being another big time swing-and-miss pitch, but with some inconsistencies in the command of the pitch, the results he gets have a lot of variance. His curveball is mainly used to "steal a strike" by landing a slow one in the zone. When he's throwing it as a swing-and-miss pitch, the velocity is usually around 73-75 MPH. When he wants to land it for a strike, he has dropped into the 60's at times. It isn't a great pitch on its own, but he can use it to help all his other offerings and to give a hitter more velocity bands to think about.
Rodriguez used his entire six-pitch repertoire to dominate for basically the entirety of 2023. As a 21-year-old who hadn't pitched above rookie ball prior to 2022 and hadn't thrown in Double-A prior to this season, Rodriguez didn't waste any time adjusting to the level. Over the course of the first two months, Rodriguez made nine starts and came out of it with a 2.82 ERA. He was striking out 12.5 batters per nine during that stretch and had two starts where he struck out double digits. Included in those two starts was an outing on May 27th when he went seven complete innings while striking out eleven and allowing zero free passes. His next start came in June and did not go very well, as he allowed six earned runs in only 3 2/3 innings. Including that start, from the start of June to the end of the first half, he posted a 3.29 ERA and went into the break at 3.00 exactly.
It should be noted that the Southern League was using the pre-tacked baseballs during the first half of the season. A lot of Southern League pitchers saw a decline in results after that change. Is it possible Rodriguez was a product of the baseball? If you believe he was, good luck proving it. After the Southern League made the change to go back to the regular MLB baseballs in the second half, Rodriguez actually posted a 2.44 ERA in his remaining ten starts at Double-A. While his strikeout numbers did see a bit of a decline in the second half, going down to 10.1 strikeouts per nine, his results improved from really good, to great. The biggest improvement from Carlos came in the form of his control. He only walked 2.9 per nine in the second half, which was down from 4.5 in the first half. Another improvement as the season went on was his ability to get himself a little deeper into games. That goes hand in hand with the walk totals, but while he struggled to keep his pitch count down at times, he was able to work into the sixth or later in all of his final three starts at Double-A. 
Rodriguez finished the Double-A season ranked first in ERA and OPS against. He came in third in Swinging Strike rate and WHIP and then fourth in strikeout rate and fifth in FIP. His impressive season and the signs of growth ended with Rodriguez being rewarded with a promotion to Triple-A in the final week. Giving him an opportunity to make one start at the level before he makes his likely return there to begin next season. Rodriguez will be a candidate to help the MLB rotation in 2024.
So there you have it. The Brewers decided to go with co-Pitchers of the Year. We selected Carlos Rodriguez just ahead of Robert Gasser. How would you have voted? 
1