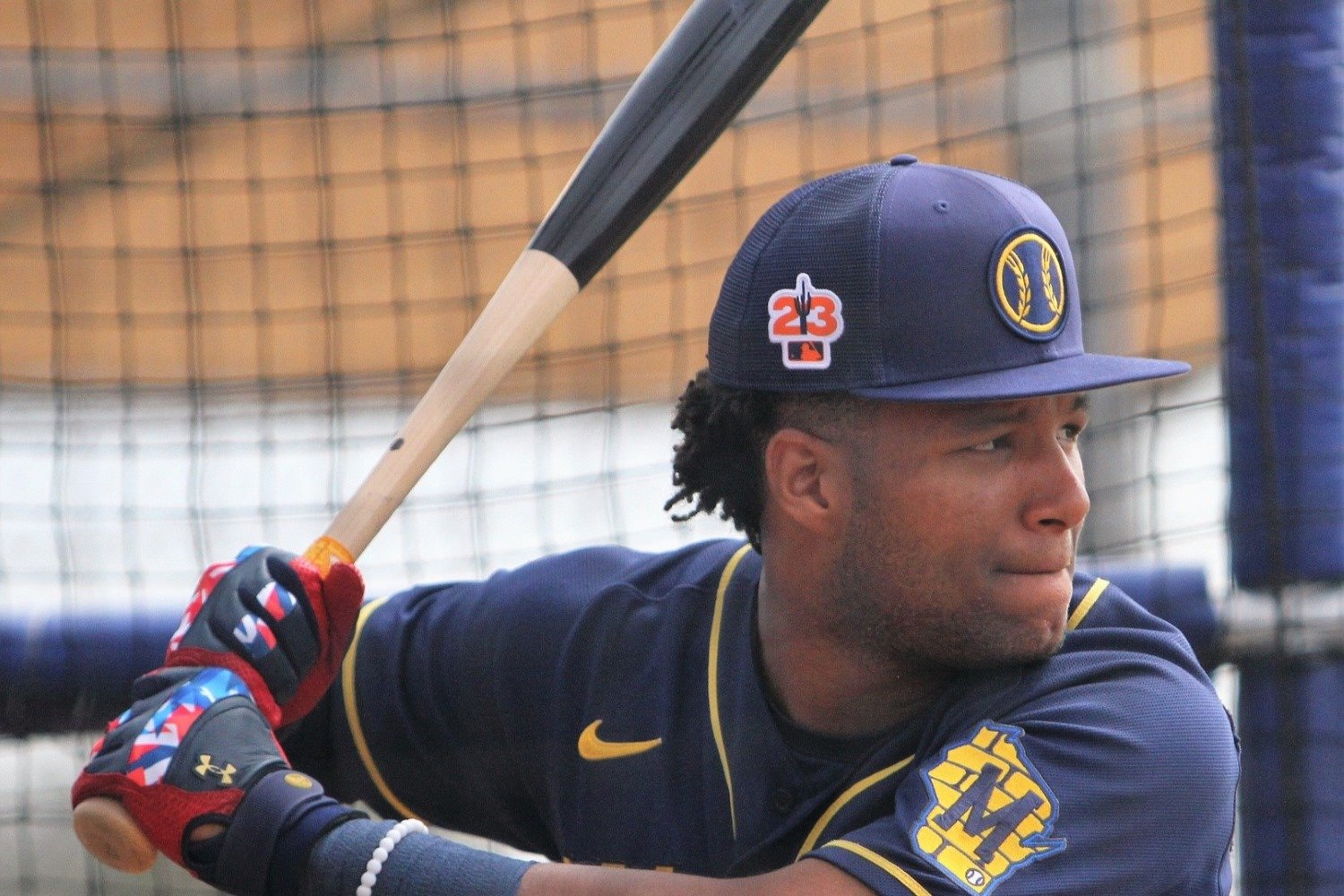 Image courtesy of © Curt Hogg / Milwaukee Journal Sentinel / USA TODAY NETWORK
Jackson Chourio is playing against professionals in a league generally compared to being similar to Triple A, but it doesn't seem like anyone told him. Over his last eight games he's slashing an astounding .526/.697/1.223 and has shown exactly what Milwaukee can dream of next season. Alongside him, there are several other notable performances from Brewers prospects, one of whom may also be on the fringes of the 40-man roster next season.
Chourio's appearance this offseason was something of a surprise, given his full-season escapades in the Brewers minor leagues this year, and with very little to prove. As a youngster aged just 17 and 18, he played for Águilas del Zulia, so it stands to reason he may have pushed this to the Brewers front office, who permitted him to play 15 games for them. Here's how he's been getting on:
The 12 Games So Far
After a relatively unlucky start wherein he had just three hits across his first four games (all of which came in his debut), Chourio looked a bit weary. Many could be forgiven for thinking the rigors of a long season, combined with an experienced veteran league in which he struggled last season, would make this a tough ask. Laughing in the face of this thought, he's currently sporting a 1.037 OPS, with just five strikeouts in 53 plate appearances. He's approaching a .500 on-base percentage. It's truly remarkable, especially when you consider that, after a jaw-dropping 2022 season, Chourio hit just .256/.291/.354 last year in 21 games. This is not an easy league, and it shows just how much Chourio has improved in terms of his strike zone coverage.
Last night's game was, perhaps, his most raucous so far, as he went 3-5 with a double (smoked down the left-field line) and a triple whammed to the opposite field, highlighting both his plus-plus speed and the supreme bat speed that makes him such a coveted prospect.
His athleticism just bursts off the screen.
Here's another double in which every inch of his speed was needed:
His power has been sufficient to clear the fences, too. To wit: a frozen rope that got out of here in a hurry:
Are there any drawbacks?
There have been some continuances from the regular minor-league season, in that (for all the incredible exit velocities) Chourio's power hasn't come to the fore quite so much as one would expect, with an ISO of .174 and five extra-base hits in total. It's not to be sniffed at, but the propensity to chase pitches he can't do damage on early and make poorer contact or hit ground balls seems to have migrated south with him. However, it should be noted that four of the extra-base hits have come in his last five games. He can elevate the ball with authority and regularity, it's merely a pitch selection issue, which hopefully he can resolve quickly. He also doesn't seem to have been permitted to steal bases--understandable, from the Brewers perspective, given the number of freak injuries they had on the basepaths this season (Keston Hiura, Garrett Mitchell, and Sal Frelick, to name but a few).
Chourio has been a human highlight reel, and it's uncertain at this point whether that will be played out over 15 or 20 games. That may be the biggest drawback: that he can't play more games down in Venezuela. More extra-base power would just add fuel to the fire, but in reality all you'd hope for is to finish his time unscathed and injury-free, with an offseason to further develop physically. At just 19 years old and listed at just 165 pounds, he has a lot of growth to come in this regard.
Who else has been on show from the Brewers?
Carlos D Rodriguez - .303/.411/.368
Rodriguez has continued where he left off in the minors, showing incredible bat-to-ball skills over his 19 games for Navegantes, and also some premium center-field defense, including a sensational catch to rob Chourio of extra bases earlier last week. The question (as always) with him is whether or not he can show more power, which at age 22 and just 5-foot-8 may be a pipe dream at this point. He can use his speed to leg out doubles and triples on occasion, and does have four extra-base hits so far in Venezuela, as well as 13 walks to just seven strikeouts.
The Brewers eschewed their chance to add Rodríguez to the 40-man roster and protect him from the Rule 5 Draft, adding only Jeferson Quero and Bradley Blalock. The deadline isn't until Tuesday at 5 PM Central, though, so maybe Rodríguez will either be added at the last second or traded to a team who is willing to take that step and put him on their 40-man list.
Hedbert Perez - .222/.222/.222
Injury curtailed Pérez just as he started to show some signs of accessing the power that made him a much-hyped prospect two years ago. At just 20 years old, he has significant strikeout worries, but has only gone down once so far in nine plate appearances. He showed up late, hence a relatively small sample size, but that represents a promising development for a player with a career ponche rate of significantly over 30 percent. His first start came on Sunday evening, and he recorded two hits from his five at-bats. Hopefully, he'll garner more playing time as the Venezuelan league comes to its conclusion.
Does Chourio's outburst have you even more excited for his 2024 debut? It's hard to tell how much winter league success matters, but this can't be a bad thing. 
Think you could write a story like this? Brewer Fanatic wants you to develop your voice, find an audience, and we'll pay you to do it. Just fill out this form.
MORE FROM BREWER FANATIC
— Latest Brewers coverage from our writers
— Recent Brewers discussion in our forums
— Follow Brewer Fanatic via Twitter, Facebook or email
1