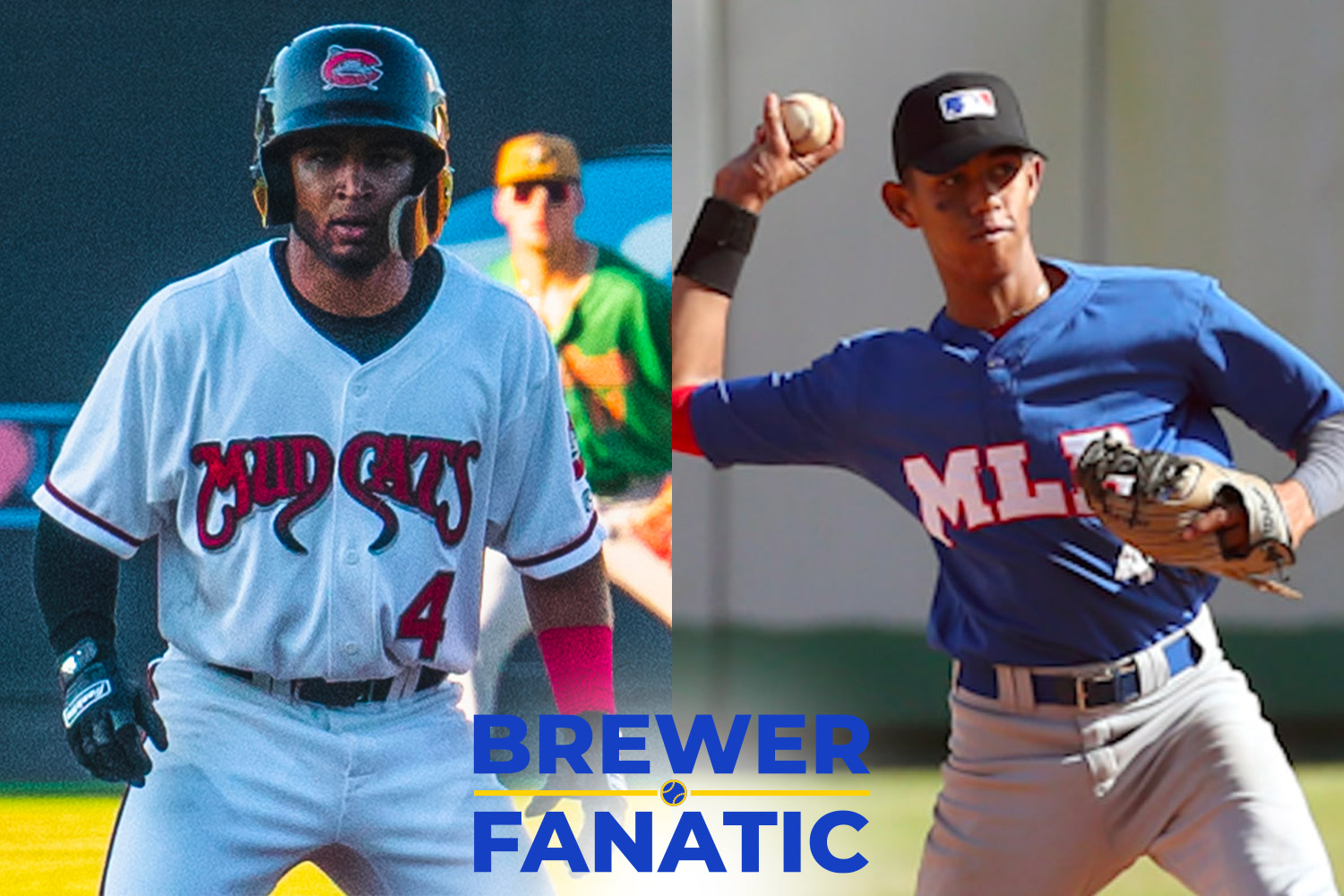 Image courtesy of Brewer Fanatic
Second base and shortstop have plenty of options at the major-league level, too, with Willy Adames, Luis Urias, Keston Hiura, and Brice Turang.
But as is the case with catcher and first base/designated hitter, there are other players who Brewers fans may be overlooking as potential contributors to the major league team. As such, we will ignore those who made the Top 20 rankings but look a little deeper.
Second Base
Felix Valerio, Biloxi (AA)
.228/.313/.357 in 417 AB, 14 2B, 12 HR, 48 BB, 80 K
Bats: Right, Throws Right
Age: 21
Valerio has been around for a long time – acquired after a solid 2018 in the DSL with the Mets organization. With the Brewers, in 2021 and 2022, he's shown on-base skills, speed, and some pop. Primarily a second baseman, he's seen action at third and in the outfield. To be 21 years old at AA often makes for difficult adjustments, but he has been solid if overshadowed.
Zack Raabe, Wisconsin (A+)/Carolina(A)
.232/.368/.297 in 276 AB, 16 2B, 0 HR, 58 BB, 58 K
Bats: Right, Throws: Right
Age: 22
Raabe has one outstanding tool: plate discipline. He gets on base, and while he doesn't steal a lot, he succeeds most of the time when he does. He may not have the ceiling of Valerio, but he won't hurt a team, either. 
Overview
Valerio and Raabe are contrasting. Raabe can draw walks, and if he can hit for average more (there is a good chance with the shift ban), he could be valuable. Valerio could be an excellent long-term return from the 2019 Keon Broxton trade.
Shortstop
Andruw Monasterio, Biloxi (AA)/Nashville (AAA)
.271/.364/.406 in 377 AB, 22 2B, 9 HR, 52 BB, 90 K
Bats: Right, Throws: Right
Age: 25
Monasterio was a minor-league free agent who re-signed in the offseason. He dominated in AA but scuffled a little in AAA. That said, he showed more consistency in Cleveland. His contribution might be smaller, as the 2023 Brewers have Turang, Urias, and Adames to handle shortstop at the major-league level. Still, Monasterio makes for solid depth.
Eduardo Garcia, Carolina (A)/Wisconsin(A+)
.259/.307/.400 in 452 AB, 16 2B, 15 HR, 19 BB, 162 K
Bats: Right, Throws: Right
Age: 19
Garcia is very young. As a 16-year-old, he was a highly heralded prospect in the DSL but had his season cut short by injury. The pandemic wiped out 2020, but in 2021 and 2022, he flashed power and speed. That's the good if we want to talk about a classic Clint Eastwood movie. The bad involves a high strikeout rate. As for his on-base skills, those would be the ugly – only 19 walks in 452 at-bats, including zero in Wisconsin.
Overview
Given the depth of the major league team, Monasterio may only see a Brewers uniform if things go horribly wrong in 2023. Garcia could be similar to Orlando Arcia, whose web gems didn't compensate for being an offensive black hole. That said, he is young, and on-base skills can be taught. Garcia is a wild card, and his development this year could decide the future of Adames and Urias.
Third Base
Zavier Warren, Wisconsin (A+)/Biloxi (AA)
.226/.307/.374 in 465 AB, 29 2B, 12 HR, 49 BB, 108 K
Bats: Both, Throws: Right
Age: 23
Warren has flashed some versatility, covering several positions, but most of his time has been at third base, with some time spent across the diamond at first base and donning the tools of ignorance as a pro. While his OBP skills slipped this year, he rebounded in the Arizona Fall League in a big way, posting an .804 OPS in that notoriously friendly hitting league.
Weston Wilson, Nashville (AAA)
.228/.297/.358 in 416 AB, 21 2B, 11 HR, 39 Bb, 131 K
Bats: Right, Throws: Right
Age: 27
Wilson's biggest calling card is versatility – he has played every position except catcher in his career as a Brewer. He's also flashed power, speed, and OBP skills over the years. Before the universal DH, he would have been a valuable asset on the bench of the major league team. Wilson earned minor-league free agency after the 2022 season, but the Brewers should bring him back.
Overview
Warren and Wilson are also contrasting. The former is clearly on the rise, given his performance at the AFL after scuffling in minor league ball. The latter's versatility would have made him an easy call-up before the universal DH. Even without it, on a 26-man roster, a team only has four bench players.
Think you could write a story like this? Brewer Fanatic wants you to develop your voice, find an audience, and we'll pay you to do it. Just fill out this form.
MORE FROM BREWER FANATIC
— Latest Brewers coverage from our writers
— Recent Brewers discussion in our forums
— Follow Brewer Fanatic via Twitter, Facebook or email