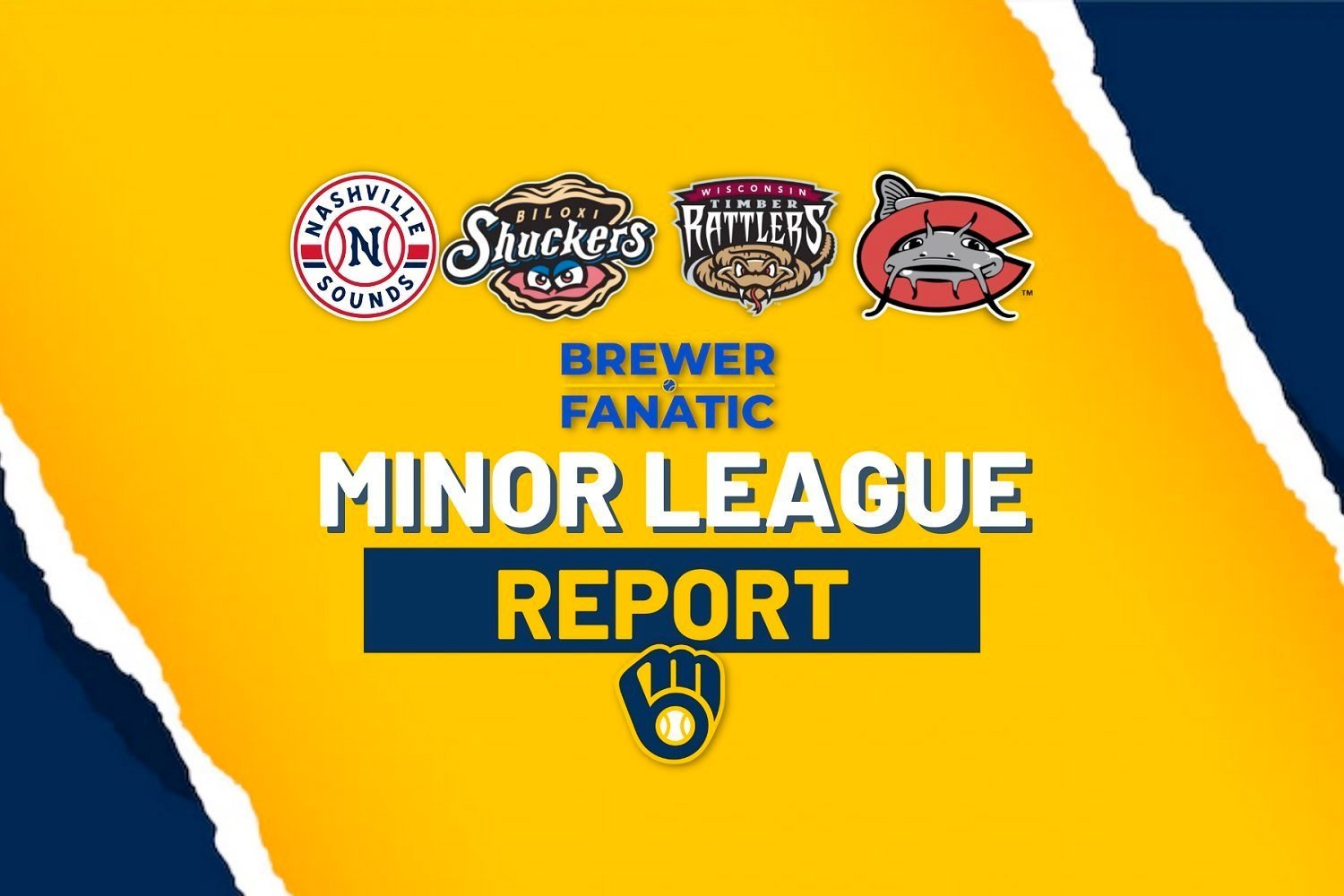 Image courtesy of Brewer Fanatic
We've seen a bevy of updated 'Top 20 Prospects' lists across the baseball universe--including our very own ongoing Minor League thread HERE, as well as the expertly-written series from our very own @Smichaelis9. (Seriously, go read Spencer's write-ups; it's fantastic stuff for any fan or aficionado.) That said, the following list is much less sexy, but 'hoo dang!' it is stacked with opposite-field, hit-it-where-they-pitch-it, move-that-runner-over, bloop-singles hitters with a dash of smash.
As I've increased my in-season minor league viewing (don't ask my wife--bless her amazing heart), I've grown less interested in partaking in the widespread touting and hyping of the players atop prospect lists. I watch a ridiculous number of Brewers affiliate games. I tend to think I know and appreciate all these players, and I tend to think my opinions carry a modicum of credibility. It's not that I don't see value in the top prospect lists. I understand that those players have the high ceilings and will have greater impact on the present and future of MLB.
However, my vantage point is a bit different than the average fan or pundit. When I watch two-to-four affiliate games per night, I am quite simply interested in competitive minor-league baseball--the wins and losses accrued by those actual teams, and the stories and dreams of the players who author them. I want players on these minor-league teams who not only have talent, but who are 'gamers' in the classic sense, as cliché as that may sound. The following collection of names are just some of the players I watch or follow on a consistent basis, but who often (let's be honest: almost always) fall outside the range of those high-minded lists. In most cases, these players fall outside even Top 30 lists. Nonetheless, these young men give me great joy when I watch them compete. And who really knows? Perhaps, we'll see one (or several) of these players at the highest level someday.
Without further ado, I bring you my personalized 1-to-10:
1) INF Cam Devanney - This shouldn't be a shocker to anyone who visits our site on a semi-regular basis. I might be the biggest Devanney 'Stan' outside his immediate family and closest friends. If we simply ignored the 2021 COVID season, I believe Devanney should and would be considered the second-best infielder in the system, playing a premium position (3B) with an innate ability to more than competently fill in at another (SS). What he has demonstrated approaching his age-26 season is a skill set still on the rise, but a profile too often consigned to the "Yeah, but" bin. This will not stand...man.
Last season, Devanney tapped into consistent gap power at both Biloxi and Nashville. We can pair his consistent .850 OPS outputs with his vastly under-discussed defense and cannon of an arm. If he could start hitting for just a bit more average with a bit more overall plate discipline, we are talking about an everyday MLB player. I am entirely serious. If last year wasn't an aberration - and, I have no reason to think it was - we are talking about a very, very MLB-worthy player on the front end of his prime. This is an absolutely huge season for Devanney, and I am here warming up the popcorn. Please, take a seat.
2) RHP Logan Henderson - Give me a staff of pitchers with Henderson's competitive fire, and I'll tell you that team is going places. Few players in the entire Brewers system exhibit as much attack, controlled fire, and competitiveness as this young hurler. And, yet, I consistently see him ranked closer to 30 than I do the top 20. I simply don't agree. Henderson's current best pitch pairing is generally viewed as the high-spin heater and change-up; he touched 95 on the gun in his brief work last season.
His slider can dip all the way into the upper 70's. If he can get more consistent location with the breaking ball (often crossing the plate more as a slurve than, say, a classic 12-6 pitch), this third pitch could become quite impactful, for obvious reasons. I personally anticipate more control and more natural development as he gets further away from his elbow surgery (non-TJ, for the record) and back into regular competition. This is his age-21 season. Henderson remains a young and very exciting player. I anticipate an aggressive strategy as he accrues more innings and builds that arm back up.
3) RHP Ryan Middendorf - If any other player experienced as meteoric a rise as Middendorf in the entire organization we'd be talking about it quite a bit more. For whatever reason--his unorthodox leg kick, his Frontier League roots, his lack of a scorching high 90's heater?--Middendorf has continued to fly under the radar. This even after he capped 2022 with a dominant AFL season, the culmination of an ascension from Independent ball, to the ACL, to Low A, to High A, to Double A. He was one of the starting hurlers in the AFL's Championship game. That was all crammed into one season of baseball. It's stunning, but when you watch him pitch on a regular basis, it really isn't all that surprising. It felt as though there wasn't a single batter who could touch that four-seamer in the 2 1/3 innings he pitched in that title game in Arizona. At 6'6", and now packing 220 pounds onto that frame with a deceptive 3/4 arm slot release, he has absolutely mowed batters down at every level at which he has pitched to date. 
4) RHP James Meeker - We might be thinking about James Meeker a little too conventionally. Why? This is a pitcher who just doesn't allow many runners to cross home plate. I feel like when we talk about Meeker, we tend to talk about what he doesn't have in his arsenal, as opposed to how incredibly successful and impactful he is in securing victories with what he does have: impactful and accurate high-leverage stuff. Since joining the Brewers out of the Frontier League in 2021, Meeker has been refreshingly dependable. He hasn't seen the rise of the aforementioned Middendorf, but, he has shown his merit and his poise throughout his brief tenure. As he enters his prime here in his age-28 season, I'd like to see the Brewers get a bit more aggressive in his placement. Personally, I'd like to see him elevated into key innings for Biloxi right off the bat, to see if his rapid, deceptive delivery can play in the Southern League. He just went an entire season in Australia for the Brisbane Bandits without conceding a single run, and that was after he put forth this display in Wisconsin just prior to and post-Cam Robinson promotion:
5) 3B/LF Luke Adams - Yes, it was an extremely small sample size in 2022, but I am unshaken. The output in a mere 32 ABs has me jonesing for more. Put succinctly: Luke Adams is a player you need to know about before the 2023 season kicks off. In an organization lacking high-end depth at the hot corner, Adams is an extremely interesting player. In his first action as a professional, entering the ranks as an 18-year-old out of high school, he showcased as much upside as any of the Brewers youngest players. He hit .375 with an 1.075 OPS.
Now, let's put on the brakes. As I stated, this sample is extremely small, but within these same at-bats we also saw 9 strikeouts against 8 walks. Still, we also saw 8 stolen bases. In 32 at-bats! I can see why they started throwing him out into left field. That is extremely tantalizing in any run of play. With his 6'4" frame and obvious speed, there is just too much early intrigue to overlook. I am hoping I can watch him regularly in Low A to start the 2023 season.
We're just getting started. Come back tomorrow for players 6-10 on my personal list. And in the meantime, what are your thoughts on these five? Who else deserves more love? 
Think you could write a story like this? Brewer Fanatic wants you to develop your voice, find an audience, and we'll pay you to do it. Just fill out this form.
MORE FROM BREWER FANATIC
— Latest Brewers coverage from our writers
— Recent Brewers discussion in our forums
— Follow Brewer Fanatic via Twitter, Facebook or email
1

1