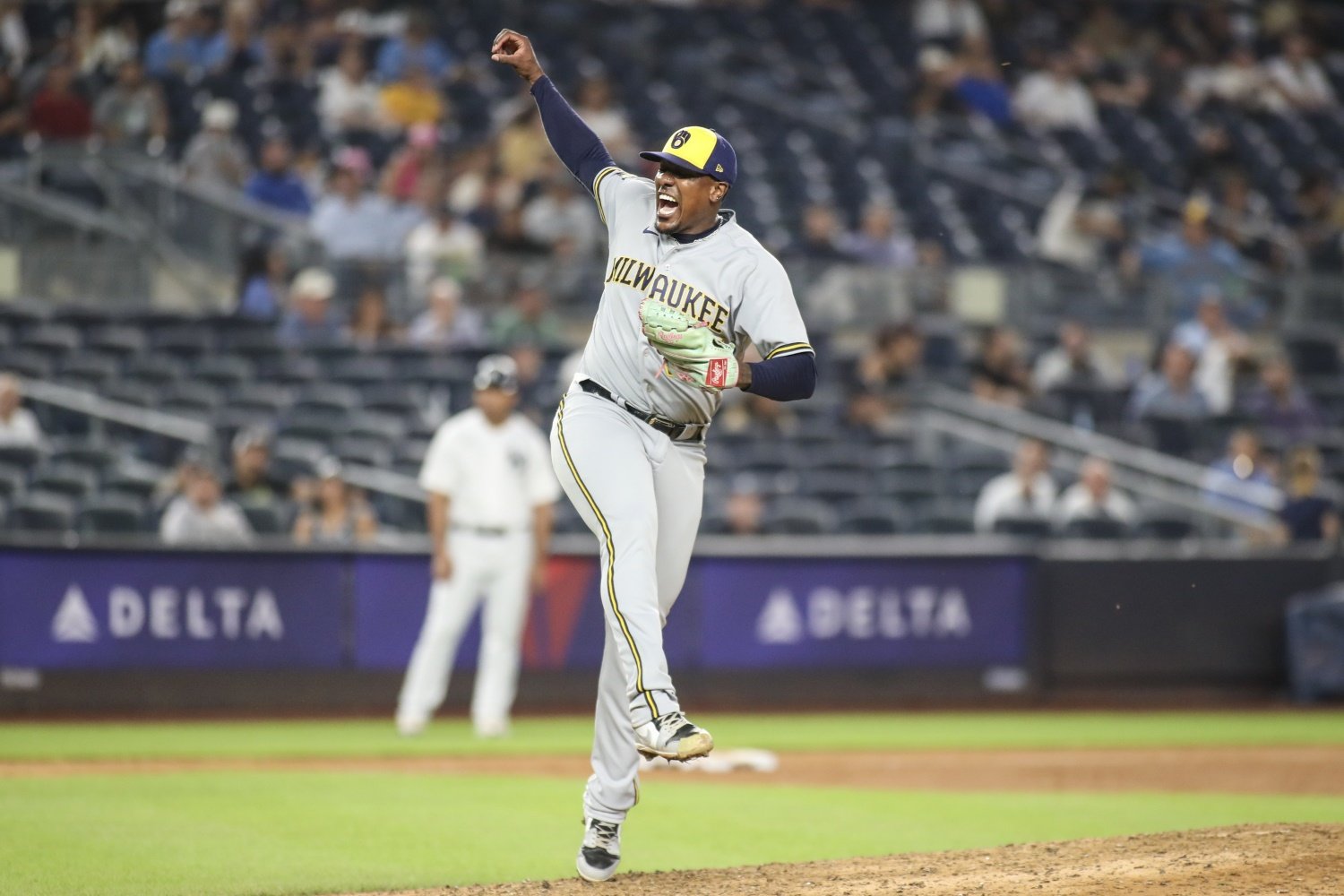 Image courtesy of © Wendell Cruz-USA TODAY Sports
Of the players who stood out for the Sounds in 2023, some are traditional prospects, while others are… not so much. So, this will probably wind up a more eclectic group than when we reviewed the other minor-league squads.
Tyler Black
A familiar name from our review of Biloxi, Black was promoted to Nashville on Aug. 6, and responded with a .304/.426/.507 line while splitting time between third base and first base. With his performance in such a short time, he's made a strong case to be Milwaukee's Opening Day third baseman in 2024.
Cam Devanney
Devanney served as Nashville's primary shortstop after returning from an injury earlier this year. He delivered 39 extra-base hits en route to posting an .824 OPS. He also saw action at second and third. A 15th-round pick in 2019, he's been a steal from that draft class, which featured Ethan Small and the overlooked Darrien Miller.
Patrick Dorrian
Dorrian handled three infield positions with the Sounds in 2023, while also delivering a lot of power (21 homers). While his bat isn't as high-average as Black's or Devanney's, he held down all four infield positions this year, notably with the most extensive time at shortstop he's seen in his professional career, making a case for at least an invite to spring training.
Keston Hiura
Hiura's made the case for consideration for a 2024 roster spot in Milwaukee, after he performed solidly in the outfield, at first, and second for the Sounds. He was also a solid DH. The .960 OPS included 31 walks, to go with power (23 homers), and he was even willing to take a few plunkings (17 of them) to get on base.
Abraham Toro
Toro may end up the best player involved in the Kolten Wong-for-Jesse Winker deal from this past offseason. He displayed excellent OBP skills, hit the ball with authority (44 extra-base hits), and handled three infield positions. Toro has made the case for a bench spot on the 2024 Brewers--or, at the very least, being at the top of the list of names when the Crew needs to make a call to Music City.
Clayton Andrews
Andrews rebounded from injury-plagued seasons and earned a spot on the shuttle to Milwaukee. With the Sounds, he posted a 6-0 record with a 2.53 ERA and 1.23 WHIP in 57 innings pitched, with 74 strikeouts to 31 walks and five saves. Andrews has made a strong case to replace Andrew Chafin in the 2024 Brewers bullpen.
Robert Gasser
Acquired in the Josh Hader trade, Gasser emerged as a potential rotation option for 2024, posting a 9-1 record with a 3.79 ERA and 1.28 WHIP in 135 1/3 innings pitched for the Sounds. Gasser racked up 166 strikeouts and cut his walk rate by 40 percent from his numbers down the stretch upon joining Nashville in 2022.
Ethan Small
After some struggles in 2022, Small emerged as a solid reliever in the bullpen, posting a 2-4 record with a 3.18 ERA and a 1.26 WHIP over 51 innings pitched. He notched 61 strikeouts and gave up only 24 walks in 2023. Small could find himself on the Milwaukee-Nashville shuttle in 2024.
Thyago Vieira
While he's not a prospect, technically (his rookie status ended in 2019 with the White Sox), Vieira, a minor-league free agent signee, was superb for the Sounds, and found himself returning to the big leagues late in 2023. He led the Sounds with eight saves while posting a 2-2 record with a 3.35 ERA and 1.22 WHIP over 37 2/3 innings pitched for the Sounds.
Who do you think were the biggest standouts for the Sounds in 2023?