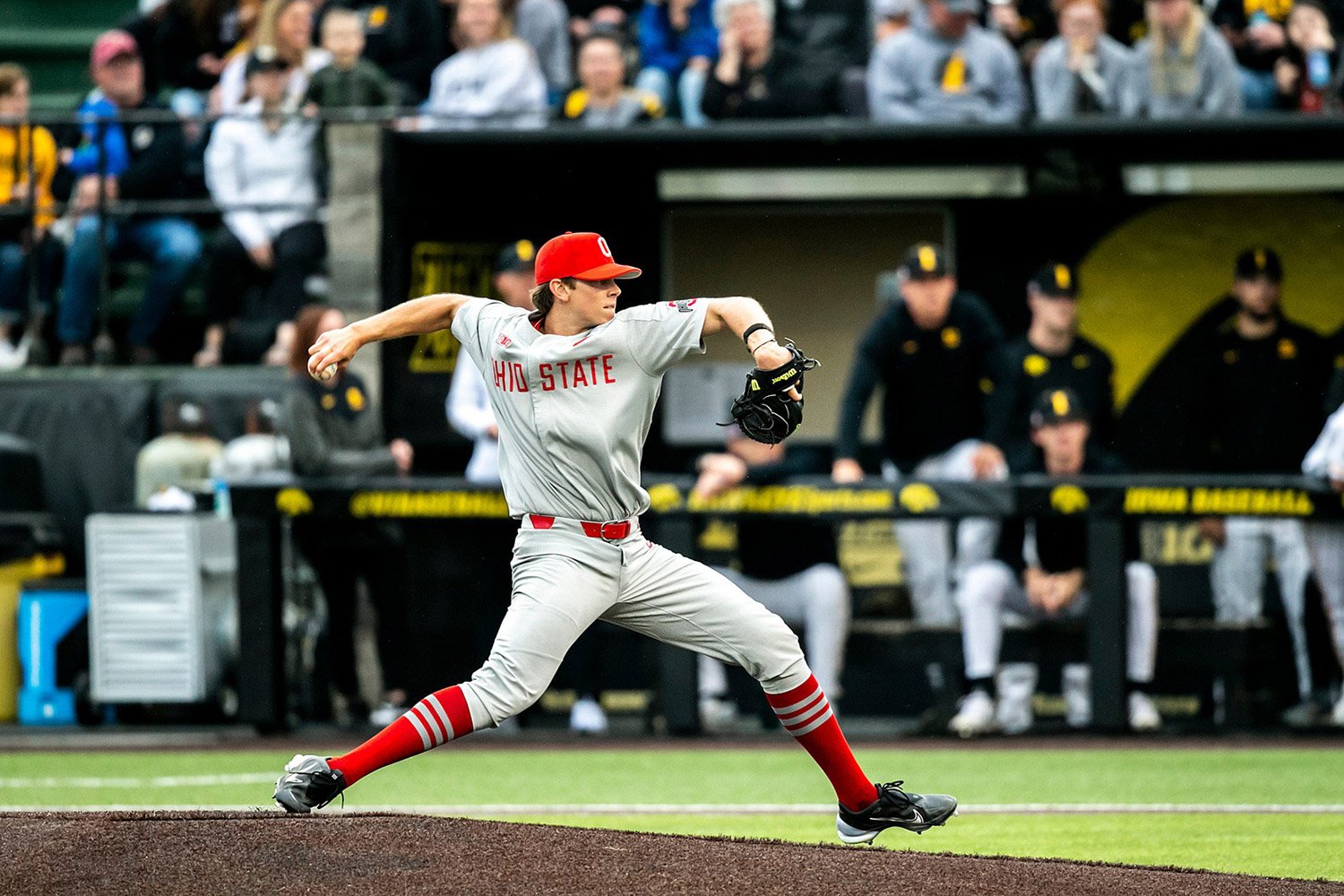 Image courtesy of © Joseph Cress/Iowa City Press-Citizen / USA TODAY NETWORK
Day 3 Selections
Round 11, Pick 332 overall
Bishop Letson, RHP Floyd Central HS 
This is where the Brewers draft really started to surprise me. Teams don't usually use an 11th-round selection on a guy they deem 100% unsignable for them. This leads me to believe that the Brewers see a chance to sign him away from his Purdue commitment. Where would the money come from, you ask? That is a fantastic question and one I will be interested to have answered myself. Letson has a fastball in the low-90s that pairs well with a tight slider and a solid changeup. His command is very strong for a high school pitcher, while his stuff is a bit closer to average currently. The good news is that he's a very projectable arm, and the stuff should improve quite a bit as he matures. I'm not sure of the odds the Brewers have in terms of being able to sign Letson, but I hope they are able to. 
Editor's Note: If you're not following Spencer Michaelis on Twitter for Brewers prospect and draft news, you should be.
---
Round 12, Pick 362 overall
Bjorn Johnson, LHP Floyd Central HS 
Another high school pick was not what I was expecting in round 12, but it would be the second of seven high school selections the Brewers made on day three. Johnson has a fastball in the low-90s that he has held deep into his outings. He also mixes in a slider and a changeup; the changeup is probably the better of the two offerings at this moment. Strong command was a theme with each of the first two picks on day three. Johnson may be another tough sign, depending on the type of bonus pool the Brewers actually have left over.
---
Round 13, Pick 392 overall
Brett Wichrowski, RHP Bryant
A starter and a reliever at Bryant, I imagine he will be primarily out of the bullpen in the Brewers system. He sat in the 93-96 range on his fastball, but he moves well on the mound, and I bet he will add a bit more to that once he is in pro ball. His slider is an above-average pitch as well. Command issues and the lack of a third pitch are why he likely will have to be a full-time pro ball reliever. It seems likely that he will sign.
---
Round 14, Pick 422 overall
Hayden Robinson, RHP Berwick HS
Robinson is another HS prospect; this one committed to Nicholls State. He has a fastball in the upper 80s and low 90s range but with a lot of projectability left. His slider spins in the 2700 RPM range and has sharp, late-breaking movement. He also mixes in a changeup that is a fringe-average pitch. Nicholls State is likely very hopeful he will make it to campus, but I have to wonder if that's a school that he may be willing to pass on in order to take his shot in pro ball.
---
Round 15, Pick 452 overall
Josh Adamczewski, SS Lake Central HS
A position player? In this economy? Adamczewski broke a string of eight straight pitchers selected in this class. Equipped with a sweet looking left-handed swing, this may be my favorite selection from Day 3 and is one I really hope they can sign. A Ball State commit from a Midwest state in Indiana, he seems like a player who has been overlooked a bit. Not too dissimilar to Luke Adams in last year's draft. As someone who viewed Adams as a top-10 prospect in the organization (prior to the draft), I would not be against adding another exciting prospect to the pipeline.
---
Round 16, Pick 482 overall
Josh Timmerman, RHP Ohio State
Timmerman was originally at Wabash Valley College in Illinois, which is where the Brewers drafted Antoine Kelly out. Timmerman is up to 95 on his fastball, with 17 inches of induced vertical break, meaning it should play well up in the zone. He also has a sweeper, cutter, and changeup. The sweeper is a good pitch that spins at 1700 RPMs. He uses the cutter to keep the ball off the barrel, especially against left-handed hitters. The changeup is more of a work in progress. He is most likely a reliever in pro ball, but he's been stretched out, so starting isn't out of the question. While he is a college selection, he is also a young draft-eligible guy who won't turn 21 for a few more weeks. The age factor is important to consider, as he may be willing to return to college and try to improve his draft stock for next season.
---
Round 17, Pick 512 overall
Jacob Gholston, RHP Flower Mound HS
Gholston has already made it pretty clear that he will not be signing and will honor his Oklahoma commitment. He has a huge ceiling, and this pick was likely made just to show that they're interested and to be able to talk to him over the next couple of weeks.
---
Round 18, Pick 542 overall
Dylan Watts, RHP Tacoma CC
Auburn must recruit the Pacific Northwest pretty well. Like Bjorn Johnson, Watts is an Auburn commit from Tacoma Community College. Used mainly out of the bullpen at Tacoma, he will likely be a reliever at Auburn as well. Based on a small amount of video and data I found, he has a quick arm and a loose delivery. The only velocity readings available came from 2022, but he was a low-90s arm at that time with a low-80s slider that is probably his best pitch. My guess is that he winds up attending Auburn, but it's a pretty interesting relief profile if the Brewers can sign him.
---
Round 19, Pick 572 overall
Isaac Morton, RHP Spring Lake Park HS
Morton is a Minnesota Blizzard product, one of the best travel organizations in the Midwest. Up to 97 on his fastball with a curveball and slider, Morton's commitment to Texas A&M is likely pretty strong and seems to be an unlikely sign. 
---
Round 20, Pick 602 overall
Justin Chambers, LHP Basha HS
Chambers is an Arizona State commit. He is in the upper 80's and touching 90 with his fastball. He also mixes in a big, loopy curveball, a slider, and a solid changeup. Chambers is coming off of Tommy John surgery, and maybe that will entice him to take a chance in pro ball, where he will have access to rehab facilities that he may not have in college. Otherwise, though, this feels similar to Morton and Gholston; he seems unlikely to sign.
---
Wrap Up and Opinions
I have no idea what the plan is for the seven high school players they selected on day three. It's definitely possible that they took some of them as Carter Pratt insurance. While the Brewers would lose the 6th round bonus slot of $309.9k, they were likely saving at least one million for Pratt, if not closer to $1.5 million. Meaning they would then have at least $700k to try to go after all the other high schoolers. If Pratt is a done deal, I will be extremely interested to see if they actually have enough money for any of the high school guys on day three. It would be nice to see them lock up a couple, as they have been doing well with those profiles the last couple of years. Players like Quinton Low, Jace Avina, Kay-Lan Nicasia, and Luke Adams all fit that bill and have shown some pretty fun flashes at Carolina this year.
They loaded up on pitchers, using 16 of 21 picks on them, and depending on how many they sign, that may cause a chain reaction in the system, as they will not have room for all of those new arms on top of the ones already in the organization. We may see an influx of pitchers released over the next few weeks.
Overall, while day three was a bit confusing and surprising to me, this was probably my favorite draft the Brewers have had in quite some time. Assuming they sign Pratt, they ended up with five players I viewed as Top 50-60 in the class as well as Birchard, who was a top 100 or so guy in my eyes. With the MLB draft, only time will truly tell how they did, but at first glance, the Brewers should be very happy with their class. 
Now, here's to clean medicals for all and no negative surprises!
Think you could write a story like this? Brewer Fanatic wants you to develop your voice, find an audience, and we'll pay you to do it. Just fill out this form.
MORE FROM BREWER FANATIC
— Latest Brewers coverage from our writers
— Recent Brewers discussion in our forums
— Follow Brewer Fanatic via Twitter, Facebook or email
2