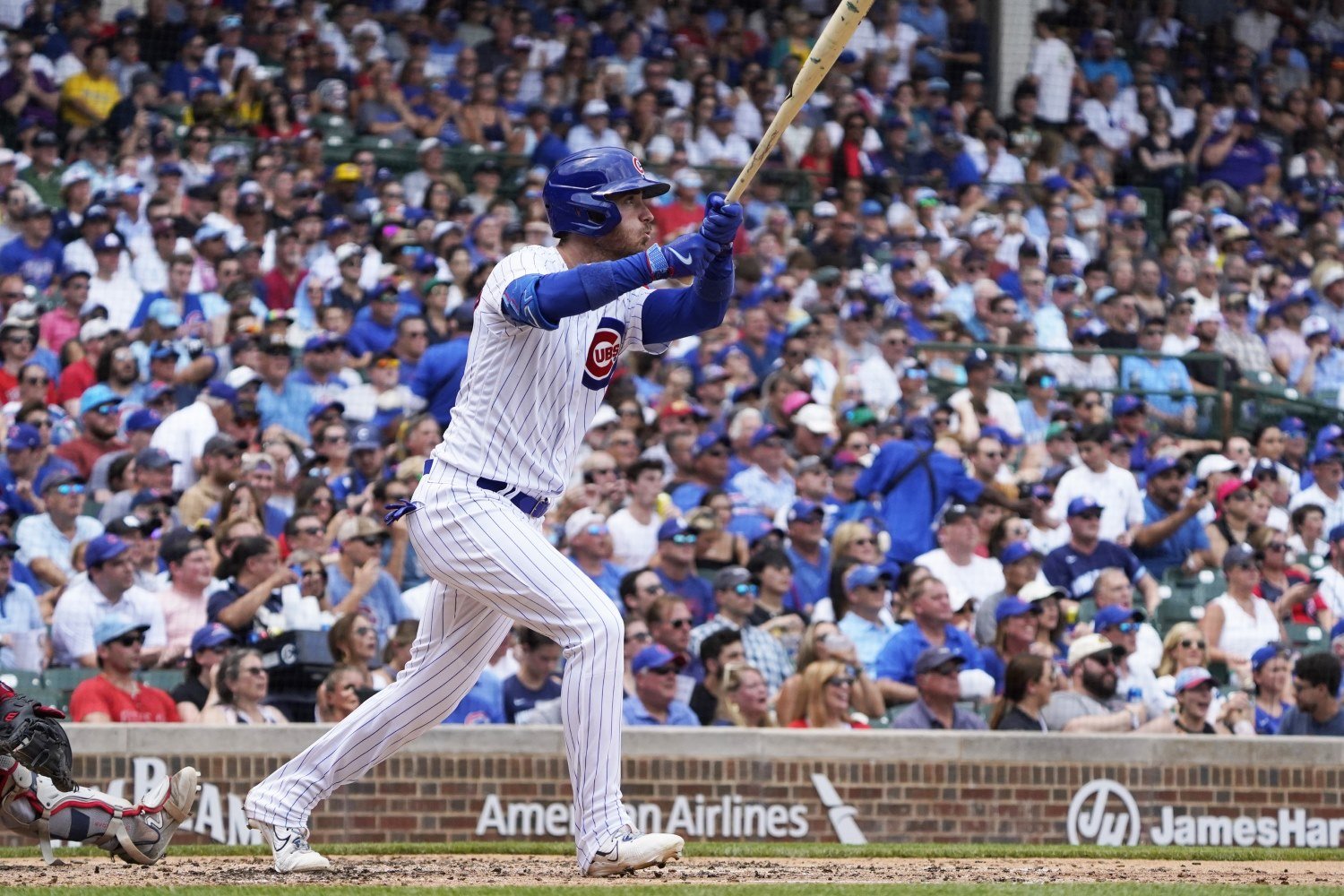 Image courtesy of © David Banks-USA TODAY Sports
Cody Bellinger – CF/1B
Bellinger provides premium defense in both the outfield and at first base, two areas where the Brewer could use a potent bat. His fortunes have followed quite closely with those of Christian Yelich, but (as Yelich is in Milwaukee) he has been having a big bounce back season with the Chicago Cubs , recording a .308/.365/.523 slash line for an .888 OPS. Sounds like a big addition, perfect for the Brewers needs and likely to sign elsewhere for next season, meaning it's a simple two-month rental.
What is he likely to cost?
In 2021, the Mets acquired Javier Baez (who was showing power, defensive skills, and a relatively acceptable OBP by his standards at that time) and Trevor Williams from the Chicago Cubs, a pair likely equal in value to Bellinger. The cost was Pete Crow-Armstrong, the 19th pick from the 2020 draft, likely to be the starting center fielder for the Cubs next season and one of the best defensive prospects in baseball. We're therefore looking at a mid- to late first-round pick in terms of value for the services of Bellinger--potentially something such as Tyler Black + an extra.
Why is it a bad idea?
Well for starters, take a look at his Statcast page. It's not pretty;
Bellinger has been the third-luckiest hitter in baseball in terms of his weighted on base average compared to his expected numbers, and is due for massive regression. He's on a hot streak at the moment, which may make him even more appealing, but there is a big potential for this trade to flop in the Brewers' face. He isn't hitting the ball hard with any regularity and doesn't have a great walk rate. Tyler Black himself may be as good a shout to cover first base while providing lefty power and on-base skills.
Bobby Dalbec – 1B
Dalbec has been on fire for the Red Sox' Triple-A affiliate this season, hitting .306/.419/.655 for a 1.074 OPS. The Red Sox are still in contention for the playoffs, but Triston Casas has been their first baseman and seems locked into the role now, with a .937 OPS over the last 30 days, making Dalbec a potential trade piece. They also have Justin Turner able to fill in more than adequately if needed, with his bat also a big boost for the Red Sox this year.
What is he likely to cost?
Given that the Red Sox have eyes on sneaking into the playoffs this season, there is a chance they would want MLB-ready players in return, potentially in the form of the currently underperforming Sal Frelick (though that is a bit lopsided), or some quality relievers, maybe an Elvis Peguero. On the surface, getting a big first baseman for a reliever looks like a good trade for the Brewers, right?
Why is it a bad idea?
Welcome to Keston Hiura 2.0, only he'll strike out even more often. Dalbec hasn't shown an ability to hit at the major-league level, and he currently has 95 strikeouts in just 279 plate appearances for the Worcester Red Sox, a whopping 34% K rate in Triple A. That would likely climb into the 40s, should he have to face major-league pitching. You'd be better off just promoting Hiura.
Carlos Santana – 1B
Santana's stats don't jump off the page, and he is likely a fairly cheap acquisition. He provides premium defense at first base, with his 77th percentile Outs Above Average. He's quite the consistent performer, too, with considerably above-average chase rates, walk rates and whiff rates, providing a solid floor for him.
What is he likely to cost?
Santana could be quite cheap, in the sense of a prospect ranked somewhere between 10 and 20 in the Brewers organization. The Pirates may want a catcher with hitting potential like Matthew Wood, or maybe a Robert Moore could do the deal (I'm not as high on him as some).
Why is it a bad idea?
At 37, Santana's hard-hit percentage has dropped from over 40% in the last two seasons to just 34.4% this year--a sizable drop, though he is elevating the ball more often. His xBA of .240 is an improvement in some ways, but he's shown minimal power, with an xSlg of just .359, and the Brewers again may have more options in-house that should be able to provide an OPS of .700, albeit in different ways, such as Hiura or Black.
TLDR
There are options out there available to the Brewers, but some of these are very risky, and given the improving farm system, the talent within and the closeness to a rebuild (of sorts) with very different trades looming this offseason, it doesn't make a lot of sense to sell the farm for players such as the above, given what they would cost and how likely they are to have limited effect down the stretch. If you want a player who can get hot and actively carry an offense, the Brewers may in fact have those available in their system already.
They haven't had a lot of support in terms of the farm system reinforcements over the last few years, but that may change this season, and betting on themselves might be the best route for success.
Think you could write a story like this? Brewer Fanatic wants you to develop your voice, find an audience, and we'll pay you to do it. Just fill out this form.
MORE FROM BREWER FANATIC
— Latest Brewers coverage from our writers
— Recent Brewers discussion in our forums
— Follow Brewer Fanatic via Twitter, Facebook or email